Mistletoe Row Holiday Pop Up Lounge
,
Join us for a festive and fun holiday pop-up lounge at the Hyatt Regency New Orleans! Get into the holiday spirit and enjoy a cozy and merry atmosphere. Stop by for happy hour or to grab a Saints Sunday holiday beverage. You can enjoy festive cocktails like the Fireside Milk Punch, Mistletoe Margarita or Hazelnut Espresso Martini and many tasty shareable bites. Located on the lobby level. Tickets and reservations not required. For large parties, please call 504.613.3710 or email HRNO.sales@hyatt.com. Check link for available hours and times.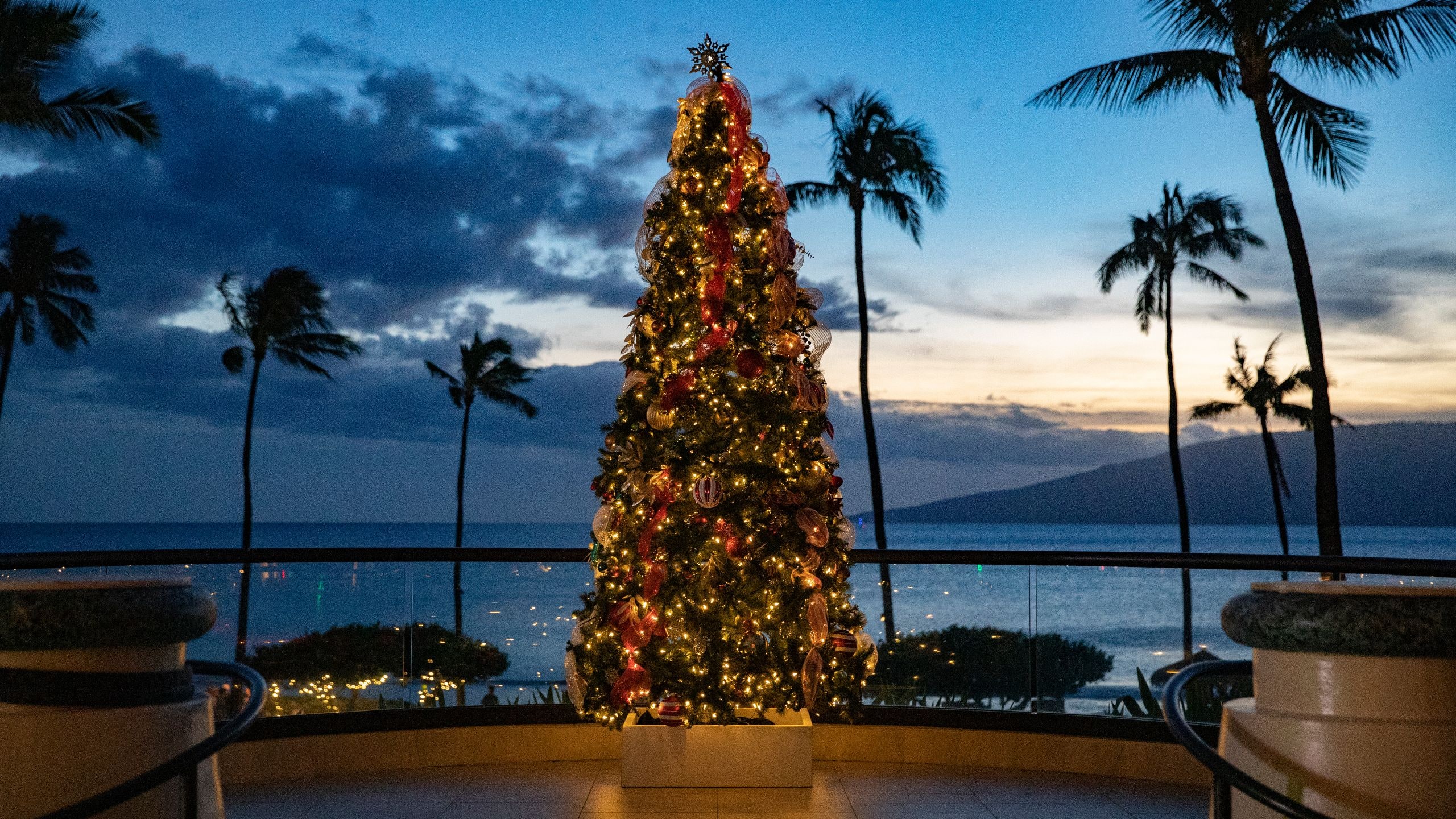 Halona Kai Holiday Village
,
200 Nohea Kai Drive, Lahaina
Join us at our 3rd Annual Halona Kai Holiday Village at Hyatt Regency Maui Resort and Spa, open December 24-25, from 5 to 8 p.m. Guests will enjoy holiday music, a delicious buffet, Christmas-themed activities for the family, and a visit by Santa Claus that includes a family photo. Holiday movies and popcorn will be shown under the Hawaiian night sky at the Snowflake Cinema. Sweet treats will be offered at Mrs. Claus' Bakeshop and Candy Cane Lane. Tickets to Halona Kai Holiday Village are $125 per adult and $65 per child (ages 3-12). Adult beverages for patrons ages 21 and over will be available for purchase.
Entertainment
Family Activities
Tour of the Stars
Experience Maui's clear skies with a night of stargazing and our rooftop astronomy program Fridays, Saturdays and Sundays, 8:00pm, 9:00pm, and 10:00pm. Astrophotography Workshops are by request. Subject to cancellation without notice due to cloud conditions and weather. Space is limited; reservations are required.
Outdoor Activities
Family Activities
The Mindful Mermaid Academy
Want to learn how to become a mermaid? The Mindful Mermaid Swim Academy offers three classes for a variety of ages: Mini Mermaid Class (ages 4-7), Beginner Mermaid Class (8+ years) and Social Media Mermaid Class (pre-teens and adults). Reservations are required.
Outdoor Activities
Family Activities
Drums of the Pacific Lu'au - Maui
Experience Polynesian culture at Maui's most exciting nightly lu'au right here at Hyatt Regency Maui Resort and Spa. At our beautiful oceanside venue, we invite you to enjoy traditional song and dance, an authentic imu ceremony, a three-course dinner and open bar featuring island cuisine and local spirits, and a three-man Samoan fire-knife dance finale.
Fitness Center: Moana Athletic Club
Hyatt Regency Maui Resort and Spa offers several ways to maintain your wellness routine while on vacation. The resort features an oceanfront fitness center equipped with Peloton bikes, Life Fitness cardio, strength-training equipment and more. Yoga and fitness classes are also offered outdoors with beautiful ocean views. Personal training is available upon request.
Earn 5,000 World of Hyatt Bonus Points with Malama Hawai'i
Hyatt Regency Maui Resort and Spa is part of the Malama Hawai'i Program. The initiative aims to inspire mindful travel while encouraging visitors to give back to the community. This program, which started in 2020 in partnership with Hawaiʻi Tourism Authority and Hawaiʻi Visitors and Convention Bureau, is driven by volunteer projects across the state. Hyatt Regency Maui Resort and Spa participates in a watershed conservation program in West Maui with Pu`u Kukui Watershed, an ahupua'a restoration project with Kipuka Olowalu and various volunteer opportunities at the Maui Food Bank, Maui Humane Society, Pacific Whale Foundation and more. Guests with reservations of five nights or more who volunteer with one of these programs will earn 5,000 World of Hyatt bonus points. Volunteer days must be scheduled in advance. To participate, call the Sales Office at +1 808 667 4479 or email kleina.ramos@hyatt.com.
Penguin Presentation
Join us at 9:30 each morning at the Atrium lobby to learn about our resident African penguins and the conservation efforts that are in place to protect wild seabirds. This activity is included with your resort fee.
Pool and Beach
Reserve oceanfront or poolside two-seater daybeds and cabanas from the Recreation and Pool Desk, open daily from 7 a.m. to 5 p.m. Exploring the island? Ask one of our recreation attendants (ext. 3225) about our complimentary back-pack beach chairs that you can take with you on your adventures or use in front of the resort. All registered hotel guests have charge back privileges and access to the adjacent Hyatt Vacation Club pools. Click the link below for more information.
Outdoor Activities
Family Activities
Grins 2 Go Beach Portraits Maui
Take home memorable beach portraits of your visit to Maui with the award-winning Grins 2 Go photography. Located at the Hyatt Regency Maui, we offer a complementary portrait session for couples and families. Shortly after your fun and easy portrait session, you will be able to view your pictures and choose your favorites. You can select from digital, prints, canvas, metal, acrylic, albums and more. We have lots of fun products to choose from. Reservations required.
Kamaha'o, a Marilyn Monroe Spa
Kamaha'o means wonderful, astonishing, remarkable. And that's just what you'll find at the Marilyn Monroe Spa. Located on Ka'anapali Beach in the beautiful Hyatt Regency Maui Resort, our spa offers full services in a lush environment right on the water. Enjoy indulgent massages, signature body treatments and fabulous facials outside among the sounds and breaths of the ocean. Our Maui spa also includes our fun, flirty Glamour Room where makeup, hairstyling, manicures and pedicures are given in an environment inspired by Marilyn's playful nature.
Golf Studio by YO! Maui
Take part in a variety of golf lessons and golf-themed activities at Hyatt Regency Maui's Golf Studio by YO! Maui. The resort's on-site PGA golf professional, Sutee Nitakorn, provides expert guidance and entertainment for guests about the world of golf. No experience necessary. All levels are welcome. Visit the YO! Maui website for more info and reservations.
Wildlife University
Experience the ultimate mashup of education and fun. Join our newest program, Wildlife University, to learn about three different animal care pillars—training, enrichment and nutrition, which are the essentials in keeping the resort's 50 resident birds happy and healthy.
Ka'anapali Golf Courses
Ka'anapali Golf Courses are located less than a mile away from Hyatt Regency Maui Resort and Spa and feature two distinct courses with panoramic views of the Pacific and the majestic Mauna Kahalawai (also known as the West Maui Mountains). In addition to championship golf, Ka'anapali Golf Courses offer Maui's only nine-hole FootGolf, a hybrid activity that combines soccer and golf. Participants of all ages are welcome to play daily.
Whalers Village
Take a short walk, ride the complimentary Ka'anapali Trolley or drive along Ka'anapali Parkway to this popular beachfront shopping mall on Maui. Find local stores, designer boutiques, fashion, art galleries and restaurants. Learn about humpback whales at the whaling museum, Hawaii Wildlife Discovery Center.
Restaurants
Outdoor Activities
Shopping
Family Activities
Haleakala Volcano Crater
The main attraction at Haleakala National Park, the dormant volcano last erupted in the late 1600s and today forms a spectacular crater that can be hiked, biked or accessed from Hawaii state road 378 for especially breathtaking views at sunrise and sunset. Due to popularity, reservations are required to visit for sunrise.
Road to Hana
Stretching for 68 unforgettable miles and navigating more than 600 curves from Kahului to Kipahulu, the Road to Hana offers views of dazzling waterfalls, rugged cliffs set against vast ocean expanses, lush rainforests, secluded black sand beaches and historic sites, such as the grave of aviator Charles A. Lindbergh.
Outdoor Activities
Family Activities
Haleakala National Park
200 Nohea Kai Dr., Lahaina
Haleakala National Park is a sacred landscape covering more than 30,183 spectacular acres of volcanoes, rain forests and coastline. Explore, hike and take in the natural beauty, history and culture within various micro-climates of Maui's diverse ecosystem. More than 24,710 acres of the park is pure wilderness area. Be sure to check conditions, rules and regulations before finalizing any plans.
Outdoor Activities
Parks
Family Activities
Events & Attractions
Our offerings are always changing. To learn about our most up-to-date cultural classes, beach and pool activities, dining, golf, yoga/fitness schedule and more, CLICK HERE. Contact our concierge for more information on things to do on Maui. Phone: +1 808 667 4727. Email: hrmconcierge@bluehawaiian.com Website: bluehawaiianconcierge.com/hyattmaui