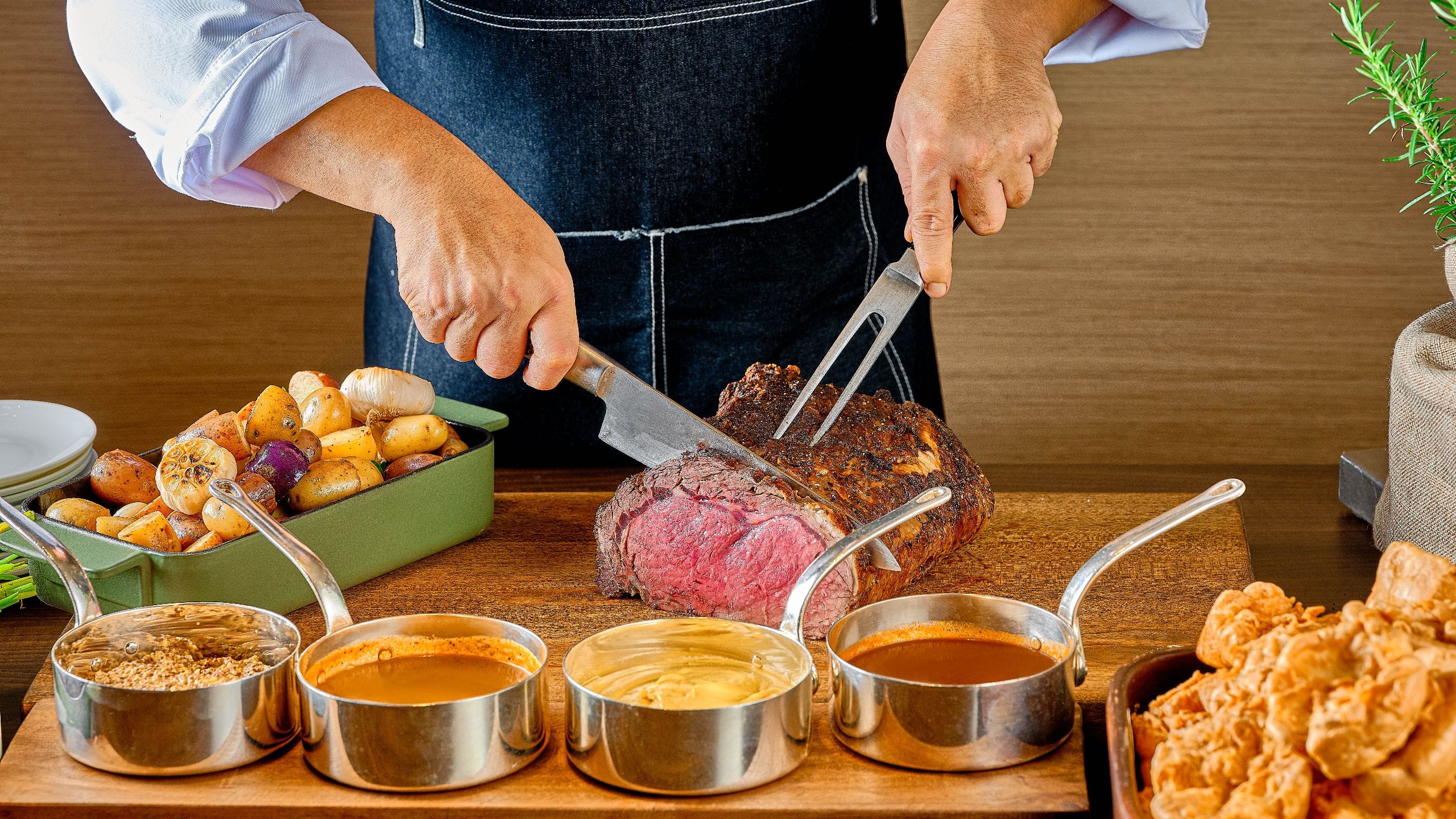 Christmas Day Buffet Extravaganza
,
This year's Christmas Day Buffet at Thomsons Kitchen & Bar promises to be nothing short of extraordinary. Indulge in a sumptuous feast that will transport you to a world of culinary indulgence. Picture this: Imagine long tables adorned with a majestic spread of gourmet delights are presented in a symphony of colours and flavours. Every dish is a work of art, inviting you to explore the diverse and delectable offerings. As you stroll along the tables, you'll discover an abundance of appetizers, main courses, and decadent desserts, all meticulously arranged to entice your taste buds.
Hudson Bay
A member of Canada's oldest merchant, the Hudson Bay Company (The Bay) offers myriad retail options. Meet friends for dinner at a restaurant. Bargain hunt at a clothing store. Sit front and center at a fashion show. Consult with a make-up artist at the cosmetics counter.
Entertainment
Restaurants
Bars
Shopping
Family Activities
Calgary Tower
Located 191 metres above the downtown core, the Calgary Tower offers the best view in the city and is a must-see on any visitor's itinerary. On the Observation Deck, you'll experience a spectacular 360° view of the bustling city, the majestic Rocky Mountains, the foothills and the prairies.
Culture
Day Trips
Outdoor Activities
Tours
Family Activities
Glenbow Museum
At Glenbow, history buffs, art lovers and pop culture fanatics can all find something inspiring. Explore fascinating historical galleries and exhibitions of art and culture from around the world. The Museum is conveniently located in downtown Calgary on Stephen Avenue Mall, just steps from the Calgary Tower.
Entertainment
Restaurants
Art
Culture
Tours
Family Activities
Museums
Arts Commons
Music, theatre, and dance. This is Arts Commons, an inspirational gathering place for all Calgarians and visitors alike. A space, both physical and metaphorical, that stimulates senses, triggers emotions, challenges assumptions, starts conversations, and opens minds. Located in downtown Calgary, the six-level complex covers one full city block.
Entertainment
Art
Culture
Family Activities
Olympic Plaza
Located in downtown Calgary, Olympic Plaza Cultural District is home to a variety retail shops and restaurants. It is a beautiful destination place for workers during lunch hour. The plaza was built in 1988 for the Olympic Winter Games and has the only refridgerated outdoor ice surface in the city.
Entertainment
Culture
Day Trips
Outdoor Activities
Family Activities
Alberta Theatre Project
Founded in 1972, this Calgary theatre produces plays relevant to contemporary life. It is one of the largest theatres in Canada. Known to create world-class contemporary theatre from the Martha Cohen Theatre, the Alberta Theatre Projects is a national leader in new play development.
Entertainment
Culture
Family Activities
Theatre Calgary
Theatre Calgary traces its origins to the 1960s grassroots movement for local professional theatre. Calgary's largest professional theatre company, this Theatre provokes and delights with ambitious programming created to ignite local, national and international engagement.
Entertainment
Art
Culture
Family Activities
CORE Shopping Centre
The Core Shopping Centre is the dominant shopping complex in the downtown core of Calgary. The spread of the mall is three city blocks and contains approximately 160 retailers on four levels. Apart from shops and services, there is the Devonian Gardens a unique 2.5 acres glass-enclosed indoor botanical park.
Entertainment
Restaurants
Bars
Shopping
Family Activities
Stephen Avenue Walk
One of Calgary's pedestrian malls, Stephen Avenue Walk attracts tens of thousands of people each day, and is the home to Hyatt Regency Calgary. Named after the first Canadian Pacific Railway president, Lord George Mount Stephen, the walk was declared a Canadian historic site in 2002.
Entertainment
Restaurants
Bars
Day Trips
Shopping
Family Activities
Central Library
Providing 240,000 sq. ft. of functional, flexible and beautifully designed space, the Calgary Central Library is home to a physical collection of 450,000 books, more than 30 free community meeting areas, a performance hall, café, outdoor plazas, a children's library, dedicated spaces for teens, recording studios, and much more.
Studio Bell
Studio Bell is home of the National Music Centre. Explore five floors of exhibitions that tell the story of music in Canada, celebrate music icons at the Canadian Halls of Fame, rock out with interactive instrument installations and sing along in vocal booths.
Entertainment
Art
Culture
Family Activities
Eau Claire Market
Hit this vibrant Calgary street market. Gather the essentials for a delicious meal. Find a one-of-a-kind handcrafted item. Peruse the walkways. Stop for coffee and dessert at a restaurant.
Entertainment
Restaurants
Outdoor Activities
Shopping
Family Activities
Scotiabank Saddledome
The Scotiabank Saddledome is Calgary's leader for entertainment excitement. Seating over 19,000 and over 150 events per year, it has something for everyone. It's home to the NHL's Calgary Flames, the WHL's Calgary Hitmen. and the NLL's Calgary Roughnecks. It has also played host to big ticket concerts, world-class tournaments, ice shows, circuses, conventions and more.
Entertainment
Restaurants
Bars
Day Trips
Shopping
Sports
Family Activities
Prince's Island Park
Prince's Island Park is a beautiful highly used park in downtown Calgary that holds many large events throughout the year including the Canada Day celebration, Calgary Folk Festival and Shakespeare by the Bow.
Entertainment
Culture
Day Trips
Outdoor Activities
Family Activities
Parks
Fort Calgary
As the original home to the North West Mounted Police, Fort Calgary was built in 1875. Today, it serves as a 40-acre park and a place of education, exchange, social gathering and more. Sit on the other side of the bars in a jail. Or, hear stories of the Mounted Police.
Entertainment
Culture
Day Trips
Family Activities
Calgary Zoo
Located east of downtown Calgary, the Calgary Zoo is the place to go wild. Wildlife enthusiasts can come face to face with over 1,000 animals in the African Savannah, Canadian Wilds or Prehistoric Park, or explore a lush six-acre botanical garden.
Entertainment
Restaurants
Day Trips
Outdoor Activities
Tours
Family Activities
Parks
Jubilee Auditorium
Built in 1957, the Alberta Jubilee Auditoria were gifted to Alberta as two premiere art venues. Be sure to catch a live performance by securing tickets to a Broadway show. This Calgary, Alberta venue plays host to popular rock concerts, ballet and performing arts shows and Shakespearean plays.
Entertainment
Culture
Family Activities
TELUS Spark Science Centre
TELUS Spark, Calgary's science centre, is a city jewel. It houses the largest dome theatre in western Canada and attracts hundreds of thousands of visitors a year and launches blockbuster shows. It changes lives and opens doors to the world of science, technology and innovation.
Entertainment
Bars
Culture
Family Activities
Heritage Park Historical Village
Heritage Park is a living history museum in Calgary that connects people with the settlement of Western Canada. Spanning 127 acres, the Park encompasses three main areas: Heritage Park Historical Village depicts life as it was from the 1860s through the 1930s featuring steam train rides, a paddle wheeler boat and an antique midway; Gasoline Alley Museum features a rare collection of vintage vehicles, gasoline pumps, signage and more; Heritage Town Square includes several unique shops.
Entertainment
Day Trips
Outdoor Activities
Nightlife
Parks
WinSport Canada Olympic Park
Just 15 minutes from downtown Calgary, COP is a year-round sport and recreation hub for Calgarians and welcomes more than 1.2 million visitors each year. This park is as busy and interesting in the warmer months, as it is in the cooler ones. Ski, snowboard and downhill kart to your heart's content.
Entertainment
Culture
Day Trips
Outdoor Activities
Family Activities
Parks
Calaway Park
Calaway Park is an amusement park and campground. The park occupies approximately 160 acres of land, although the amusement park only occupies 90 acres of it. The park is western Canada's largest amusement park, and is situated approximately 4 km west of Calgary's city limits.
Entertainment
Day Trips
Outdoor Activities
Tours
Family Activities
Parks
Banff National Park
Spanning 2,564 sq miles, Banff National Park is Canada's first national park and one of the world's premier destination spots. The park features a mix of towering mountains, glittering glaciers, lush alpine meadows, and natural mineral hot springs. Known for its powder white snow, the park offers the best ski conditions in Canada.
Entertainment
Culture
Day Trips
Outdoor Activities
Tours
Family Activities
Parks
Elk Island National Park
Elk Island National Park is an important refuge for elk, bison and over 250 bird species in Canada. The tranquil surroundings offer the ideal spot to spread a blanket and enjoy a picnic during the day or camp out overnight and gaze into the starry skies.
Entertainment
Culture
Day Trips
Outdoor Activities
Tours
Family Activities
Parks
Jasper National Park
Spanning over 6,700 sq miles of mountain wilderness, Jasper National Park is the largest park located within the Canadian Rockies. The Park is an international destination for hiking, skiing at Marmot Bason and home to some of the rarest animals in North America, including grizzly bears and caribou.
Entertainment
Day Trips
Outdoor Activities
Tours
Family Activities
Parks
Events & Attractions
A stone's throw from the iconic Calgary Tower and the Central Library, Hyatt Regency Calgary puts you within easy reach of the best things to do near historic Stephen Avenue Walk and other popular destinations. Visit museums and parks, take in movie or theatre performances, and shop for the latest fashions and charming antiques while enjoying the welcoming amenities at our upscale, downtown Calgary hotel. Calgary, Alberta, is also home to a proud cowboy culture, where you can visit Stampede Park for unforgettable Old West-style fun.