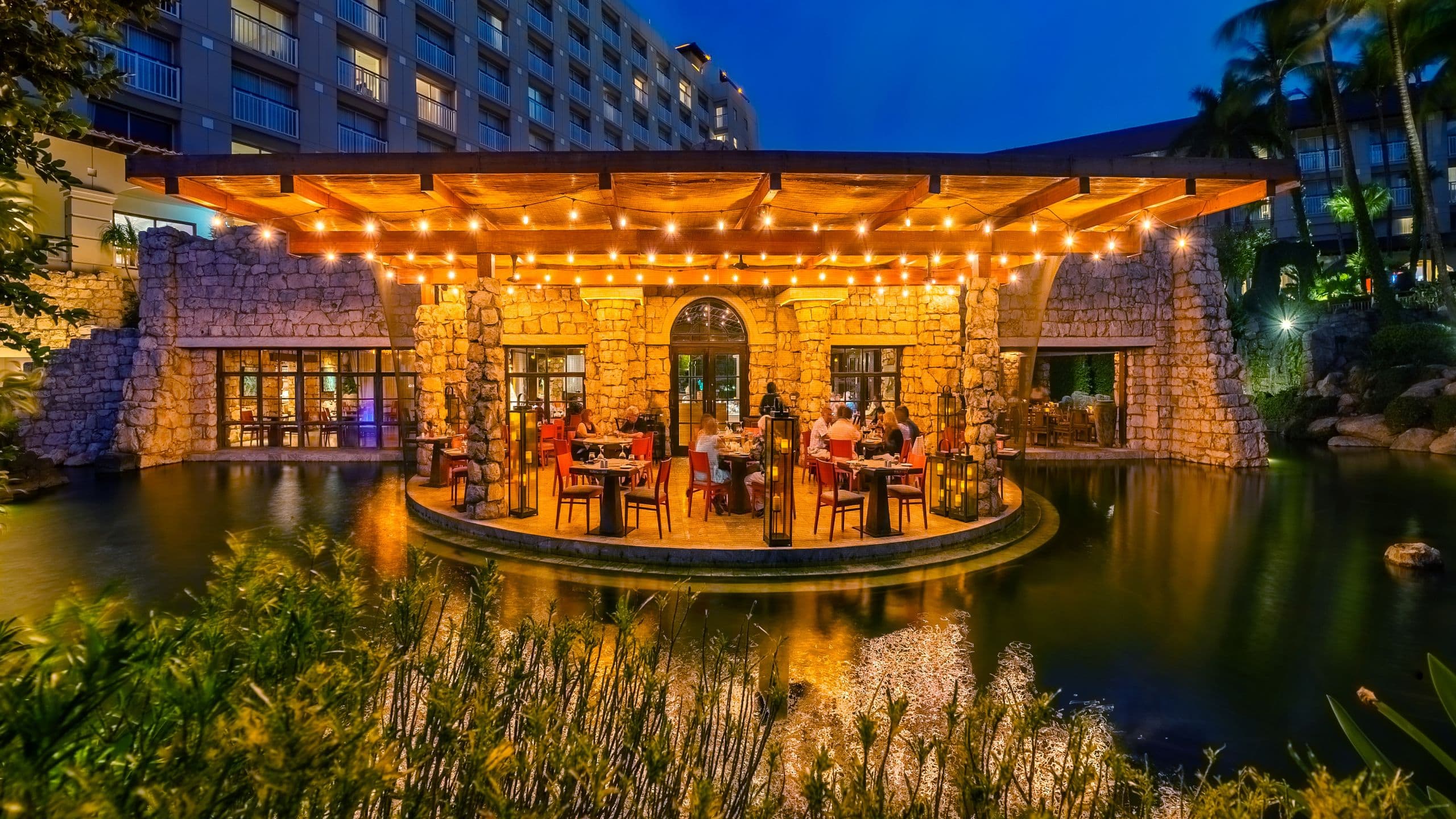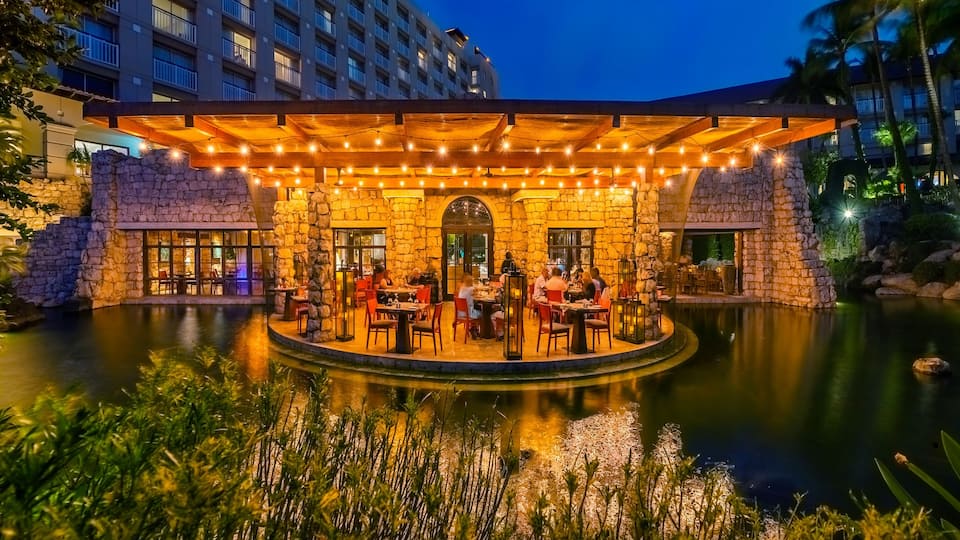 Holidays at Hyatt
J.E. Irausquin Blvd 85, Palm Beach
Balance travel with tradition this festive season with a culinary celebration of gratitude and togetherness at Ruinas del Mar. Enjoy live music, festive cocktails, decadent desserts, and your choice of dining options for Christmas and New Year's Eve. For more information, please visit ruinasdelmar.com December 25 and 31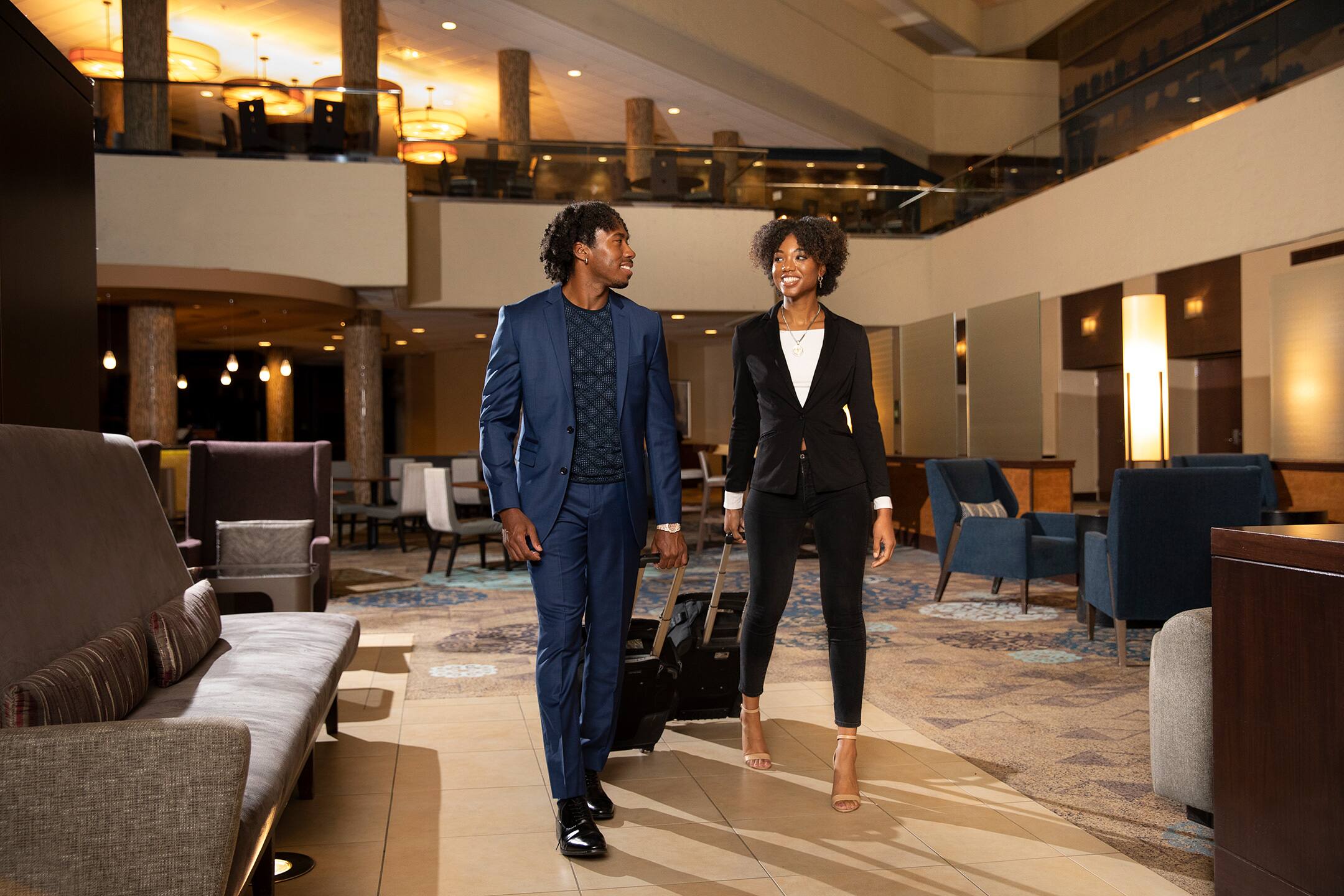 Vintage Cellar Hour
J.E. Irausquin Blvd 85, Palm Beach
Experience a relaxing end to your day and a perfect start to your evening at the new Vintage Cellar Hour, available every day from 6:00 p.m. to 7:00 p.m. at Ruinas del Mar Bar. Treat yourself to select wines from renowned vintners for $10 per glass, or add a charcuterie board for an additional fee.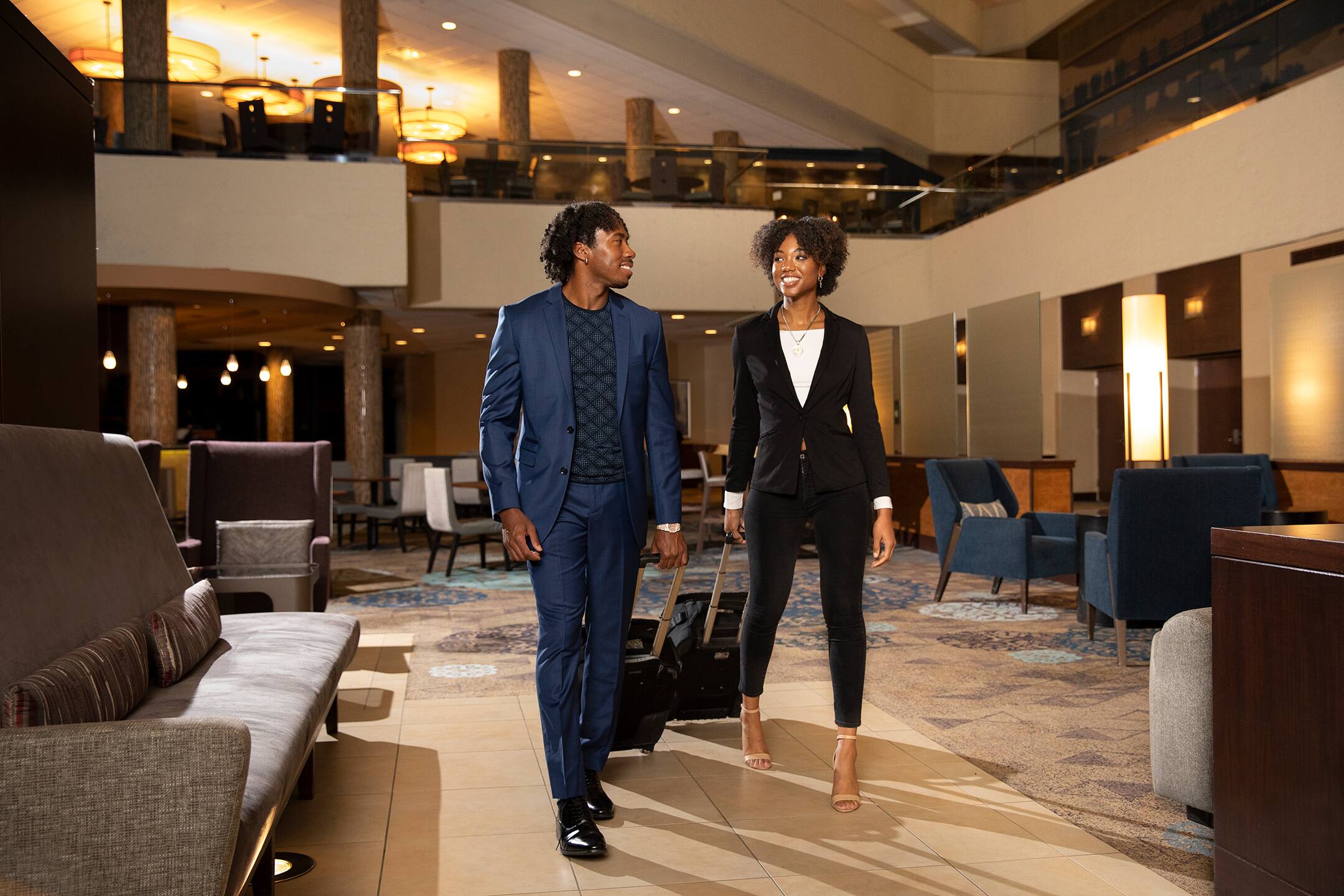 Yeshiva Break
J.E. Irausquin Blvd 85, Palm Beach
Celebrate the Yeshiva Break at our resort restaurants from January 17-28, 2024. During these dates, the resort restaurants will exclusively serve kosher dining. Some incredible options include Palms for your morning breakfast buffet and a lunch of delicious salads, fish tacos, pizzas, and more. At night, Ruinas will offer freshly prepared Italian menu options. Omakase sushi is also available for dine-in or take-out. Regency Club will serve kosher breakfasts, snacks, and evening services.
The Shops at Hyatt Regency Aruba
J.E. Irausquin Blvd 85, Palm Beach
Discover precious gems, soothing aloe products, Italian coffees, exciting full and half day excursion planning, and daily car rental all in our breezy open-air lobby. Our shops include Little Europe Jewels & Time, Aruba Aloe Store, Shoco Coffee Bar & Market, Red Sail Sports and Top Drive Car Rental. Shops are located both near the Casino and World of Hyatt desk.
Entertainment
Restaurants
Day Trips
Shopping
Family Activities
Adventure Concierge
Plan your One Happy Island experiences with the assistance of the Adventure Concierge team. Colleagues are available to assist with booking ground transfers, water excursions, island tours and more. To request assistance, please email adventure.concierge@hyatt.com
Restaurants
Art
Outdoor Activities
Shopping
Family Activities
Pools
J.E. Irausquin Blvd 85, Palm Beach
Enjoy premium outdoor experiences at either of our resort hotel's pools. Race down the water slide on your way to the swim-up bar and grill at the 8,000-square-foot Activity Pool located in the main courtyard, or quietly relax all day at the 4,951-square-foot Trankilo adults-only pool located on the north side of the resort. Food and beverage service is available at both locations and private cabanas are available to book at both pools.
Entertainment
Day Trips
Outdoor Activities
Family Activities
Shoco Market Café
Treat yourself to freshly baked goods, ice cream, coffee and everything else you may need in our café and mini market.
Restaurants
Family Activities
Camp Hyatt Watapana
J.E. Irausquin Blvd 85, Palm Beach
Introduce children to the wonders of Aruba with a full or half day camp for ages 4 to 12. Activities include scavenger hunts, Papiamento (local language), pool time, sandcastle building, and more. The Hyatt Camp indoor area also has books, puzzles, and board games for children to enjoy. Sessions include a snack (half day), lunch (full day), dinner (evening). Reservations are required at least 24 hours in advance. Learn more by emailing zoia.spa@hyatt.com.
Entertainment
Family Activities
Red Sail Sports
We have everything from diving lessons and trips to snorkeling, deep sea fishing charters, watersports equipment, bicycle tours and much more.
Day Trips
Outdoor Activities
Sports
Family Activities
Casino
J.E. Irausquin Blvd 85, Palm Beach
Named Aruba's Best Casino Hotel in the 2022 World Casino Awards, our lively casino features progressive jackpots, exciting games of Blackjack, Craps, Roulette, Caribbean Stud Poker or Three Card Poker. Register for the Player Advantage Club for opportunities to earn points and redemptions. Open daily from 10 a.m. to 2 a.m. Tables available beginning at 2 p.m. Click the website link to read our commitment to responsible gambling.
Entertainment
Restaurants
Bars
Family Activities
Paseo Herencia Mall
This shopping center is an old village style plaza featuring boutique stores, dining, and a cinema. Visitors will also enjoy a nightly liquid firework show and musical performances set against a backdrop of Aruban architecture.
Entertainment
Restaurants
Bars
Shopping
Family Activities
The Village Mall
This lifestyle center shopping mall is designed to replicate Aruban culture and architecture. Visitors will find a variety of retail stores, a cigar shop, outdoor entertainment, and authentic Aruban restaurants, including Senor Frogs, Papillon, and Five Burgers.
Entertainment
Restaurants
Bars
Day Trips
Shopping
Family Activities
Bubali Bird Sanctuary
Two man-made lakes near the water treatment facility have become a nesting area for more than 80 species of migratory birds, including herons, egrets, gulls, skimmers, coots, cormorants, numerous species of ducks and more. An observation tower has been erected to allow birdwatchers to get a true birds' eye view.
Day Trips
Outdoor Activities
Family Activities
Parks
The Butterfly Farm
Our tour guides will lead you through beautiful tropical gardens teeming with butterflies from around the world. This unique butterfly farm is a rare opportunity for photography and a sure delight for visitors of all ages.
Entertainment
Culture
Day Trips
Outdoor Activities
Family Activities
Palm Beach Plaza Mall
Enjoy a luxury shopping experience with high-end stores like Rue Royale Maison and Swarovski. More than a shopping destination, Palm Beach Plaza features an amphitheater, entertainment, bowling alley, a cinema, restaurants, and seven food courts.
Entertainment
Restaurants
Bars
Shopping
Family Activities
Aruba Aloe Balm Museum
Learn about one of the island's natural treasures, Aloe. Take the award-winning factory tour or walk through the Aloe fields to discover how this world-renowned balm is created and hear of some of its modern day uses.
Entertainment
Art
Family Activities
Museums
Aruba Flea Markets
You'll find a fantastic mix of Caribbean products at Aruba flea markets. Shop for Aruban crafts, souvenirs, artwork, t-shirts, caps, hats, leather goods, crinkle cotton attire, and mugs.
Outdoor Activities
Shopping
Family Activities
Archaeological Museum of Aruba
Explore the history of Aruba through exhibits of artifacts dating back more than 2500 years. Displays include collectibles representing many of the cultures that inhabited Aruba over the centuries. Ceramic artifacts, shell and stone tools, and ornaments are on display.
Entertainment
Culture
Family Activities
Museums
Fort Zoutman / Willem III Tower
Constructed in 1798, as a means of defense against pirates, this fortress is the oldest surviving example of Dutch architecture in Aruba. In 1868, the Willem III Tower was added to the Fort. Today, this is the site of the Historical Museum.
Art
Culture
Family Activities
Museums
Historic Gold Mines
In the 1400's and 1500's, adventurers traveled throughout the Caribbean in search of wealth and treasures. These ruins are an integral part in the development of Aruba. On the northern coast, midway down the island, are the Bushiribana Gold Mill Ruins, which once processed ore during the nineteenth century. The Balashi Gold Mill was built at the tip of the Spanish Lagoon, and remnants of this once bustling mill are still visible in the picturesque setting near the narrow canyon of rocks known as Frenchman's Pass.
Day Trips
Outdoor Activities
Family Activities
Natural Bridge
The most famous of Aruba's natural bridges loomed 25 feet above sea level, and was an awesome spectacle that existed for thousands of years. Early in September 2005 the bridge collapsed in just one evening, caused by the same wave action that originally carved out the limestone structure. Other natural bridges can still be viewed along the coast.
Day Trips
Outdoor Activities
Family Activities
Arikok Park
Encompassing approximately 20% of the island, this wilderness preserve offers 21 miles of marked hiking trails, showcasing many of the island's native plants and animals, as well as Mount Jamanota, Aruba's biggest hill. A path from the national park parking lot leads to Cunucu Arikok, a restored farm at the foot of 500-foot Cero Arikok.. The park contains traces of nearly all the significant forces that have impacted on Aruba's history, including Arawak petroglyphs in the Fontein Cave, the remains of Dutch peasant settlements at Masiduri, plantation houses in the Prins Valley and the ruins of an old gold mining operation at Miralamar.
Day Trips
Outdoor Activities
Family Activities
Parks
Events & Attractions
Experience an authentic beachfront Caribbean vacation at our Aruban Resort on Palm Beach. Find your zen in our hotel's full-service spa, try your luck at the casino, join a game of poker, or splash around the waterpark-style Activity Pool. Take a deep dive to explore the stunning marine life in the Caribbean Sea. Hop on a banana boat or catamaran for an exhilarating ride, play a round of golf or take a jeep tour of Aruba's majestic Arikok National Park. Visit our News and Events page for information about special promotions in our outlets.