"La Parota" Dinner in the wild
It is a space created to reconnect, coexist and blend in with nature. A simple and clean offer that seeks to disconnect you from the day to day. Fresh products focused on satisfying beyond just a dinner. With an origin and philosophy of less is more, we have created a menu that is a journey through Latin America. Raw, with heritage and the path that our Chef has traveled through different trips, places, experiences and flavors. This menu is constantly changing, since we respect what the season gives us, as well as what our garden is offering. The base is smoke, with nuances of haute cuisine and very primitive techniques. Contact: sara.torres@thompsonhotels.com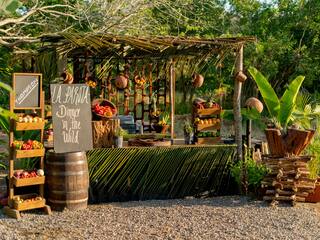 Cooking Classes
Join our Executive Chef Alessio Butti for a tour of the local village markets, where he will help you select fresh seafoods at the Paseo del Pescador, along with locally grown tropical produce and ingredients, and then guide your preparation and cooking on site. Available upon request, our chef's classes are also an ideal activity for groups. Contact: sara.torres@thompsonhotels.com
Tequila Tasting
4 high quality tequilas and 1 mezcal to be tried. Plus small bites from the chef to enhance the experience. Recommended before dinner. Contact: sara.torres@thompsonhotels.com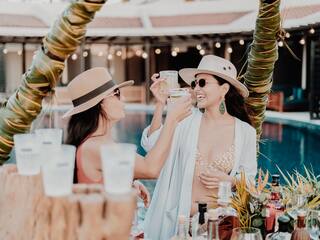 Ixtapa-Zihuatanejo Bay
Blvd. Paseo Ixtapa, Zihuatanejo 40880 Mexico
4.07 mi / 6.54 km away
Take a private boat or sailing cruise out on the bay. These waters are known for sport fishing where sailfish and marlin can be found year-round—while further offshore, you might get lucky and catch a skipjack or yellowfin tuna.
Playa Blanca
Playa Blanca, Guerrero, Mexico, Playa Blanca 40882 Mexico
7.14 mi / 11.50 km away
Discover a 10-mile laid-back stretch of pristine beach within a short drive from Zihuatanejo. Boasting untouched natural beauty without the heavy tourism, this quaint beach is made for boat tours, bird watching, sport fishing, and surfing. Relaxing days on the sand meet adventurous pursuits on the Pacific Coast of Mexico, at Playa Blanca.
La Chole Archeological Site
Soledad de Maciel, Petatlán, 40831 Mexico
15.47 mi / 24.90 km away
One of the most ancient archeological sites in Mexico, La Soledad de Maciel or "La Chole" was an important center of trade and culture thousands of years ago. Take a tour of the pyramids and learn about Mexican history and folklore.
Troncones Beach
Troncones, Guerrero, Mexico 40807 Mexico
15.61 mi / 25.13 km away
Journey to an uncrowded beach village about 20 miles from Zihuatanejo, where you can take a thrilling surfing lesson, watch baby sea turtles, or indulge in authentic local cuisine at a nearby restaurant.