Book Experiences
506 San Jacinto Blvd, Austin, Texas 78701 United States
From happy hours and live music to tastings and sunset yoga, we are here to ensure your stay is one that is filled with a taste of what Austin embodies right here within the hotel. Don't miss out on all of our curated experiences during your stay and get immersed in the culture of Thompson Austin.
Studio Three Classes
506 San Jacinto Blvd, Austin, Texas 78701 United States
0 mi / 0 km away
The Studio Three experience is now at the Thompson Austin. Keep up your fitness routine during your stay at our on-site fitness center with Studio Three classes. The leader in boutique fitness, Studio Three, encompasses three, elite studios under one roof: Interval, Cycle and Yoga. Tailored to athletes of all skill levels, group classes in each discipline are expertly led by world-class instructors who inspire growth at every stage of your fitness journey.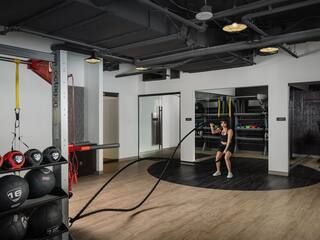 Antone's Nightclub
305 E 5th St, Austin, Texas 78701 United States
0.07 mi / 0.11 km away
Only one block away, Antone's is known as Austin's "Home of the Blues," having hosted a variety of blues, R&B, and other musicians from across the country over the past 40 years.
Voodoo Donuts
214 E 6th St, Austin, Texas 78701 United States
0.07 mi / 0.11 km away
This place is everyone's guilty pleasure and for good reason. The 24/7 spot has a popular namesake doughnut (covered in chocolate frosting, filled with raspberry jelly and stuck with a pretzel) as well as favorites like the bacon maple bar that will keep you coming back for more.
Paramount Theater
713 Congress Ave, Austin, Texas 78701 United States
0.20 mi / 0.32 km away
Austin's century-old performance and movie house is listed on the National Register of Historic Places and has played host to a range of acts including vaudeville, musicals, and movies. Today, it still stands as an active venue for music, comedy, and more.
The Contemporary Austin - Jones Center
700 Congress Ave, Austin, TX 78701, Texas 78701 United States
0.21 mi / 0.33 km away
A short seven-minute walk from the hotel, the popular downtown museum offers 8,000 square feet of world-class modern art experiences along with family-friendly events, workshops, and community events.
Cooper's Old Time Pit Bar-B-Que
219 Congress Ave, Austin, Texas 78701 United States
0.21 mi / 0.33 km away
Located just five minutes from the hotel, this place is known as the best of the best when it comes to barbecue — and home of the original world-famous "Big Chop." Listen to live music while you enjoy a heaping plate of ribs, potato salad and pickles, topped off with peach cobbler.
ACL Live
400 W 2nd St, Austin, Texas 78701 United States
0.37 mi / 0.60 km away
Austin City Limits Live (ACL Live), only a half mile from our hotel, is an award-winning live music venue that draws locals and visitors every year. The celebrated premier theater (yep, the same one seen on PBS) is part of a huge, multi-purpose development known for live performances and special or private events. ACL Live at the Moody Theater is an Austin must-see.
Congress Avenue Bat Bridge
Lady Bird Lake, Austin, Texas 78704 United States
0.40 mi / 0.64 km away
A 1980 renovation transformed the bridge into the world's largest urban bat cave attracting Mexican free-tailed bats migrating north. It's a perfect alliance as bats happily mitigate the city's bug population while providing an amazing nightly show for interested onlookers, from mid-March to early November.
Rainey Street Bars
76 Rainey St, Austin, TX 78701, Austin, Texas 78701 United States
0.55 mi / 0.88 km away
Spend your days and nights indulging in drinks and eats along a street of renovated houses turned into bungalow bars. Here you'll find locals and visitors strolling from bar to food truck to bar again — often with dogs in tow, looking for a laid-back experience.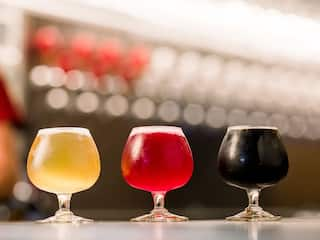 Snooze AM Eatery
1109 E 5th St Suite 180, Austin, TX 78702, Austin, Texas 78702 United States
0.62 mi / 1 km away
Come here for classic breakfast food with a creative twist — think habanero pork belly, or lox and latke benedicts — and savor morning dishes made with handcrafted and seasonal offerings incorporating many local and organic products.
Franklin BBQ
900 E 11th St, Austin, TX 78702, Austin, Texas 78702 United States
0.63 mi / 1.01 km away
This barbecue mecca is greeted daily by throngs of ravenous brisket and smoked meat addicts. Come early to this lick-your-fingers favorite, before they pull out the "Sorry, Sold Out! Come Back Soon" door sign.
Moody Amphitheater at Waterloo Park
1440-1400 Trinity St, Austin, Texas 78701 United States
0.63 mi / 1.02 km away
Waterloo Greenway is a 1.5-mile community park system, home to a wide array of natural and cultural activities including community festivals and year-round concert series. Explore 11 acres of green space in the heart of downtown Austin featuring bike trails, Hill Country gardens, and local food trucks.
Frank Erwin Center
1701 Red River St, Austin, Texas 78701 United States
0.91 mi / 1.46 km away
Owned and operated by The University of Texas at Austin, this multi-purpose facility serves as the home stadium for the Longhorns men's and women's basketball teams, along with some of the best live entertainment.
Moody Center
Catch a show or cheer on The University of Texas at Austin sports teams at Moody Center. Located near the hotel, this 15,000-plus-seat premier venue delivers the biggest and best names in the industry while keeping things local with community events and family shows.
Uchi
801 S Lamar Blvd, Austin, Texas 78704 United States
1.28 mi / 2.06 km away
This contemporary Japanese dining and sushi restaurant features the culinary creations of Chef Tyson Cole — a Best Chef Southwest winner of the 2011 James Beard Foundation Awards. Order the maguro goat comprised of bigeye tuna, goat cheese and pumpkin seed, or the pork belly with caramelized kabocha and spicy peppers, and cap it all off with something sweet.
Zilker Metropolitan Park
2207 Lou Neff Rd, Austin, Texas 78746 United States
1.66 mi / 2.68 km away
This 361-acre park located in the heart of downtown offers picnic facilities, bike and canoe rentals, a disc golf course, a large playground, the Zilker Zephyr train and Barton Springs Pool — all near Lady Bird Lake.
Barton Springs Pool
2131 William Barton Dr, Austin, Texas 78746 United States
1.80 mi / 2.90 km away
Within Zilker Park's 358 acres lies Austin's three-acre Barton Springs Pool. Fed from underground springs averaging temperatures between 68–70 degrees, this local favorite is ideal for year-round swimming.
Lady Bird Lake
Lady Bird Lake, Austin, Texas 78704 United States
1.85 mi / 2.98 km away
This man-made reservoir is perfect for hot summer days when scores of walkers and joggers traverse along the lakeside paths through nearby Zilker Park. Guests can also take to the water by canoe, kayak, water bike, or stand-up paddleboard.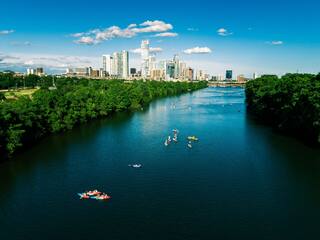 Deep Eddy Pool
401 Deep Eddy Ave, Austin, Texas 78703 United States
2.04 mi / 3.29 km away
Afternoons under the Texas sun make this oasis a refreshing reprieve. This historic man-made swimming pool — the oldest in the state — offers lap swimming, wading, and poolside movies in the summertime.
Circuit of the Americas (COTA)
9201 Circuit of the Americas Blvd, Austin, Texas 78617 United States
10.86 mi / 17.48 km away
COTA, a world-class motorsports and entertainment center, plays host to the biggest names in racing, action sports and music—a short 20-minute drive from our hotel.