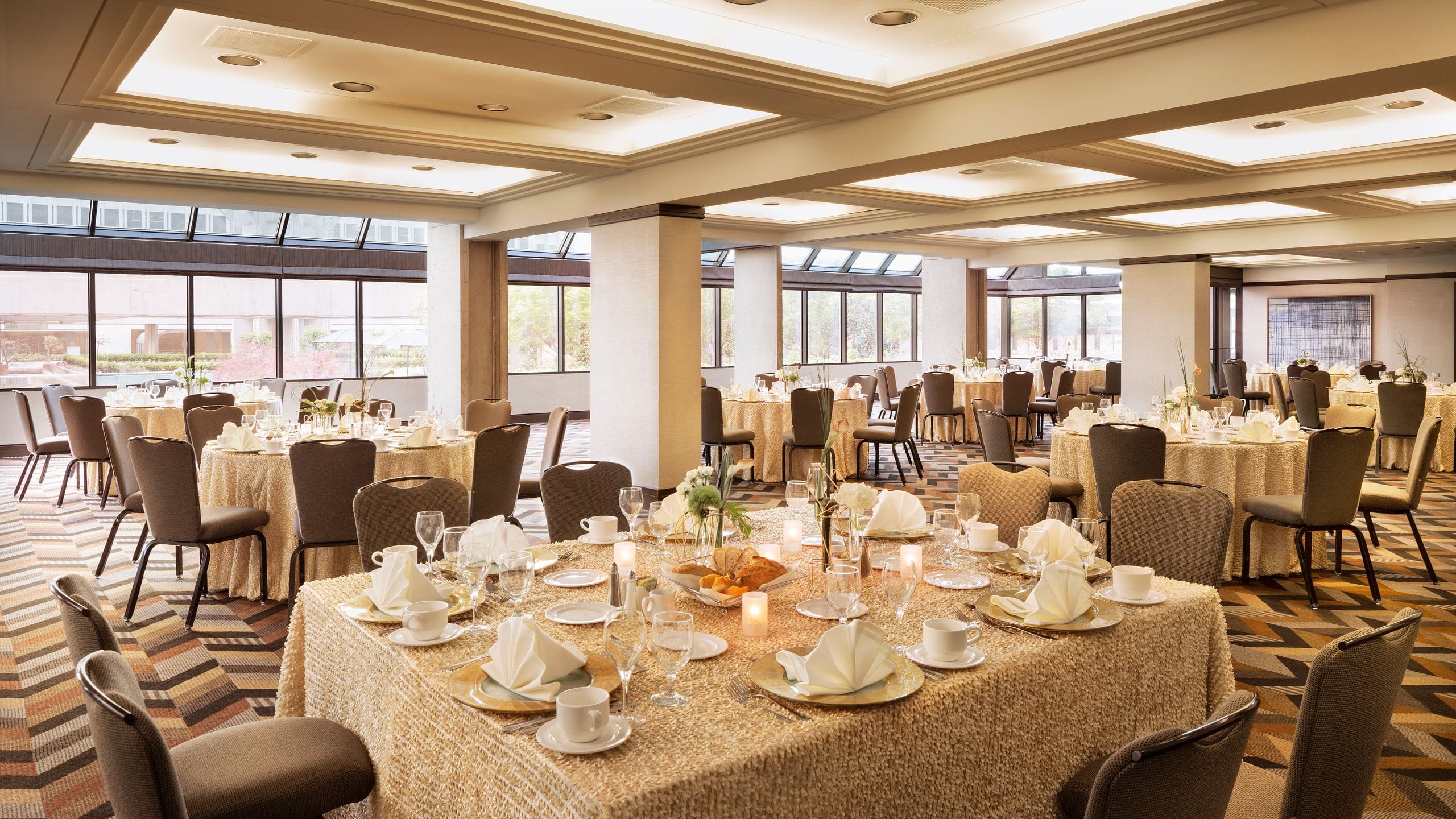 Weddings & Celebrations
Let your wedding day play out with personalized touches that will delight and enchant your guests and make for a memorable occasion. Our experts are on hand to make your dream wedding a seamless reality.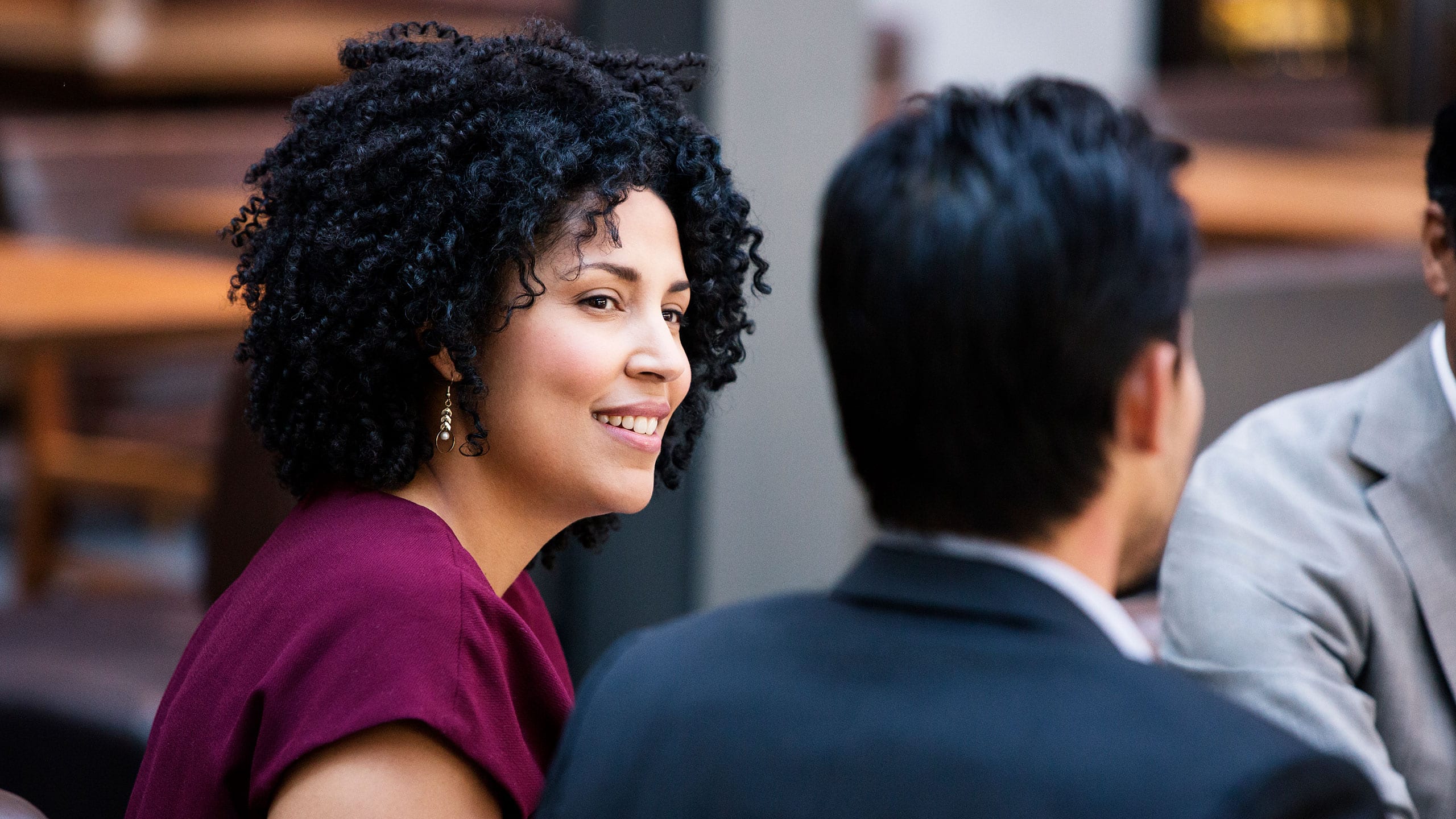 Golden Gate Room (Bay Level)
The Golden Gate room provides a more private gathering place for smaller events. This flexible 748-square-foot venue seats up to 50 people for an intimate dining experience.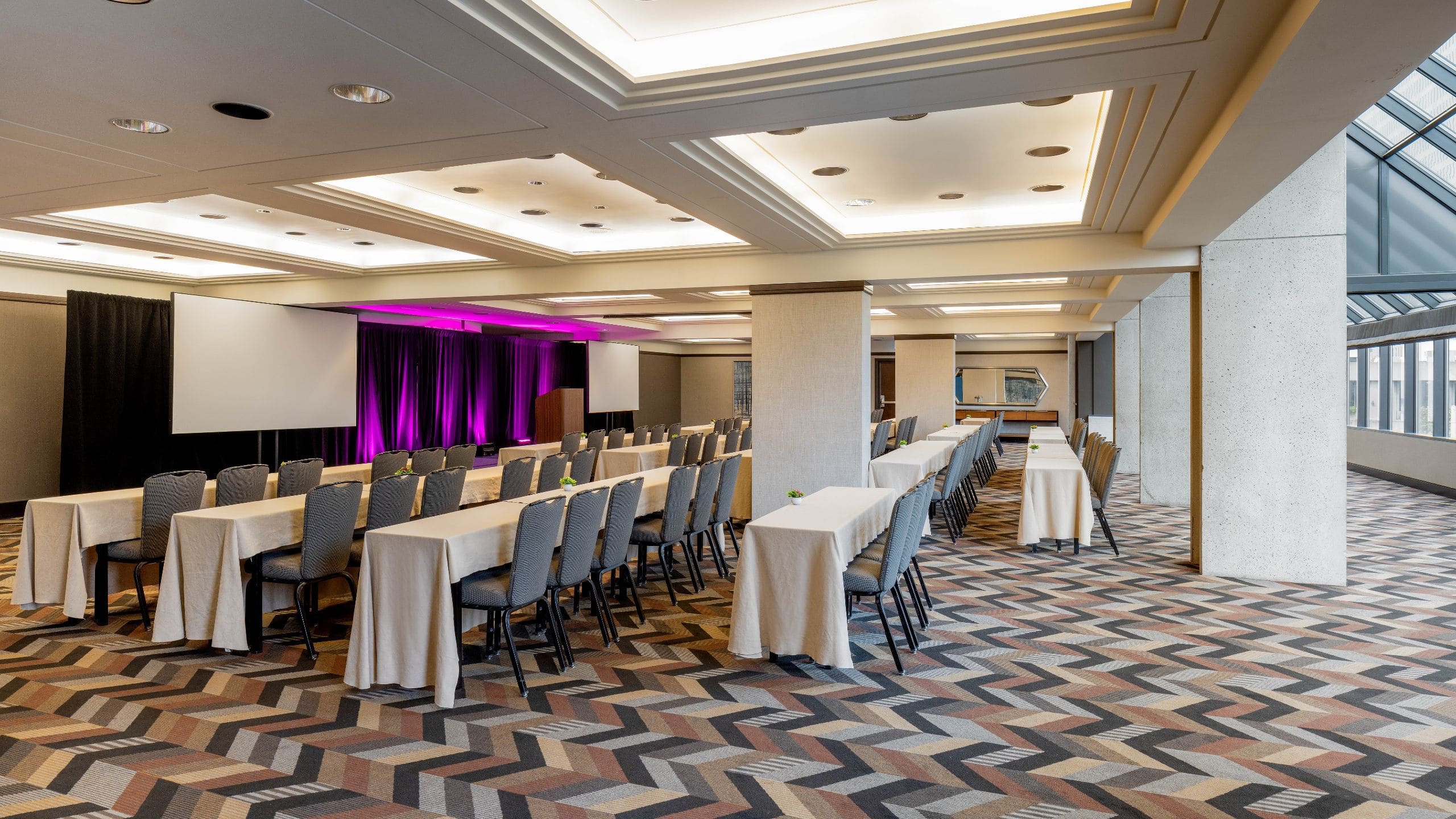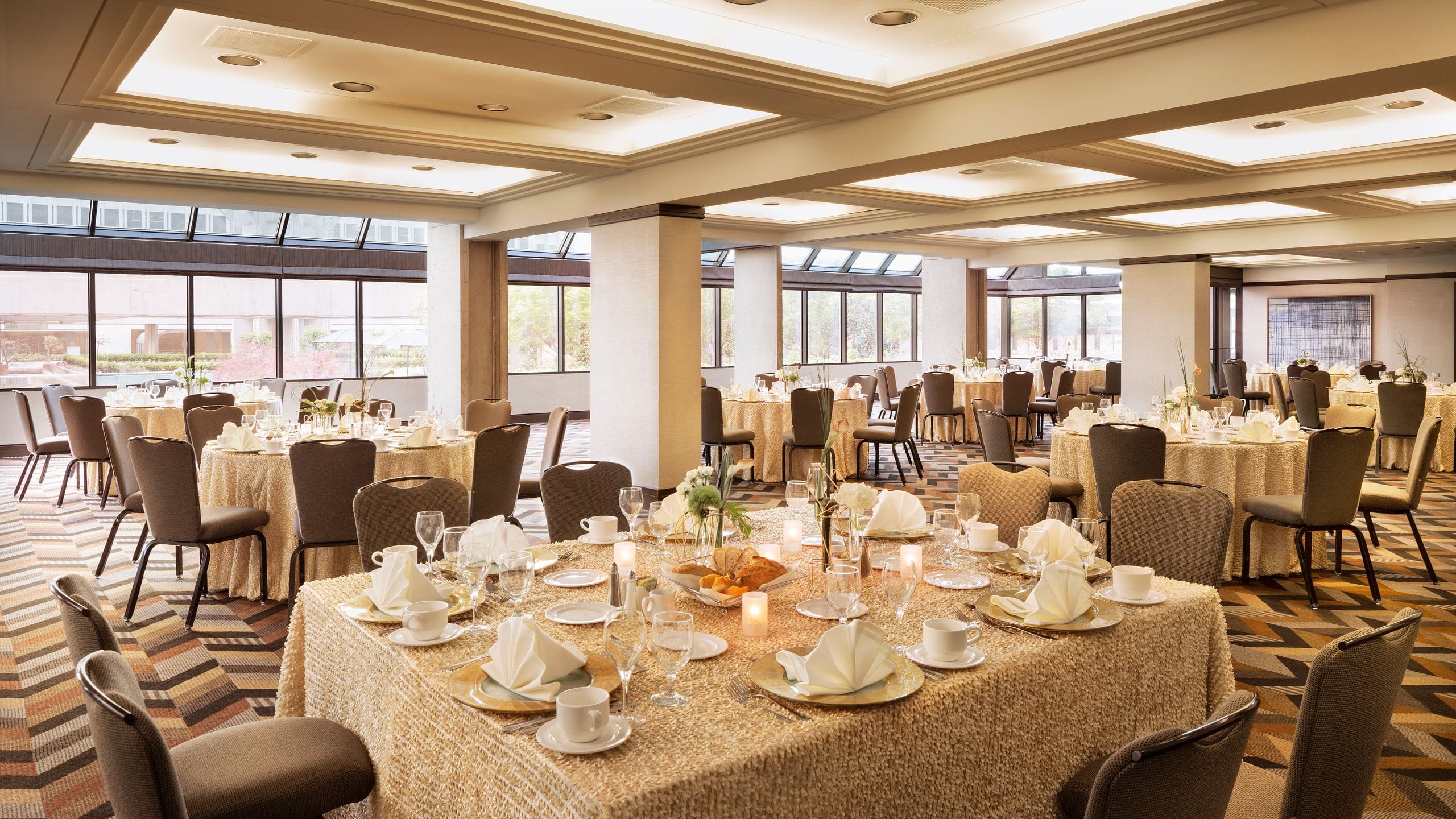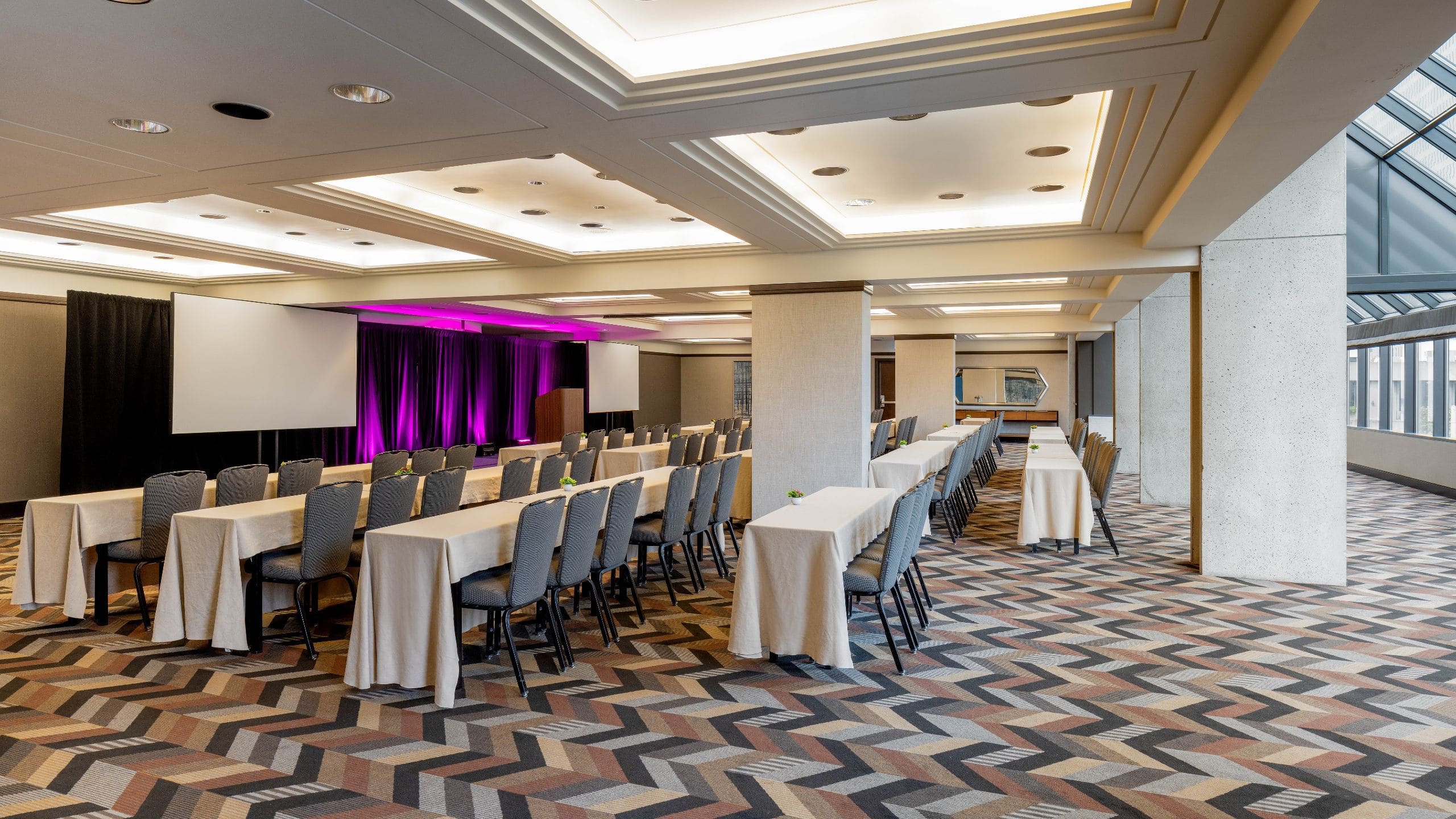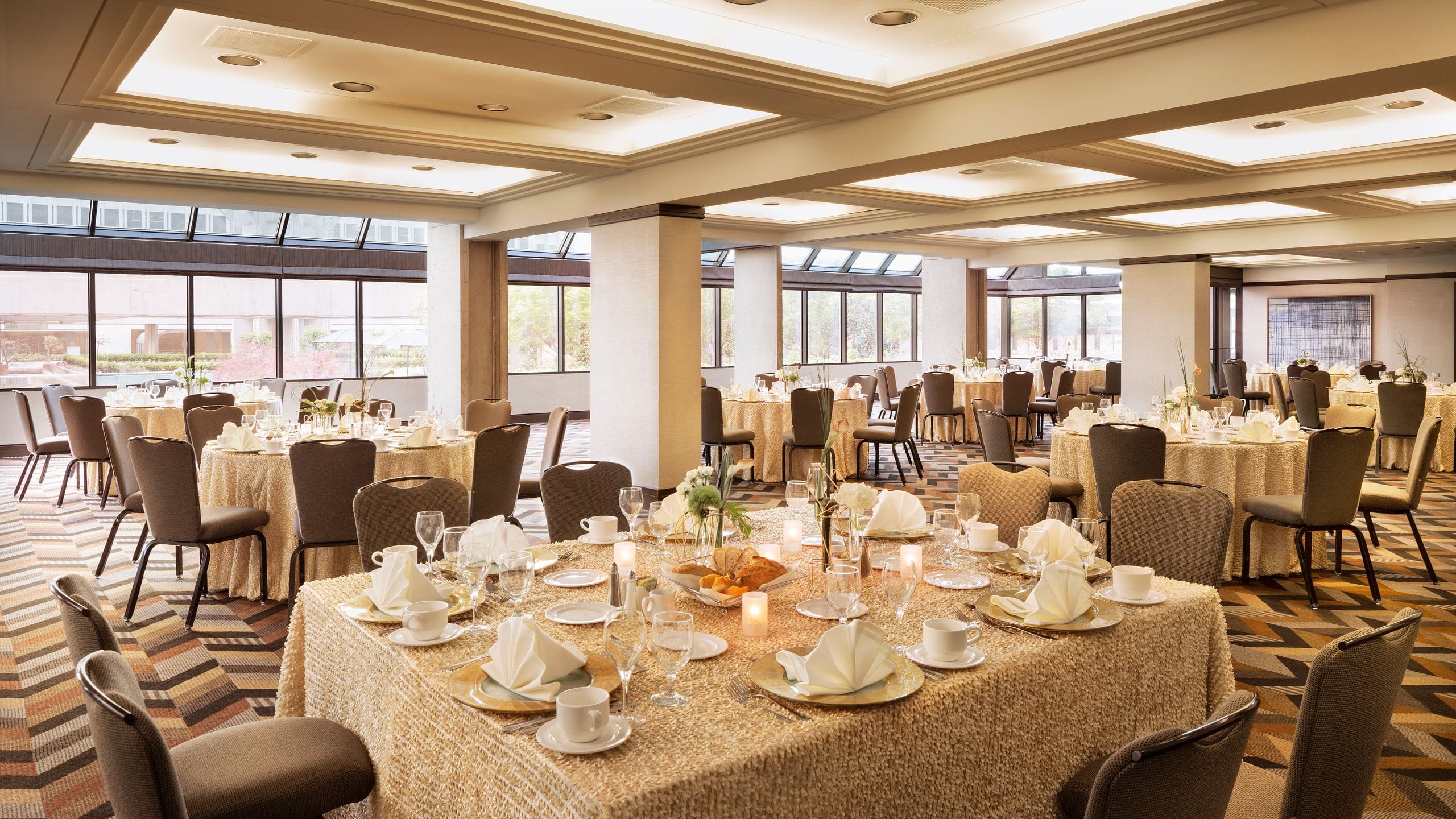 Garden Room (Atrium Level)
Panoramic waterfront views beckon in 3,256 square feet of venue space that entertains up to 300 guests for an elegant reception. Adjacent the breathtaking 17-story atrium, this venue is sure to create a memorable experience.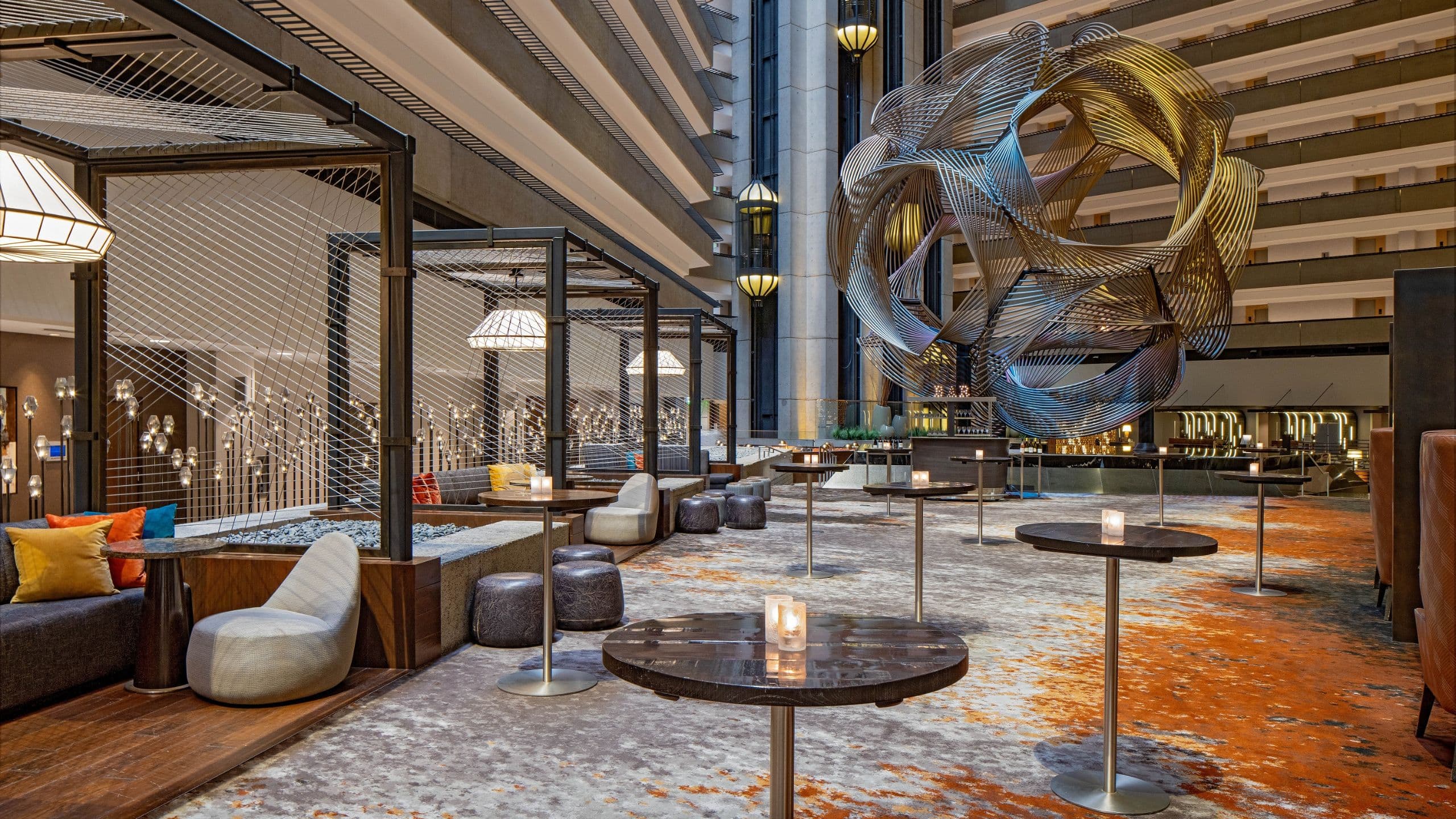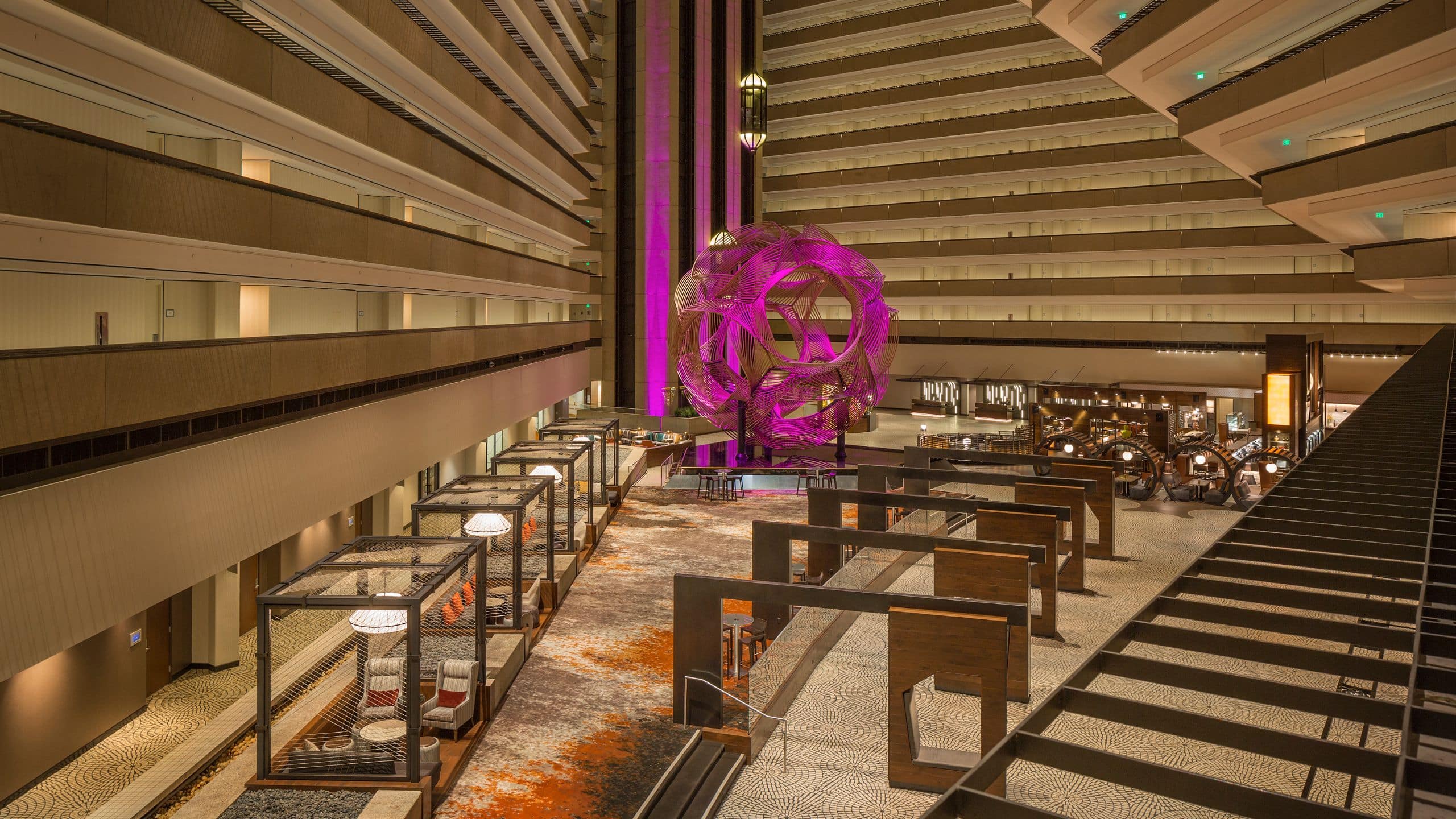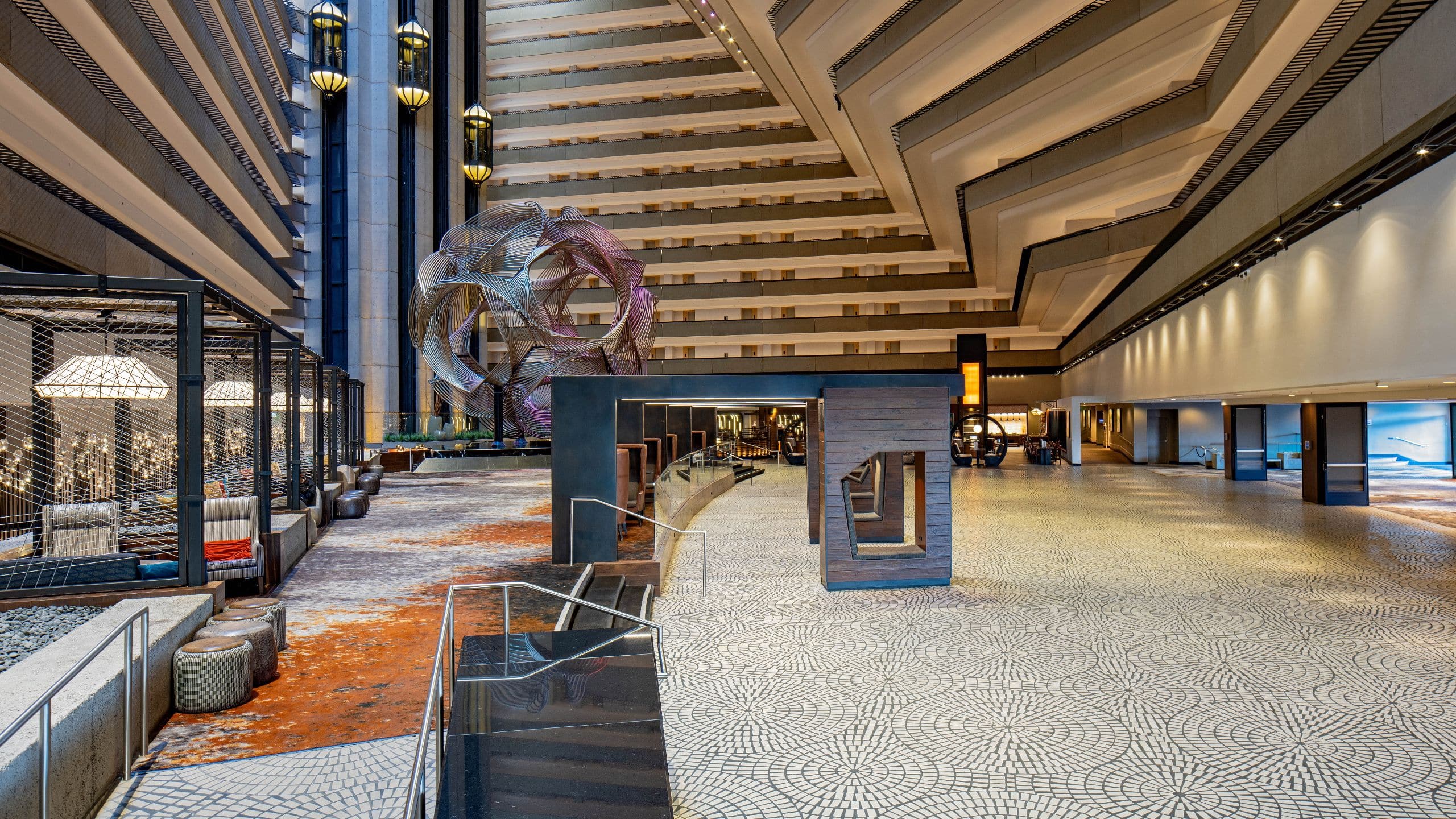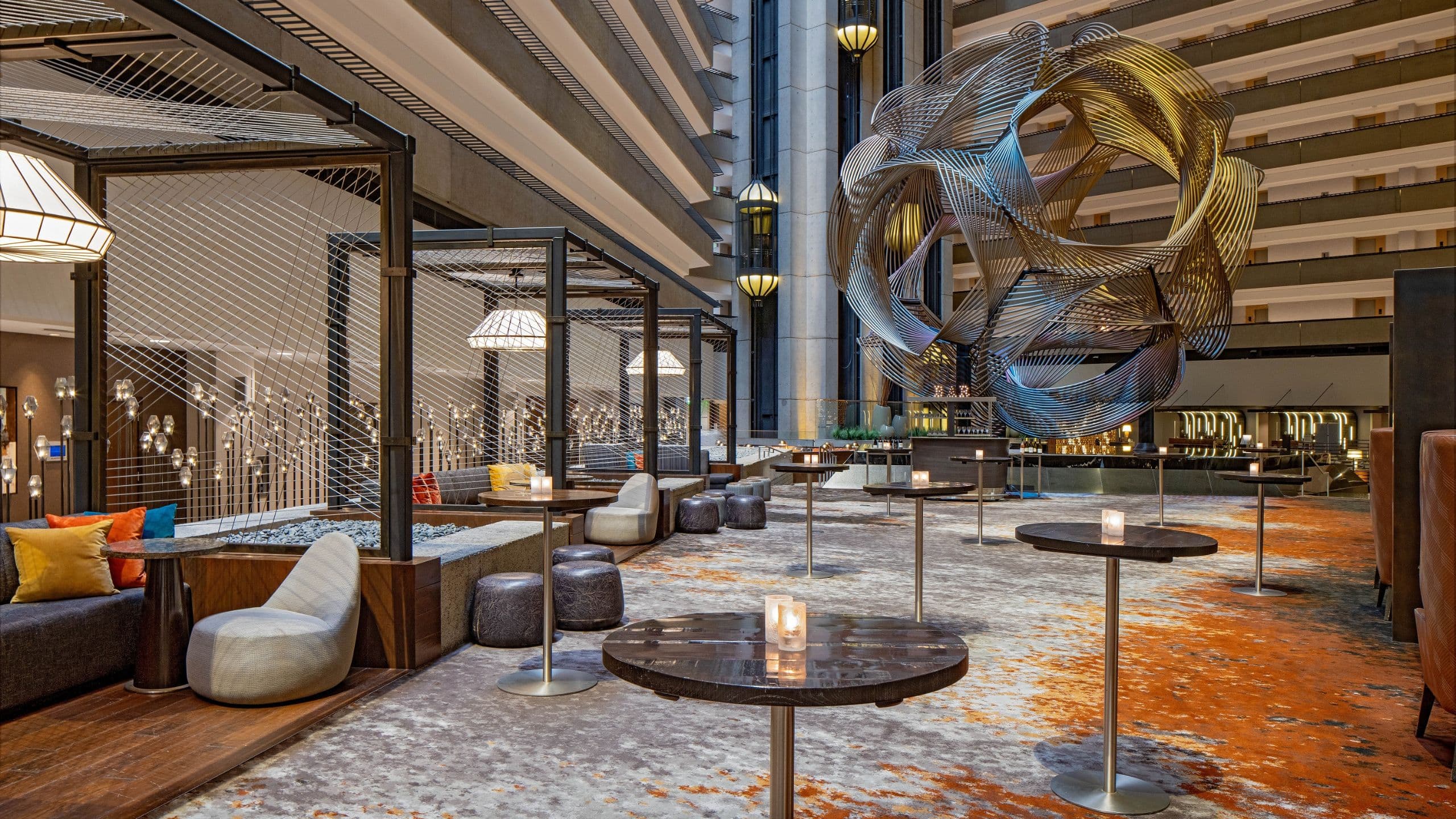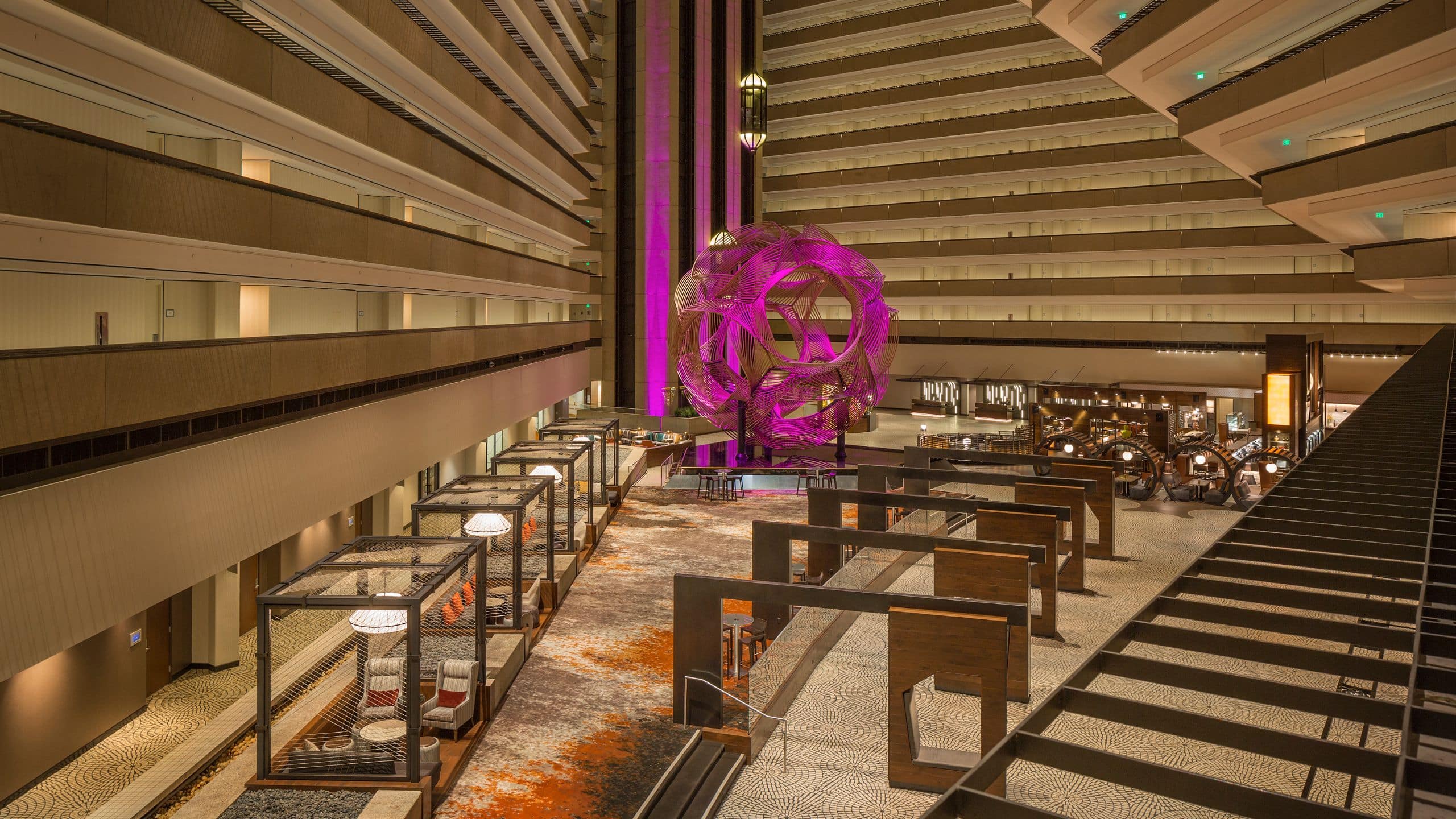 Atrium Lobby (Atrium Level)
Your event will make a commanding statement in the "World's Largest Hotel Lobby." Voluminous ceilings and a 40-foot sculpture perched atop a sleek square fountain will delight and inspire your guests.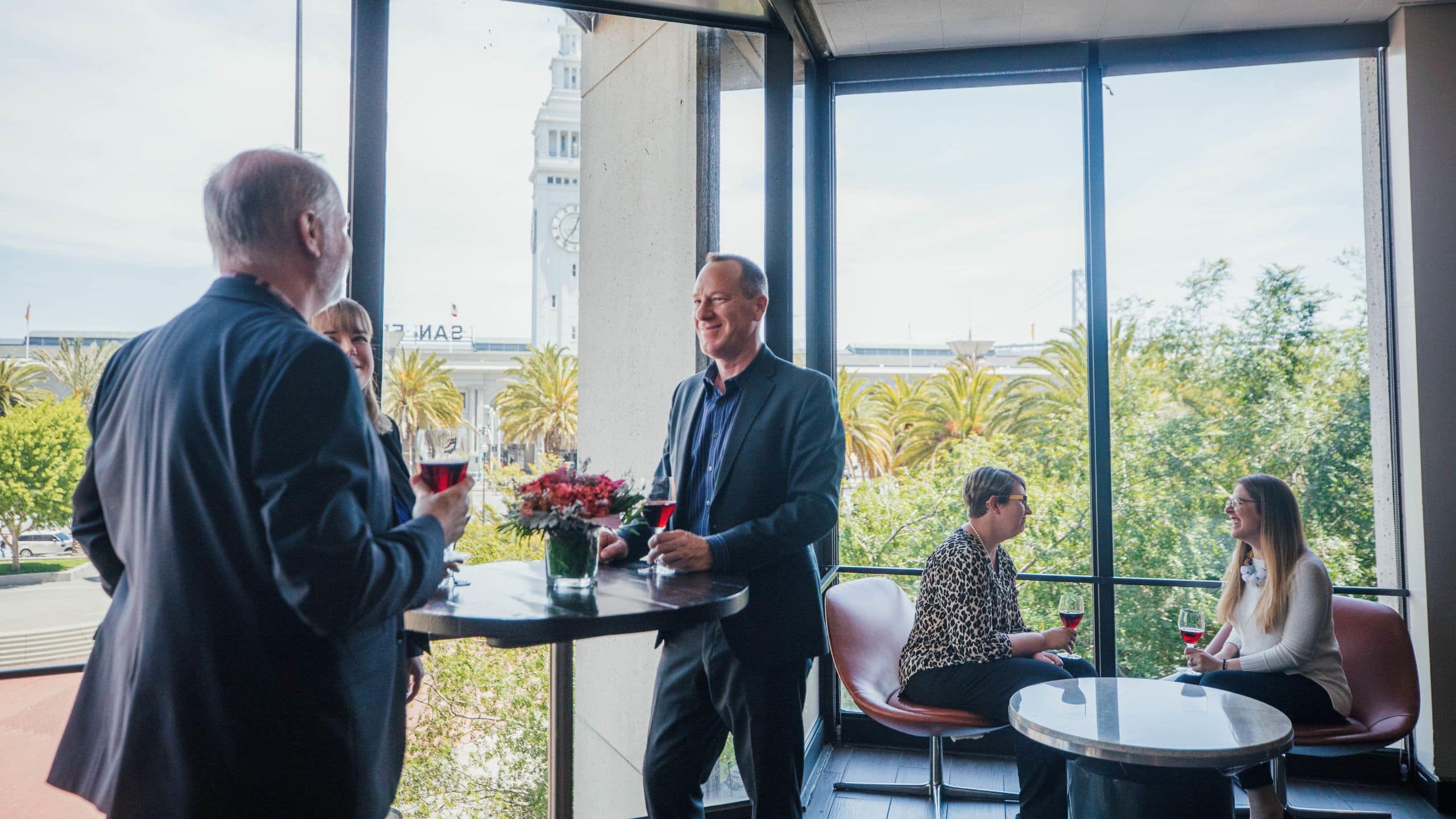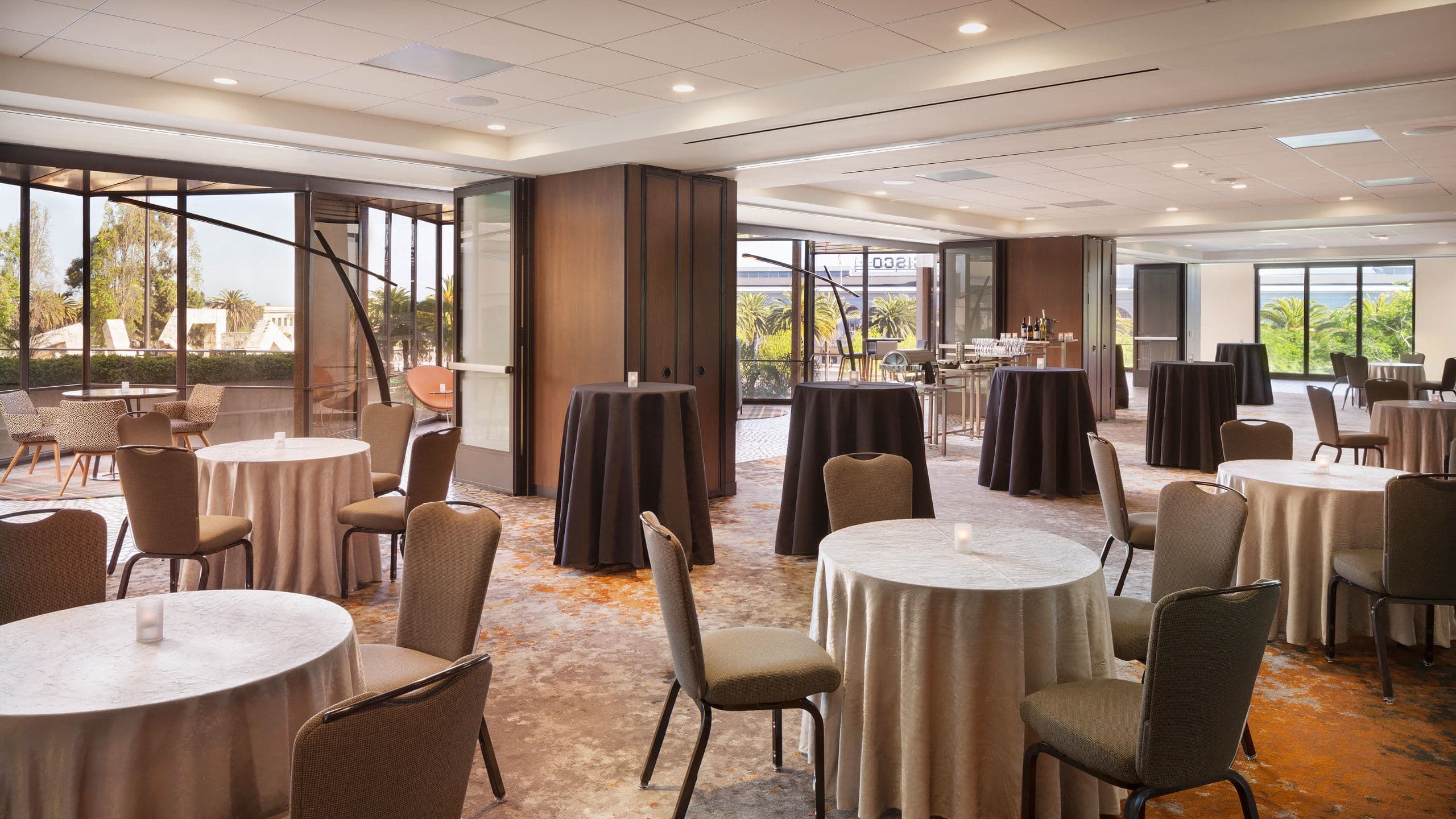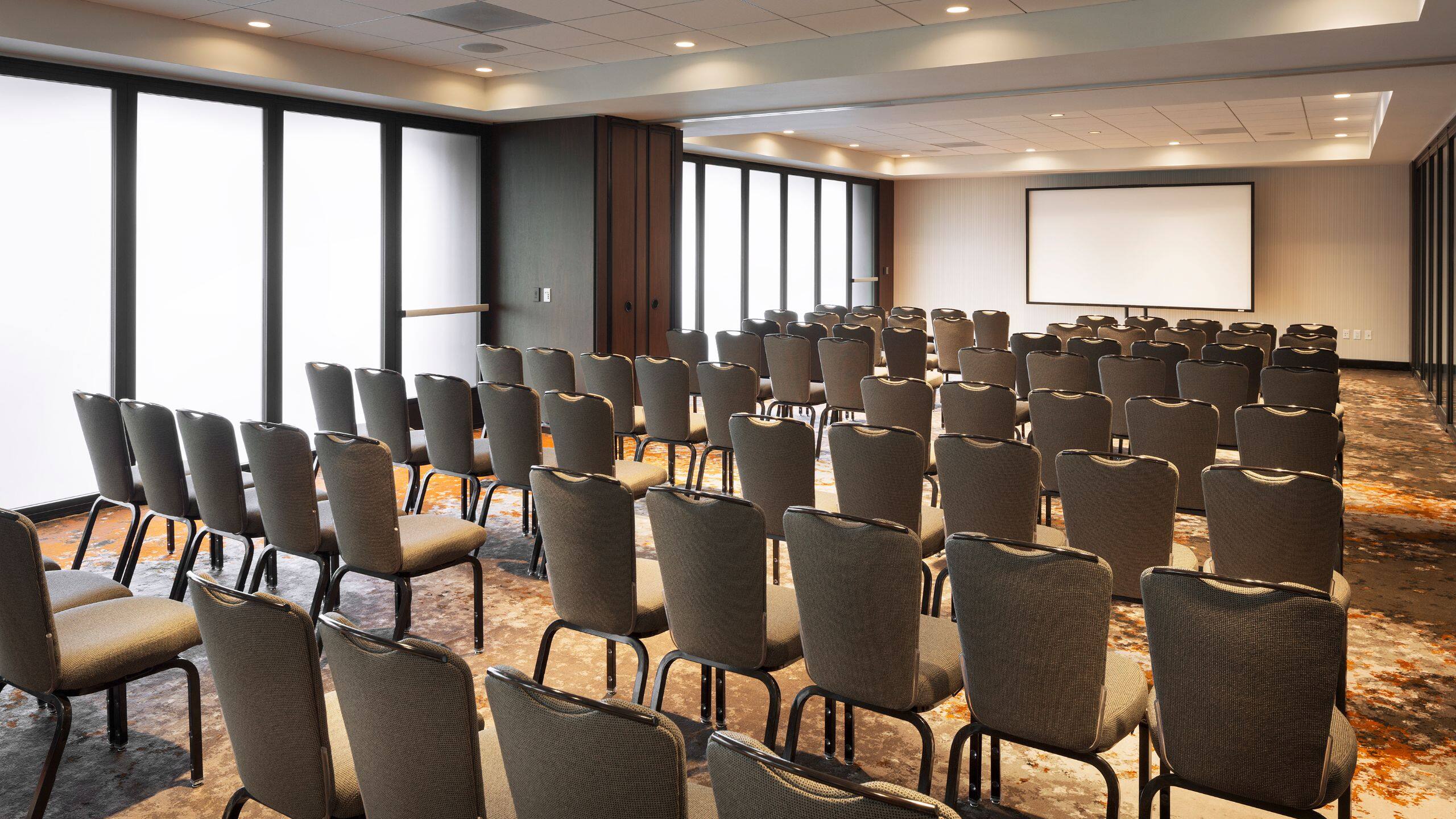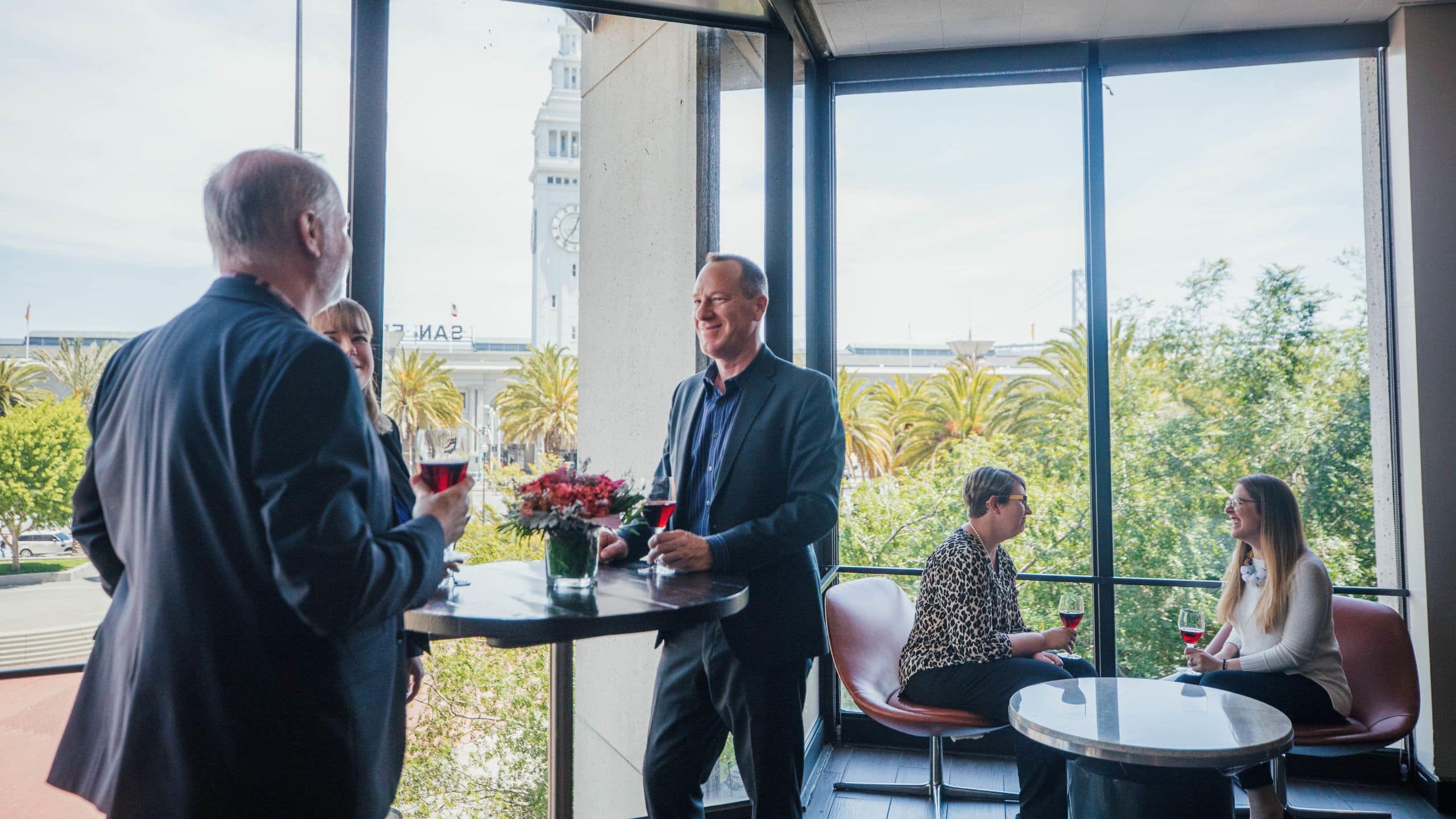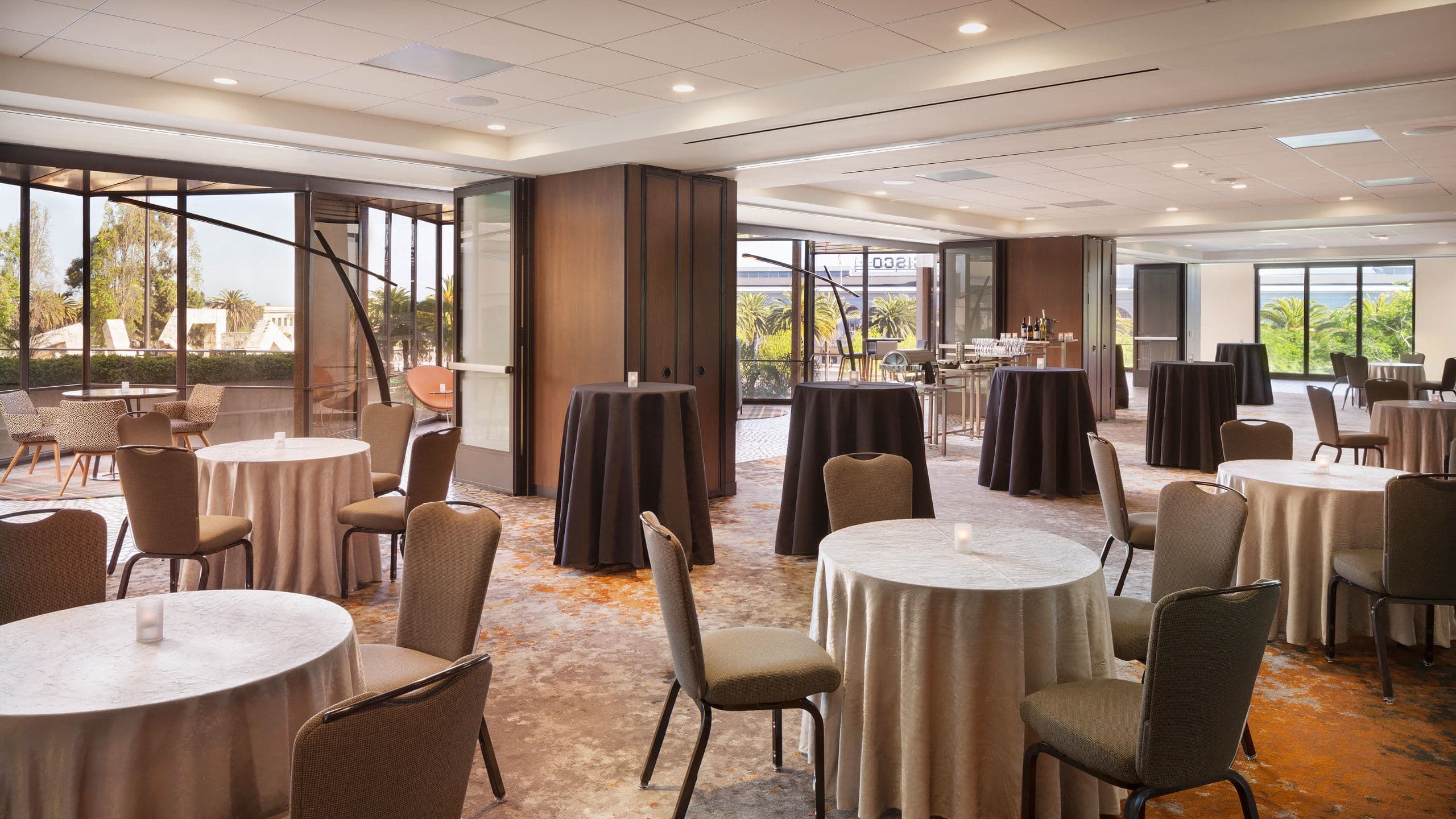 Waterfront Room (Atrium Level)
Quintessential bay views showcasing the iconic Ferry Building will captivate guests. Ranging from 626 to 3,034 square feet, the Waterfront Room can subdivide into five rooms and is ideal for a reception.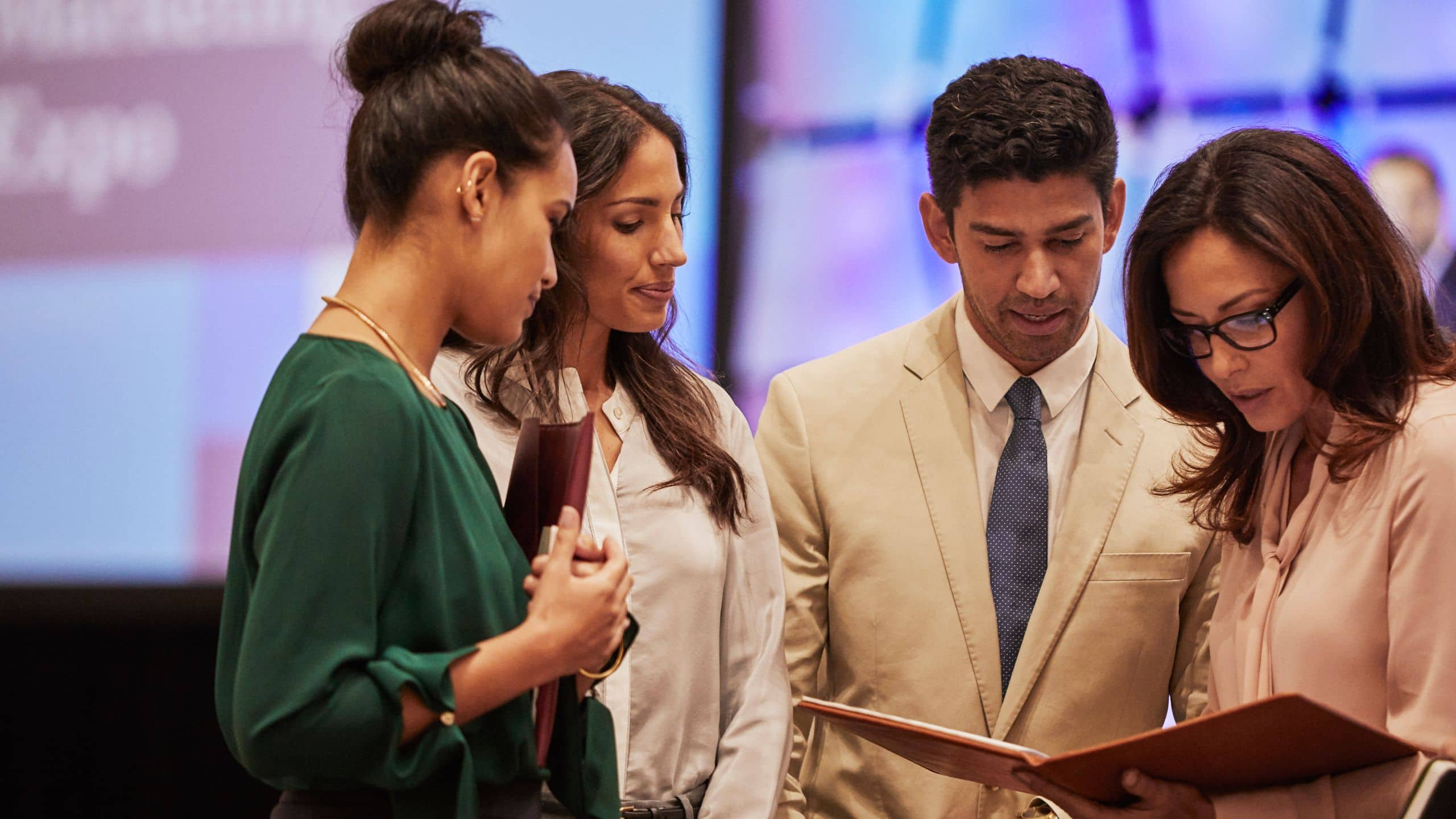 Plaza Room (Street Level)
Enjoy a more intimate celebration in this 728-square-foot venue for a banquet-style catered dinner or a private reception for up to 45.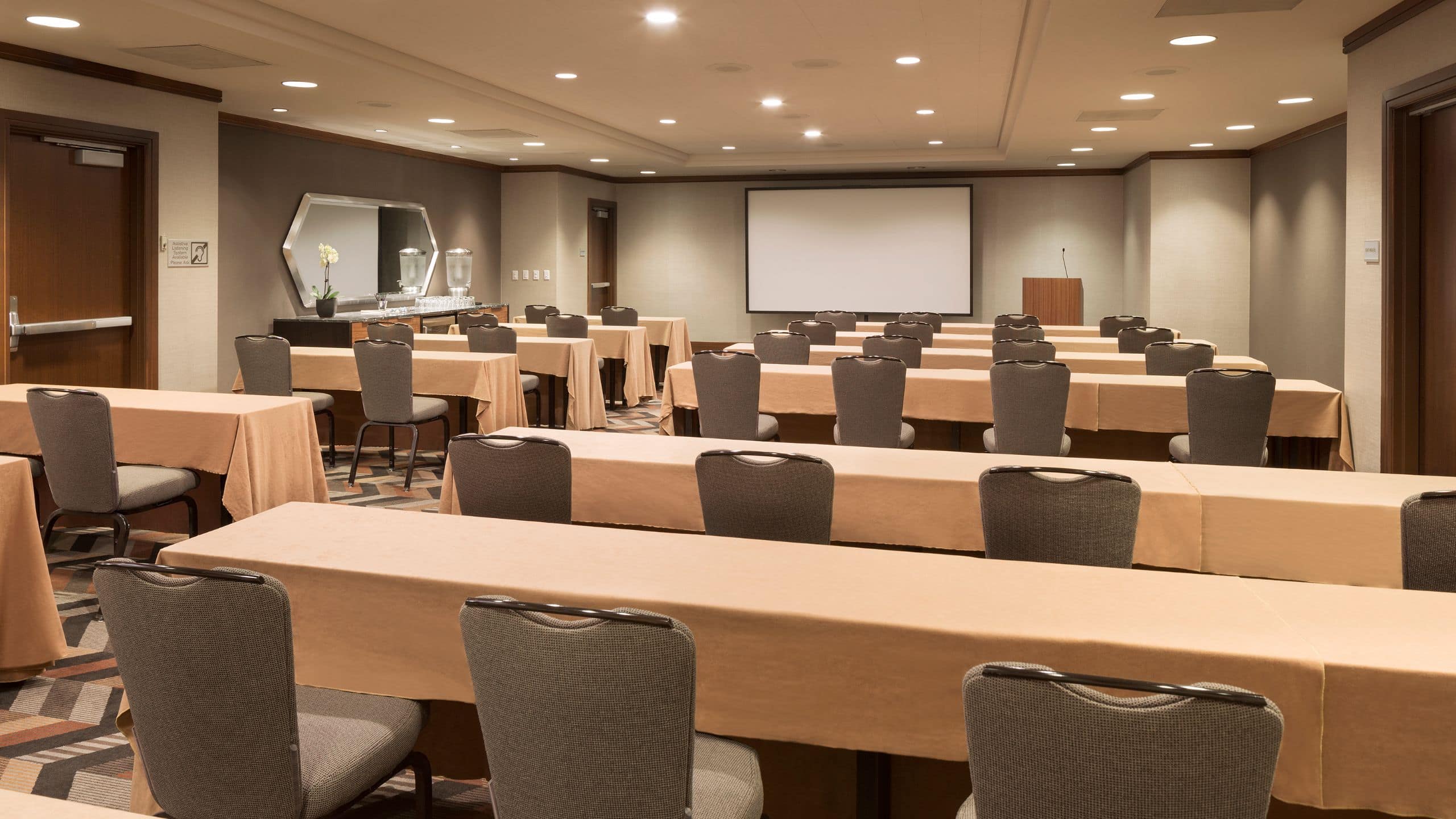 Marina Room (Bay Level)
The perfect atmosphere to inspire celebrations, the Marina Room boasts 1,316 square feet of optimal venue space. Seat up to 80 guests banquet style or celebrate big with up to 100 guests reception style.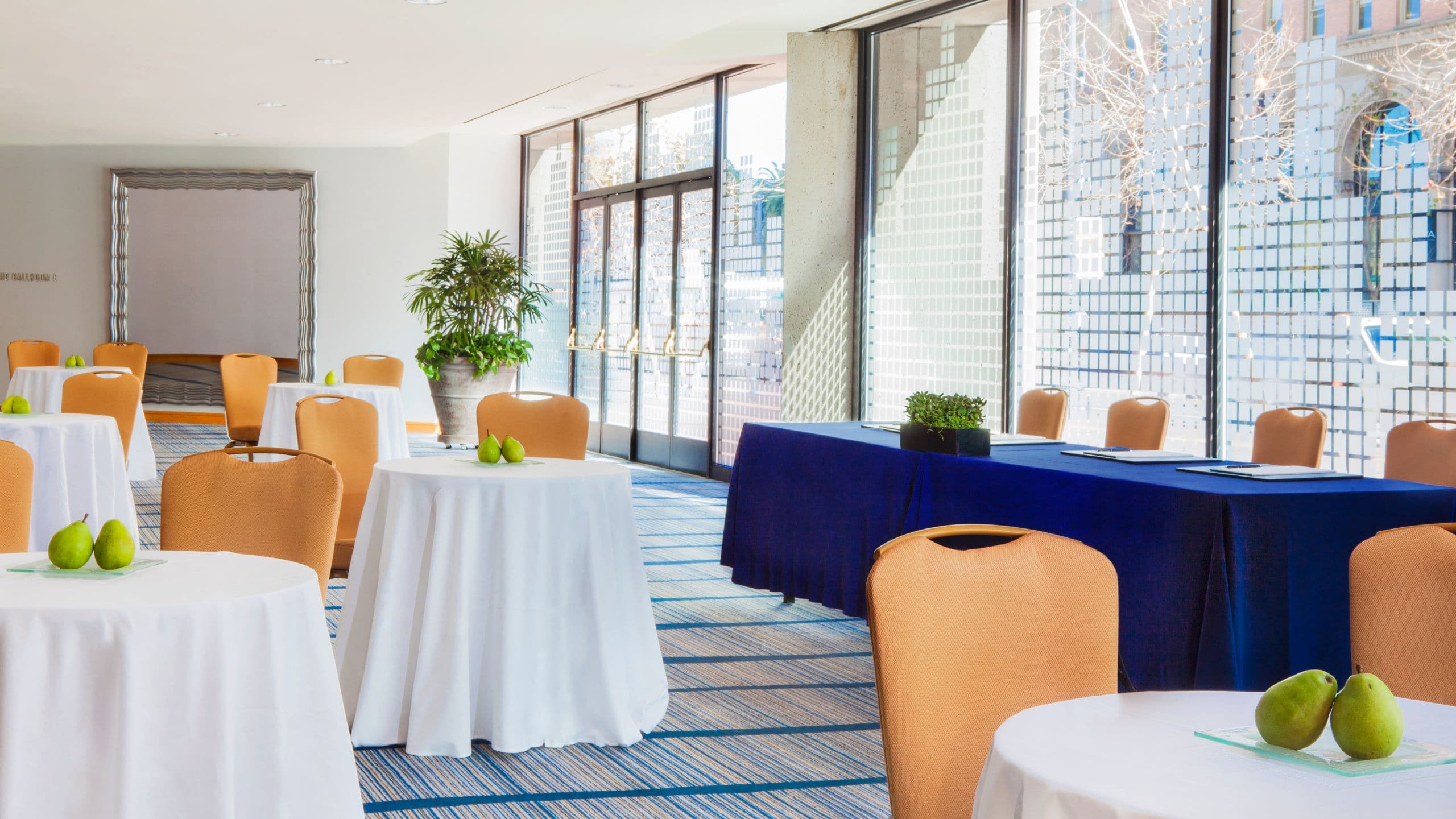 Market Street Foyer (Street Level)
Kick off your celebration in 2,000 square feet of adjacent ballroom space in the Market Street Foyer. Frosted floor-to-ceiling windows bathe this space in natural light. Ideal for cocktail hours and hors'd'oeuvres.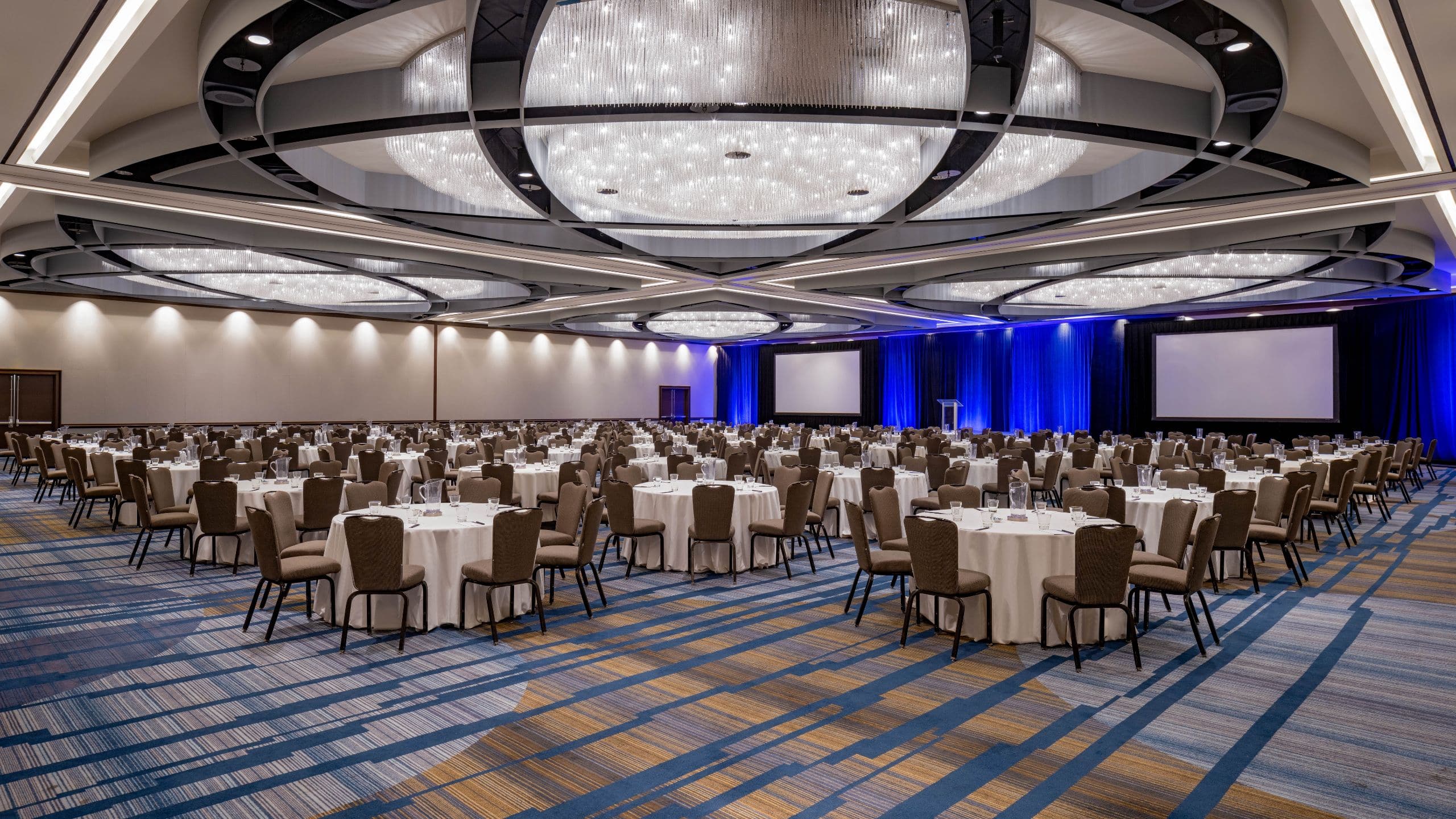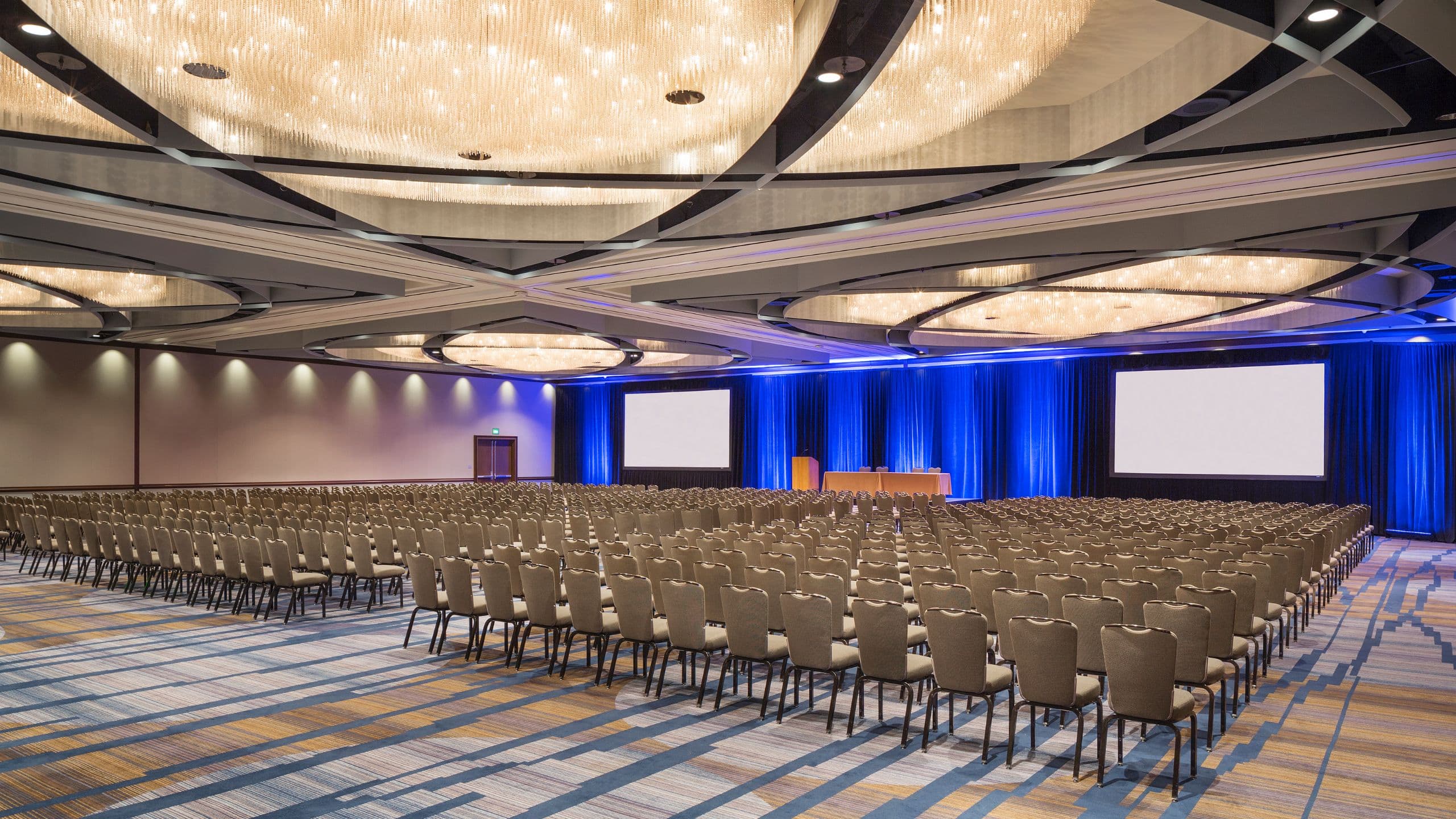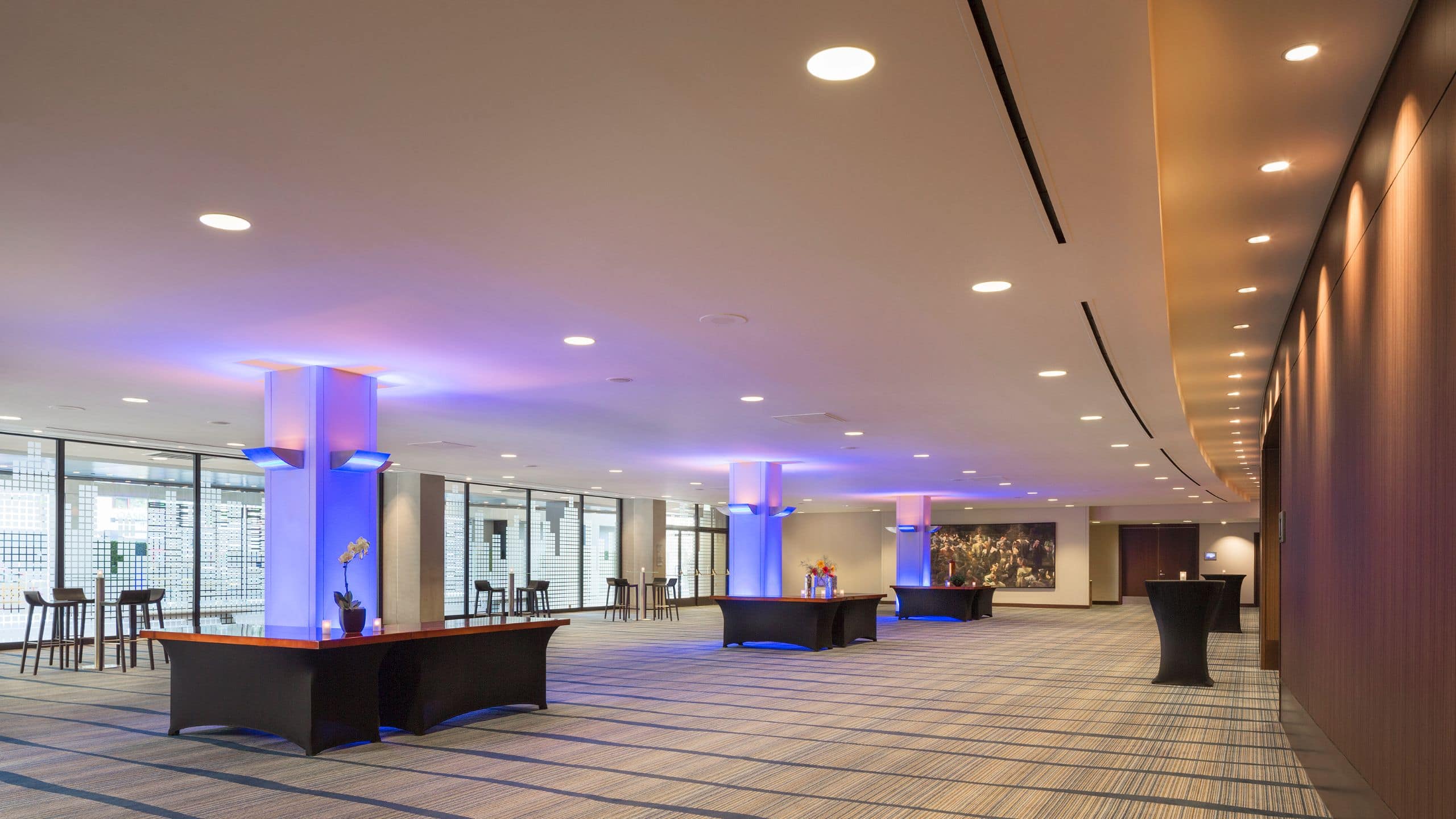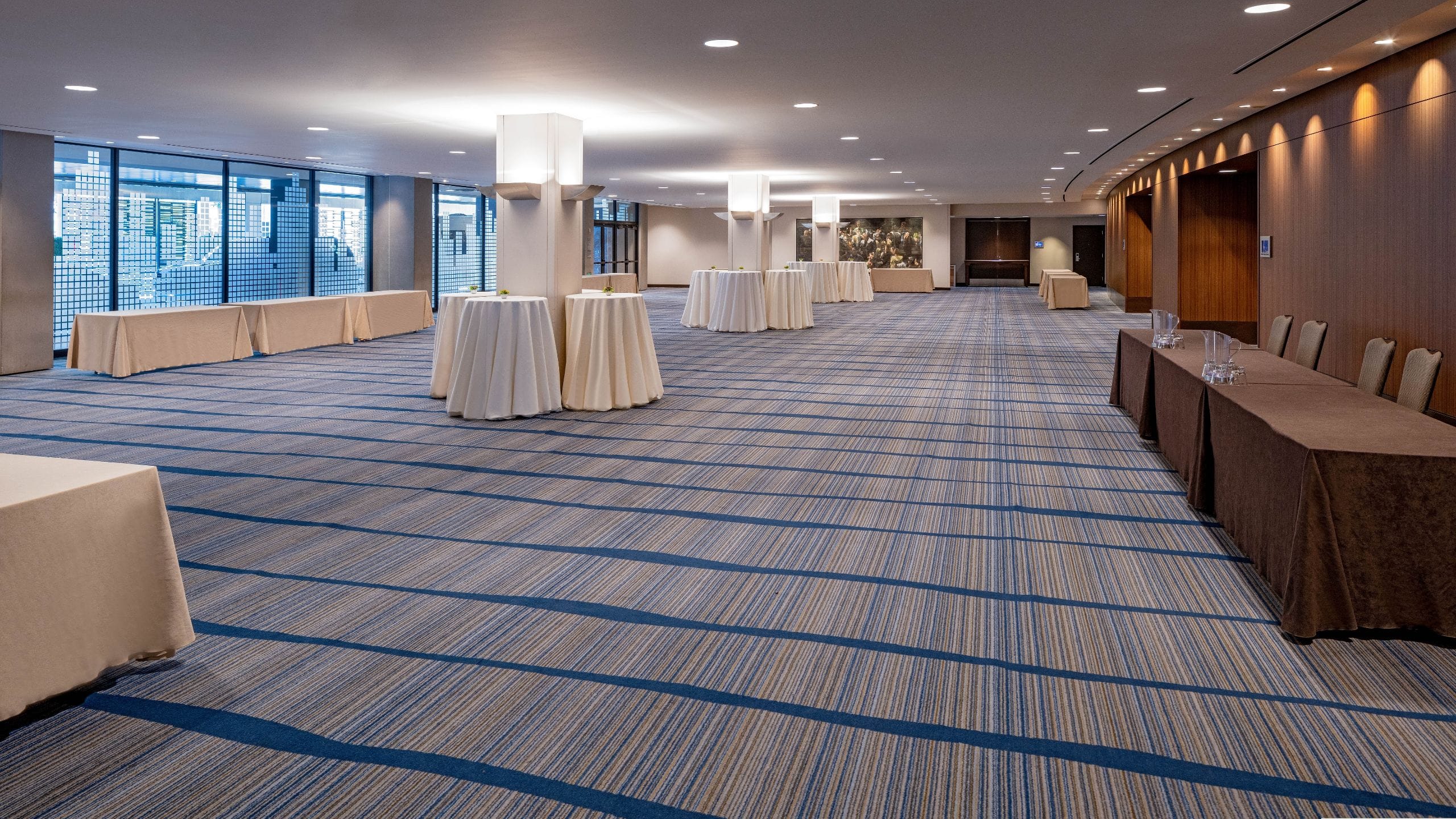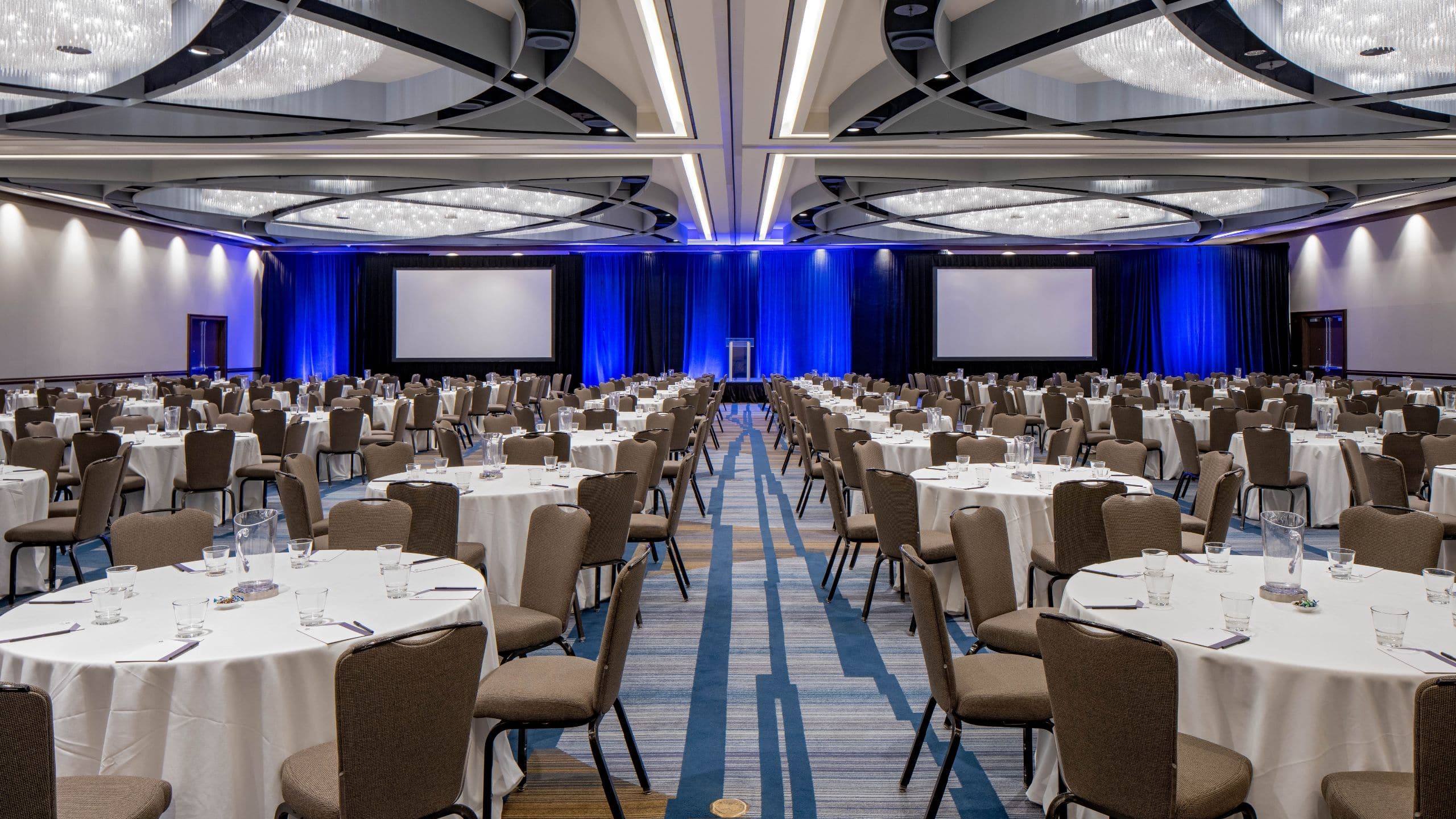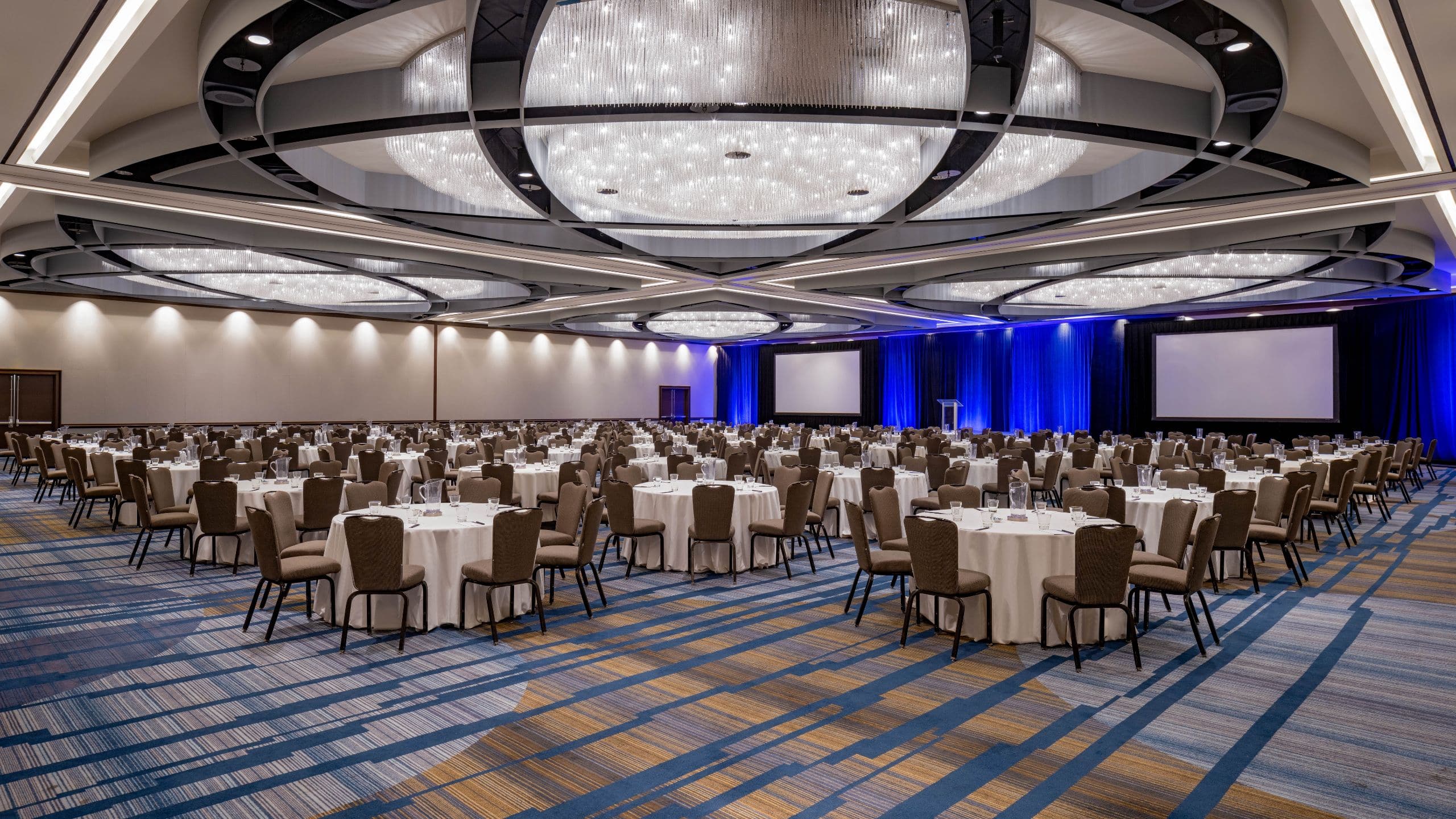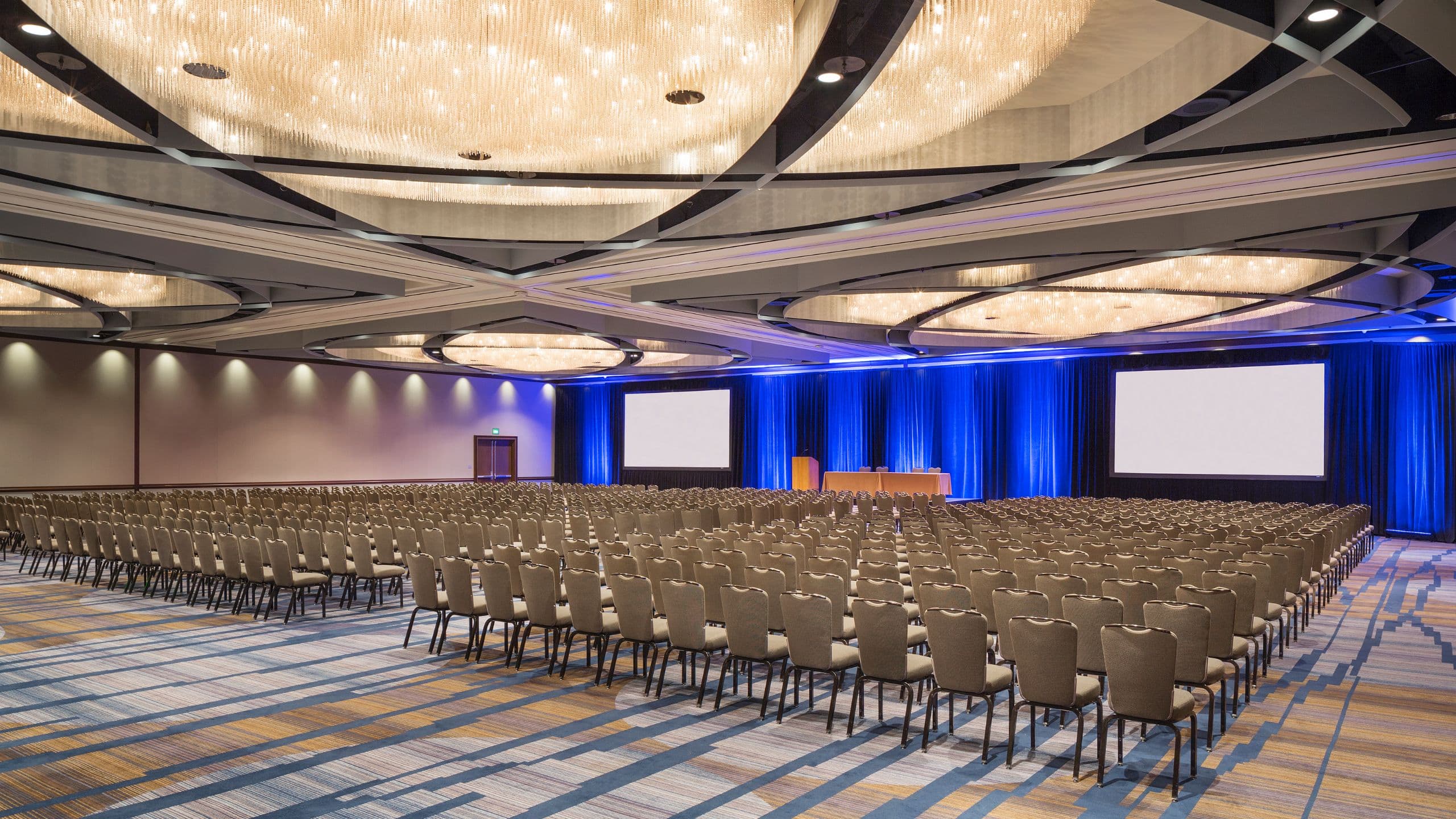 Grand Ballroom (Street Level)
Enjoy refined elegance in our 11,125-square-foot Grand Ballroom featuring seating for up to 1,000. This venue is an ideal backdrop for conference keynotes or opulent banquets. A stunning, light-bejeweled ceiling adds sophistication and impact.
Bayview Room (Bay Level)
One of our most versatile venues, the Bayview Room offers 4,895 square feet that accommodates up to 370 banquet style or a reception for 650. The adjacent foyer boasts a wall-to-wall waterfront view—the perfect place for guests to recharge.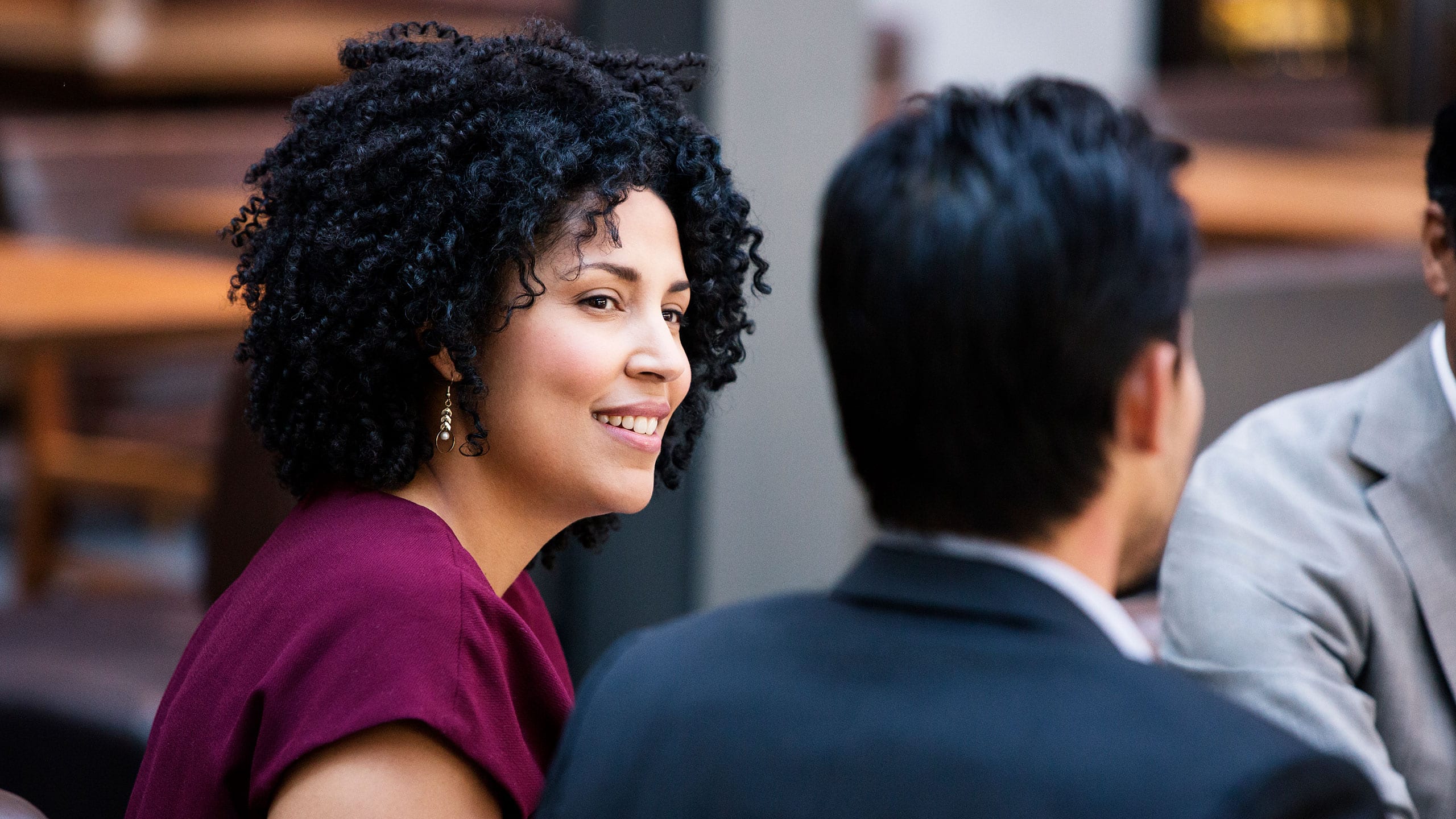 Regency Room (Street Level)
Set the tone for an impeccable event in this 1,456-square-foot ballroom that can be used as a single-event venue or divided into two discrete spaces. Host a small reception or a private seated banquet for up to 90.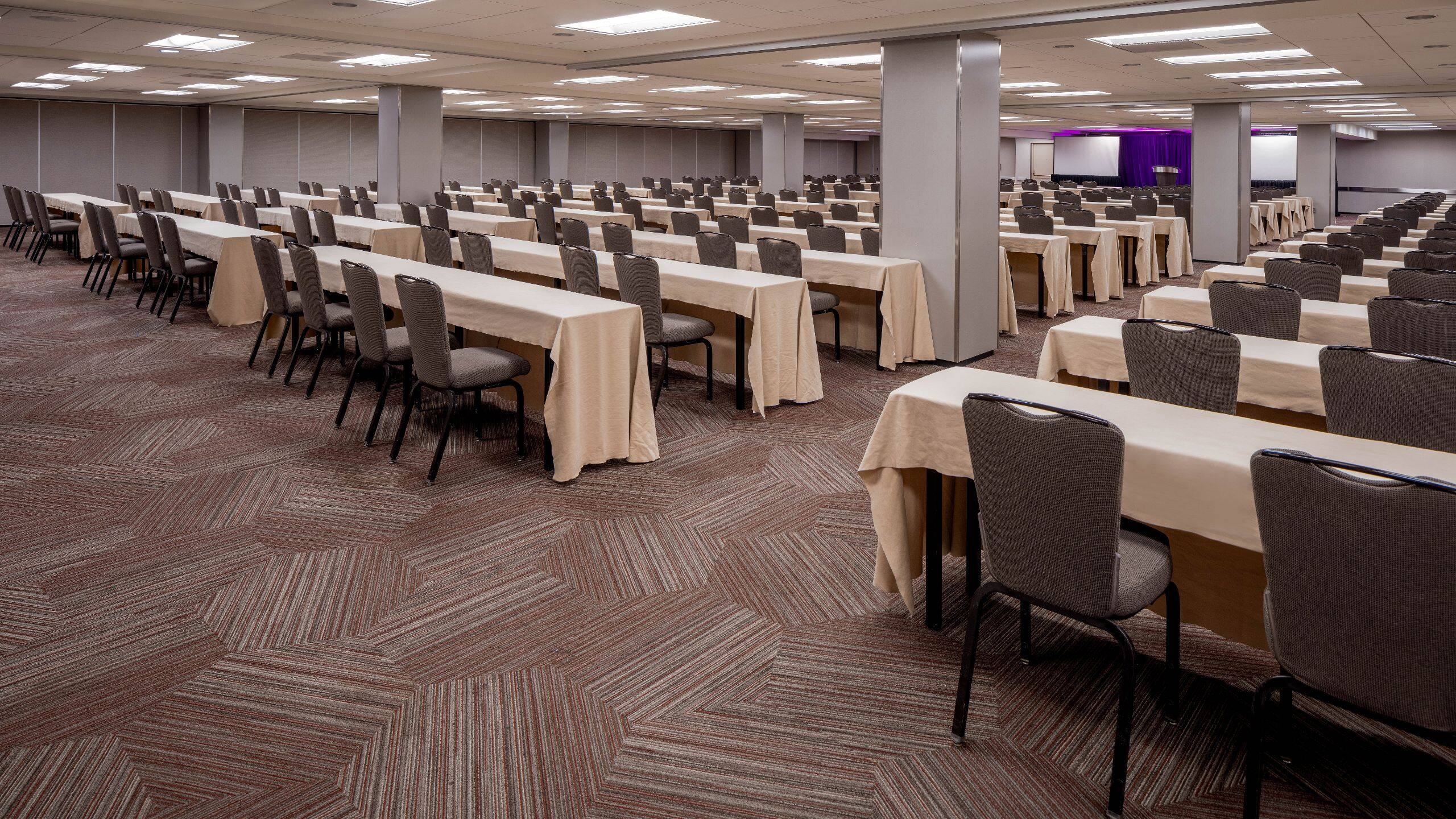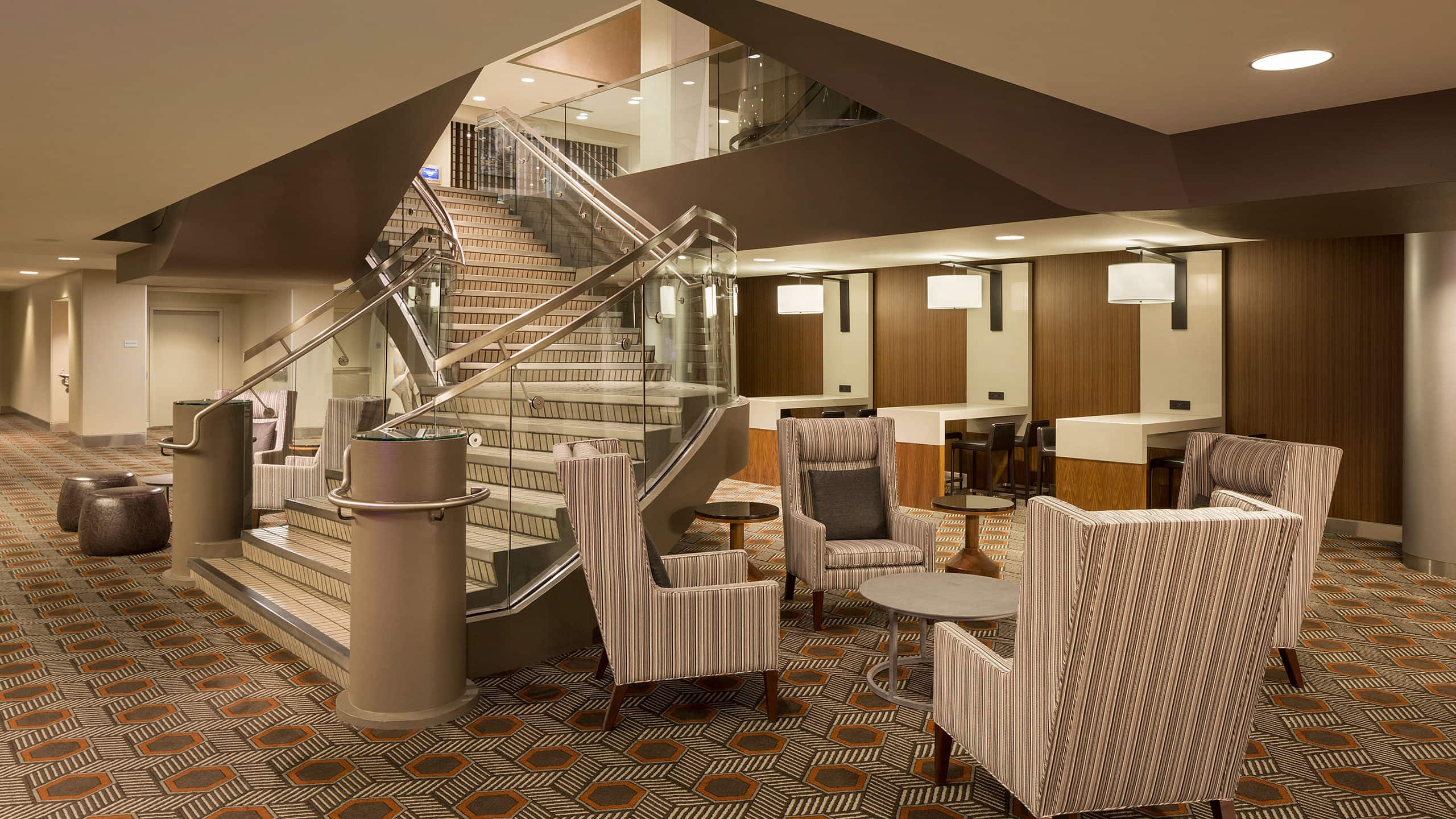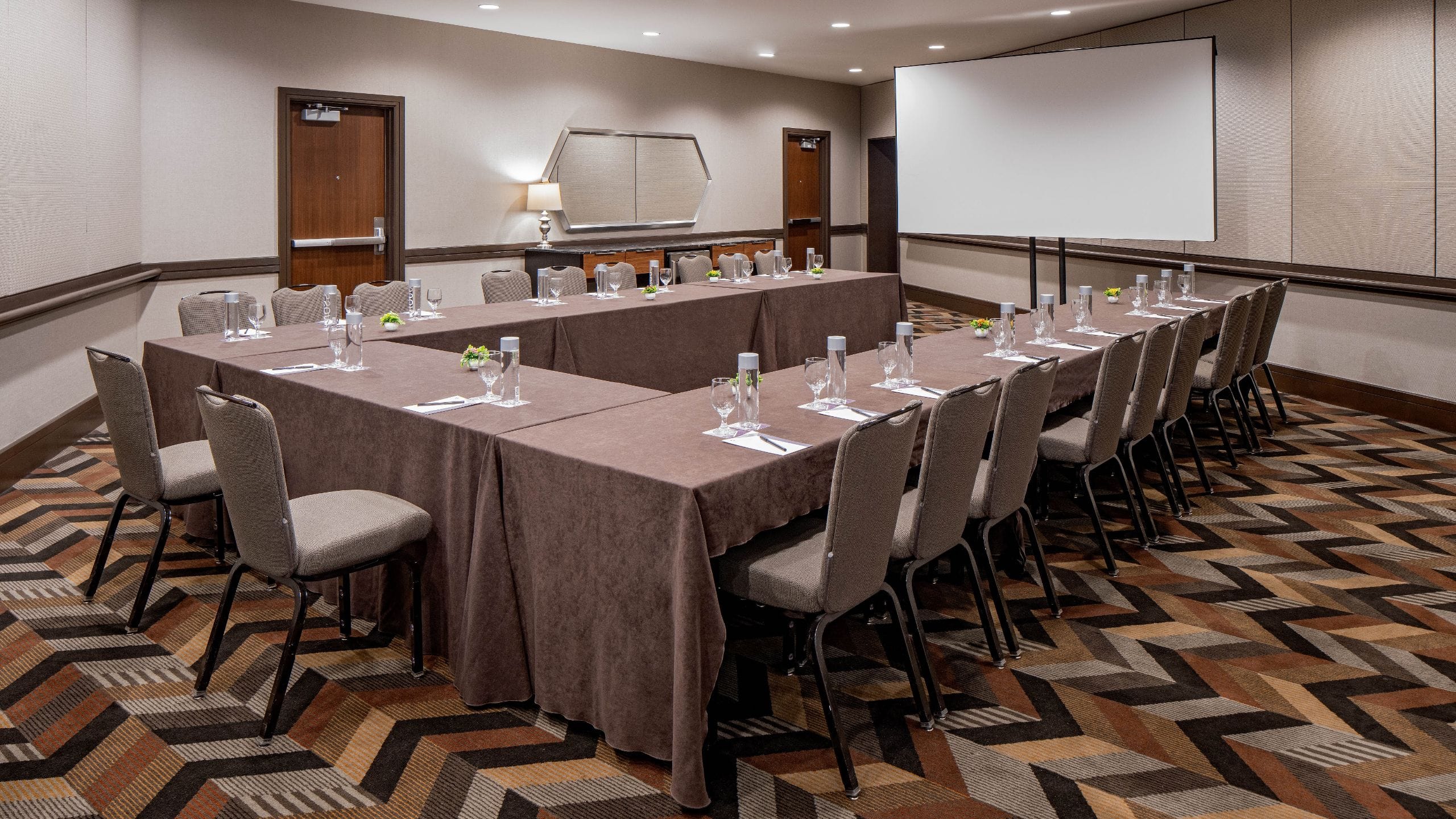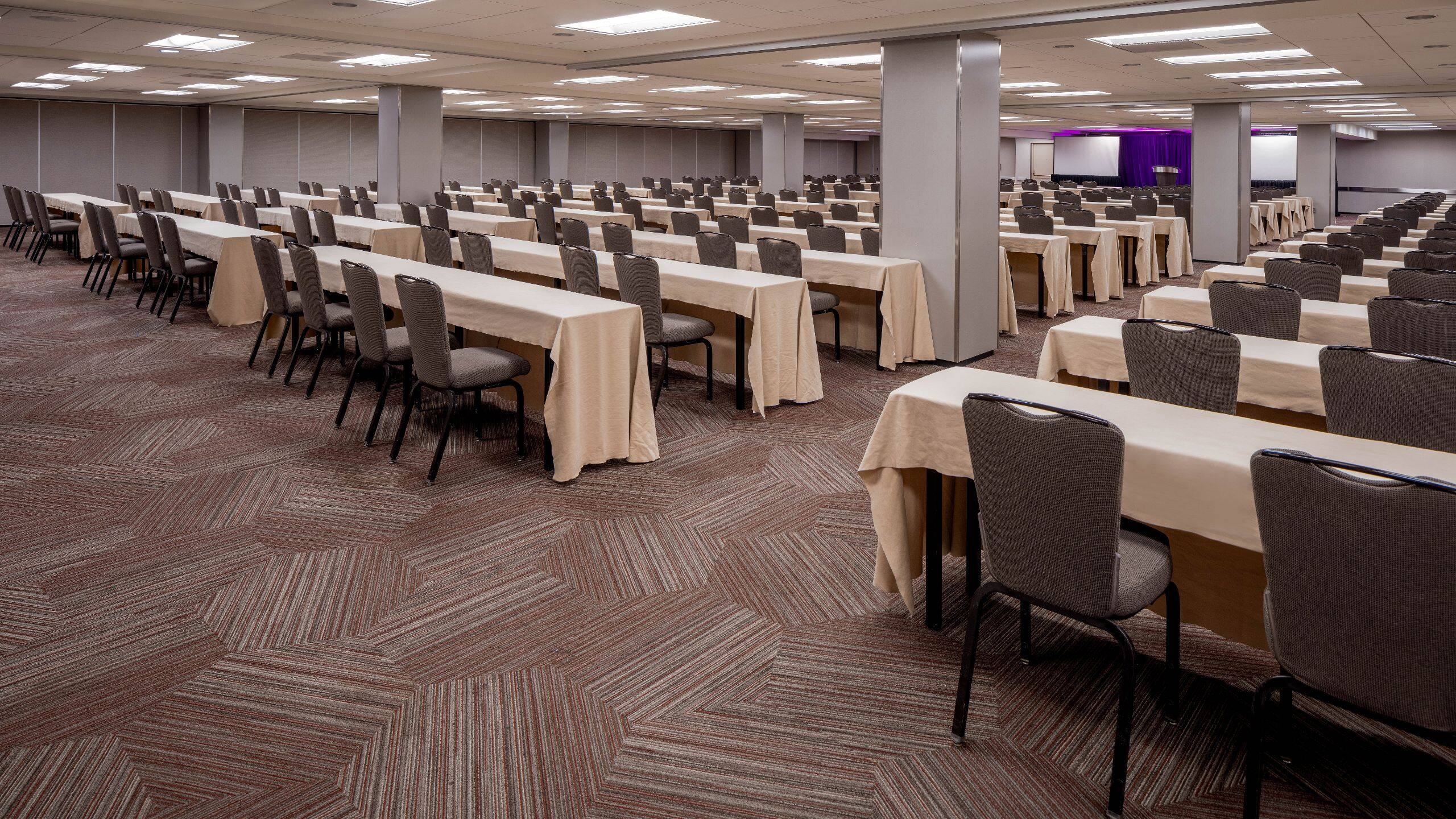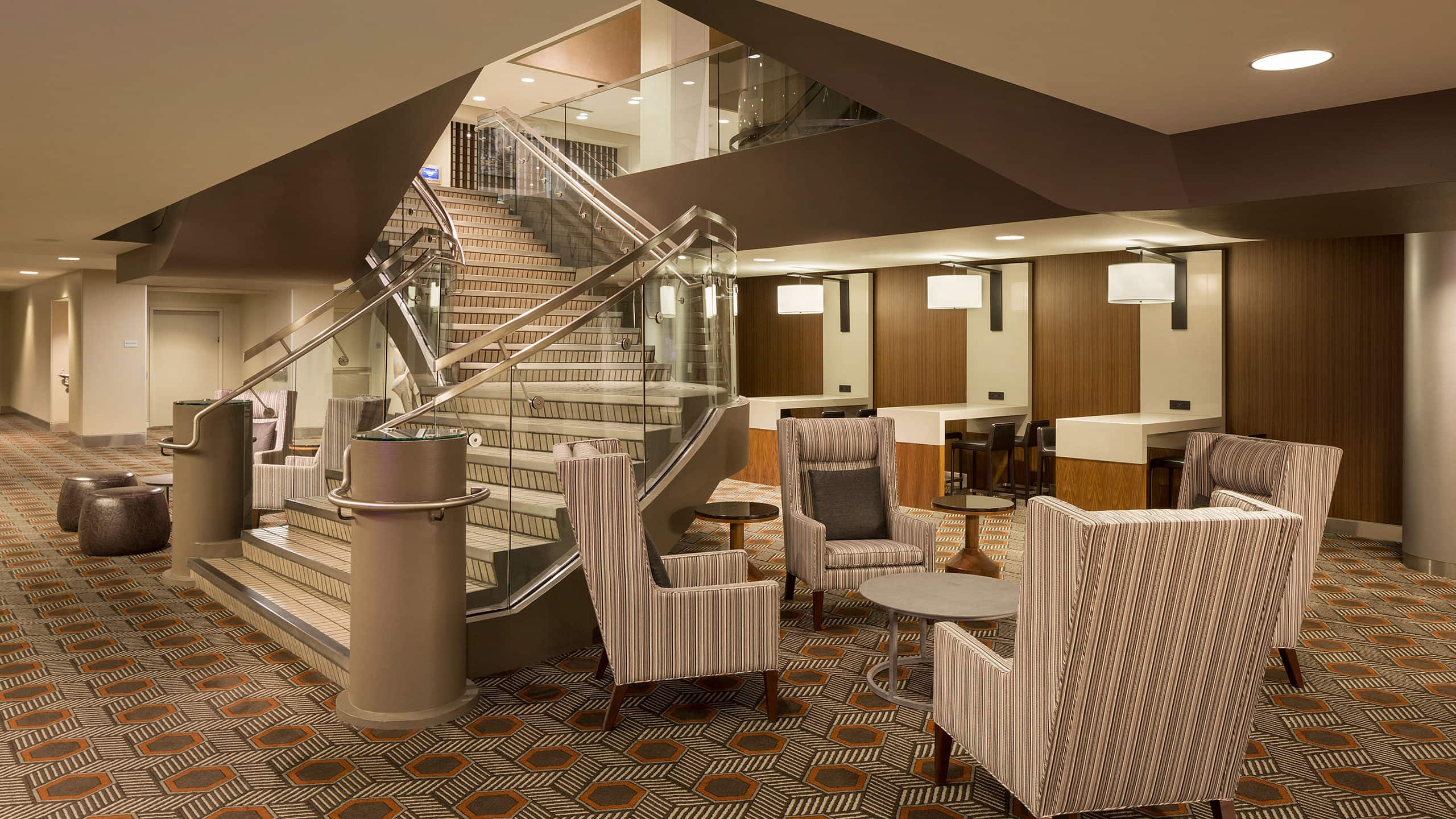 Pacific Concourse (Pacific Concourse Level)
The Pacific Concourse boasts 17,064 square feet of event space. This venue can be subdivided into up to 15 gathering areas making it the ideal multifunction room.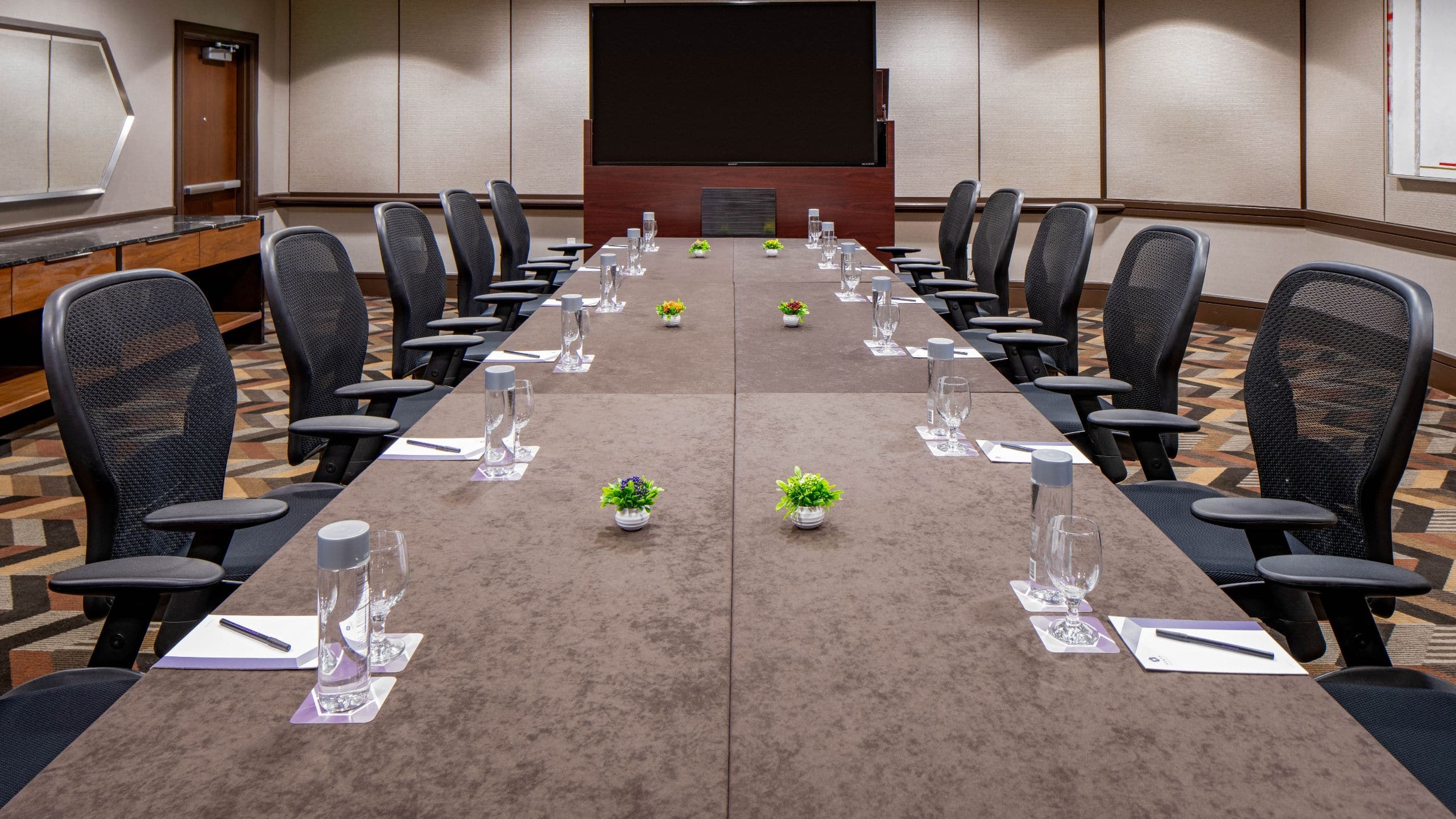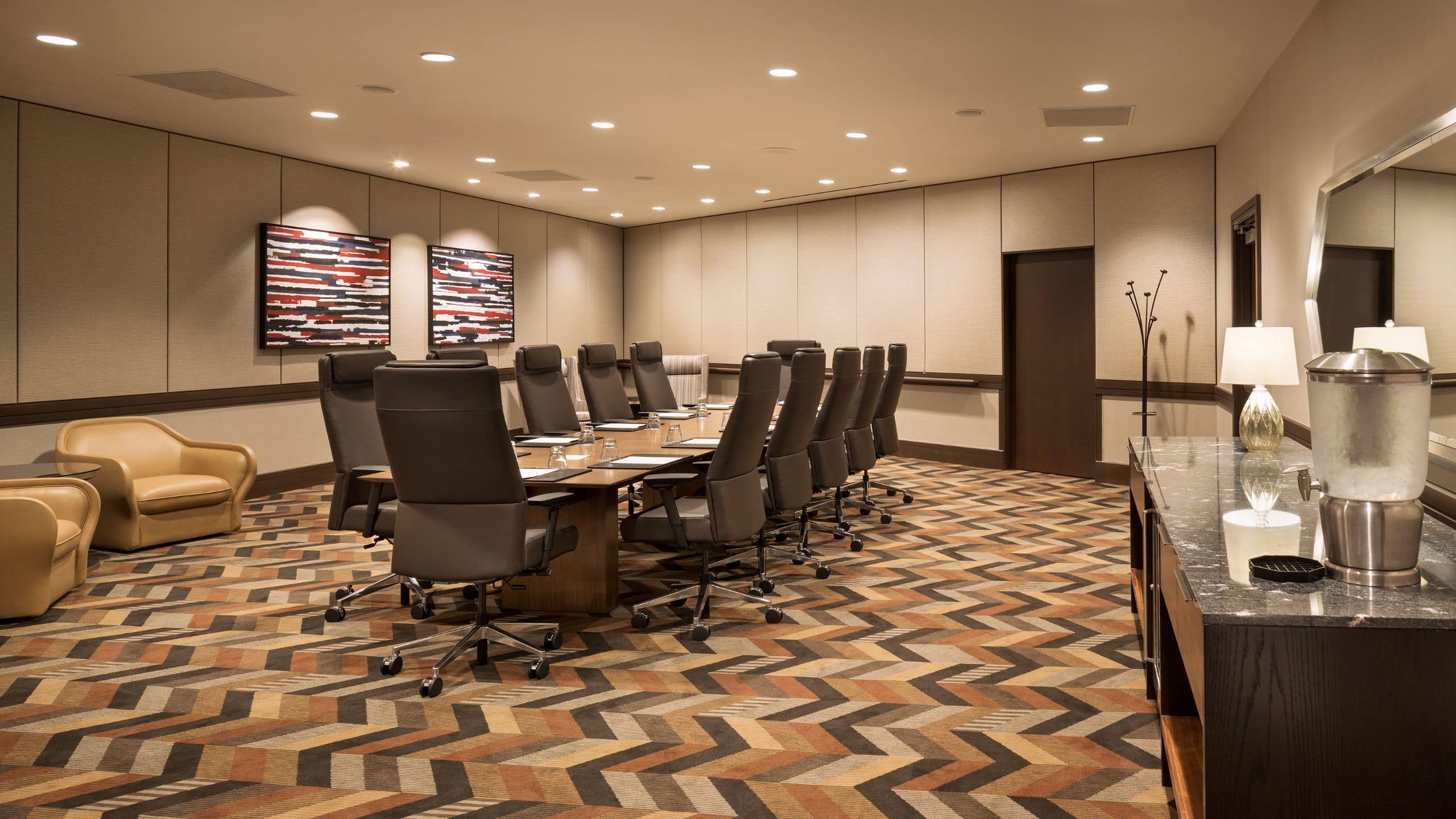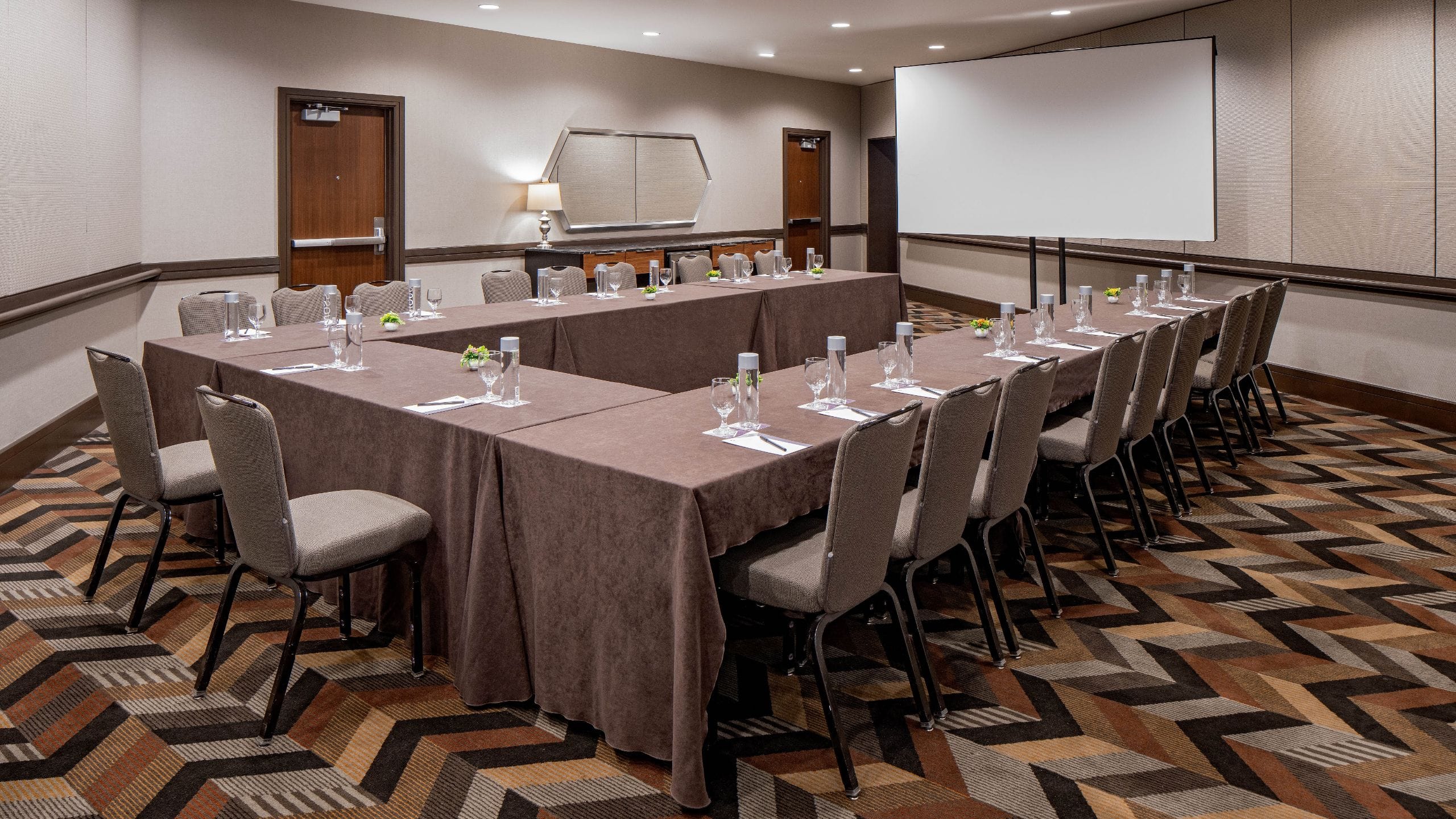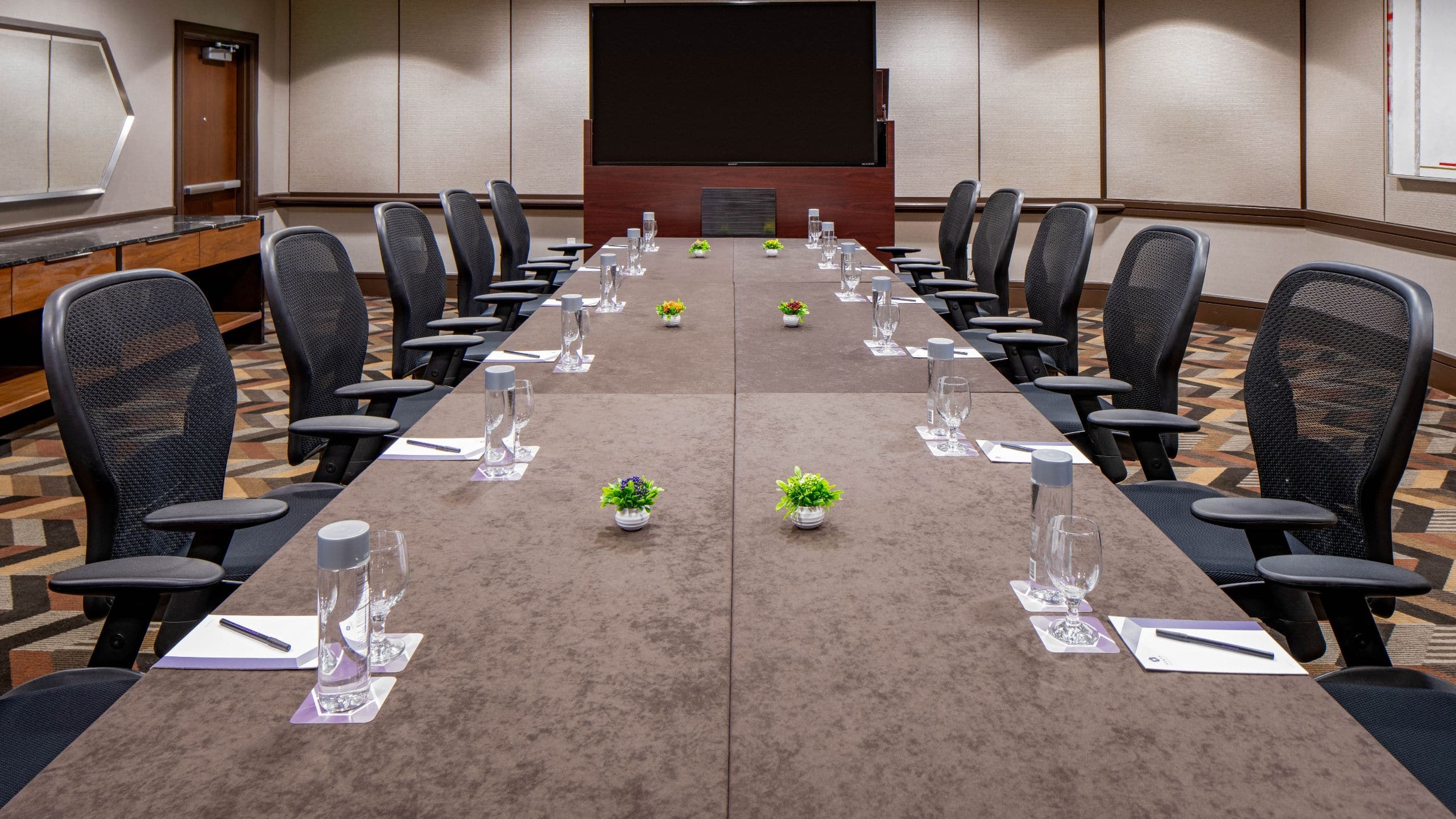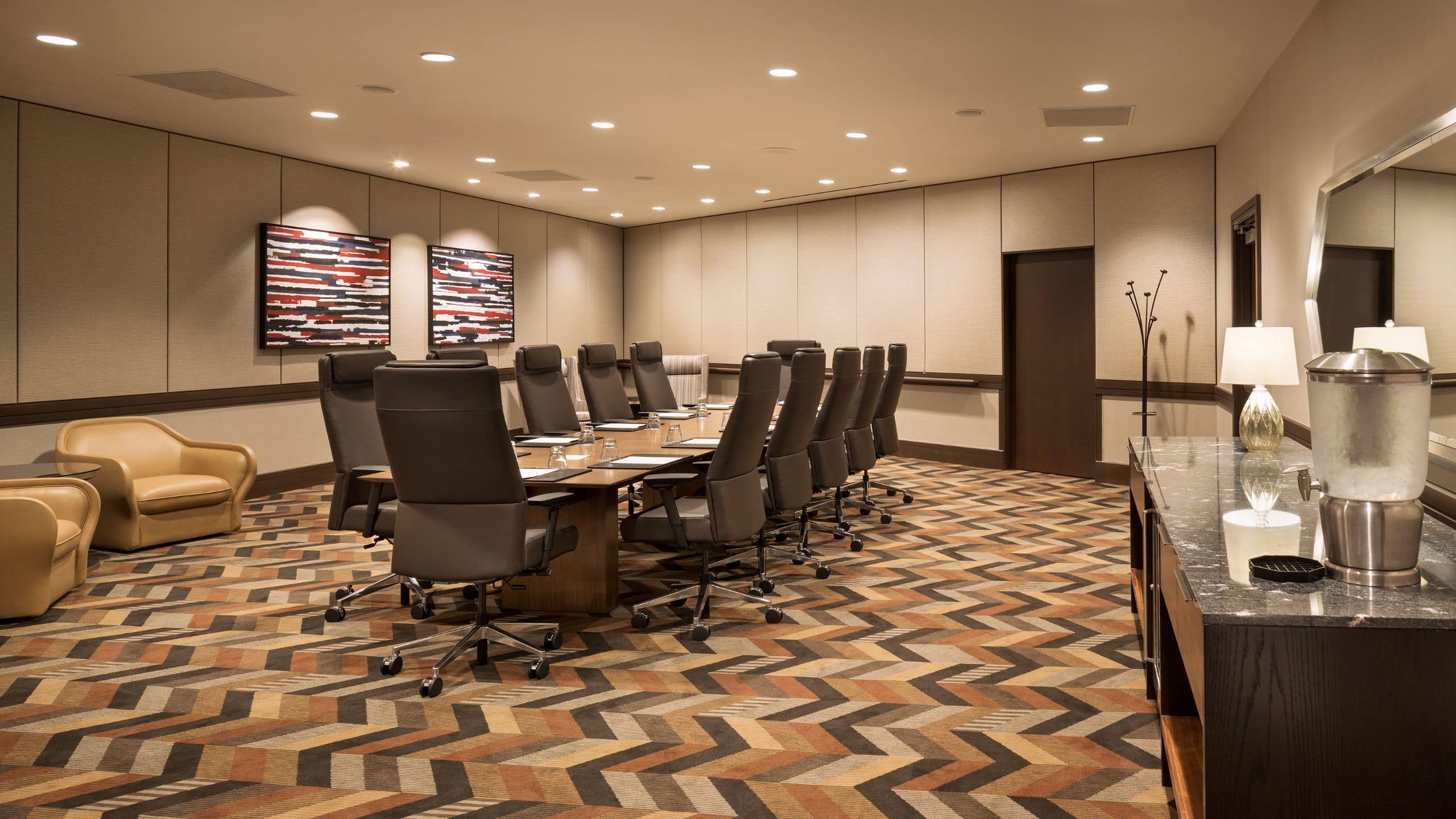 Boardrooms A, B and C
The sleek sophistication of executive board tables and upscale leather couches are the standout features in our boardrooms. Spanning anywhere from 660 to 1,024 square feet, rooms are equipped with superior amenities and are great for any reception.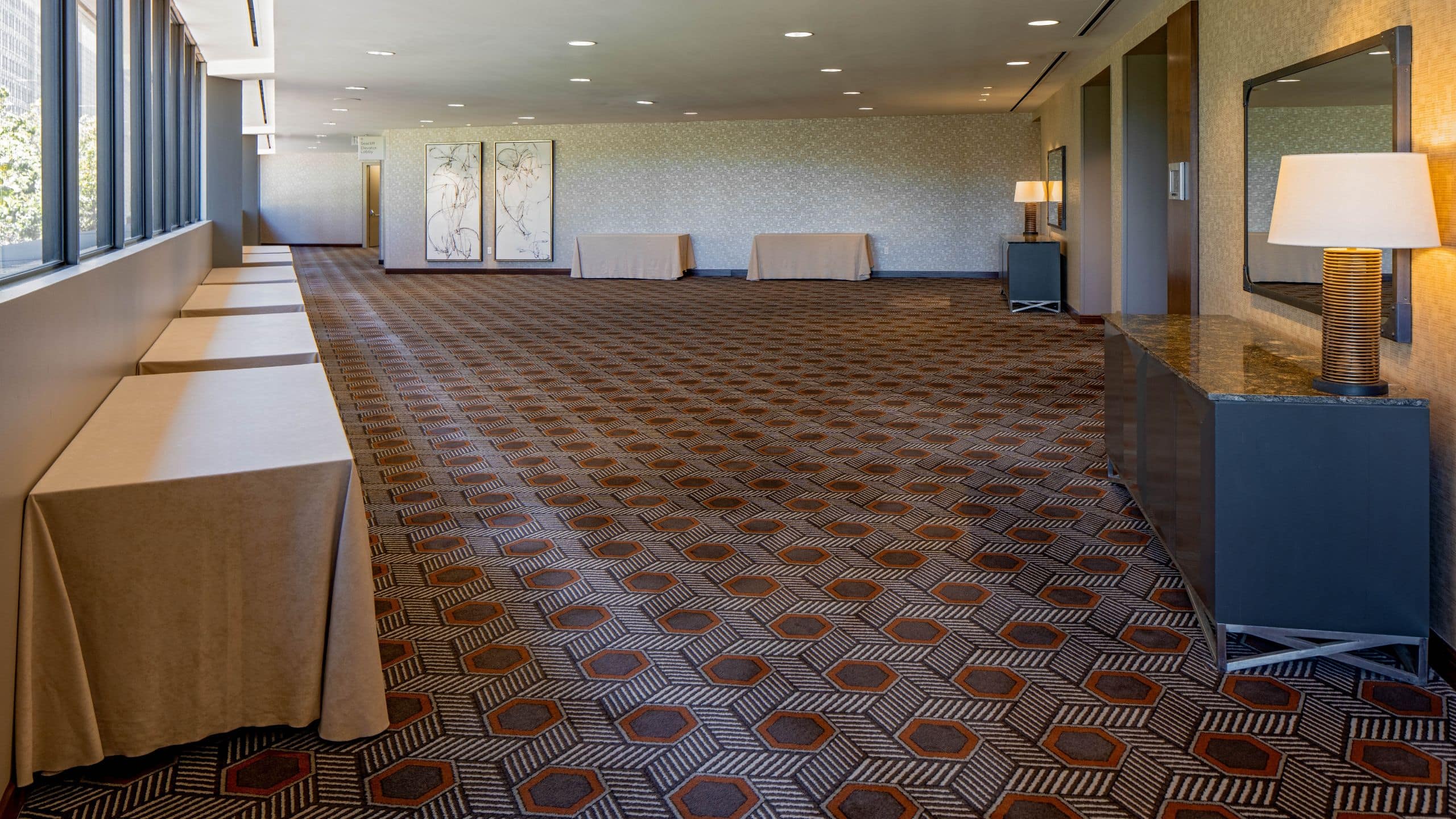 Bayview Foyer (Bay Level)
Showcasing a wall-to-wall San Francisco waterfront view, this spacious gathering area adjacent the Bayview Room is perfect for cocktail hours and passed hors d'oeuvres.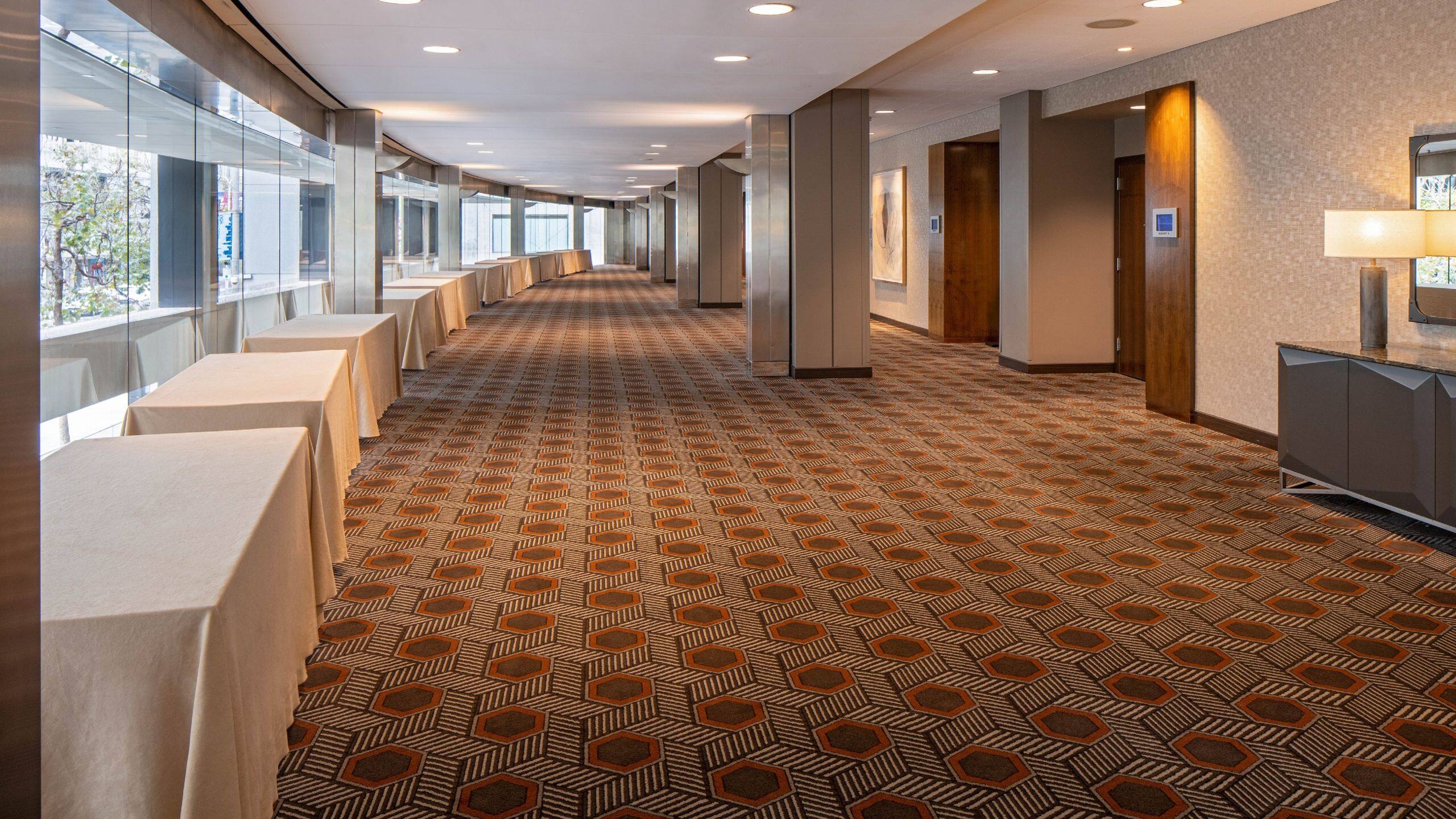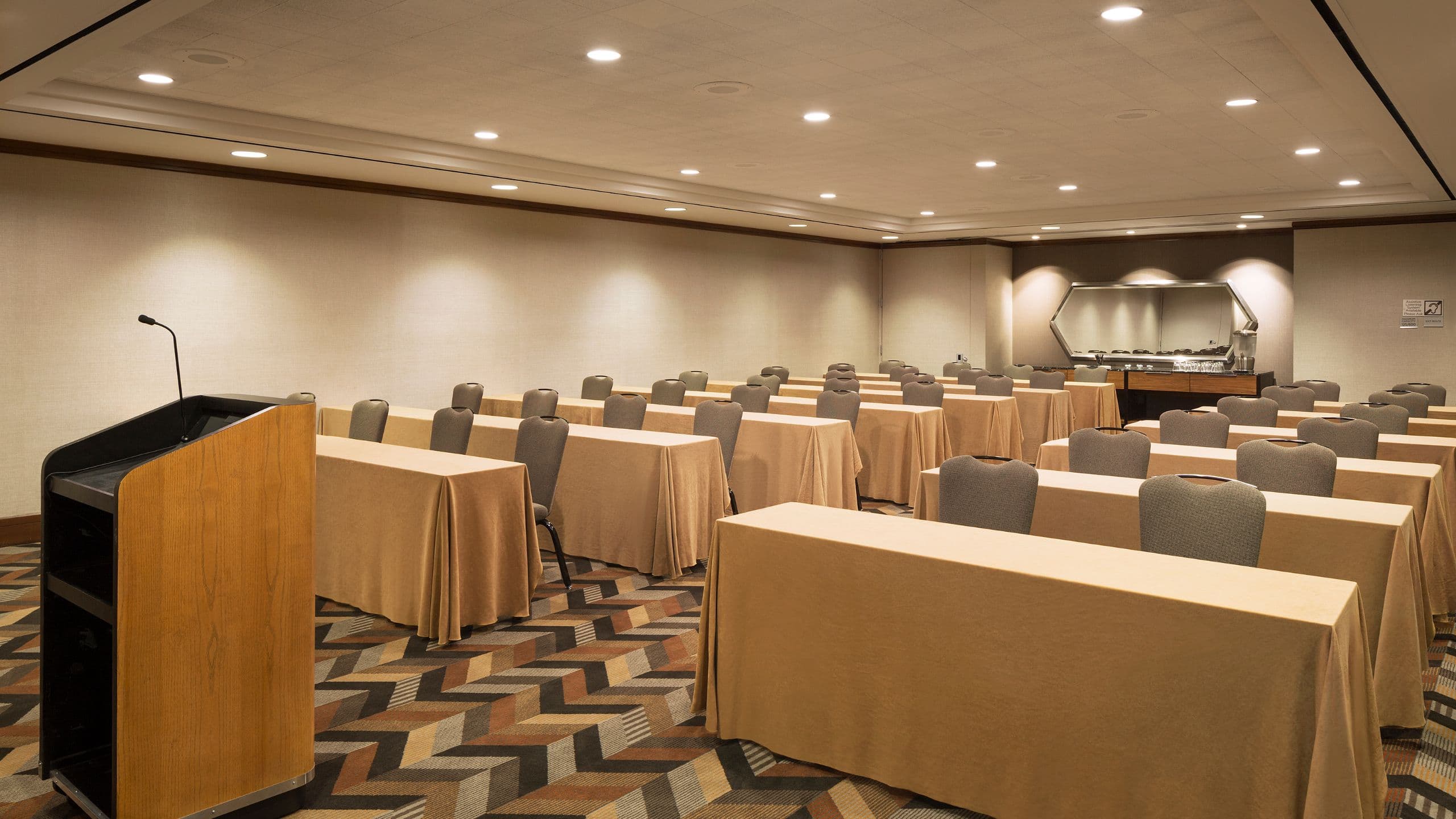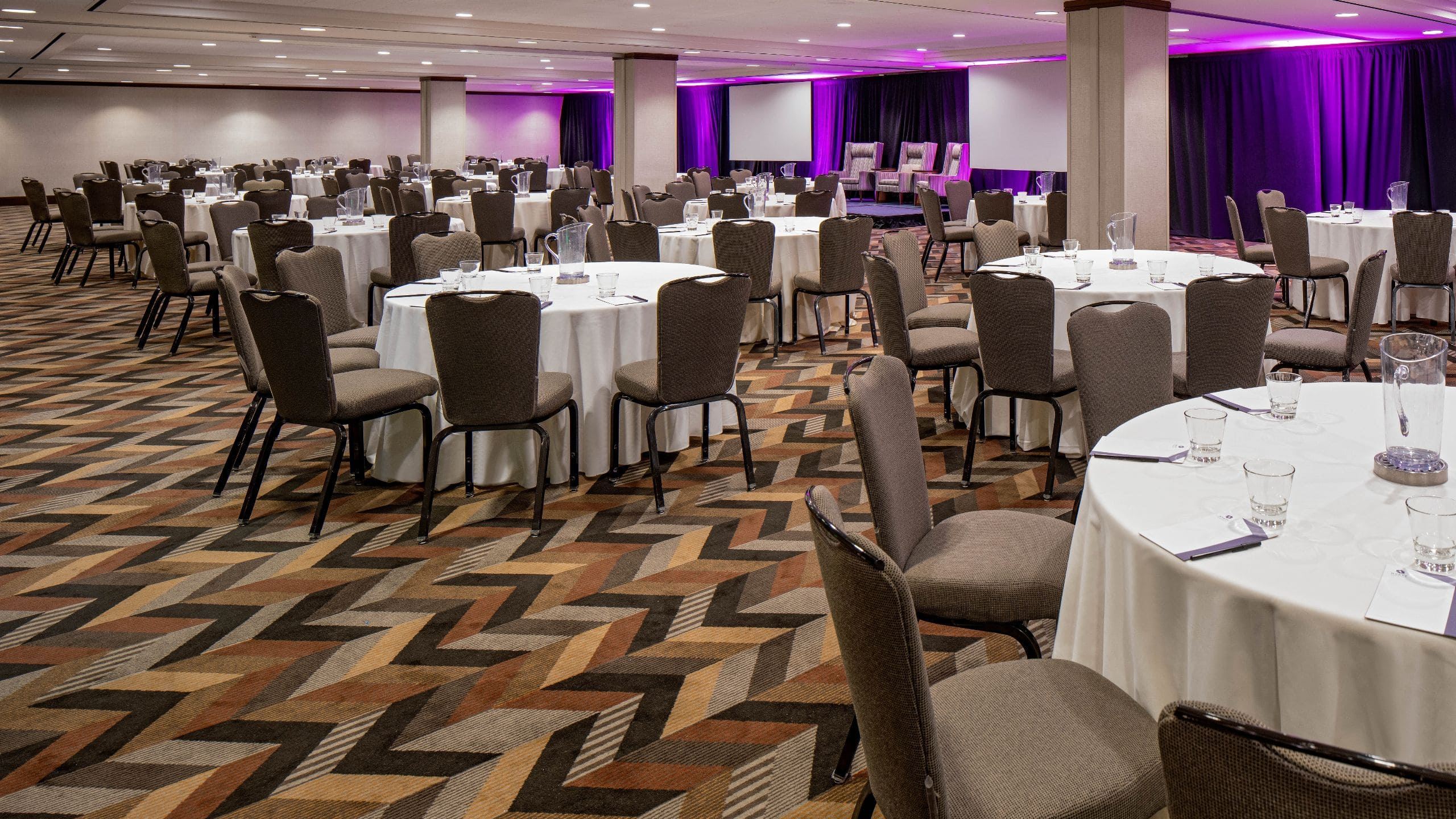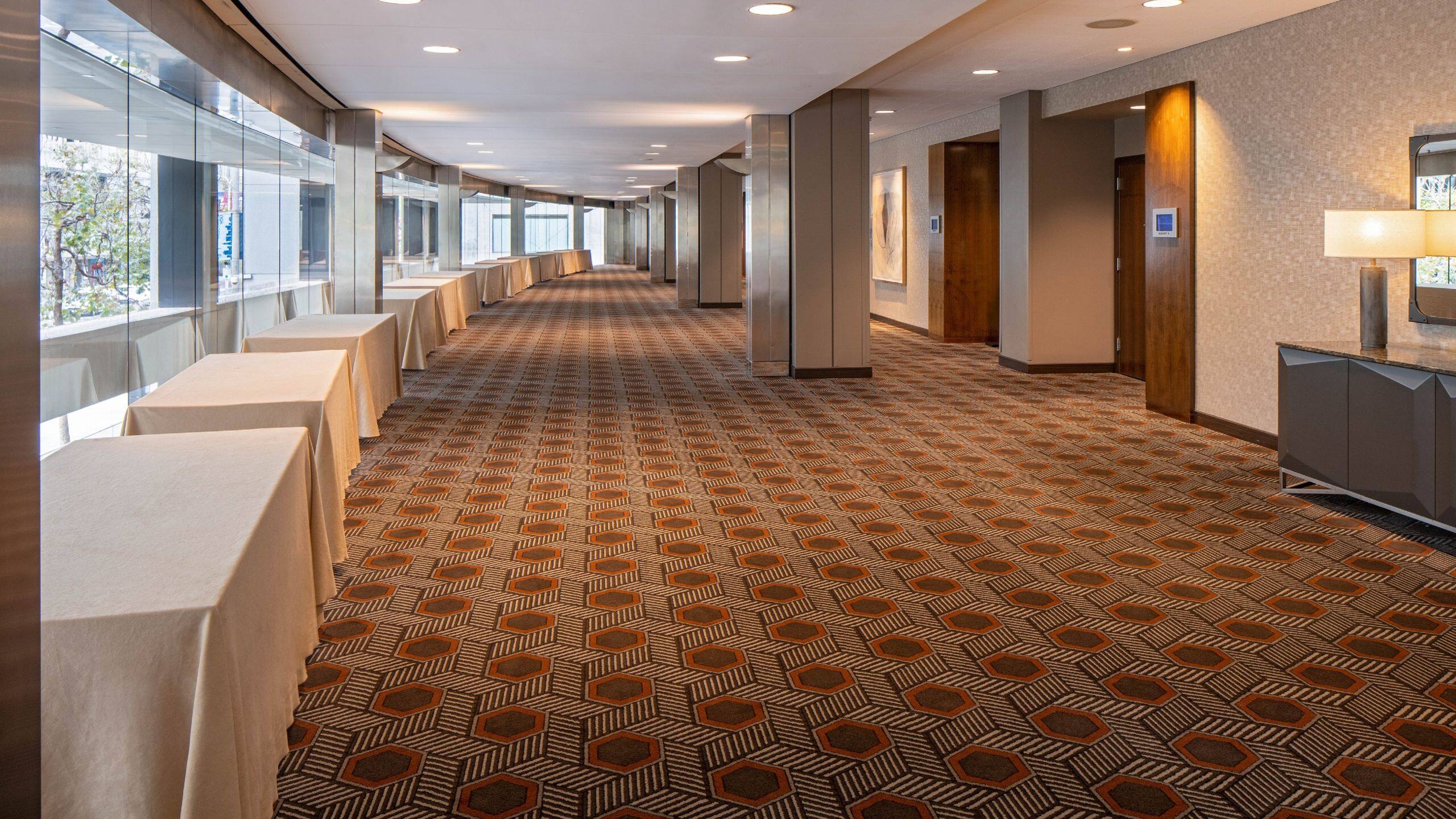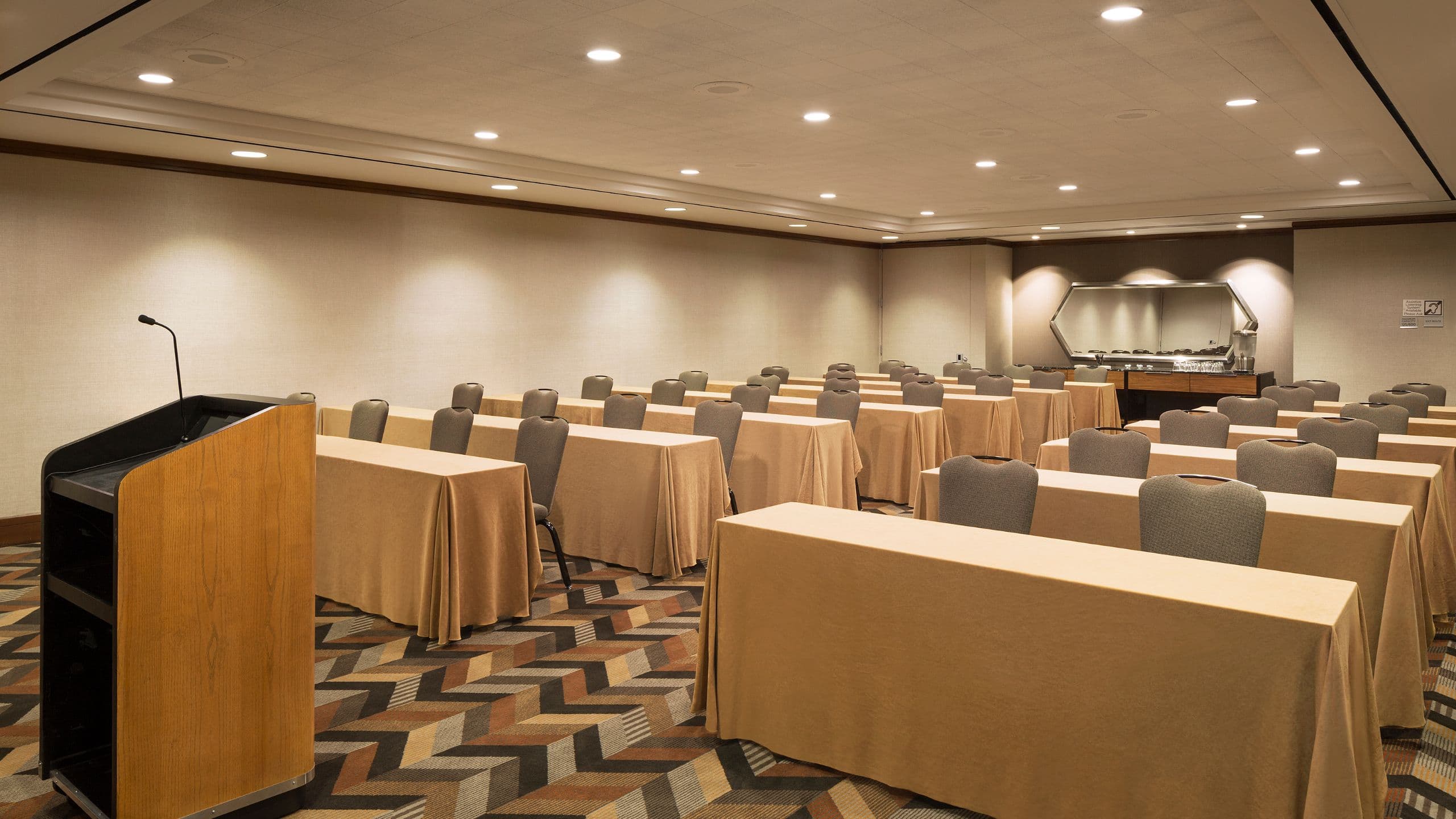 Seacliff Room and Foyer (Bay Level)
Spread out in 4,982 square feet for up to 300 guests. Floor-to-ceiling windows in the adjacent foyer promise a cheerful gathering place for a cocktail hour and hors d'oeuvres.
Catering
From small bites, hors d'oeuvres and curated menu selections to four-course plated dinners, elevated appetizer stations and late-night snacks, our team will help you create an unforgettable culinary experience for your guests.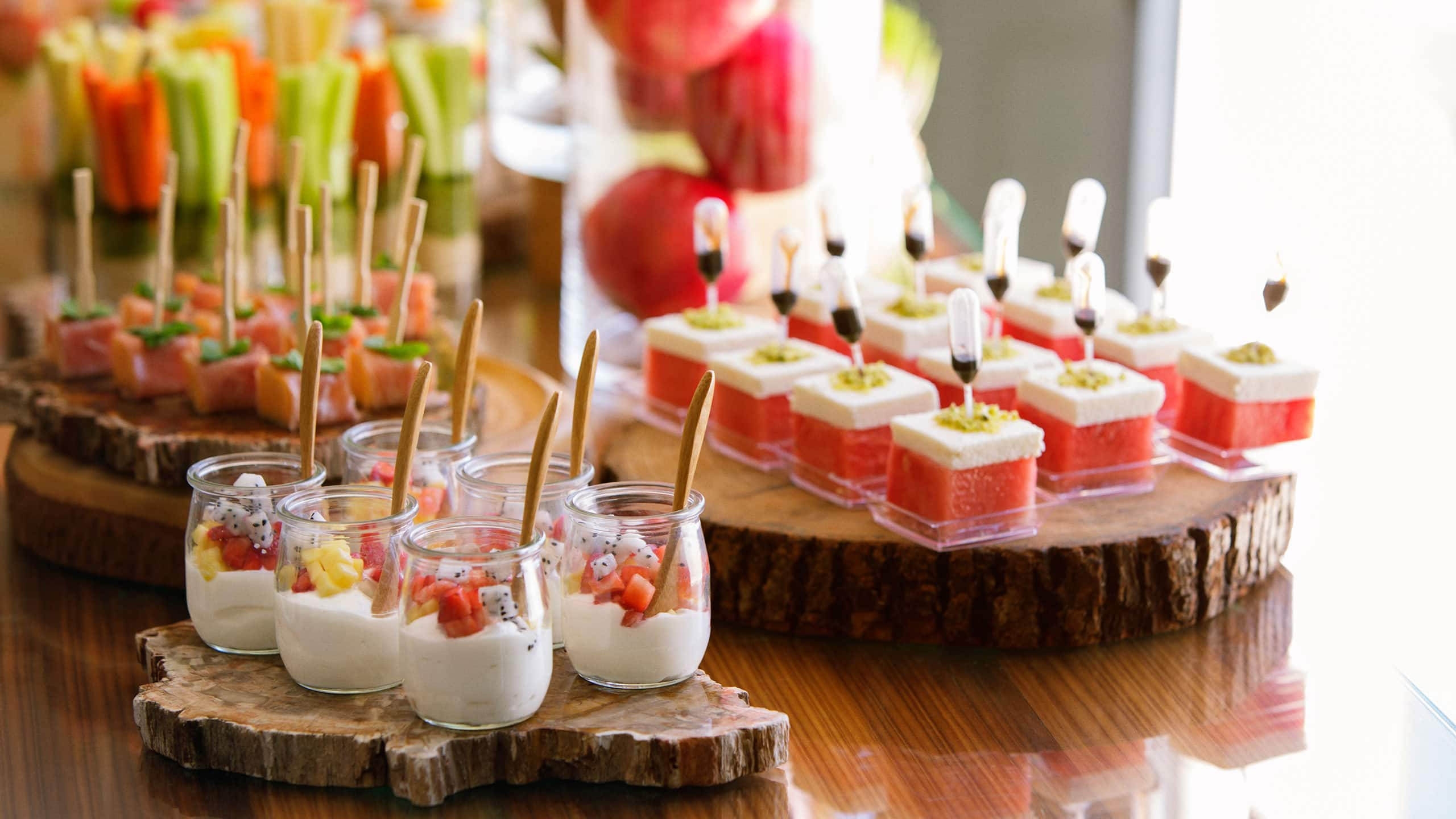 Features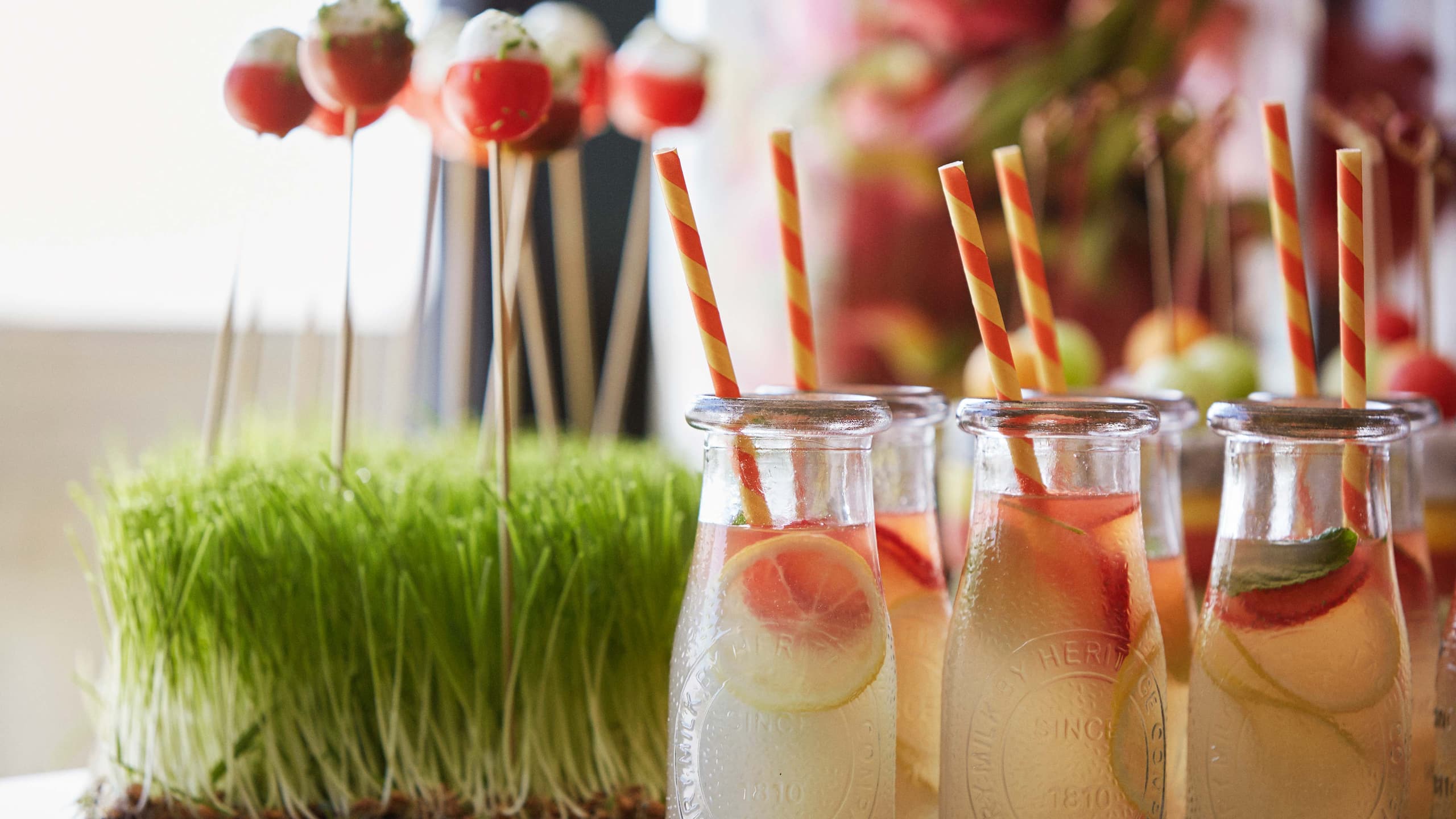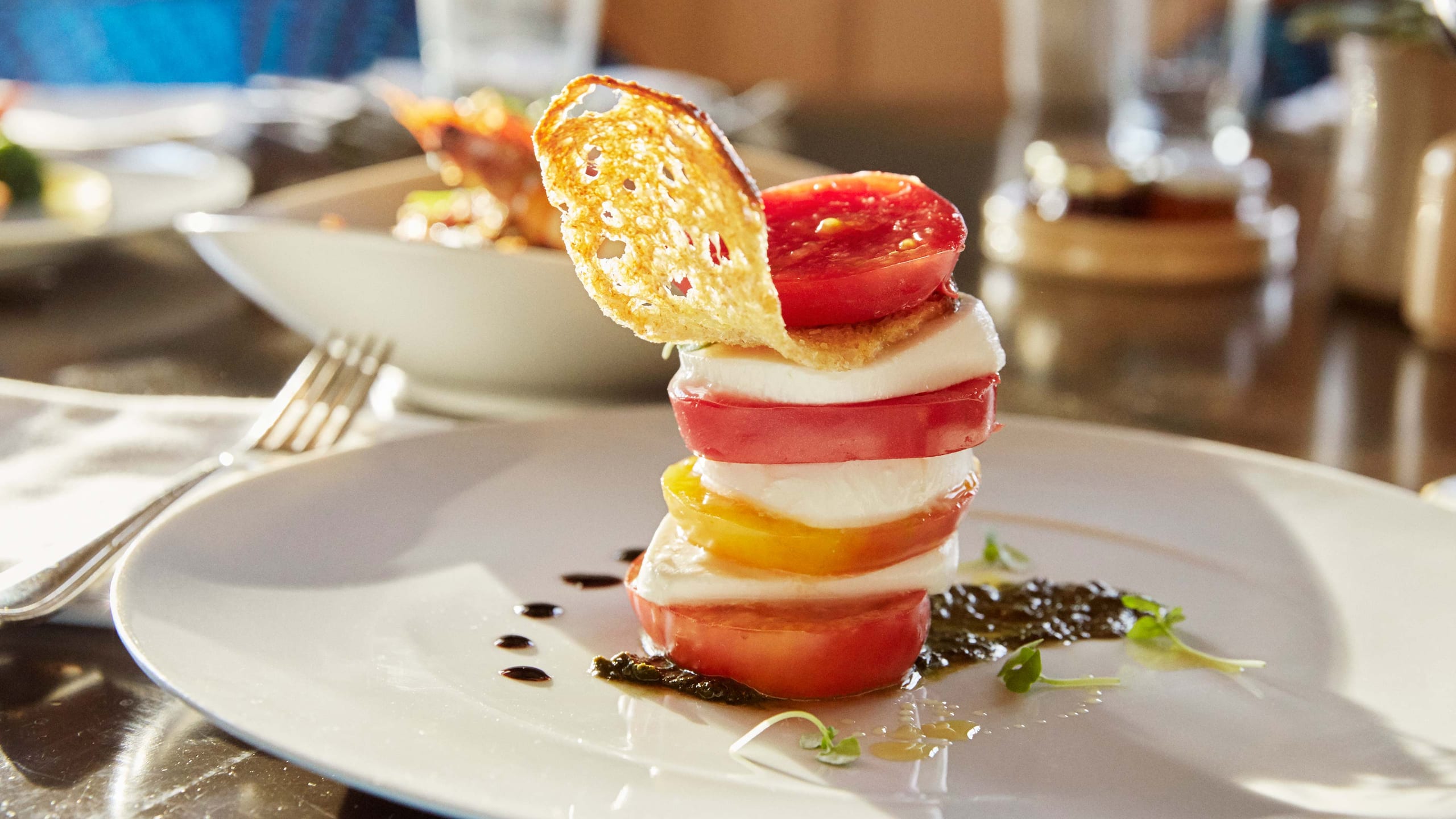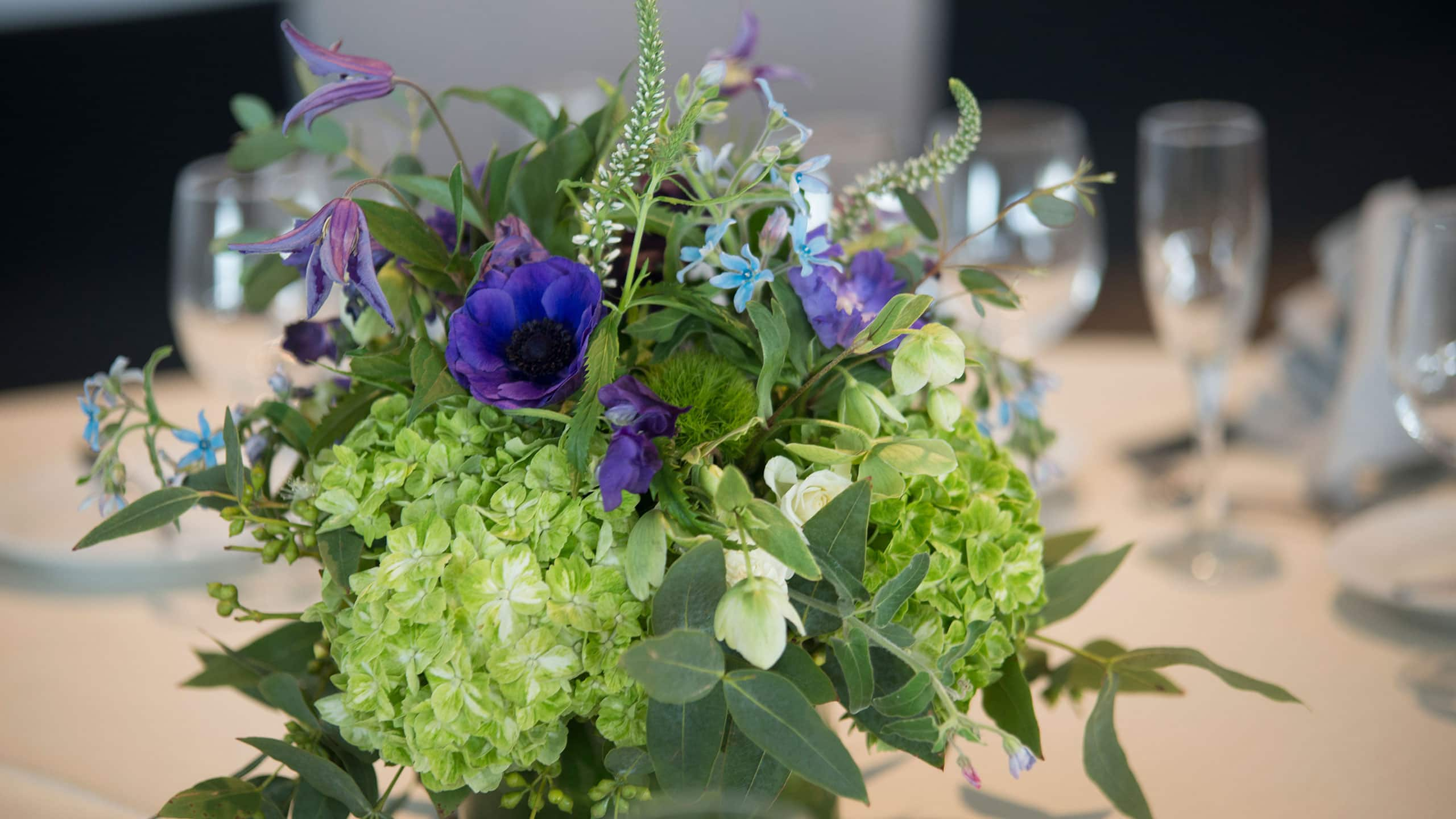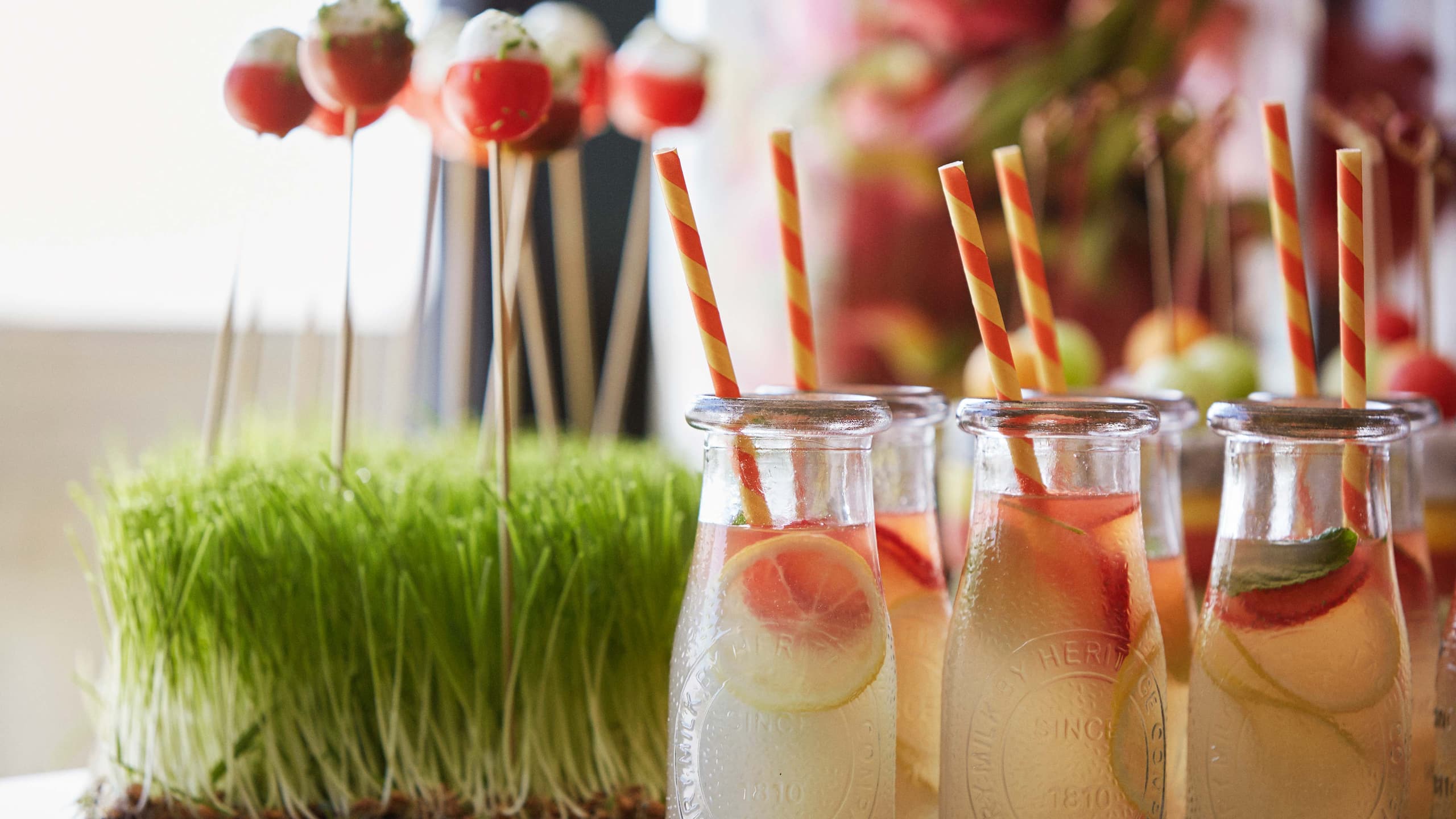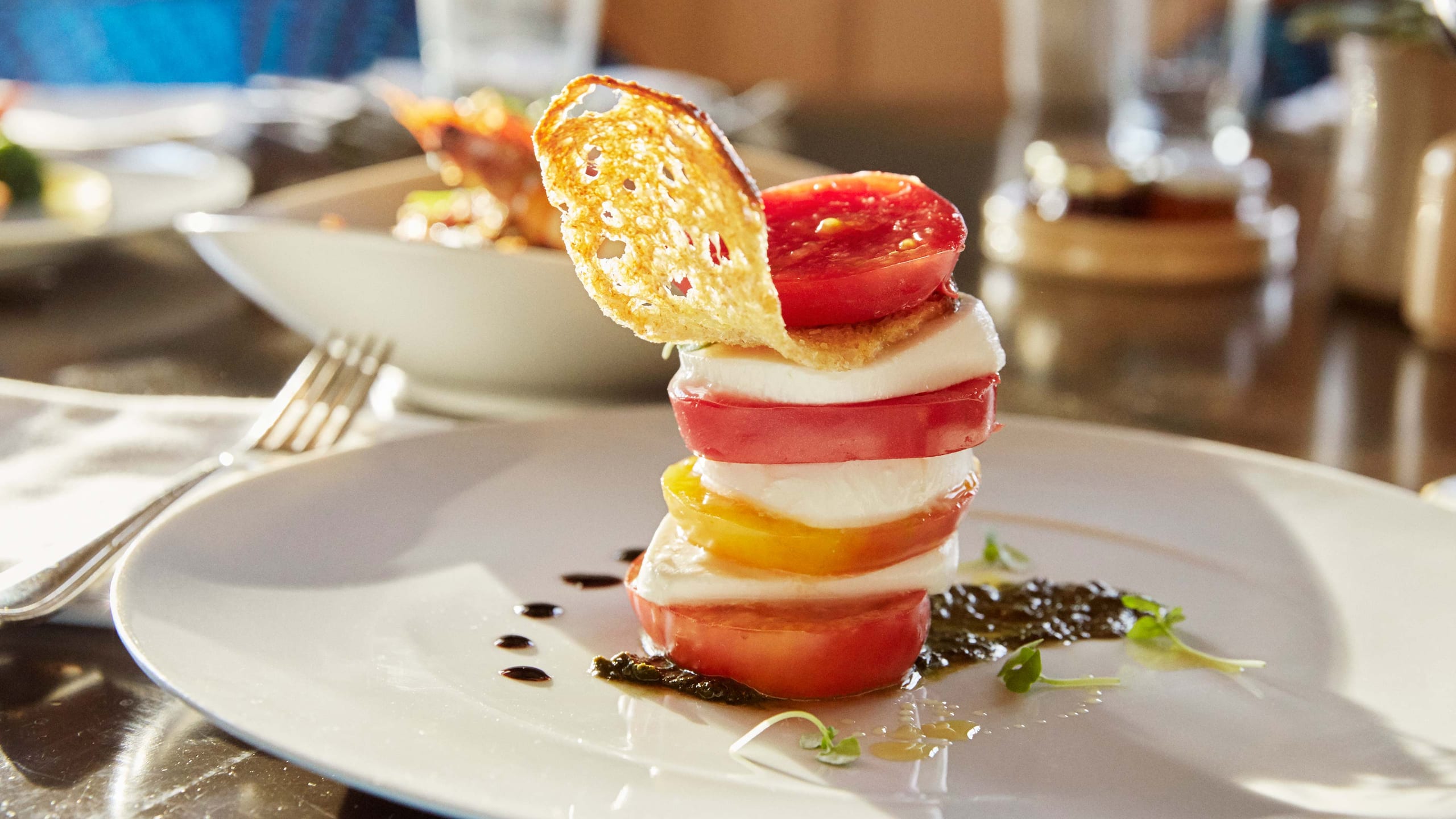 Complimentary Tasting

Indulge in a complimentary tasting. Sample scrumptious meals and personalize a menu for your guests.

Linens and Candles

Complimentary votive candles, floor-length linens in white or ivory and napkins add elegance to each table.

Audiovisual, Lighting and Dance Floor with Risers

Our in-house audiovisual and lighting team will create an atmosphere that woos guests to the dance floor.

Complimentary Wedding Cake Cutting

Our wedding team will assist you with cutting the cake and serve it for your guests.

Advanced Course Dining for Couple

Stay one course ahead of your guests so that you can actually enjoy your dining experience.

Personalized Touches.

Late-night snacks, bountiful brunches or gifts delivered to guests make your wedding unforgettable.
Contact Us
Let's start the planning process. Contact us for more information or to schedule an appointment.