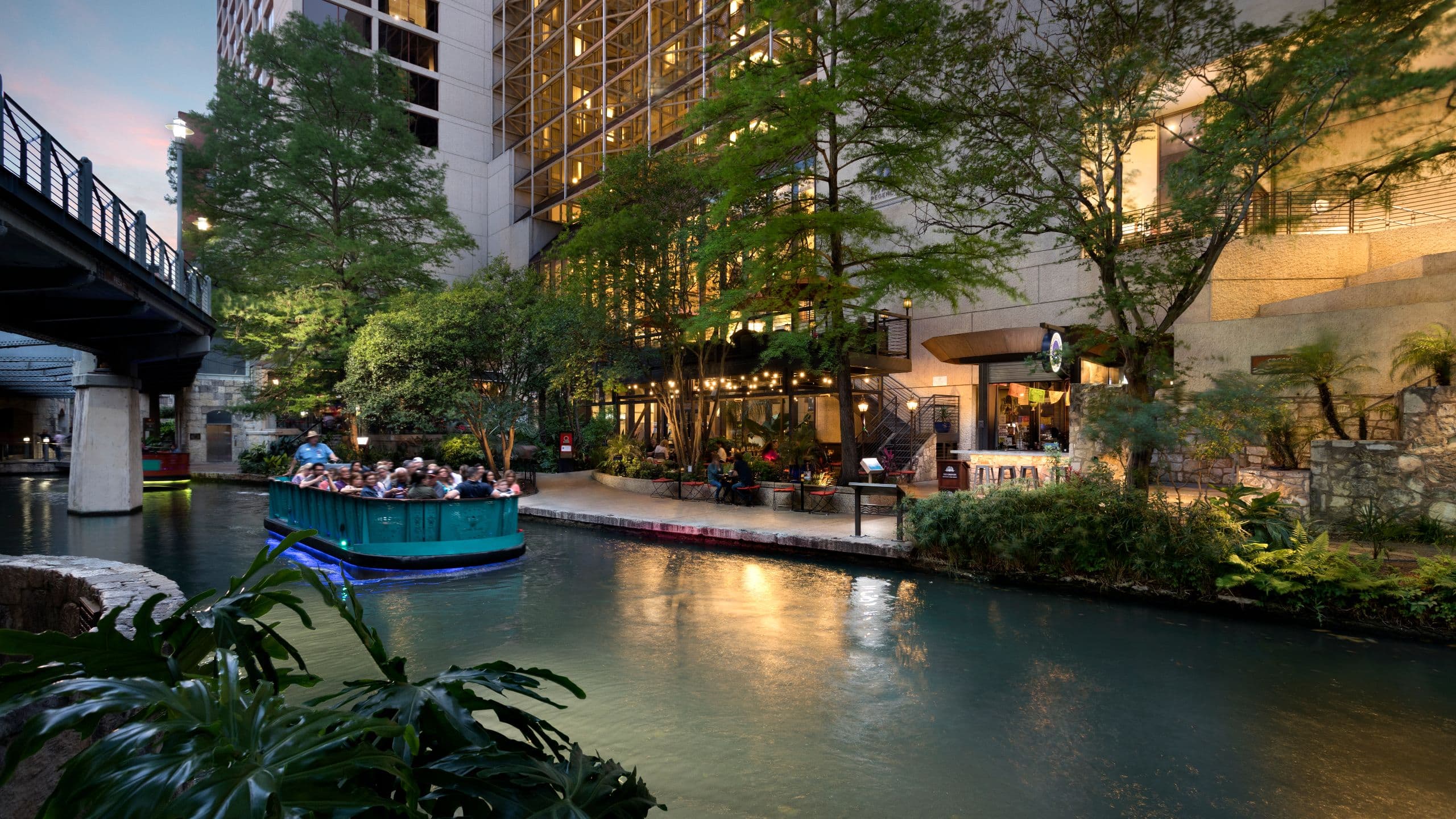 San Antonio River Walk
120 Losoya St, San Antonio
This shaded oasis lined with shops and eateries lies just below street level and connects many of the city's attractions. Explore the city on foot, enjoy an alfresco meal or hop on a barge for a tour. Our hotel offers direct access to get started.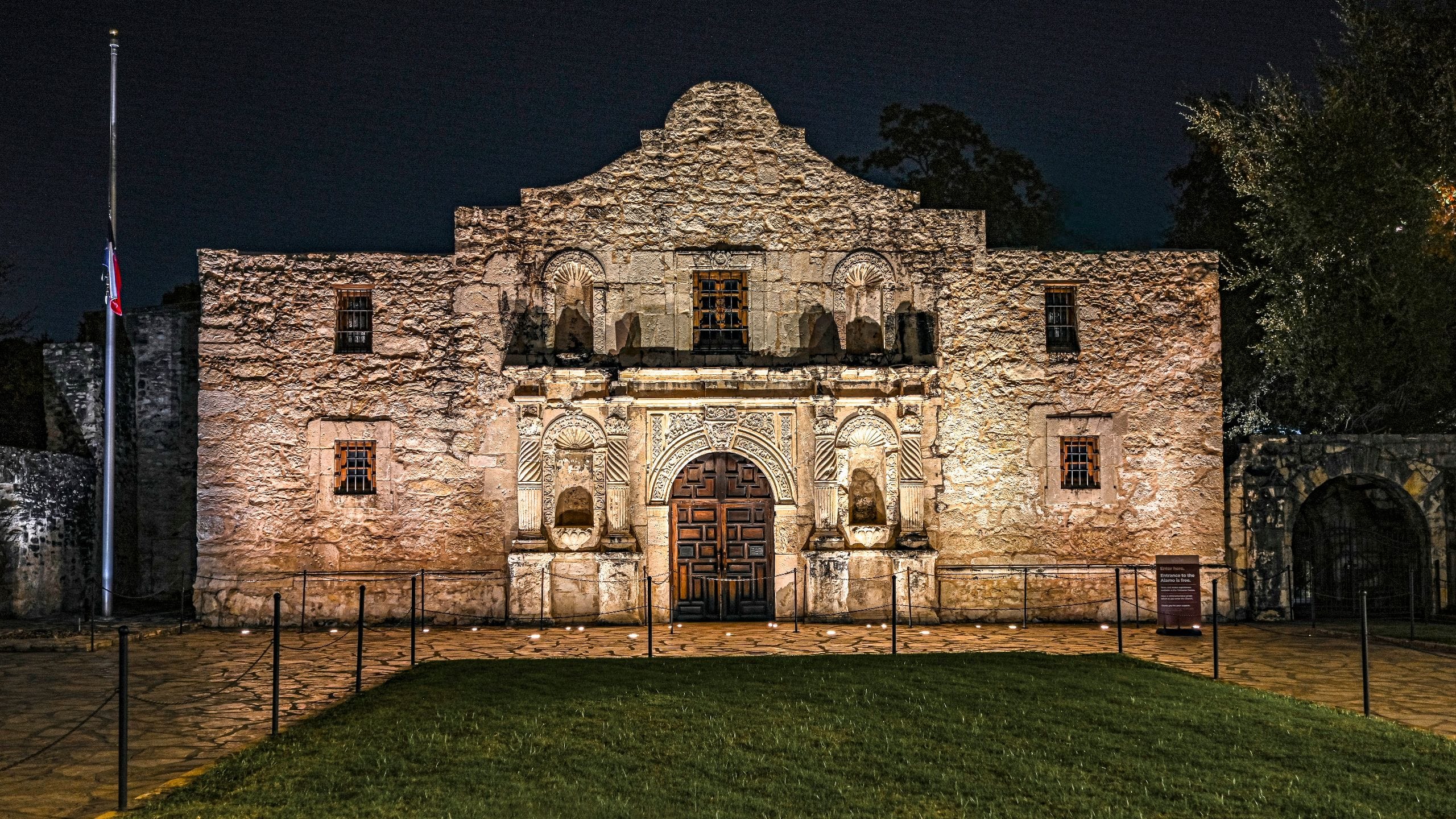 The Alamo
317 Alamo Plaza, San Antonio
Built in the 18th century by Spanish missionaries, the compound later housed a military unit and was the site of a historic battle in 1836 during the Texas Revolution. Just steps from our hotel, tour the Alamo's buildings and gardens and see artifacts from its storied past.
Outdoor Activities
Tours
Family Activities
Culture
Briscoe Western Art Museum
210 W Market St, San Antonio
Explore an expansive collection at the Briscoe Western Art Museum, featuring works by notable artists like Charles Marion Russell and Frederic Remington, alongside iconic Western relics like Roy Rogers' saddle and General Santa Anna's sword, offering insights into Spanish and Mexican colonial history.
Art
Culture
Family Activities
Esquire Tavern
Open since 1933, this spot holds records for oldest River Walk bar and longest wooden bar top in Texas (more than 100 feet). The James Beard Award nominee exudes nostalgia from the Prohibition era, serving handcrafted cocktails and hearty food.
Entertainment
Restaurants
Bars
La Villita
Named a historic district on the National Register of Historic Places, this "little village" features cobblestone streets and 18th century buildings. Today, it's a creative hub with boutiques offering jewelry, clothing and art by local artisans.
Restaurants
Shopping
Culture
Art
Topgolf Swing Suite at Grand Hyatt San Antonio River Walk
Located in the hotel lobby, Topgolf® Swing Suites features virtual golf experiences and interactive gaming simulators. Open to everyone, each bay accommodates up to 8 people and offers food and beverage service.
Entertainment
Restaurants
Sports
Family Activities
King William Historic District
The 25-block area just south of downtown features stately homes in Victorian, Greek revival and Italianate styles originally built by German immigrants in the mid-1800s. The San Antonio Conservation Society provides self-guided tour information.
Entertainment
Restaurants
Bars
Art
Culture
Outdoor Activities
Shopping
Tours
Neighborhoods
Market Square
The three-block outdoor plaza includes more than 100 shops and stalls and is recognized as the largest Mexican market in the United States. Discover authentic regional food, unique curios, iconic Talavera pottery and lively musical entertainment.
Entertainment
Restaurants
Bars
Outdoor Activities
Shopping
Tours
Family Activities
Alamodome
100 Montana St, San Antonio
Home to the UTSA Football team, the Alamodome hosts a variety of sporting events, tradeshows, concerts and live shows.
Entertainment
Sports
Family Activities
San Antonio Museum of Art (SAMA)
Occupying the stately former Lone Star Brewery complex along the Riverwalk, the museum's collection covers 5,000 years and many areas of the globe, including Latin American art, from the ancient Americas to the present and contemporary Texas work.
Art
Museums
Restaurants
Family Activities
Pearl
This mixed-use redevelopment of the historic City Brewery brings together great dining, distinctive shops, and laid-back public spaces. It also hosts the third campus of the Culinary Institute of America and a year-round farmers market.
Entertainment
Restaurants
Bars
Neighborhoods
Brackenridge Park Golf Course
Play this 18-hole championship golf course with a deep rooted history in San Antonio and a fun city-park layout.
San Antonio Missions National Park
Named a UNESCO World Heritage site along with the Alamo, the park connects four Spanish missions on eight miles of walking and bike trails. The buildings range from fully renovated to unrestored, for a fascinating look into Texas history and culture.
Day Trips
Outdoor Activities
Tours
Family Activities
Parks
San Antonio Zoo
The zoo houses more than 3,500 animals representing 750 species, offering up-close experiences with select wildlife like hippos, giraffes, tortoises and more. Kids will love the zoo train and carousel decorated with hand-painted animals.
Day Trips
Outdoor Activities
Family Activities
Parks
The Witte Museum
Located in expansive Brackenridge Park, this family-friendly museum of science, history and culture covers all things Texas, from the dinosaurs that roamed the area to the Pecos hunter-gatherers to more recent artifacts and present-day wildlife.
Art
Culture
Family Activities
Museums
San Antonio Botanical Garden
The 38-acre park offers a year-round sanctuary, and it makes a great picnic spot. Stroll through themed areas, including an authentic Japanese garden and native plants from the East Texas piney woods, Hill Country and South Texas.
Art
Culture
Day Trips
Outdoor Activities
Family Activities
Parks
Frost Bank Center
1 AT&T Center Parkway, San Antonio
A premier multi-purpose indoor performance venue home to San Antonio's basketball team, concerts and rodeos. Formerly known as, AT&T Center.
Entertainment
Sports
Family Activities
Willow Springs Golf Course
This popular course features open fairways and large greens. Home to the longest hole in San Antonio, hole #2 is 655-yard par 5 and total course plays 7,029 yards.
The Quarry Golf Course
A challenging course designed by nationally recognized golf course designer Keith Foster. The course is laid out into a 100-year-old quarry with incredible scenery and unique settings.
Aquatica San Antonio
10500 SeaWorld Drive, San Antonio
Featuring exhilarating waterslides, spacious pools, lazy rivers and private cabanas, enjoy a fun and thrilling day in the sun.
Day Trips
Outdoor Activities
Family Activities
SeaWorld San Antonio
10500 SeaWorld Drive, San Antonio
Learn about marine life, enjoy one-of-a-kind animal experiences and experience thrilling coasters for the whole family. Featuring a variety of seasonal events and food festivals year-round.
Entertainment
Day Trips
Outdoor Activities
Family Activities
Six Flags Fiesta Texas
17000 IH-10 West, San Antonio
Take the plunge with a variety of thrilling rollercoasters for adults and kids alike at this year-round theme park. Cool down with water rides and slides at Hurricane Harbor San Antonio, open seasonally.
Day Trips
Outdoor Activities
Family Activities
Events & Attractions
From its founding as a Spanish mission to its role in the Texas Revolution, San Antonio has deep cultural roots. Within view of our hotel lies the Alamo—one of the country's most popular historic sites—and our doors open directly onto the River Walk, offering the ideal starting point for discovering the city's charm. Stroll downtown or visit the shops of historic Market Square, just one mile from our San Antonio hotel.