Weddings & Celebrations
With its Pacific Ocean backdrop, our Huntington Beach resort offers the most romantic indoor and outdoor event venues in Orange County. With several reception and outdoor ceremony choices, we will awe your guests with our ocean views and romantic, Spanish-inspired architecture. From perfectly manicured lawns to ballrooms with stunning views of the coast, our hotel's ceremony and banquet facilities will provide the perfect Southern California wedding location for your special day. Our resort's outdoor venues include the California Courtyard, the Spa Courtyard and the Lighthouse Courtyard.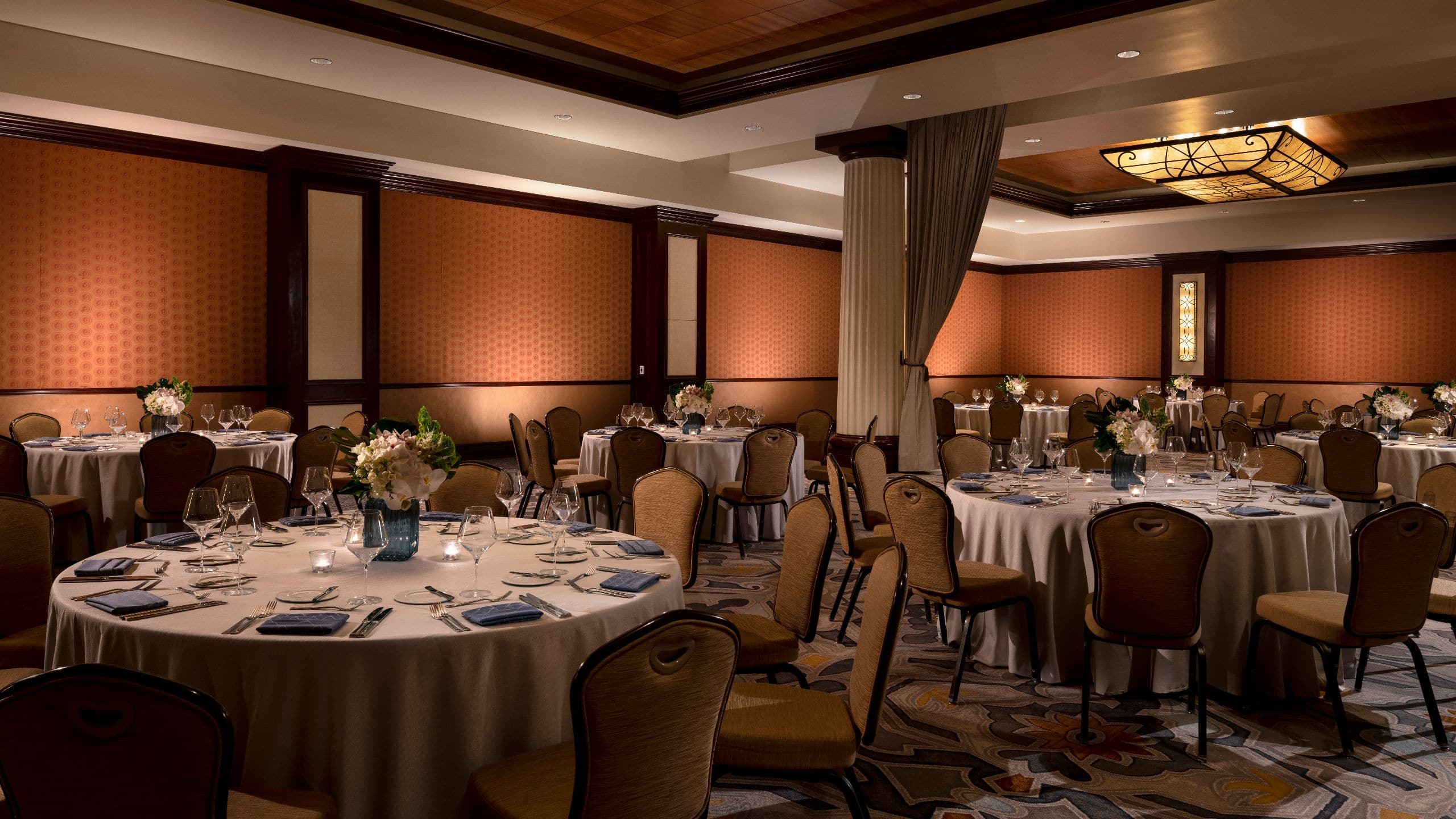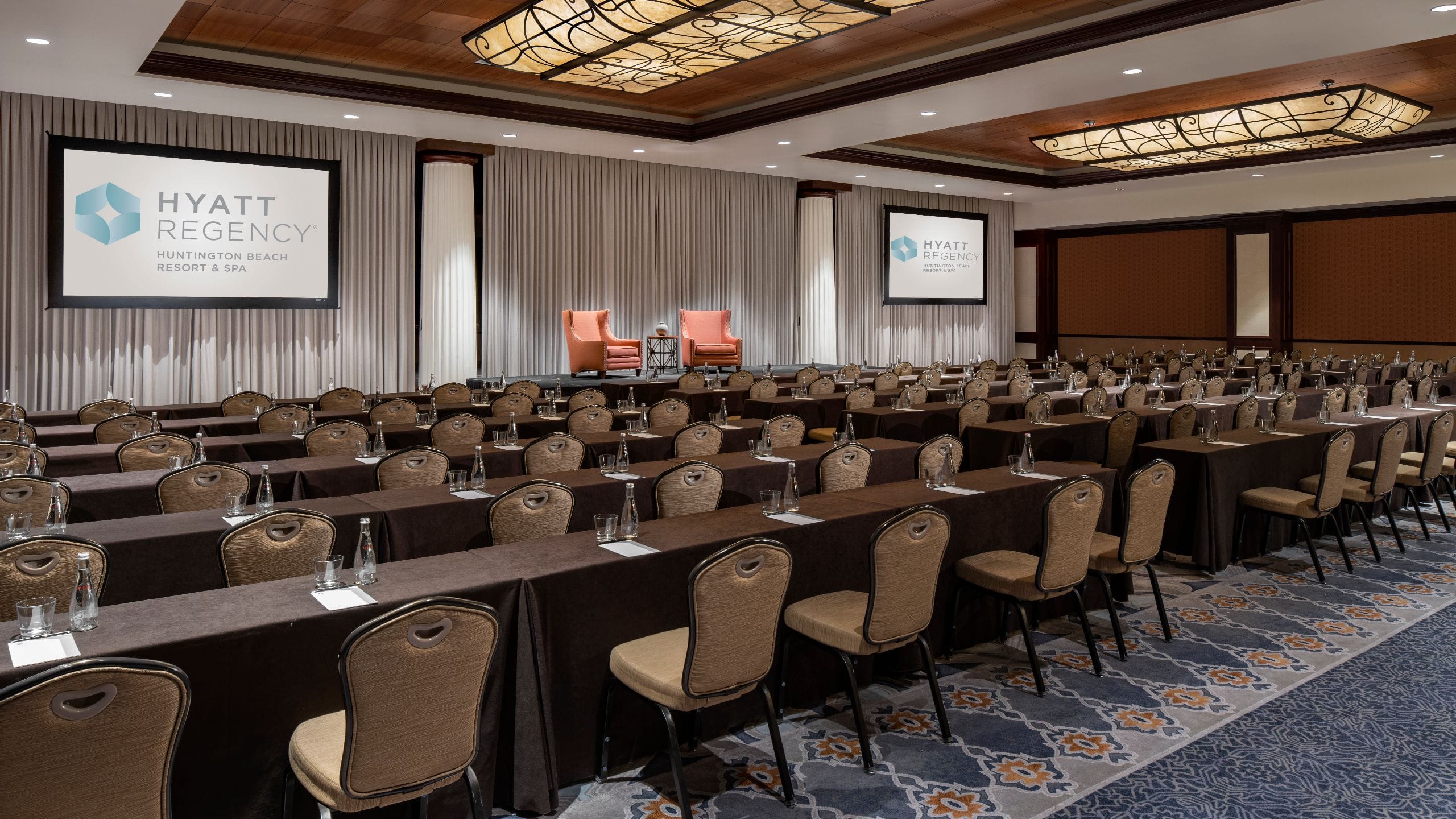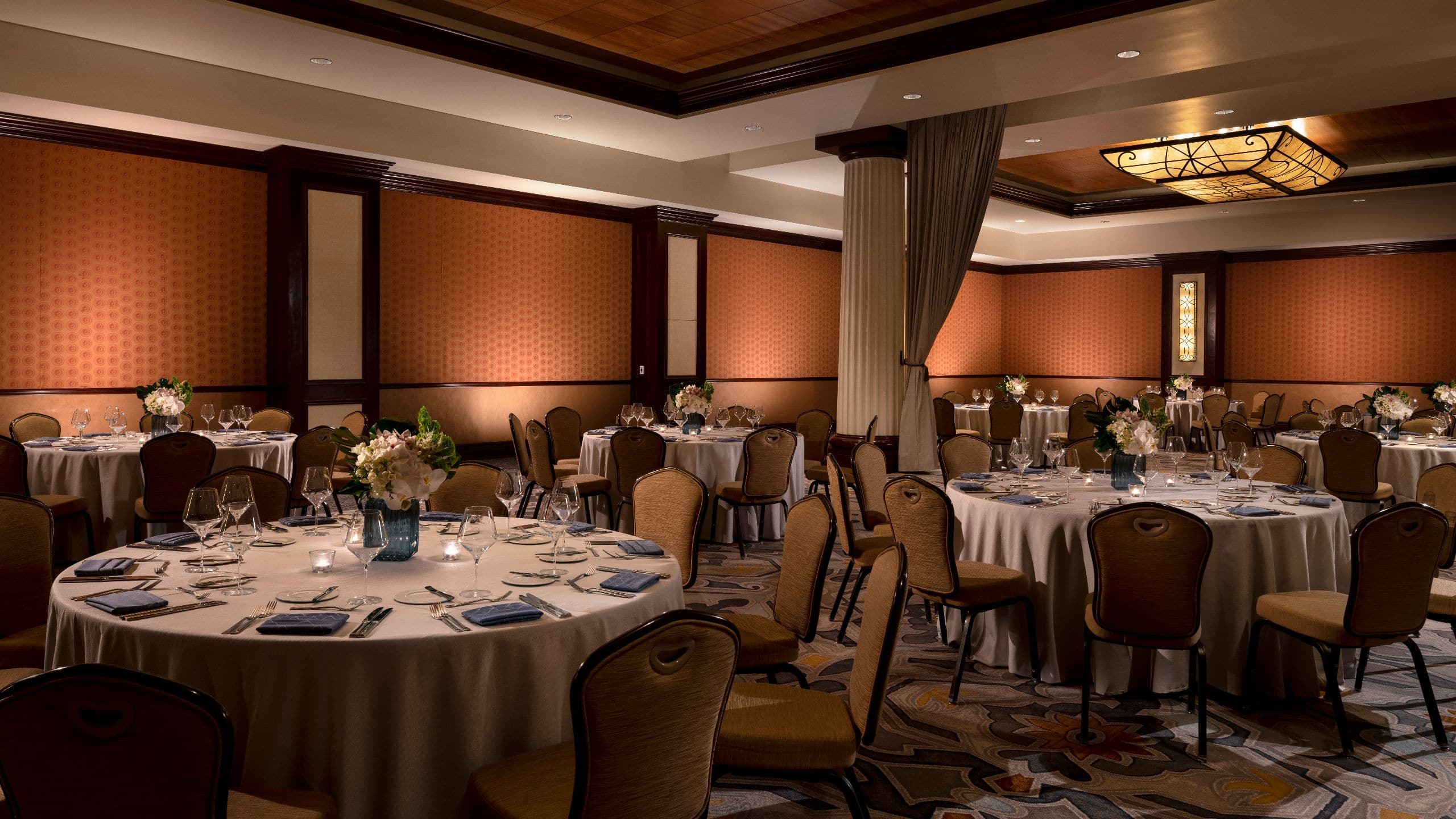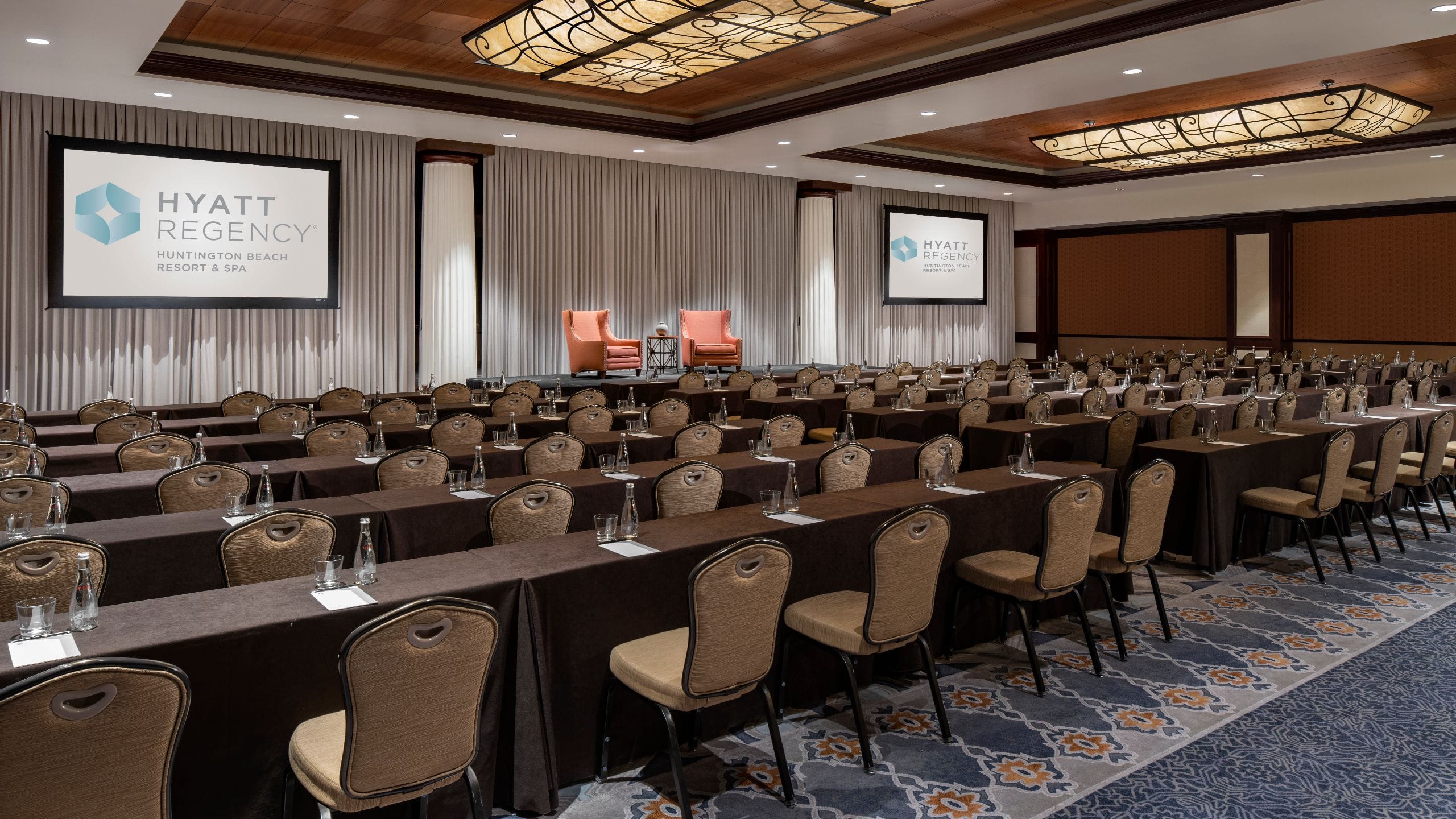 Mariner's Ballroom
With over 10,500 square feet of space and 16-foot ceilings, this ballroom provides a spacious and luxurious setting for trade shows, receptions, workshops, and sales presentations.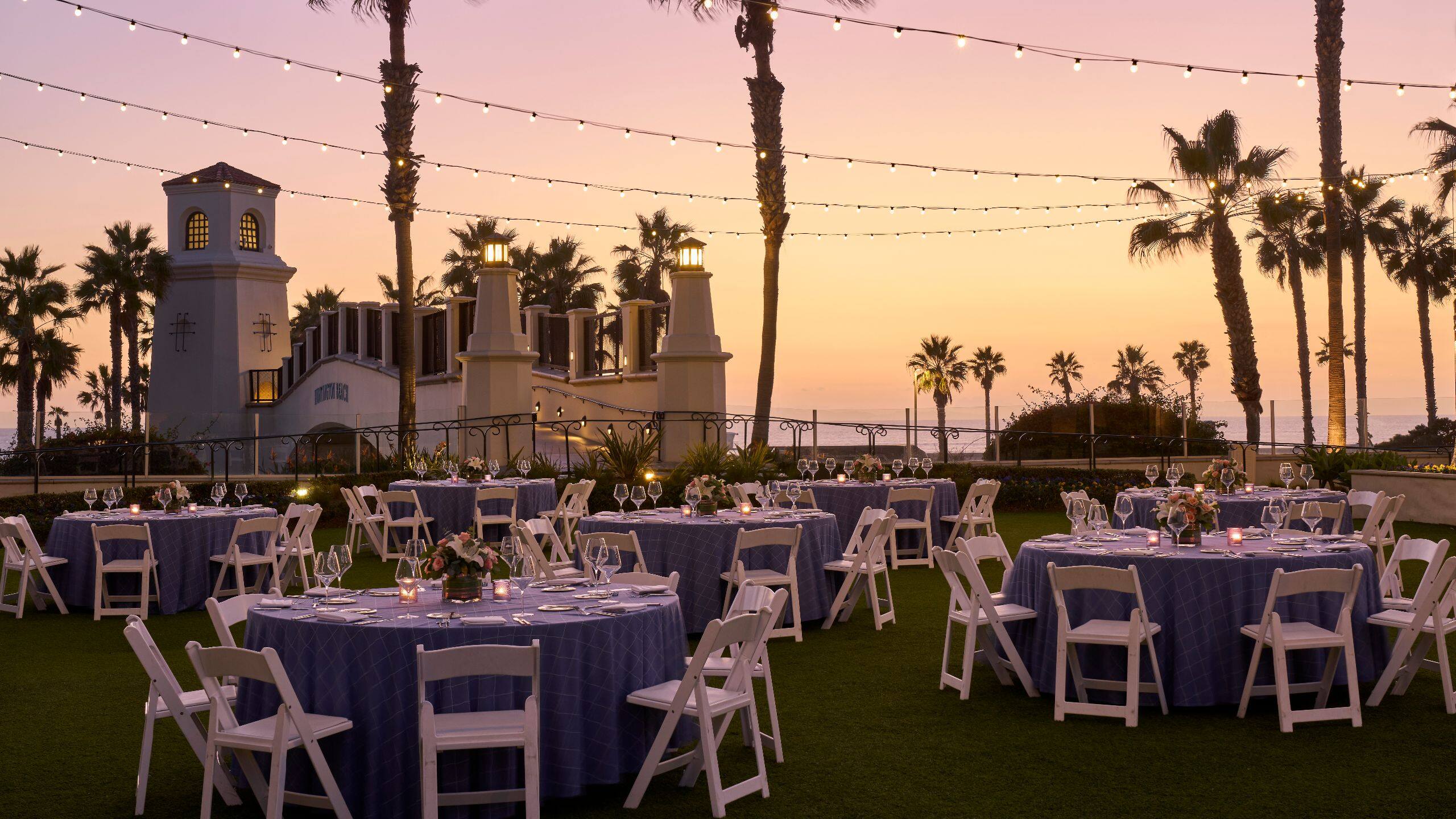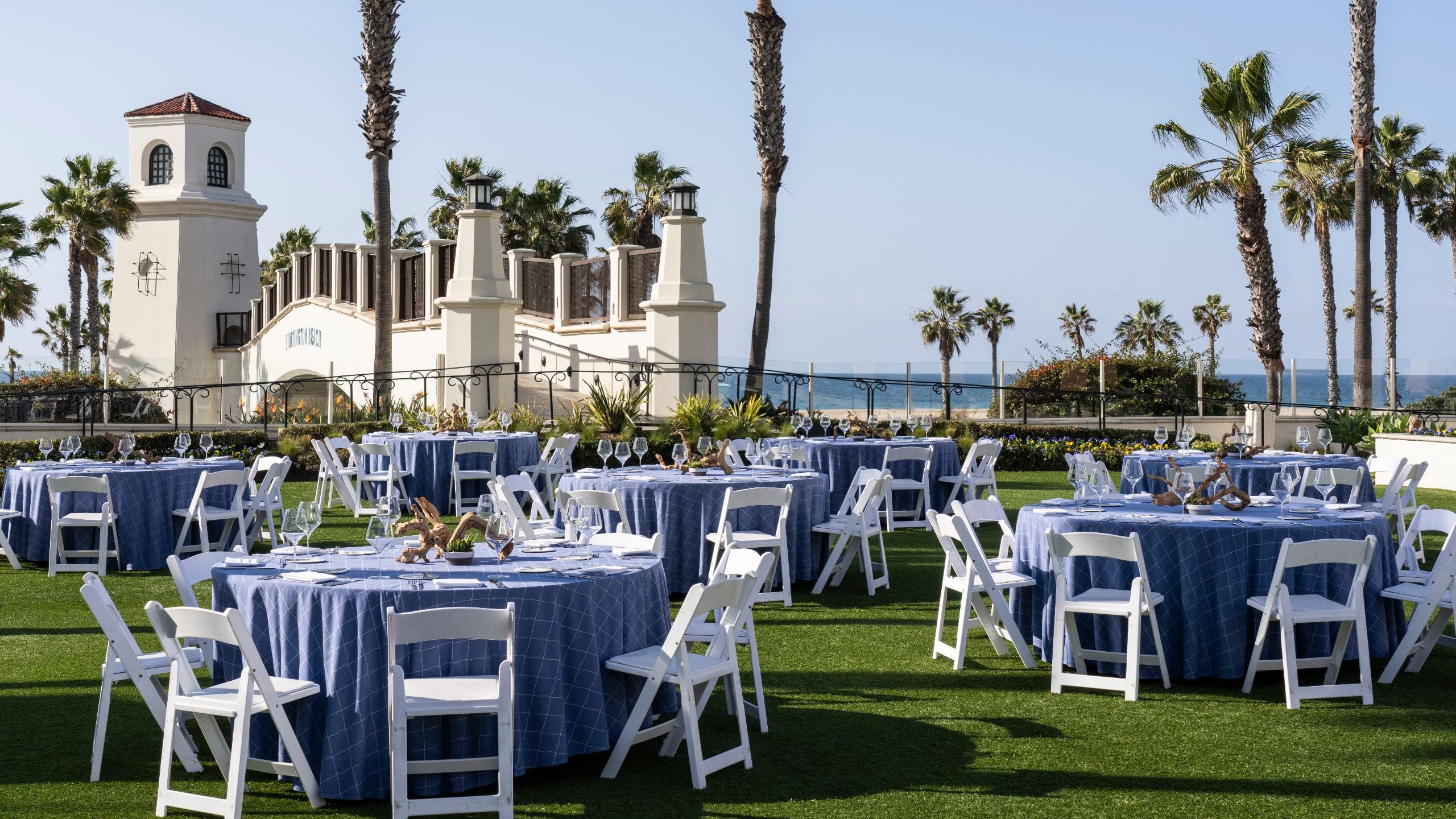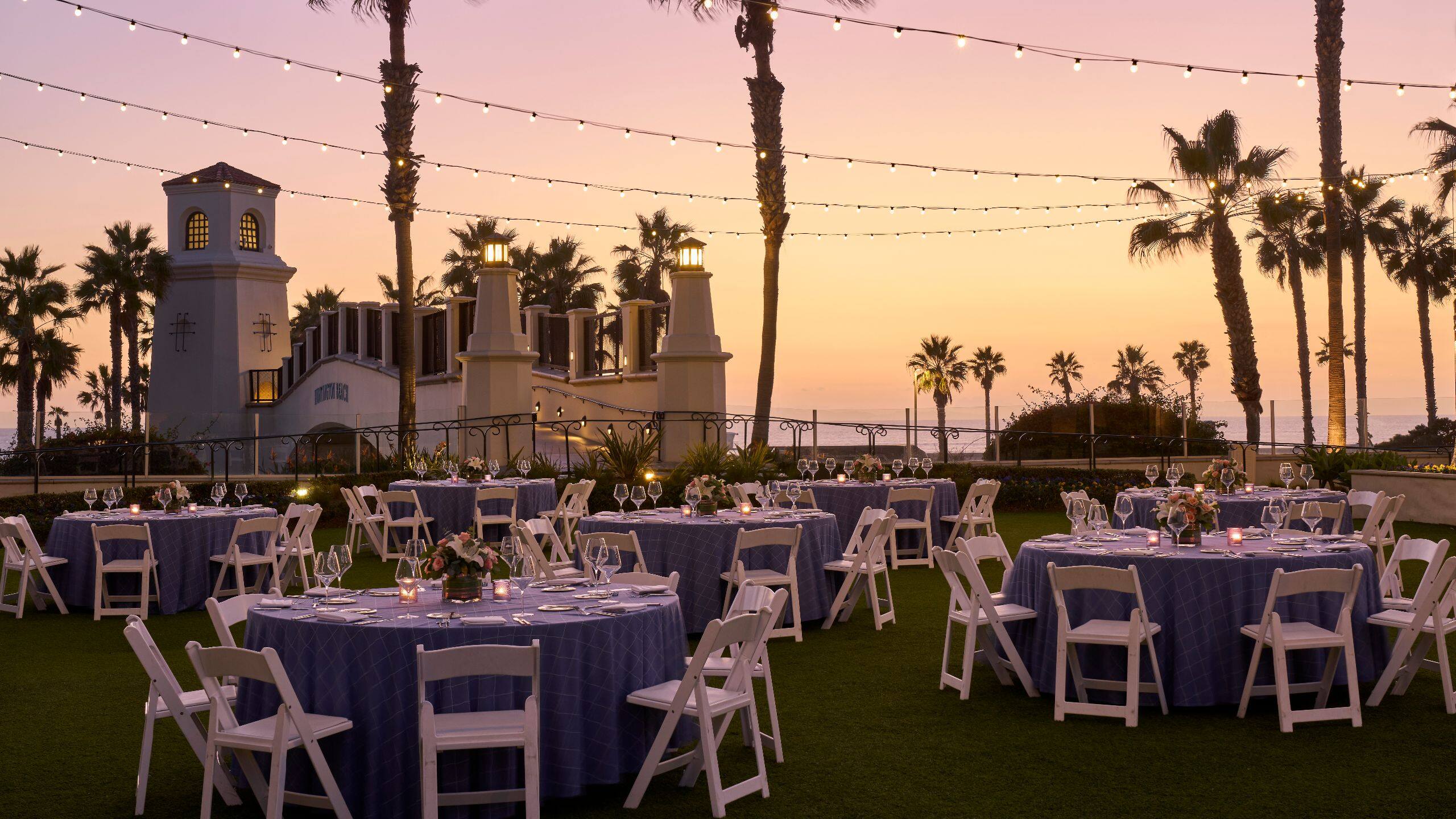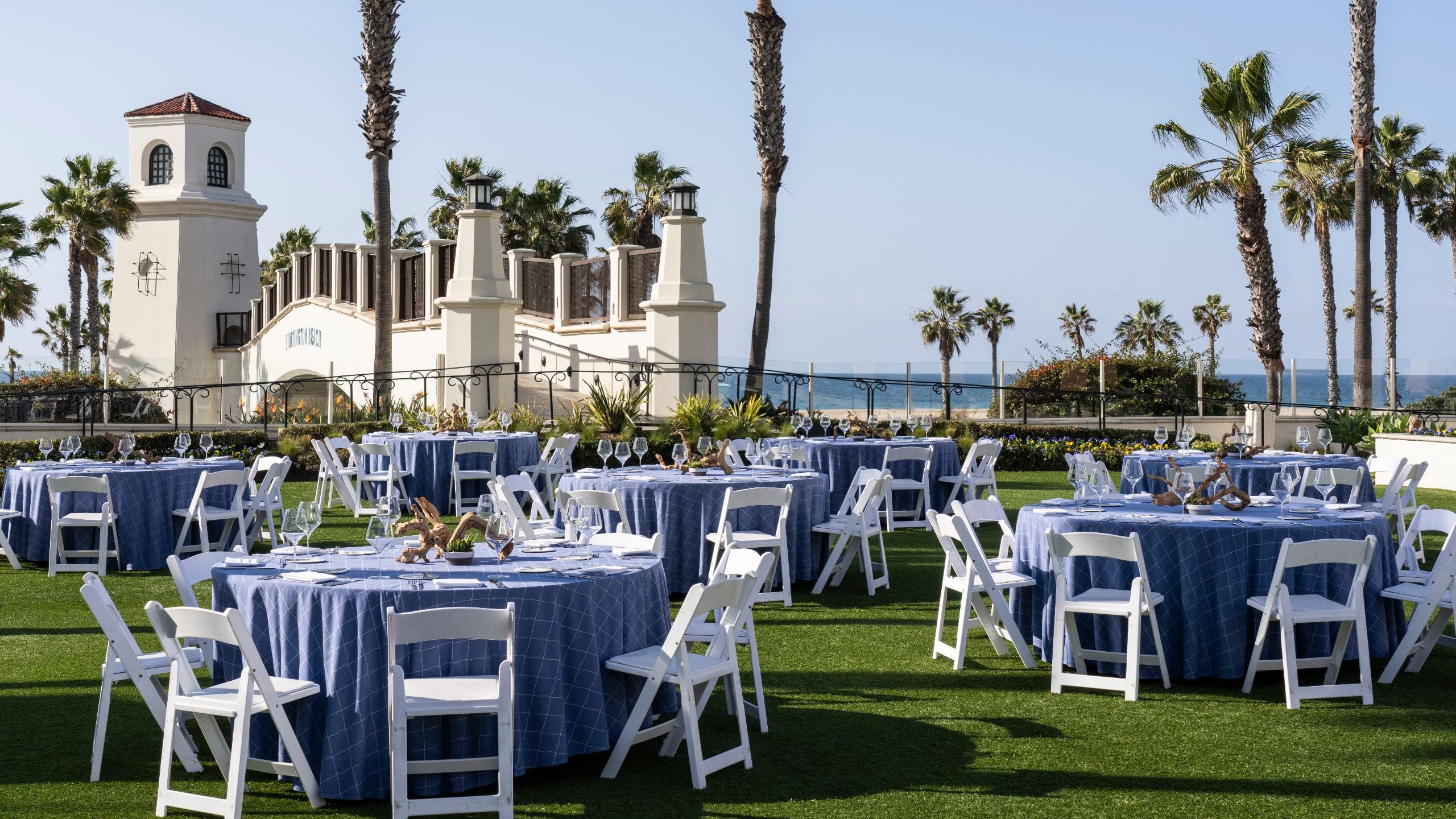 Lighthouse Courtyard
Located between the conference center and the hotel, this enchanting Courtyard offers a peaceful retreat with panoramic ocean views, a majestic bubbling fountain, lush gardens and palm trees. The large, beautifully manicured lawn and surrounding patios are ideal for outdoor coffee / exercise breaks from meetings, energizing luncheons or casual evening gatherings under the stars for 200 to 400 guests. The Lighthouse Courtyard is also our access point directly to the beach, via our own private overpass, complete with lighthouse.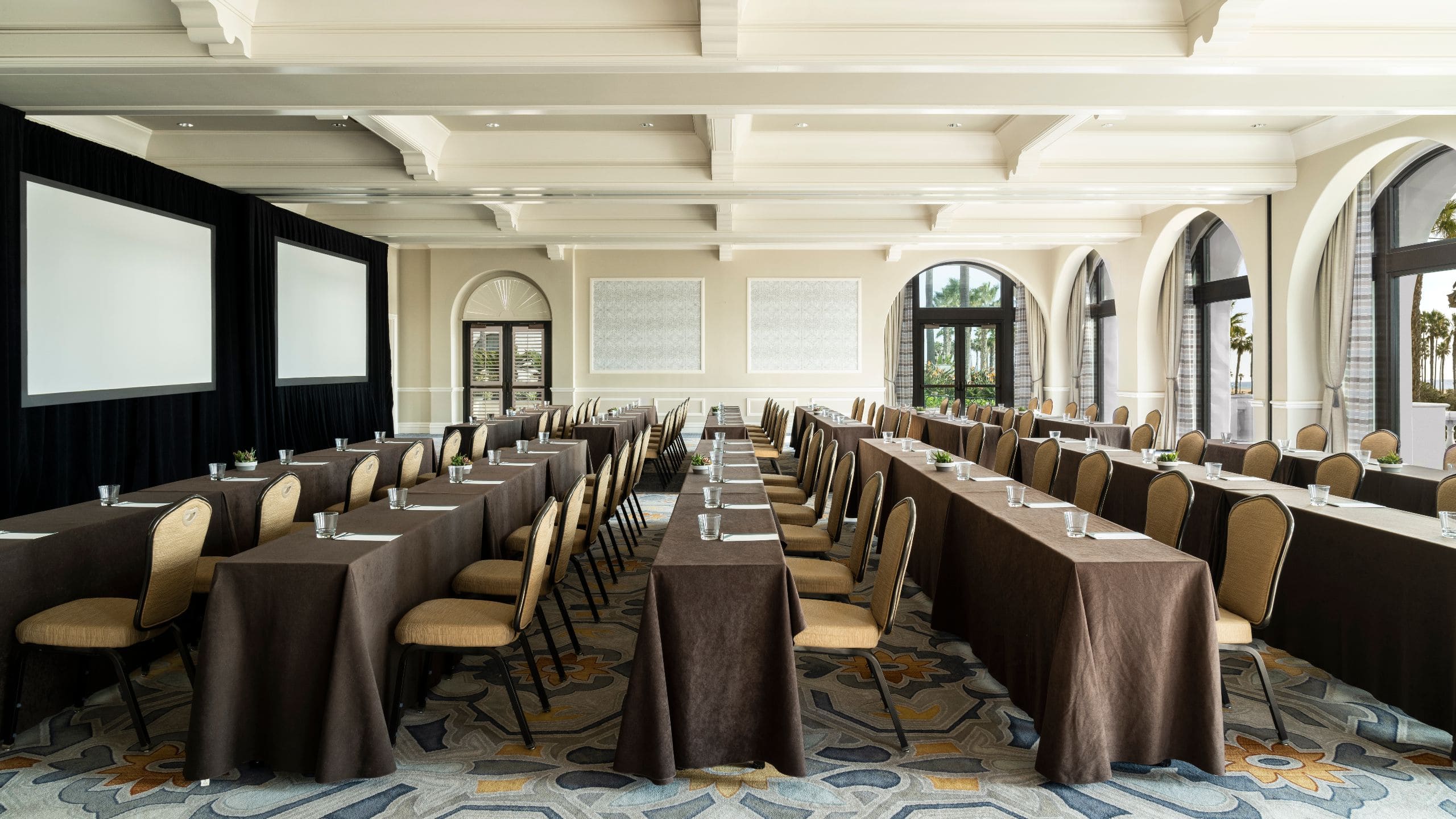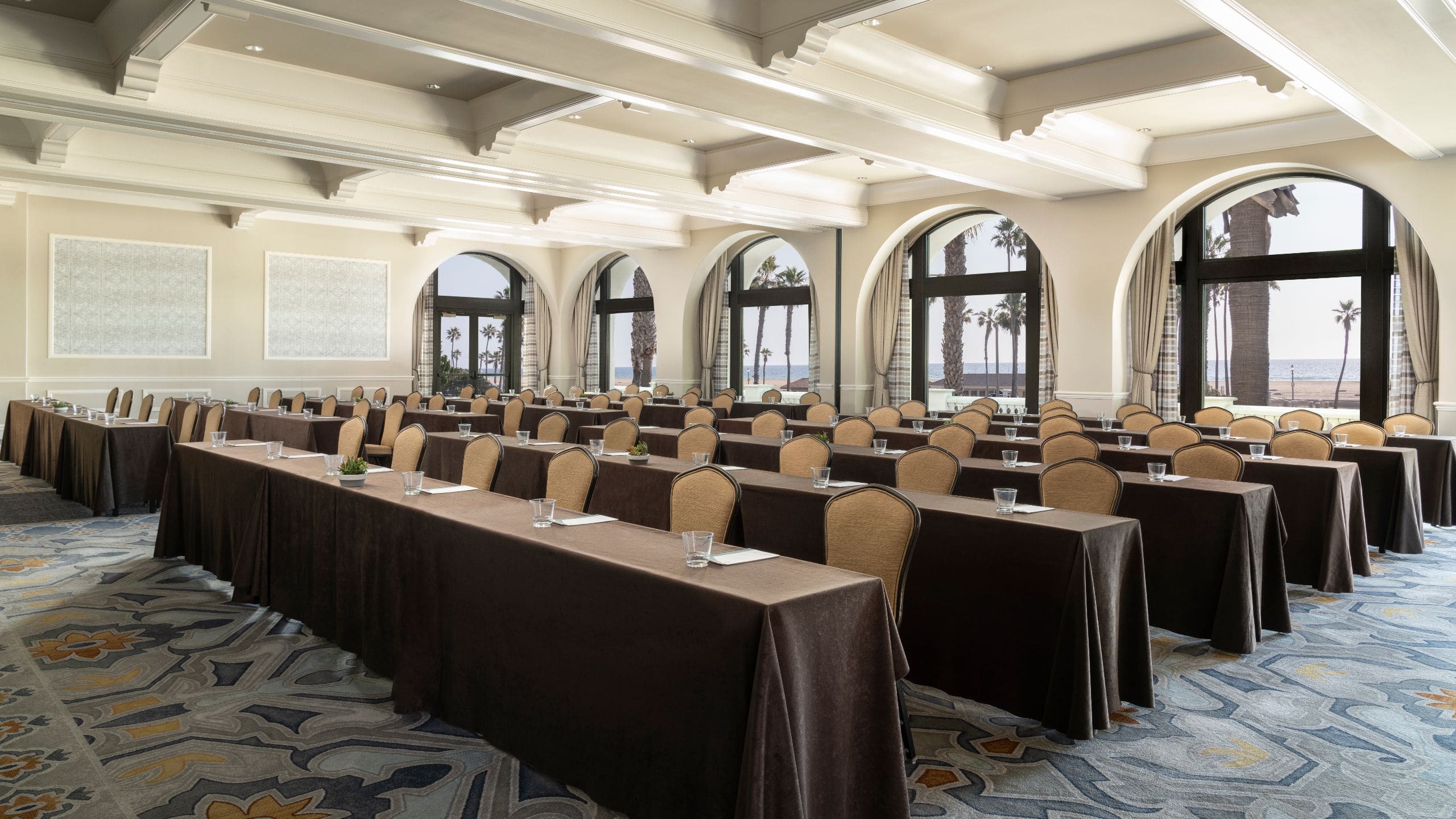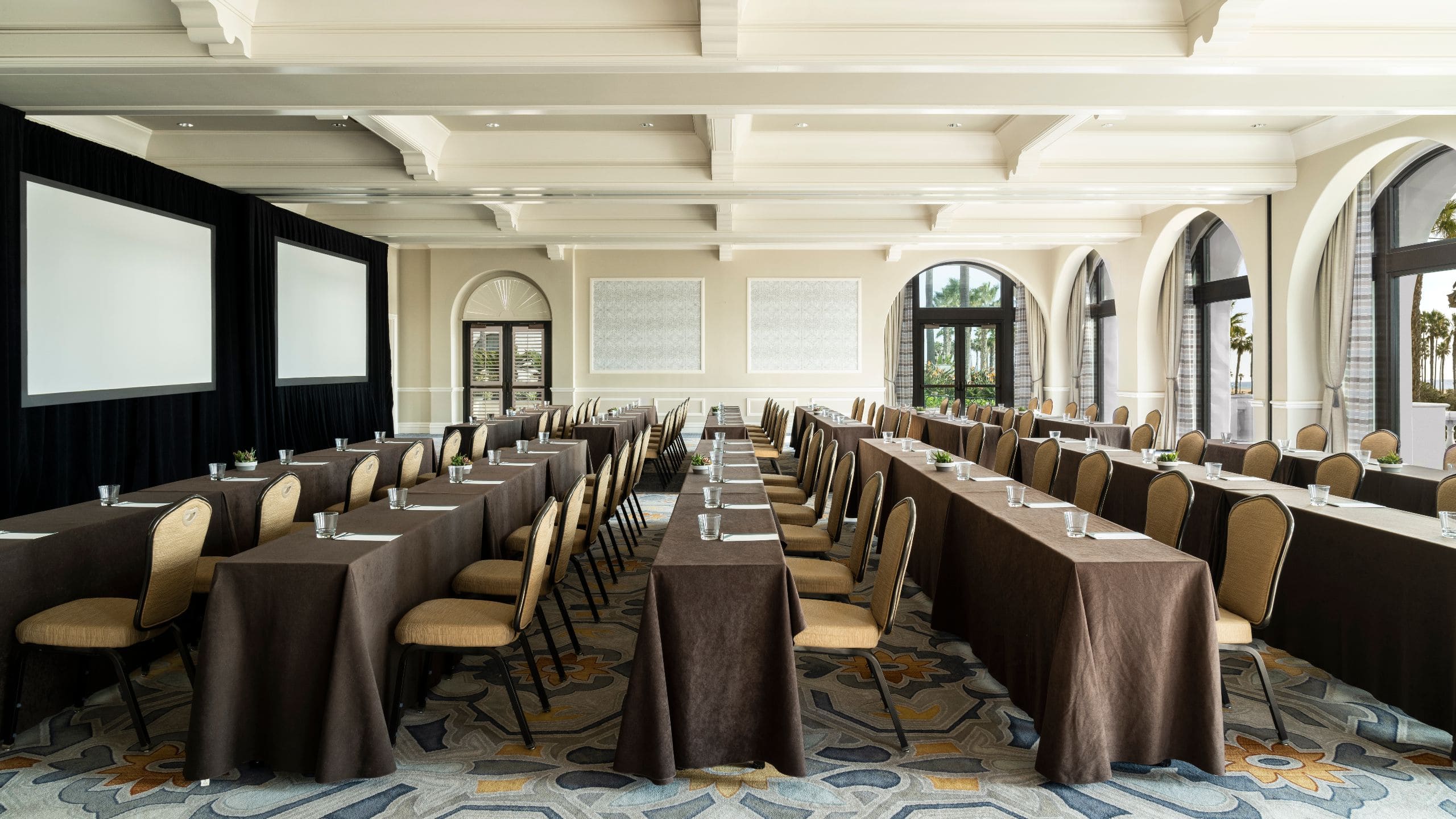 Vista
Vista ballroom is located on either side of the relaxing Lighthouse Courtyard and offer stunning views of the Pacific Ocean from walls of arched windows. The ballroom is 3,300 sq ft, may be divided into two sections, making them ideal for brainstorming and team-building sessions.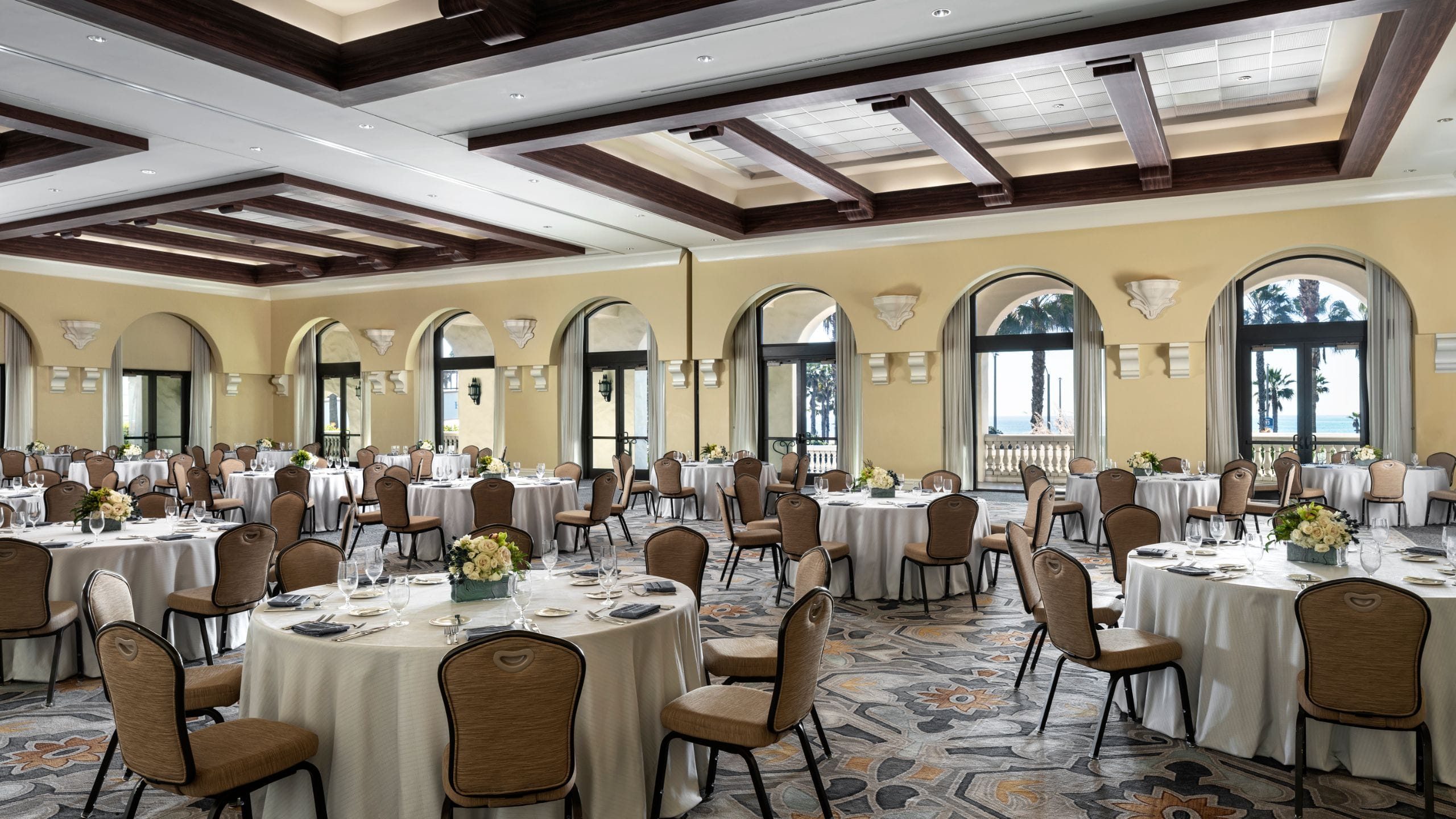 Huntington Ballroom
Each of these junior ballrooms, located on either side of the relaxing Lighthouse Courtyard, offer stunning views of the Pacific from their walls of arched windows. Host a delightful cocktail party in either location, with capacity ranging from 137 to 500 guests. For a unique themed event, utilize both ballrooms, each set with a different scheme, for a memorable closing night party. Each ballroom can be divided into two sections, making them ideal for brainstorming or team-building sessions in U-shape or hollow square formats.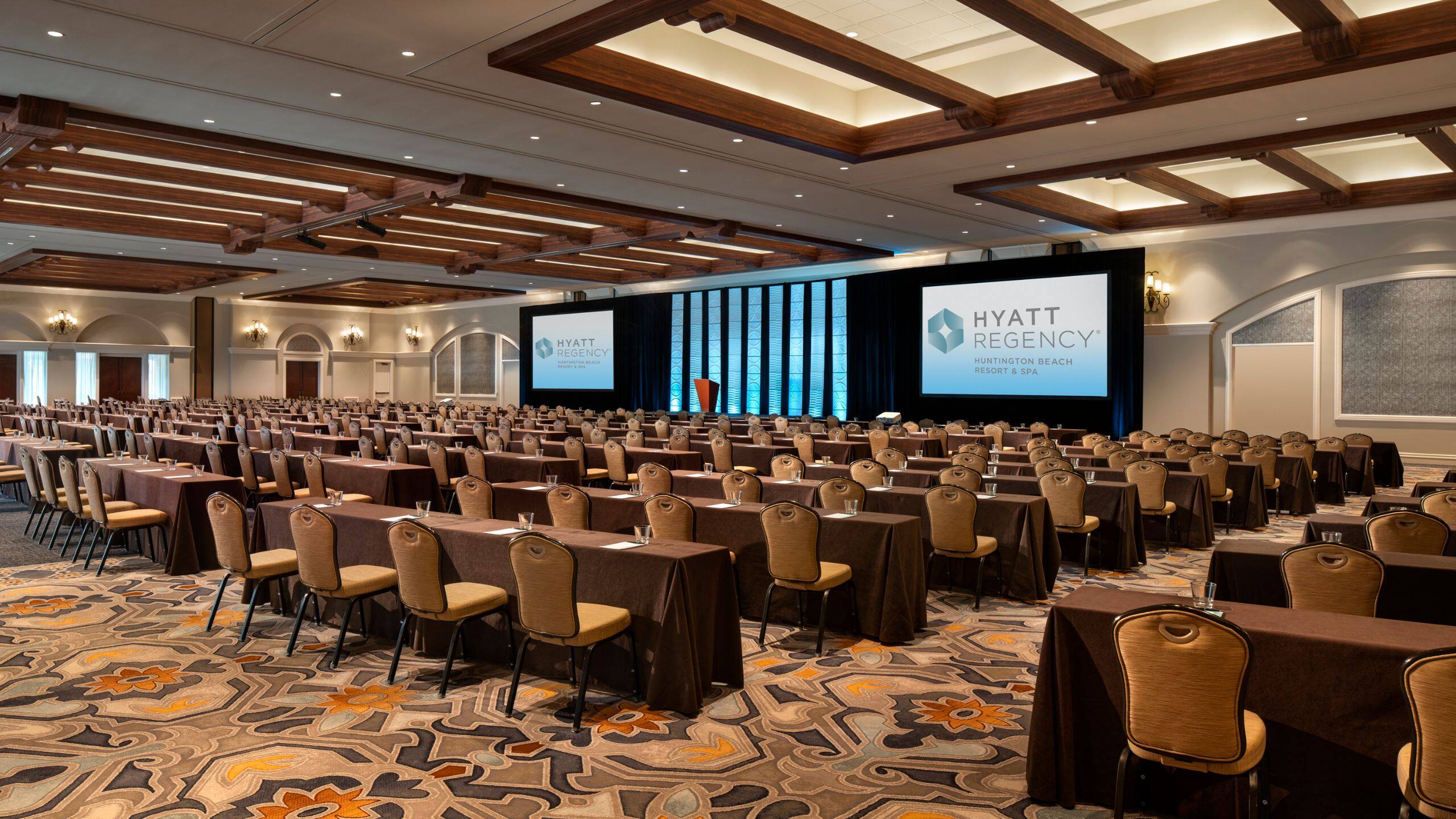 Grand Ballroom
The rich, yet unobtrusive, decor and open expanse of this 20,000 square foot ballroom makes it the ideal location for any grand event. Elegant wall sconces flank sets of door leading to the surrounding grounds, for easy access to outdoor areas. Southern California's temperate climate allows for sunshine and warm weather all year round! Entertain your meeting attendees in a theater-style set up for 2,200 with a spectacular opening session, complete with live entertainment and large AV screens for easy viewing. Lead an interactive training workshop in a classroom set up for over 1,300. The ballroom can also be divided into as many as six separate salons, perfect for breakout sessions, buffet set ups and more. Grand Ballroom is connected to two lovely pre-function areas, including an indoor courtyard and a terrace overlooking the Pacific Ocean. Each of these areas work well for pre-meeting continental breakfasts, unique coffee breaks or cocktails prior to a formal dinner for 1,400 guests.
California Courtyard
Situated just outside the hotel's main lobby, restaurant and lounge, this courtyard is centered by a large shimmering fountain - lit at night to capture the reflections of the surrounding palm trees and architecture - and is bordered by lovely patios and swaying palm trees. A small grassy knoll area overlooks the Pacific Ocean, making this the perfect spot to host a memorable cocktail party or exclusive gathering for up to 200 guests.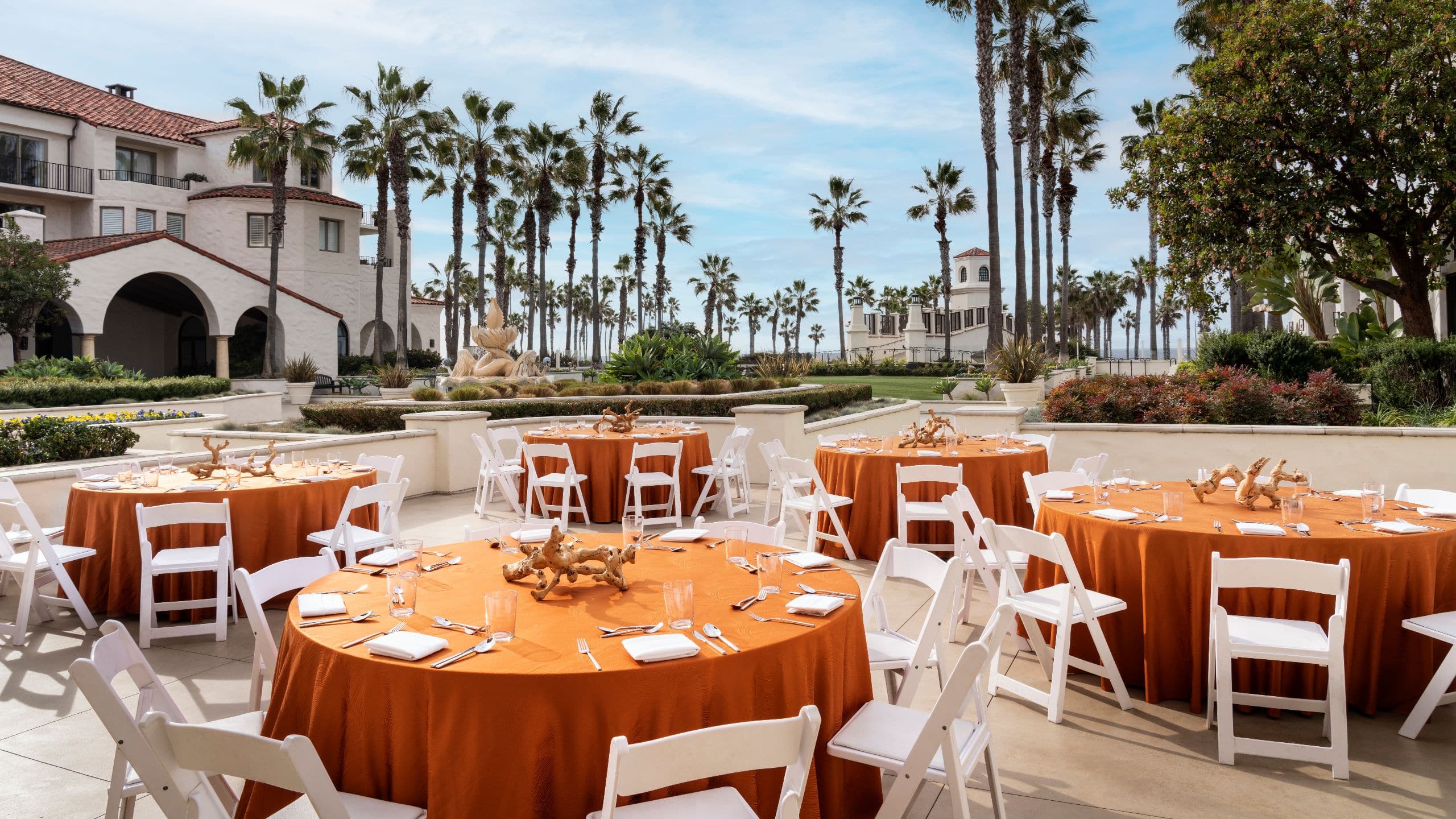 Fountain Courtyard
Located right off the Fountain Room and perfect for receptions, luncheons or dinners, and great sunset views.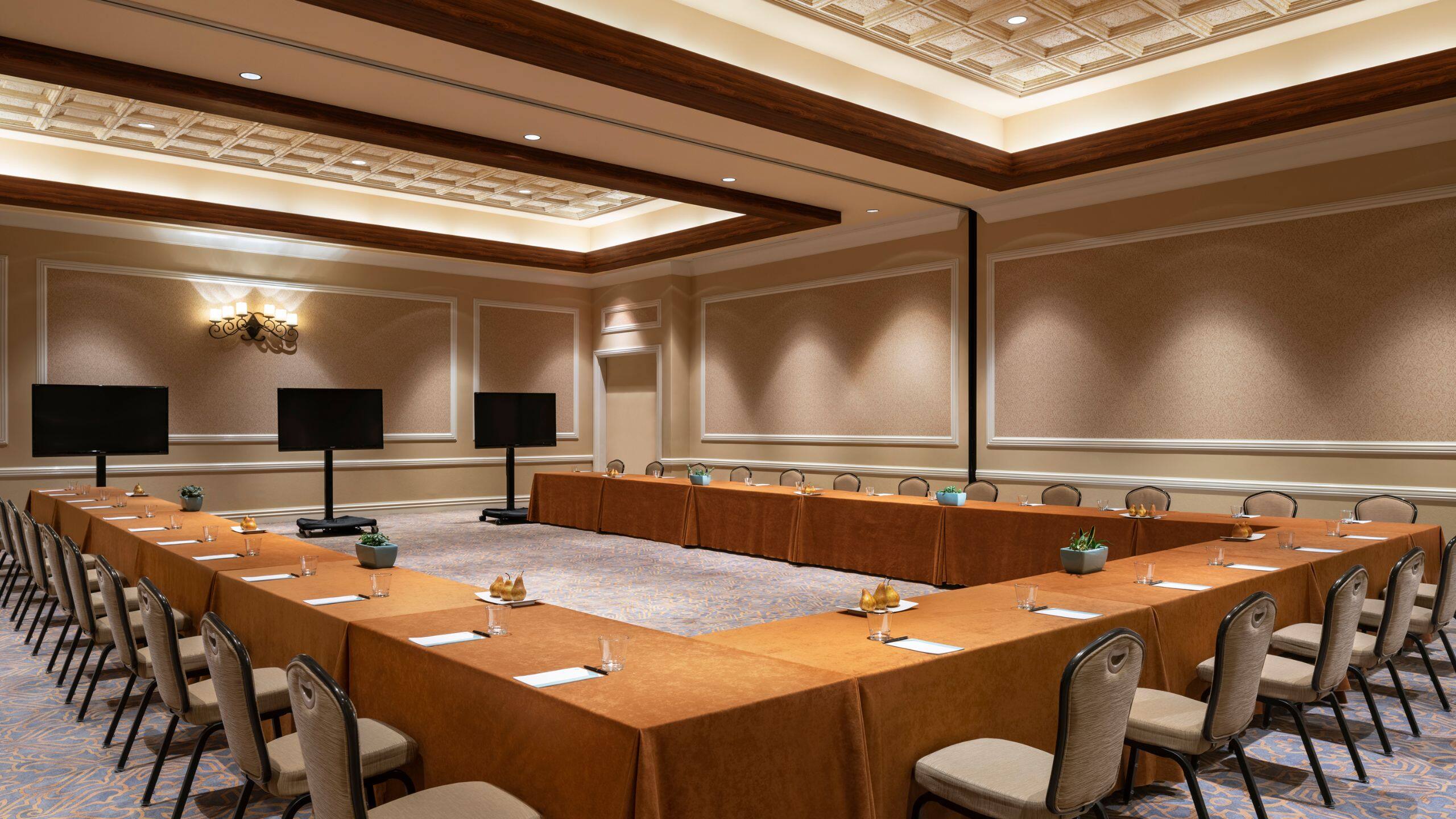 Fountain
This meeting room is easily accessible from the Grand Ballroom and Huntington Ballroom and are designed to accommodate small to midsize meetings and events. Set up range from 26 in a boardroom style to 222 in a theater-style setting.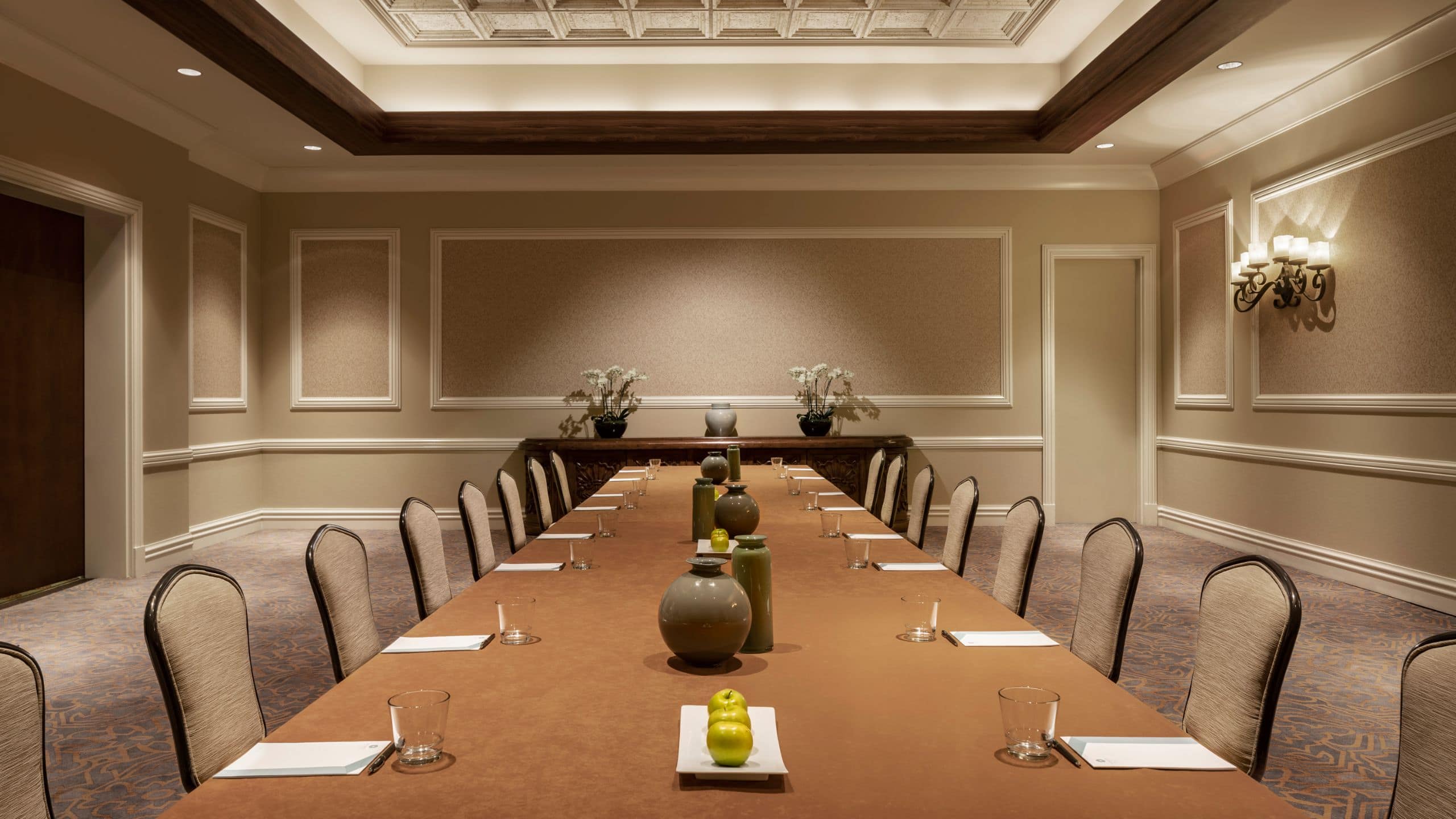 Catalina
This meeting room is easily accessible from the Grand Ballroom and Huntington Ballroom and are designed to accommodate small to midsize meetings and events. Set up range from 26 in a boardroom style to 222 in a theater-style setting.
Catering
Planning a party, wedding or special event in Huntington Beach? Delight your guests with a sumptuous dining experience featuring fresh California ingredients and bold flavor profiles, served by our resort's creative catering team. From a continental breakfast to a formal gala with multiple courses, our chefs will create a menu especially for your Orange County events, and our stunning indoor and outdoor event and banquet venues can be set up in just about any style to create the space you envision.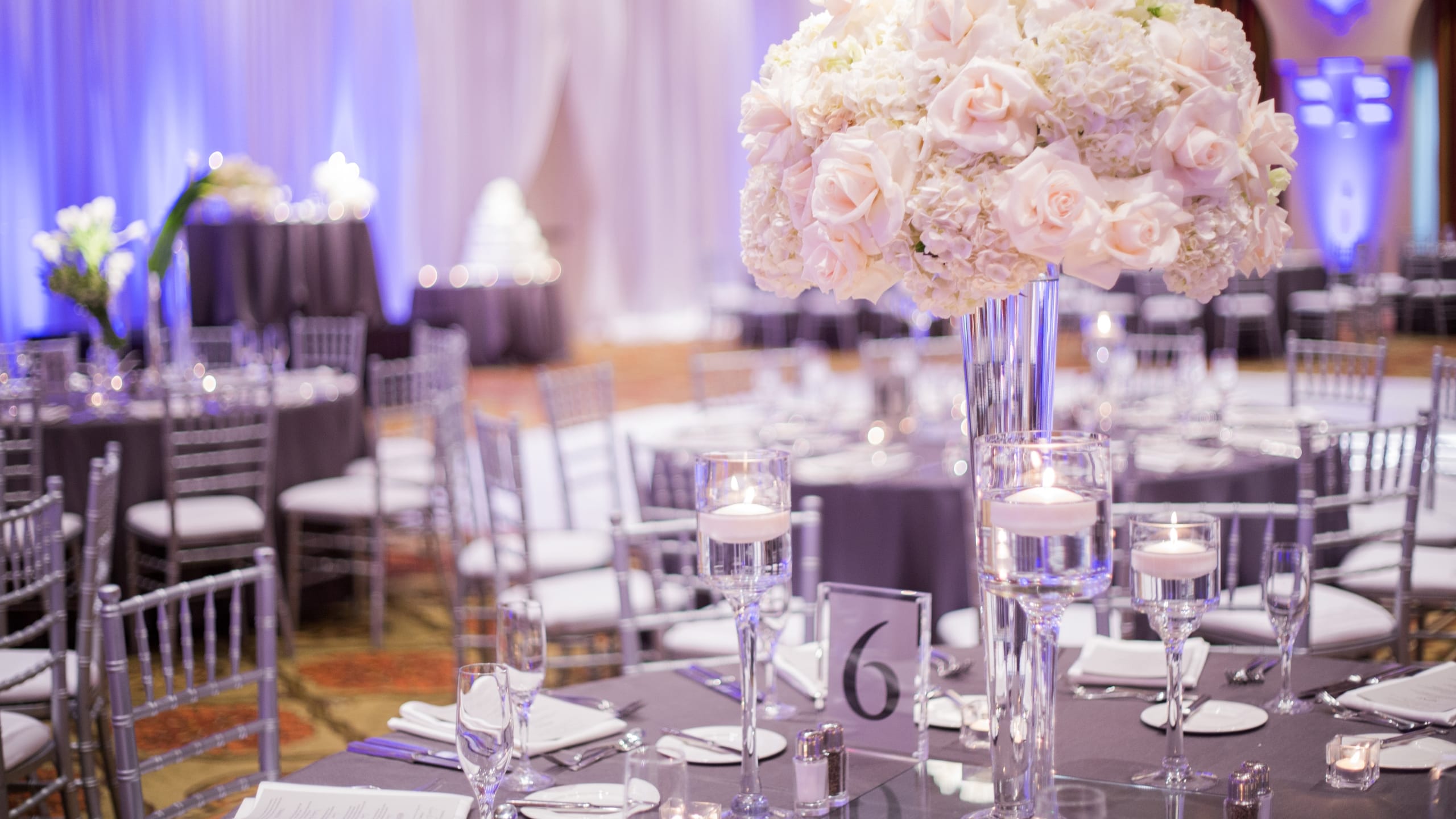 Services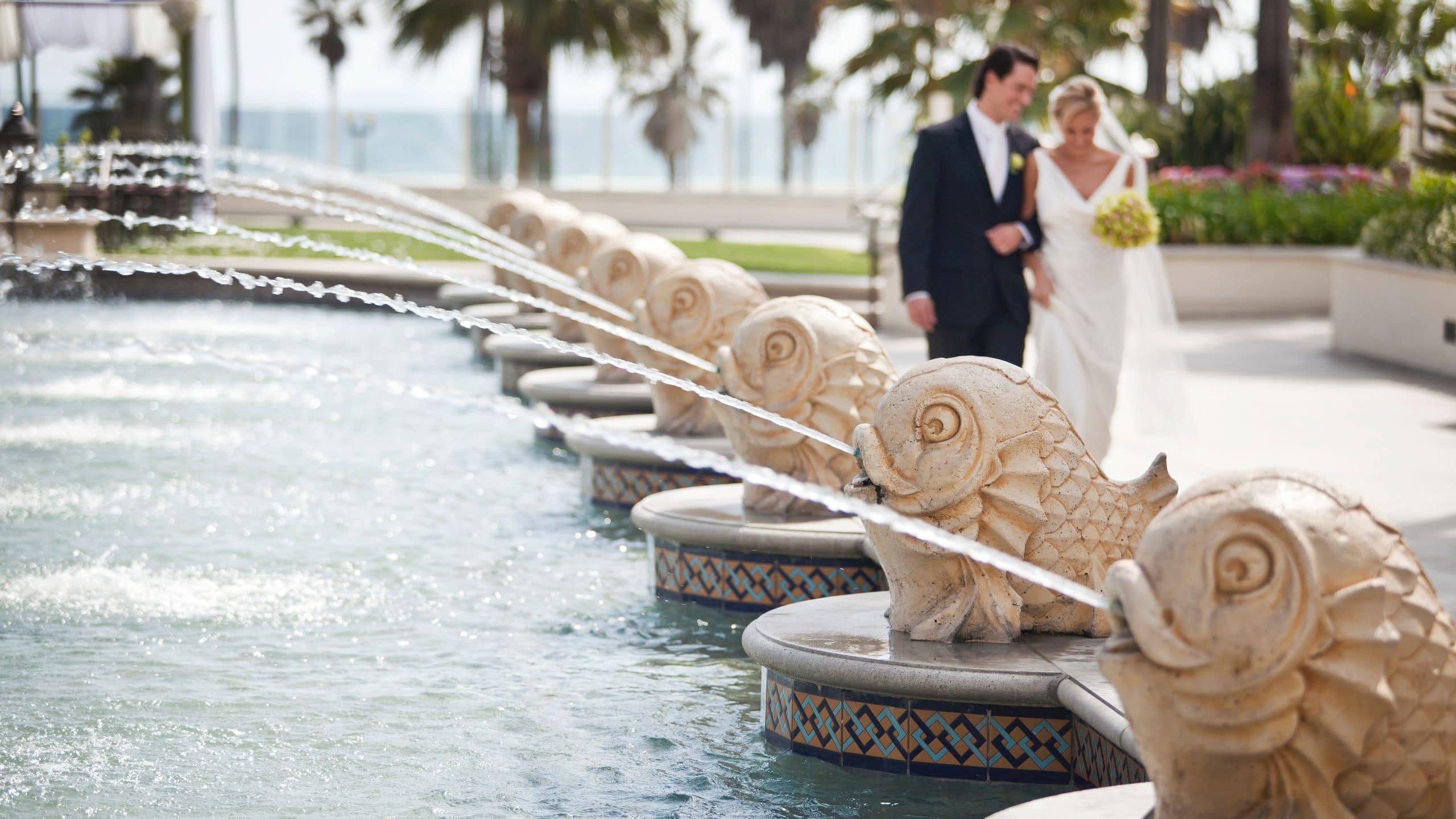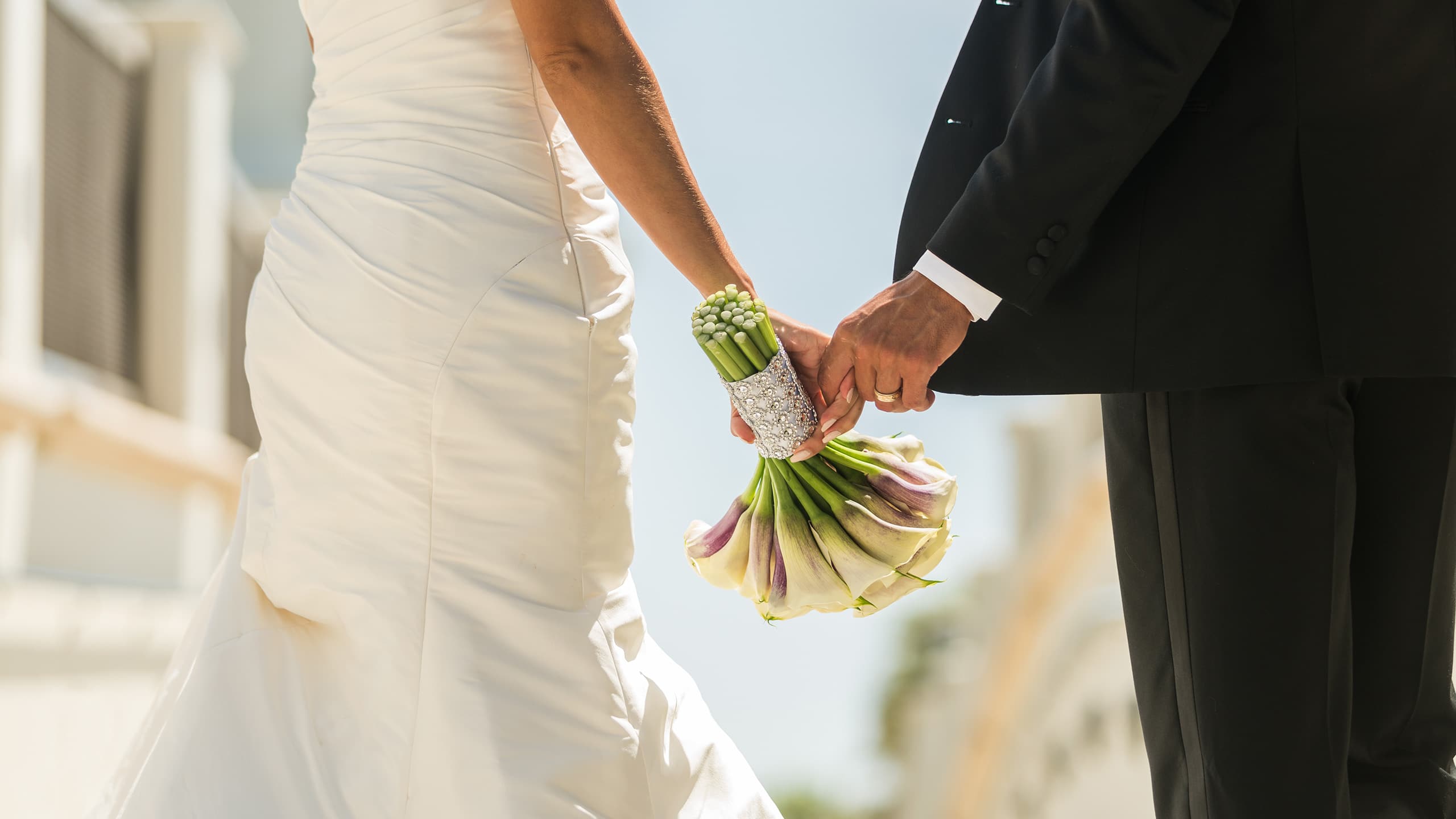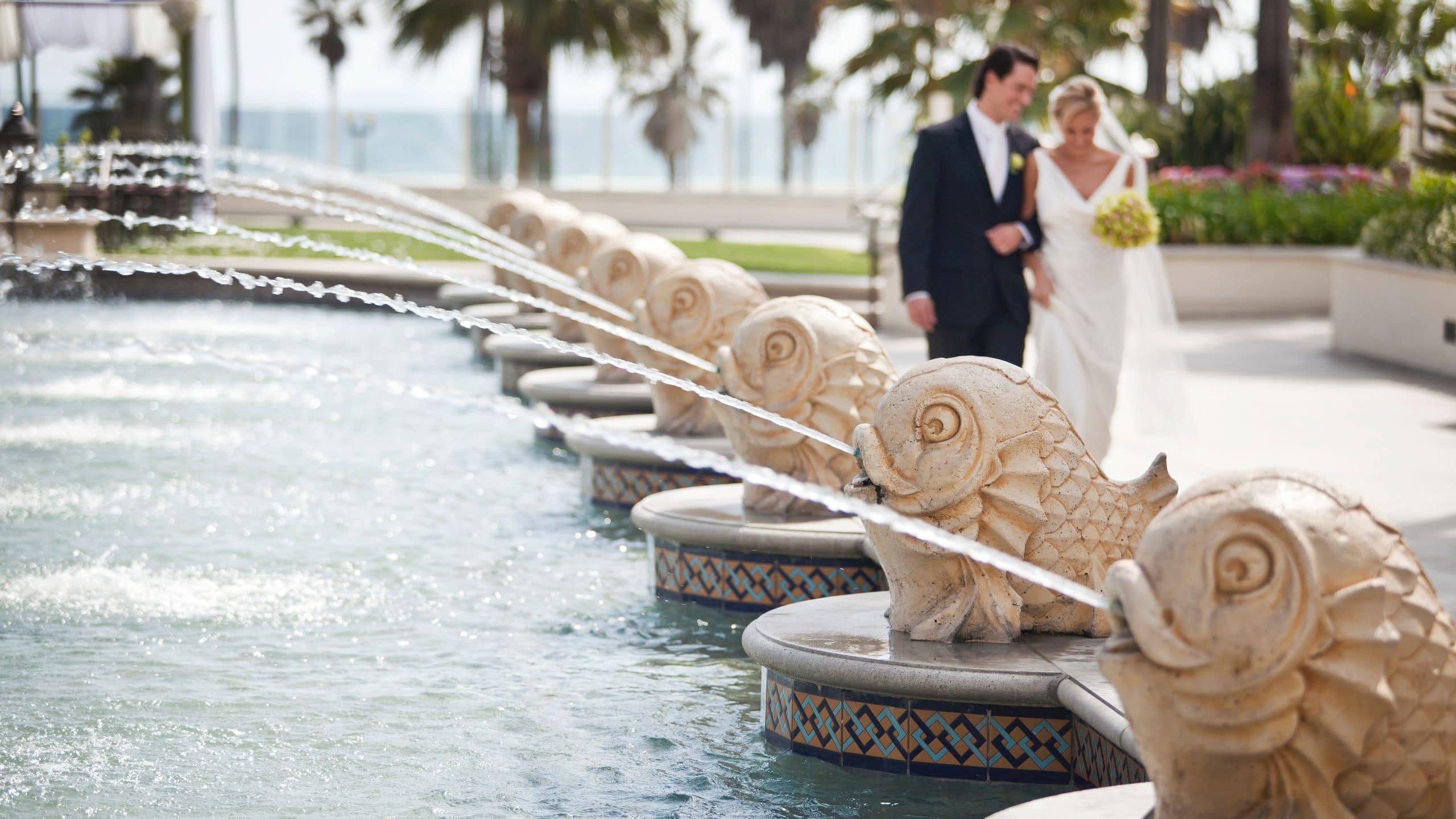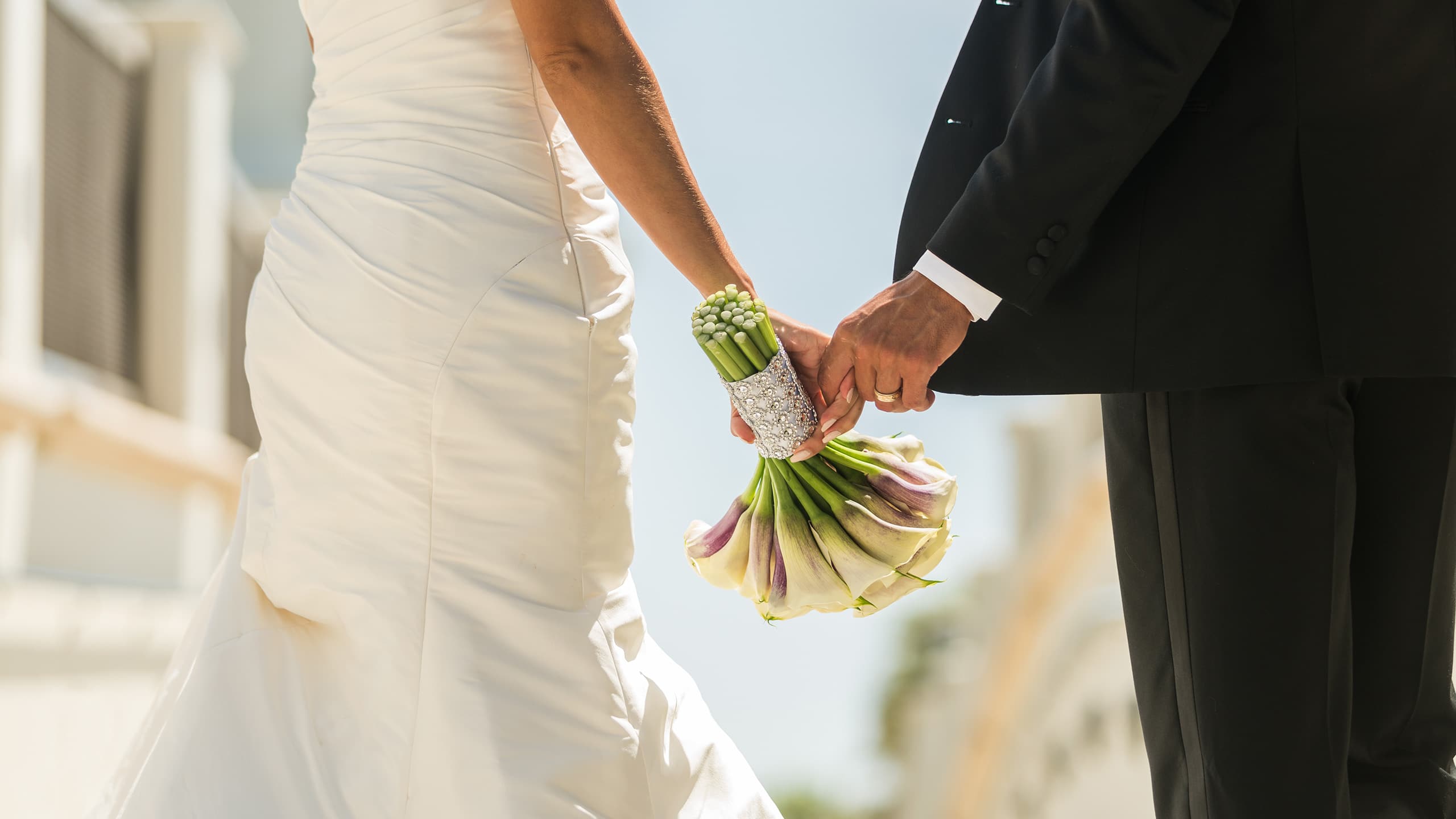 Event Space

110,000-square-foot reception and ceremony space

Indoor and outdoor wedding venues

Event Production

Dedicated wedding planner

Custom catering menus with delicious California cuisine

Audiovisual equipment and complimentary Wi-Fi

Accommodations

Special room rates for your wedding party and guests

Exclusive online booking page

Wedding and honeymoon packages

Oceanfront Venues

Our California Courtyard and Lighthouse Courtyard offer panoramic views of the Pacific Ocean and Huntington Beach, with ample space for 50–200 guests.

18-acre Resort for Wedding Day Photography

From majestic Andalusian architecture to Pacific Ocean views, our 18-acre grounds set the stage for unforgettable photos. Capture your special day in superb detail with a captivating backdrop.

Award-winning California Cuisine

Arrange a personalized tasting to help select the menu for your wedding day. With locally sourced cuisine inspired by the best of California, your attendees will be beyond satisfied.

Professional Tiered Wedding Cake

Our culinary team will ensure your wedding cake matches your unique vision and style, complementing your celebration's theme—and it will look as good as it tastes.

Elegant Bridal Suite

Ensure the bridal party preps in style with a spacious suite offering a host of amenities. Enjoy the ultimate in privacy and comfort as you get ready for the big celebration.

Dedicated Banquet Captain & Servers

Let our dedicated banquet captain and servers ensure the swiftest service for your reception, with food and drink delivered to the highest standards.

Honeymoon Promotion

The celebration doesn't end when the wedding does. When you celebrate your special day at our hotel, you earn free nights toward your honeymoon.

Cultural Weddings

Our planning team includes dedicated coordinators with experience crafting cultural and religious celebrations spanning the entire globe.
Contact Us
Let's start the planning process. Contact us for more information or to schedule an appointment.