celebrate in style
Let your wedding day be everything you've imagined. Our hotel's exquisite wedding and reception venues in downtown Dallas include stunning views, thoughtfully-crafted catering menus and events specialists dedicated to ensuring each moment is made to remember. From intimate wedding ceremonies to grand receptions, choose Thompson Dallas for your unforgettable celebration.
Total Sleeping Rooms219
Largest Space13,457 sq. ft.
event spaces
The National Ballroom
1,300 sq m/ 800 Person Max Capacity
Spanning 14,000 square feet and boasting panoramic city views through 20-foot windows, The National Ballroom offers a flexible meeting and celebration venue that can be divided into six distinct spaces. Whether for a reception for up to 800 guests or a smaller gathering for 120 of your closest friends, family, colleagues or clients, Thompson Dallas offers a stunning setting with contemporary furnishings, refined millwork, and sparkling chandeliers.
Hamilton
101 sq m/ 100 Person Max Capacity
Host a corporate dinner, company gathering or wedding for up to 100 guests in this elegantly designed 1,096-square-foot Dallas venue, with sweeping cityscape views.
Lincoln
66 sq m/ 70 Person Max Capacity
For an intimate event for up to 70 guests, the Lincoln room spans 715 square feet, offers plush seating around circular tables, and is awash in daylight through floor-to-ceiling windows.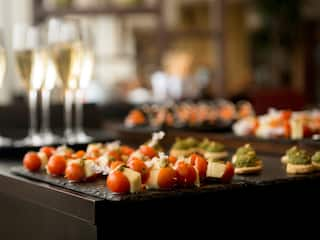 Catering
Our best-in-class team of culinary and mixology experts will craft a menu to your specifications, so that your special day is memorable — and so that each detail is perfectly executed.
Email: DFWTH-RFP@thompsonhotels.com
Phone Number +1 469 320 1234