Meetings & Events
Tucked away on 26 beautiful acres in the Naples area of Southwest Florida, Hyatt Regency Coconut Point Resort & Spa is a spectacular place to gather, connect and celebrate. Our resort features more than 82,500 square feet of indoor and outdoor event space, including high-tech meeting rooms, elegant ballrooms, courtyards and a terrace. Whether you're planning a powerhouse conference or an elegant gala, our professional meeting and event planners will help coordinate all the elements, from audiovisual equipment to cuisine to group accommodations.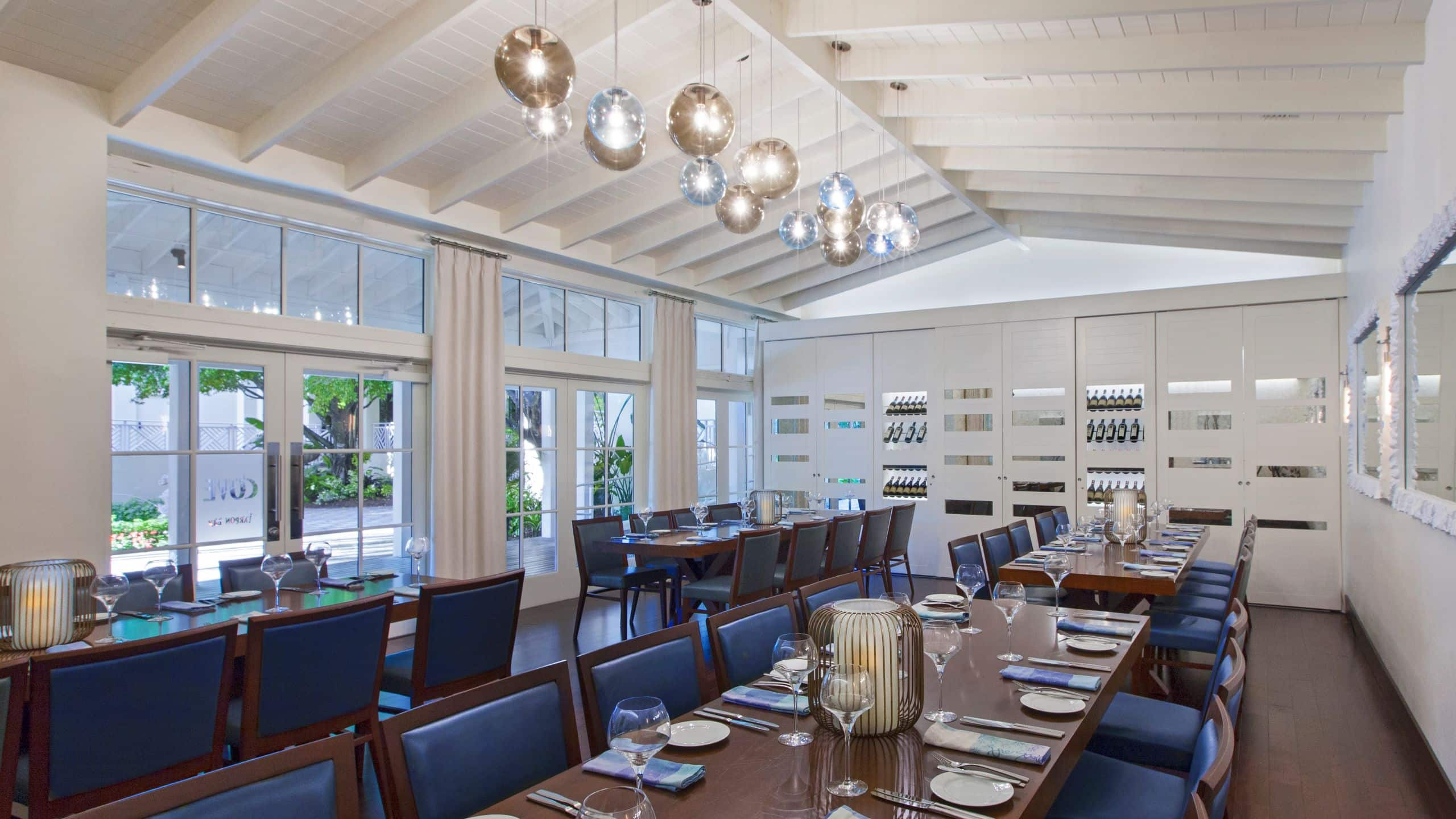 The Cove at Tarpon Bay
The Cove at Tarpon Bay Private Dining Room offers contemporary space for a multitude of events. The dining room seats up to 40 guests and has a fantastic view of Banyan Courtyard and is an extension of the Tarpon Bay Restaurant. The wall-to-wall handmade cabinets and credenza house a 55" flat screen TV monitor to enhance any audiovisual presentation.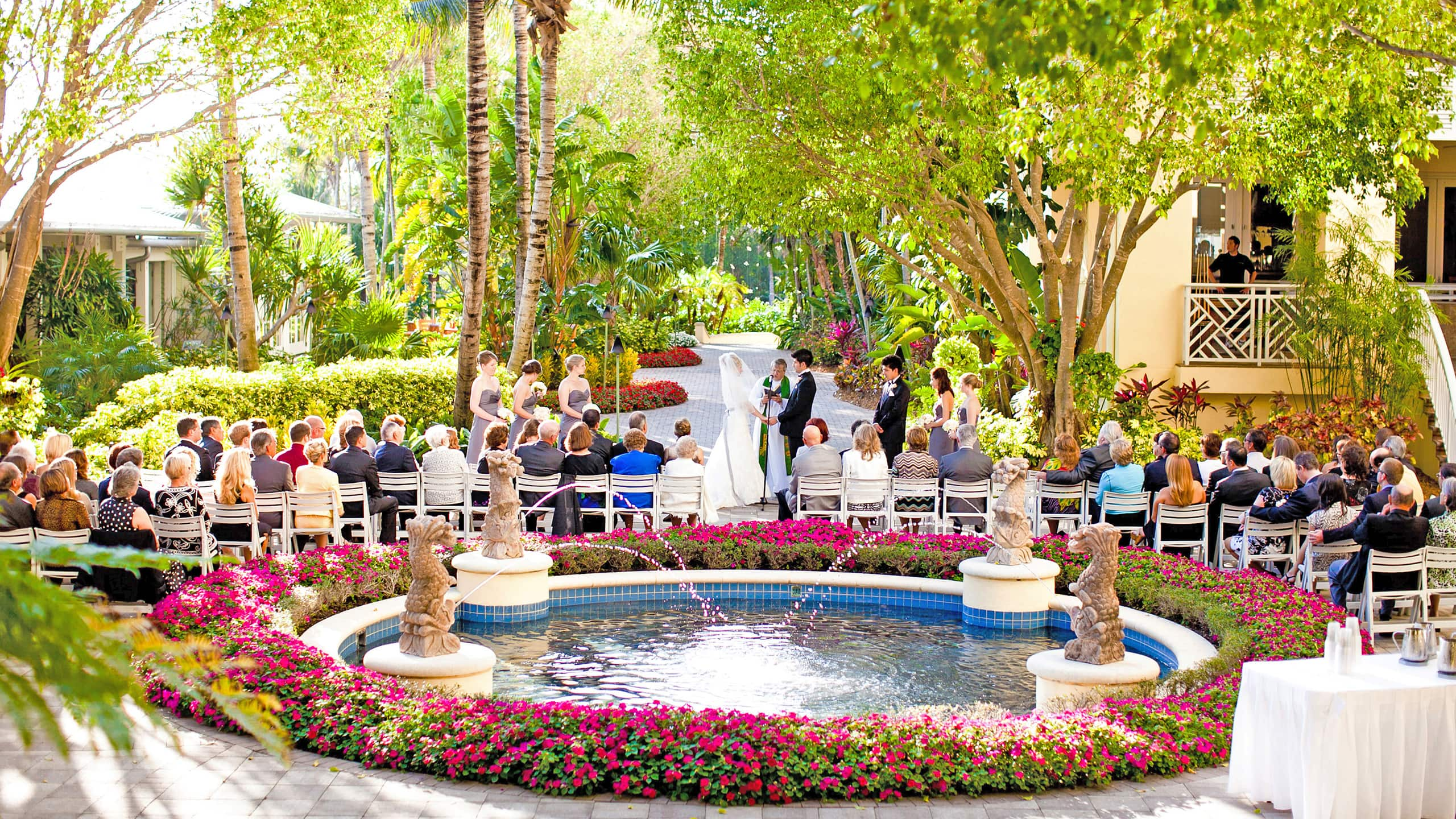 Banyan Courtyard
Our Banyan Courtyard is the perfect outdoor wedding venue with all the elements to make your tropical wedding dreams come true. The courtyard is a private, tropical garden shaded by banyon trees, perfect for weddings up to 100 guests. Dappled with sunlight and shade and anchored by a charming circular fountain, this intimate setting is perfect for a wedding, and also for a reception, cocktail hour, seated luncheon or brunch for up to 95 seated or 140 reception guests.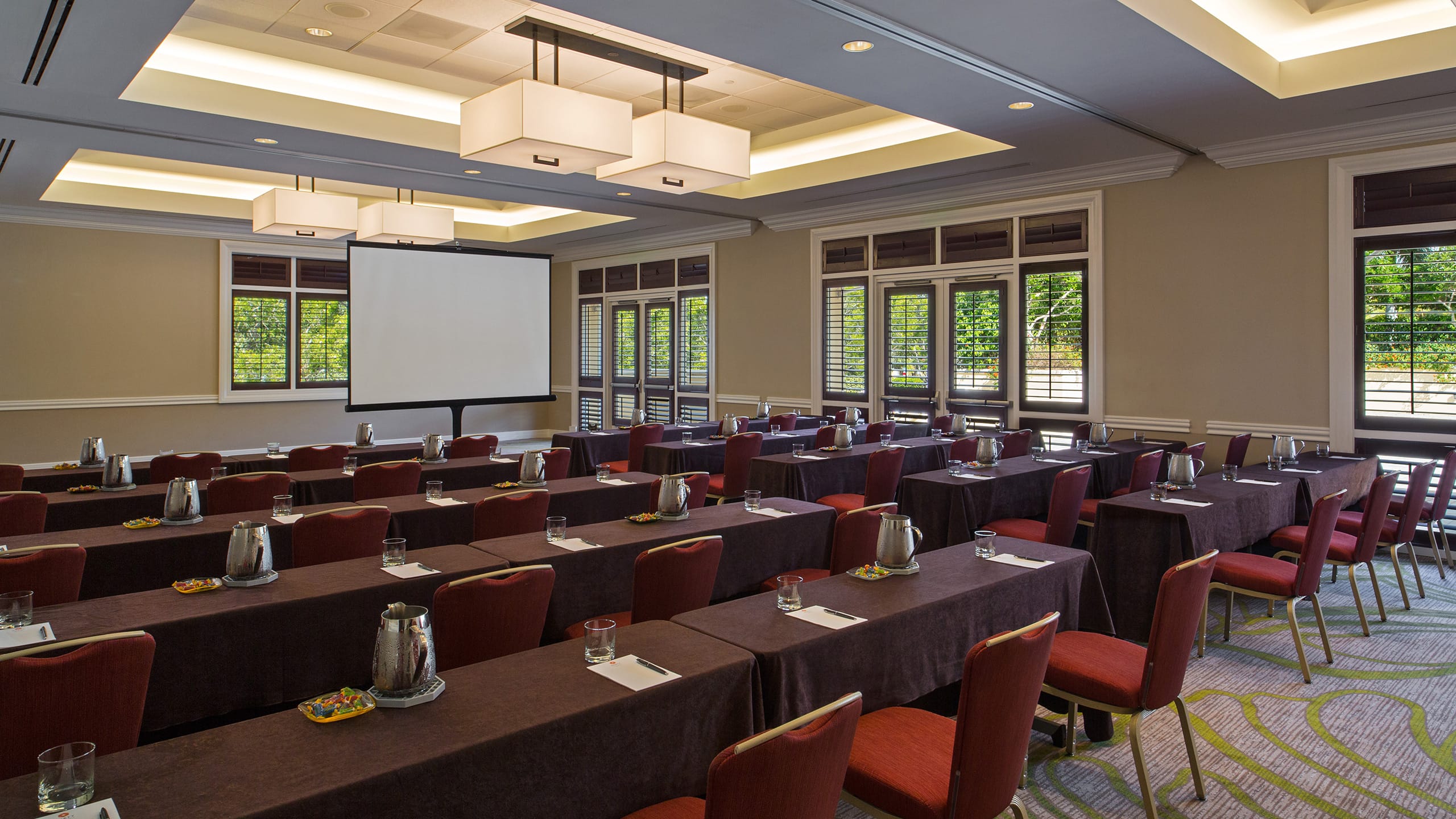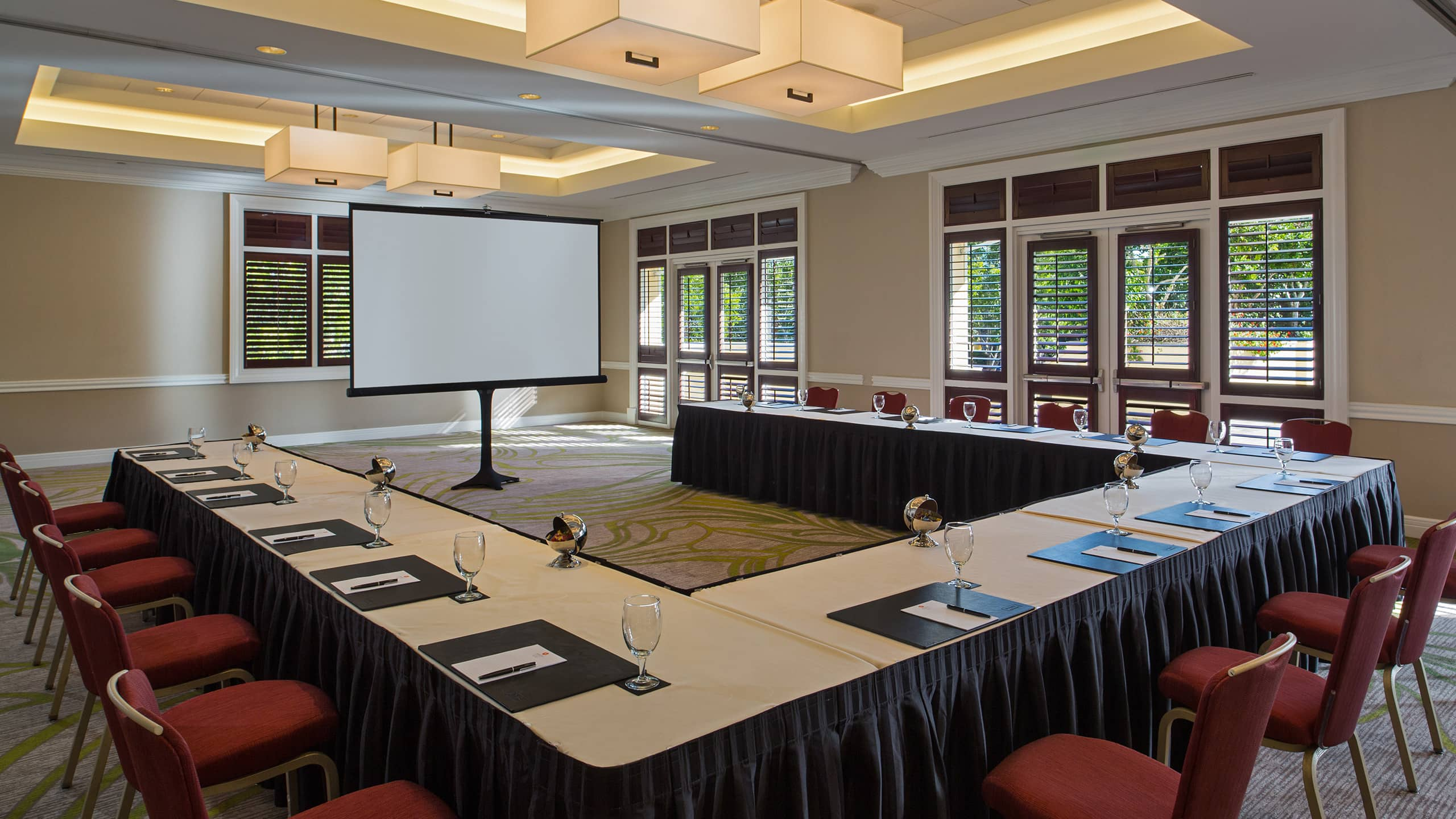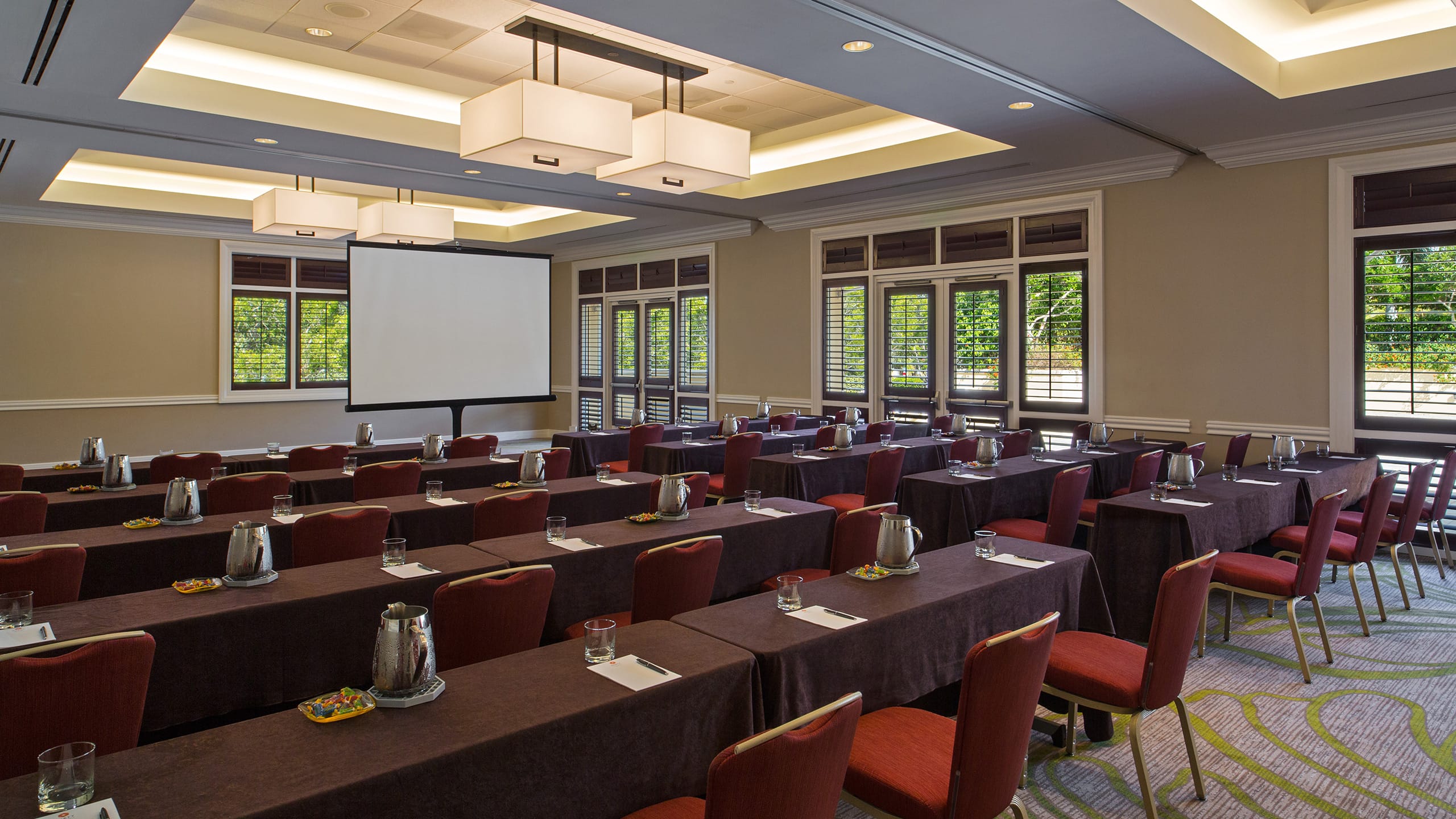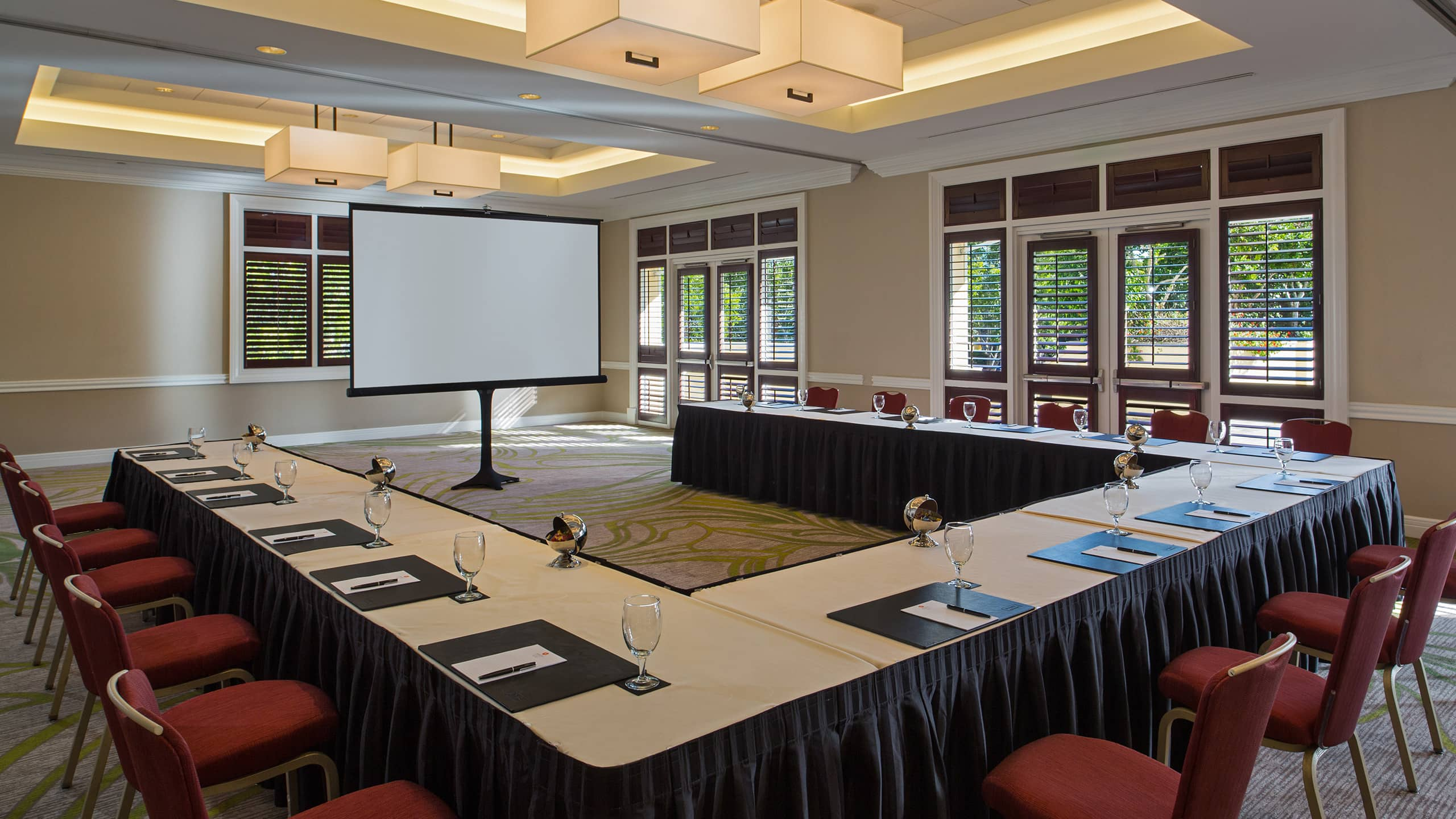 Blue Heron and Great Egret
Located next to the Calusa Ballroom, these two similar rooms are named after birds common to our area of Southwest Florida. For meeting space, these rooms are ideally positioned to serve as breakout venues from events taking place in Calusa ballroom. A Hollow-Square formation seats up to 30 in each of the six salons encompassing these two meeting rooms. Natural sunlight, tropical views and access to Calusa Terrace makes these two rooms versatile for meetings and social gatherings.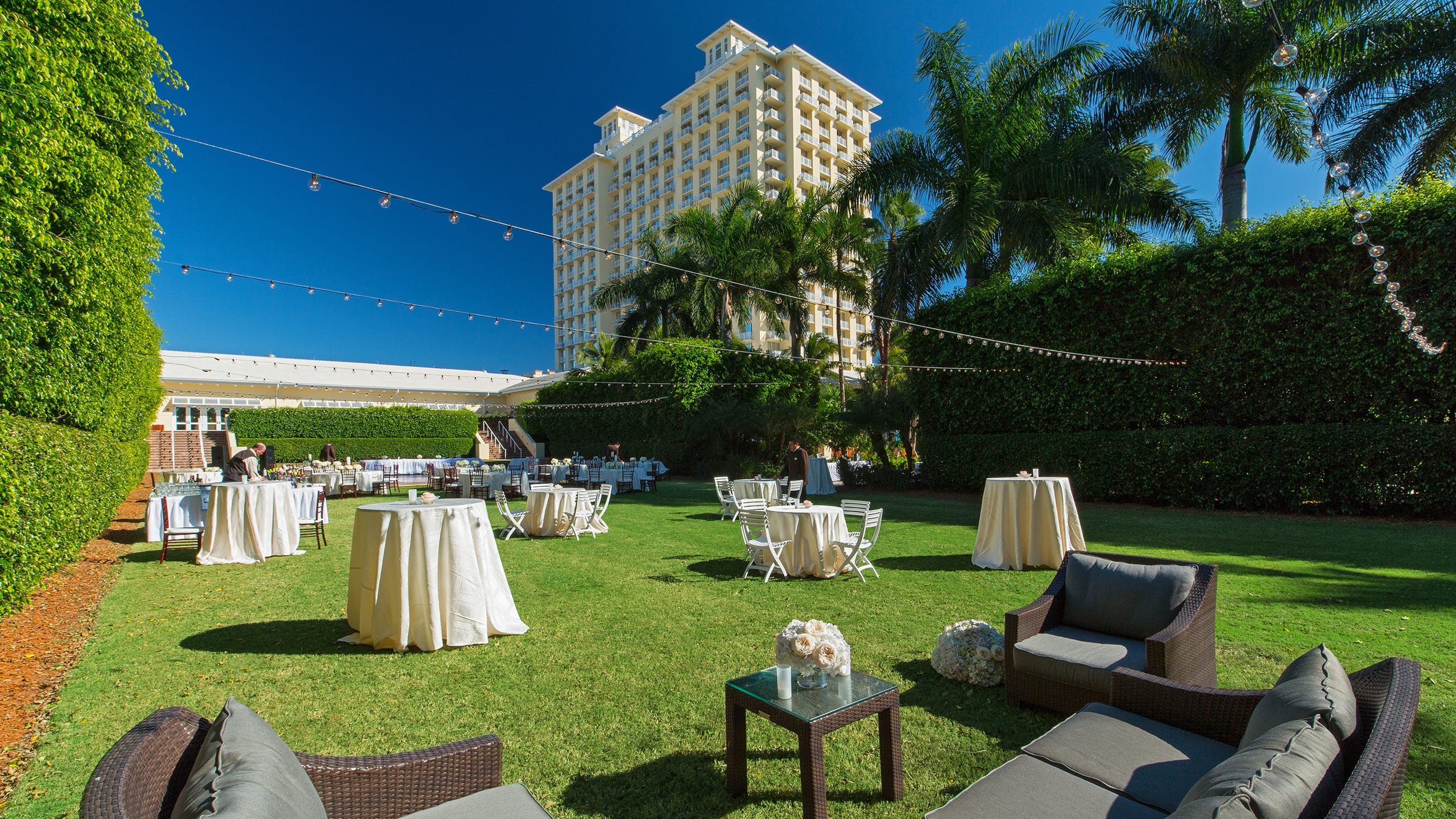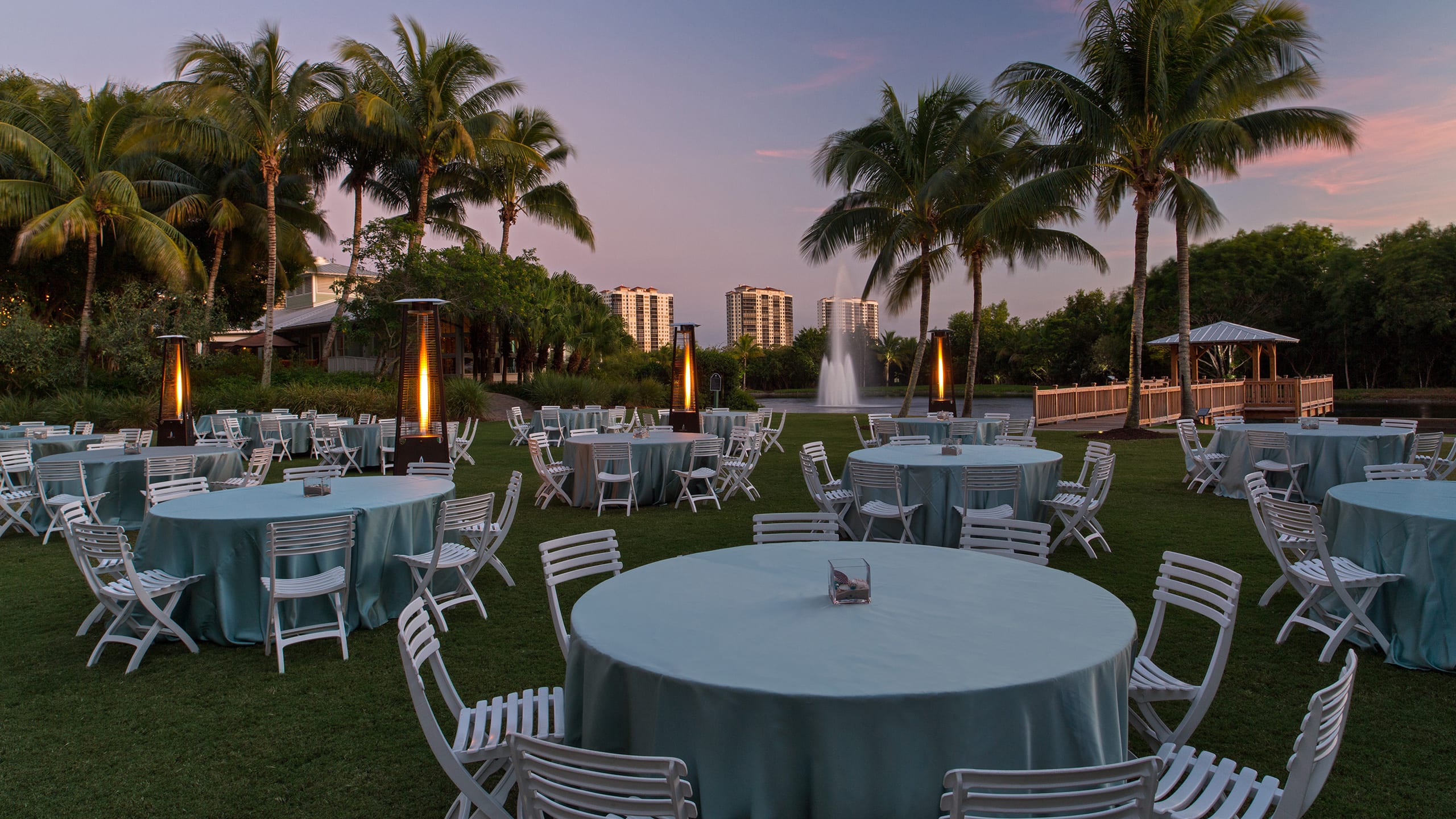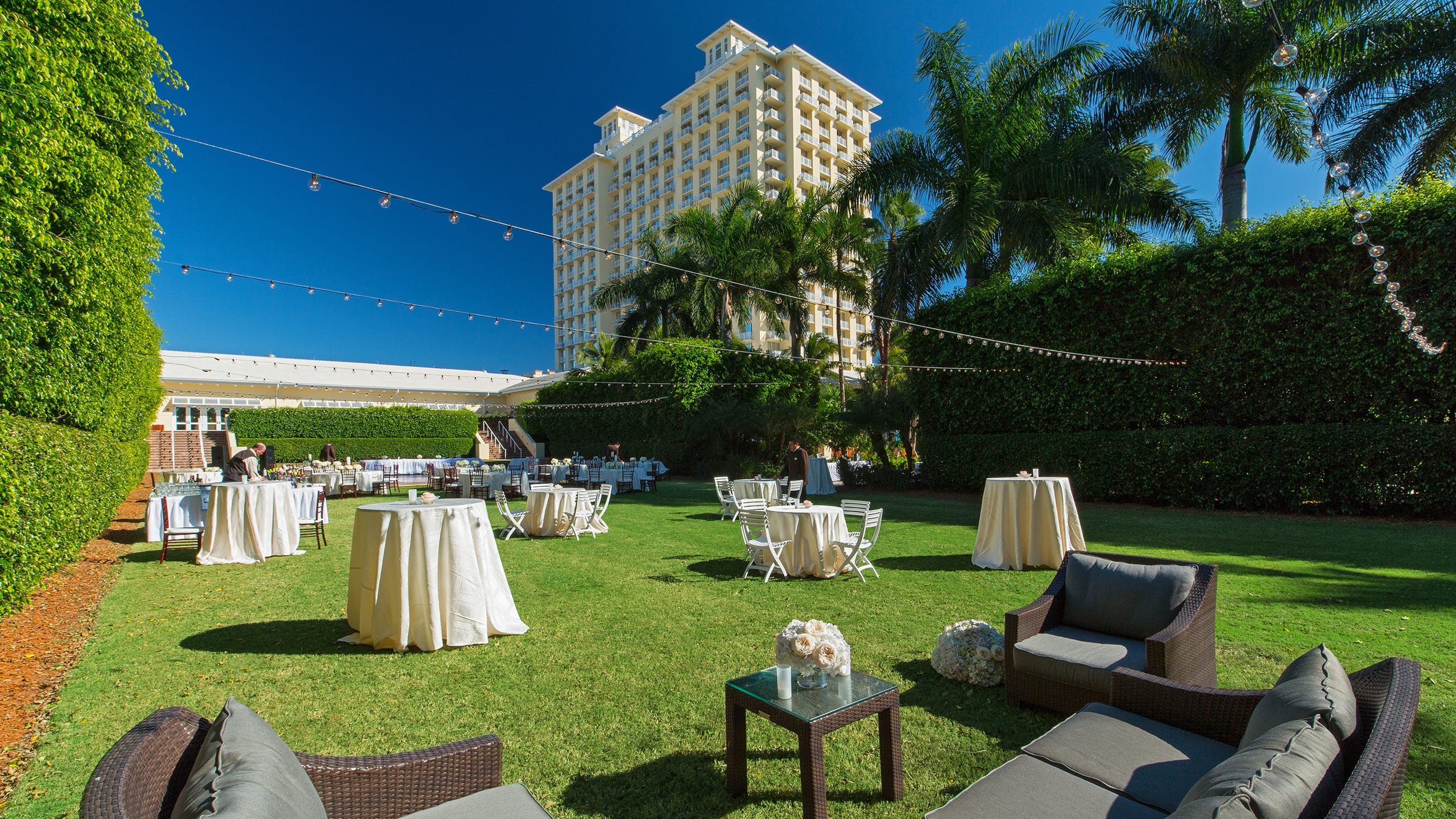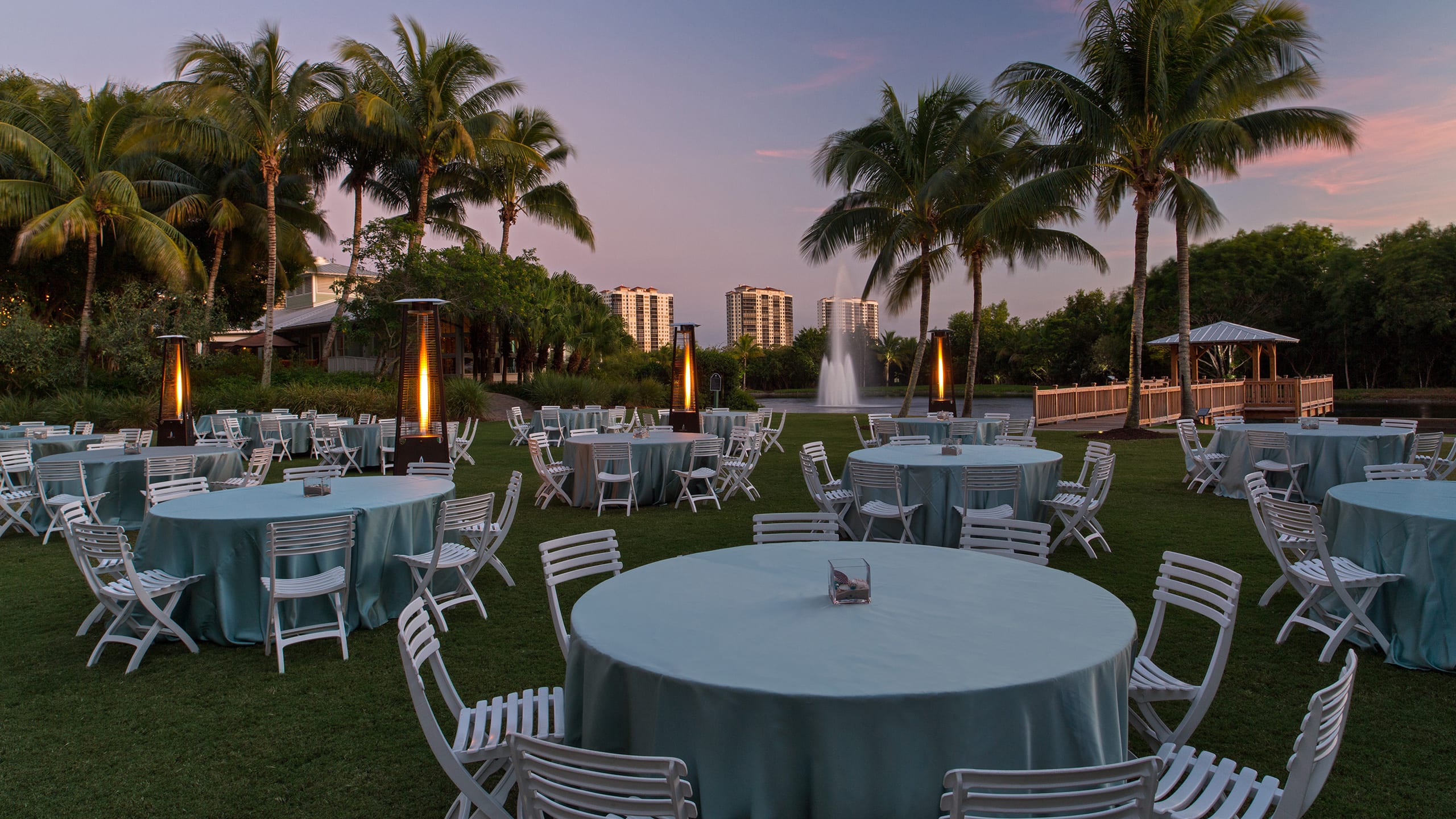 Royal Palm and Cypress Courtyards
These two lush outdoor areas offer memorable settings for ceremonies, banquets and receptions. Treat your guests to the exquisite natural beauty of our Southwest Florida location under towering palm trees, dense hedges and sprawling lawns. Royal Palm Courtyard accommodates 1,080 for formal dining and 1,500 for a reception. Surrounted by dense hedges, and towering royal palm trees, this is a featured wedding venue where guests can enjoy a ceremony, cocktail hour and dinner buffet all in one location The Cypress Courtyard accommodates 580 for a formal dinner and 800 for a reception. The beautiful lakeside courtyard paired with our Waterfall Pool Deck has all the elements to make your tropical wedding dreams come true. Perfect for your ceremony, cocktail hour or buffet dinner.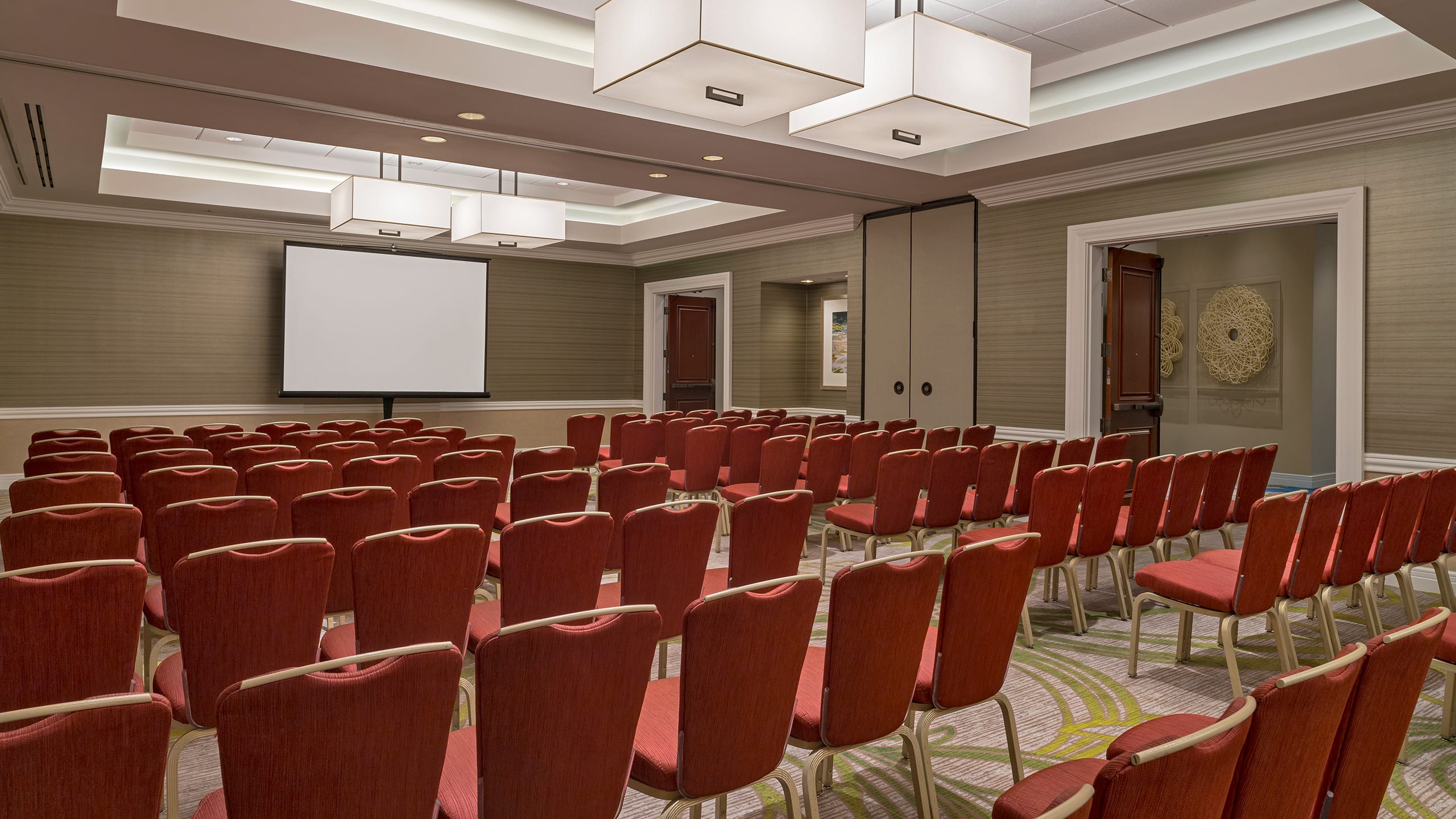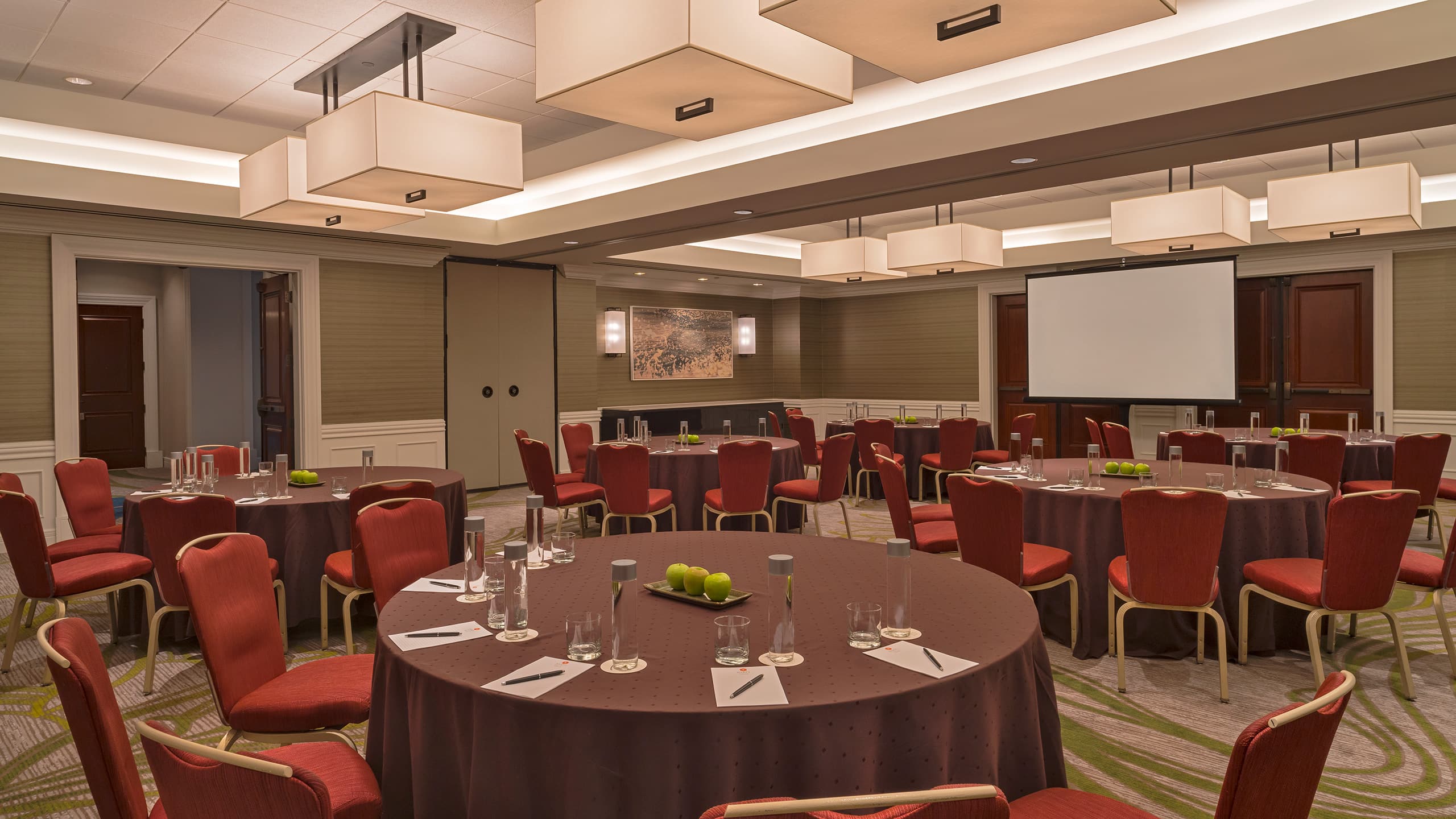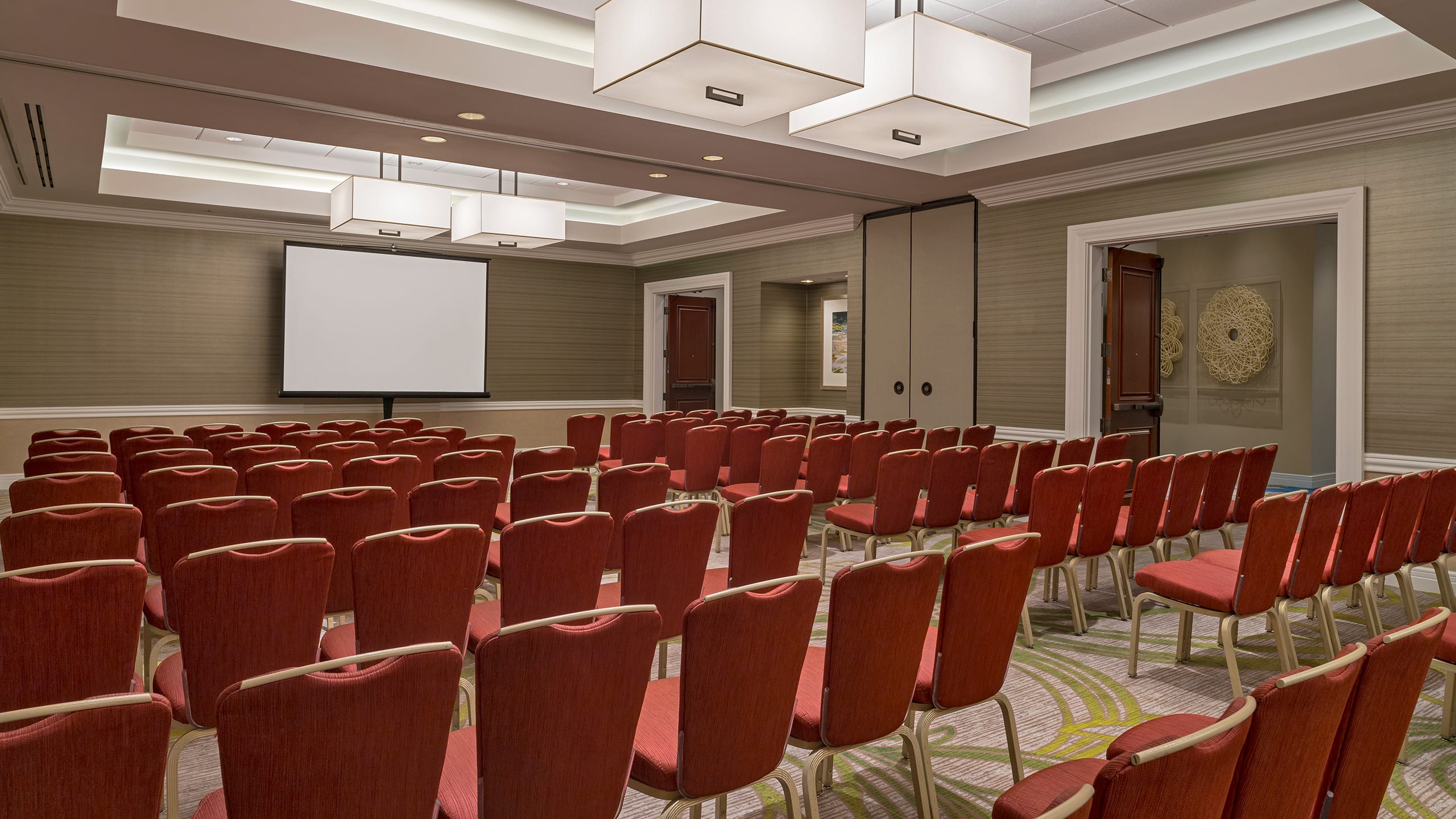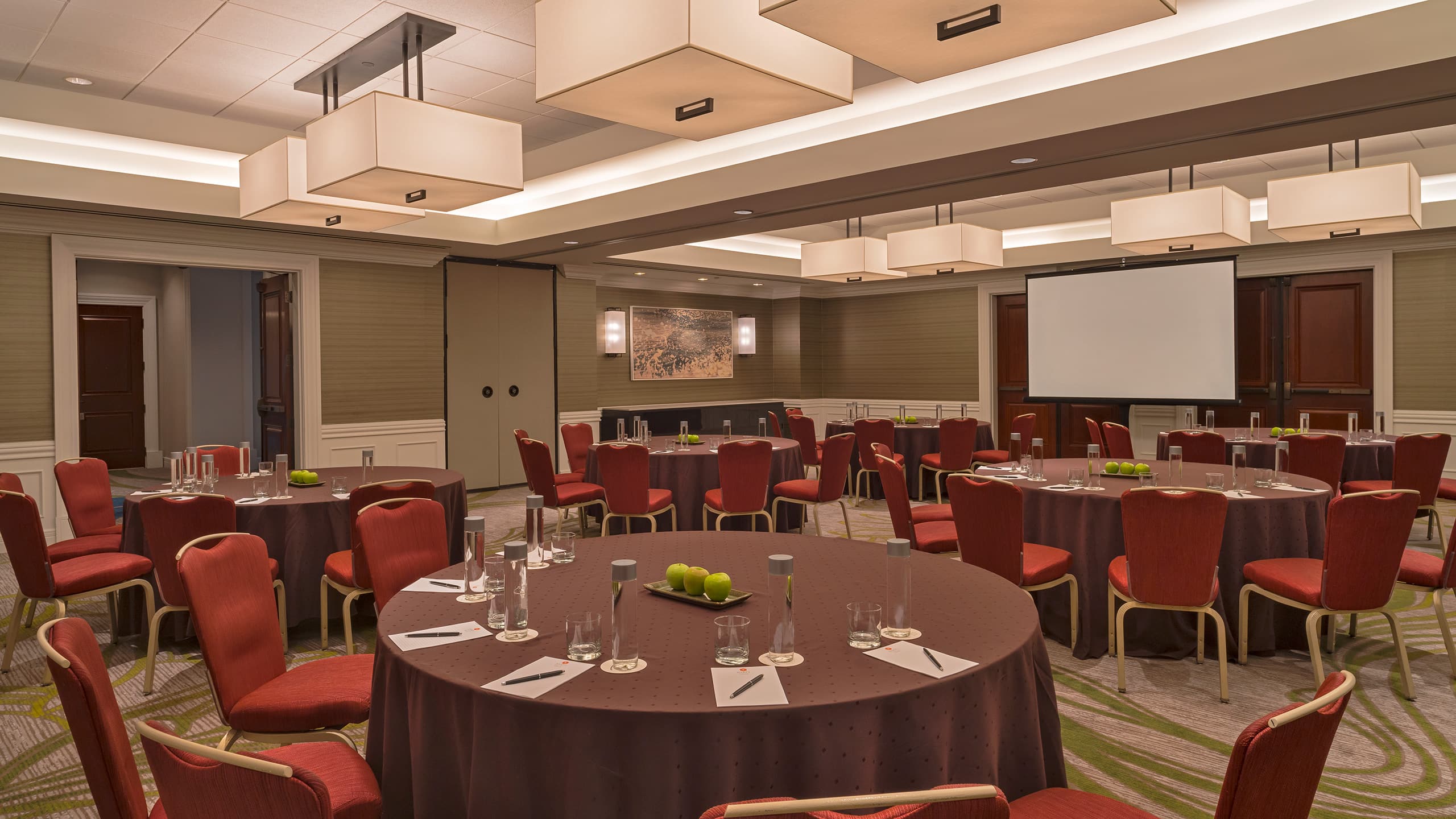 Sanibel, Captiva and Pine
Like the nearby islands they're named, these two meeting rooms are adjacent to each other and ideal for meetings up to 52 hollow square or intimate gatherings up to 150 guests. Host a sales presentation of your new product for up to 128 in a theater setting or a breatkfast meeting for up to 72 in each room.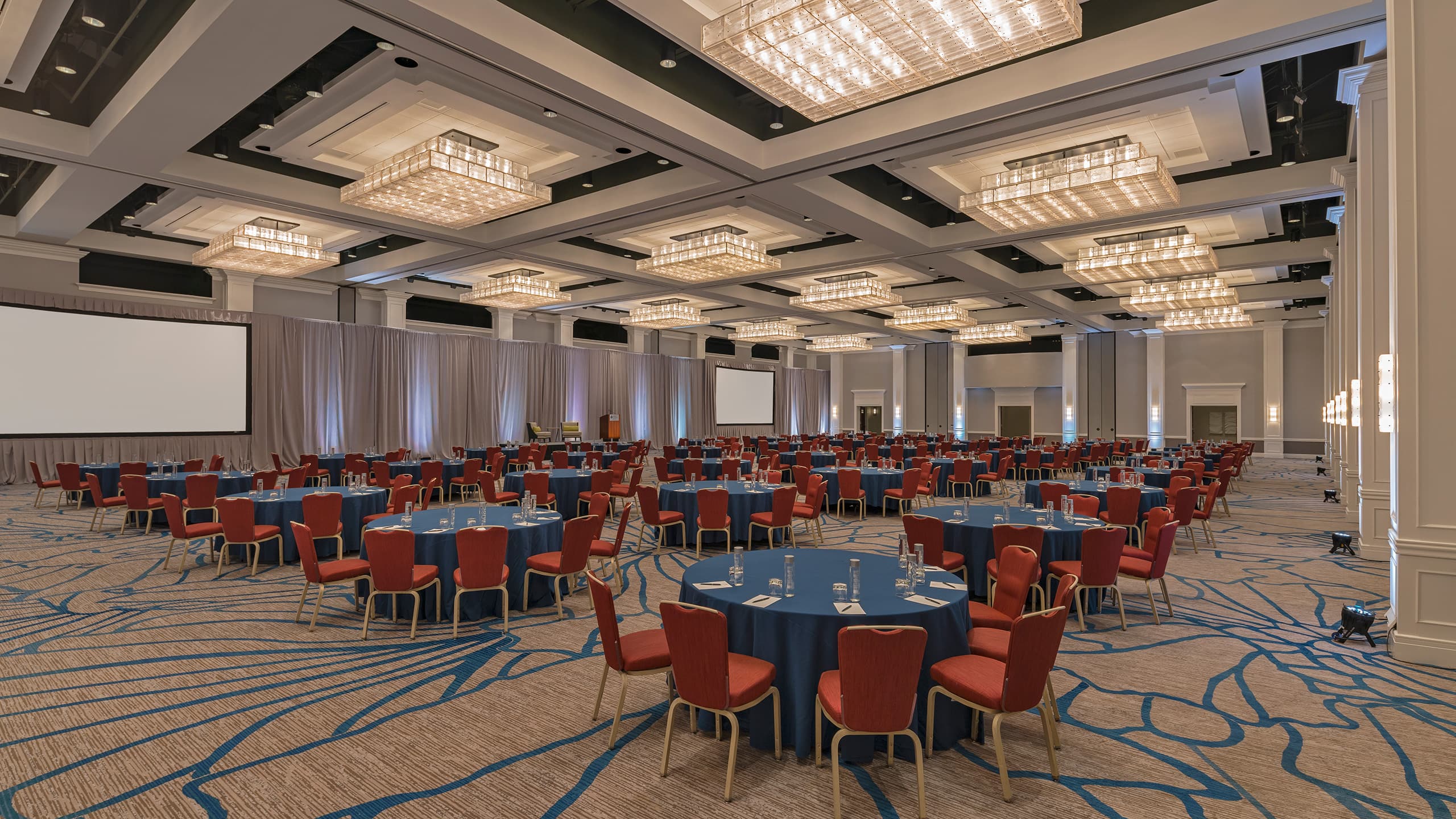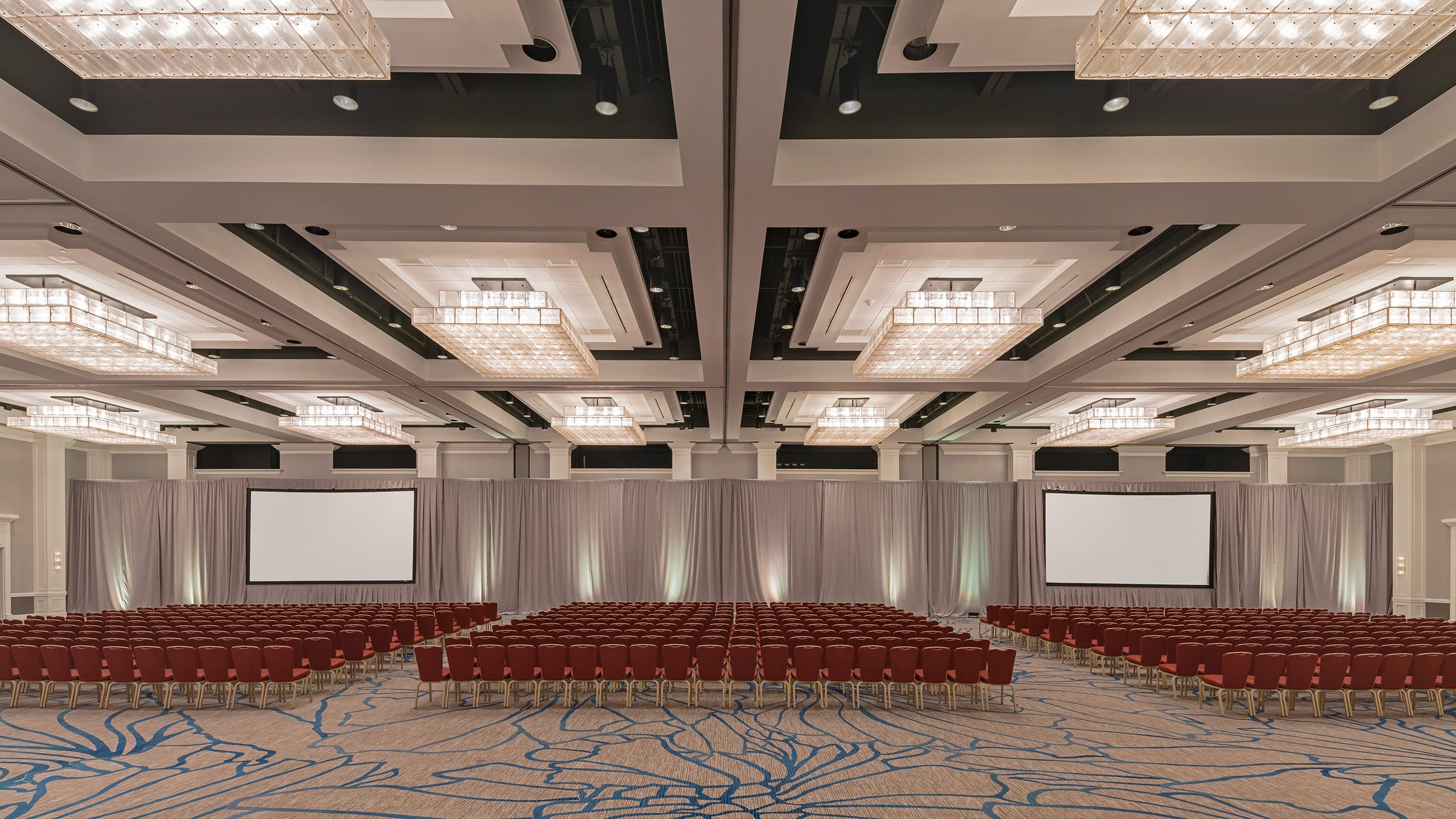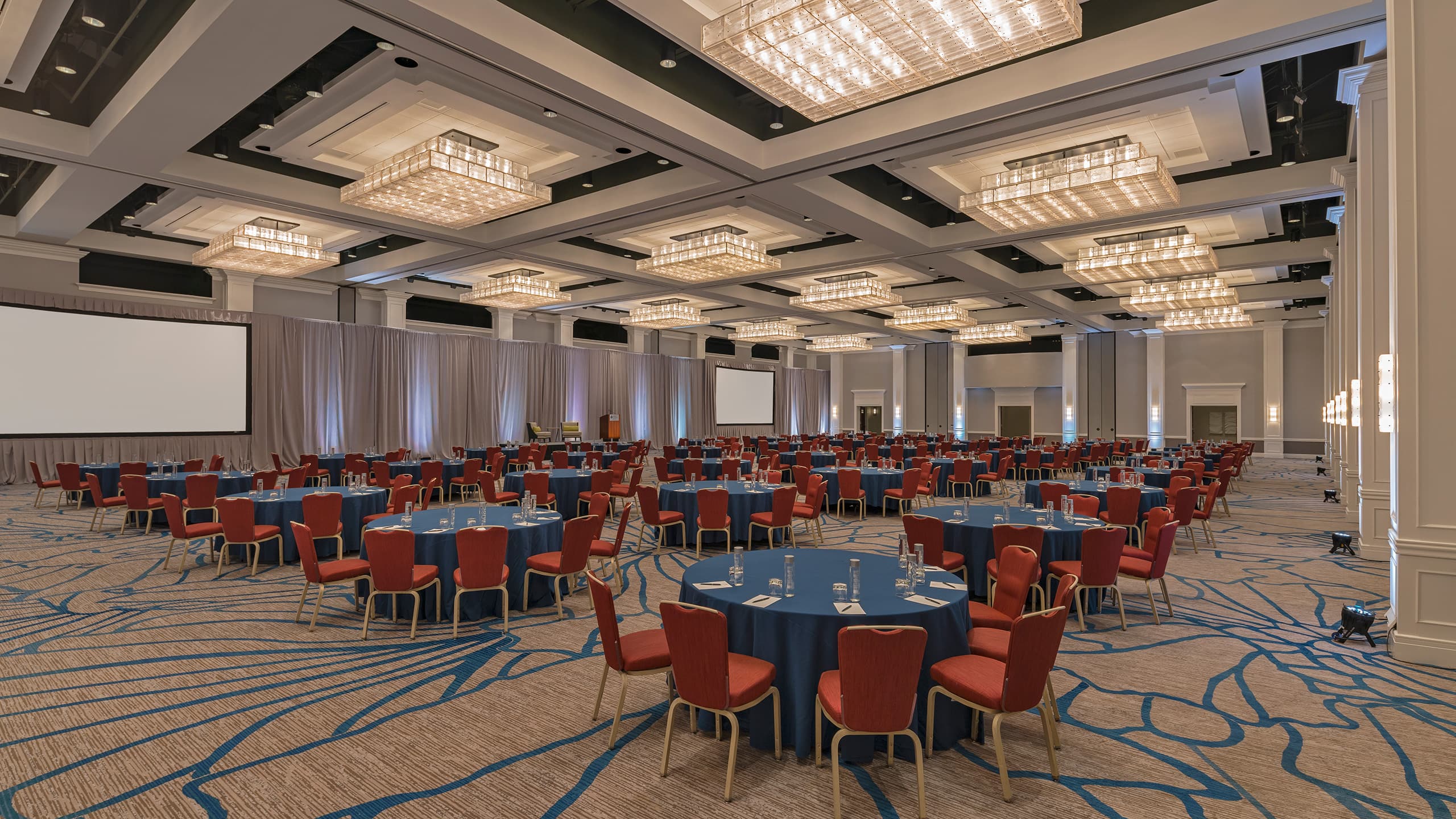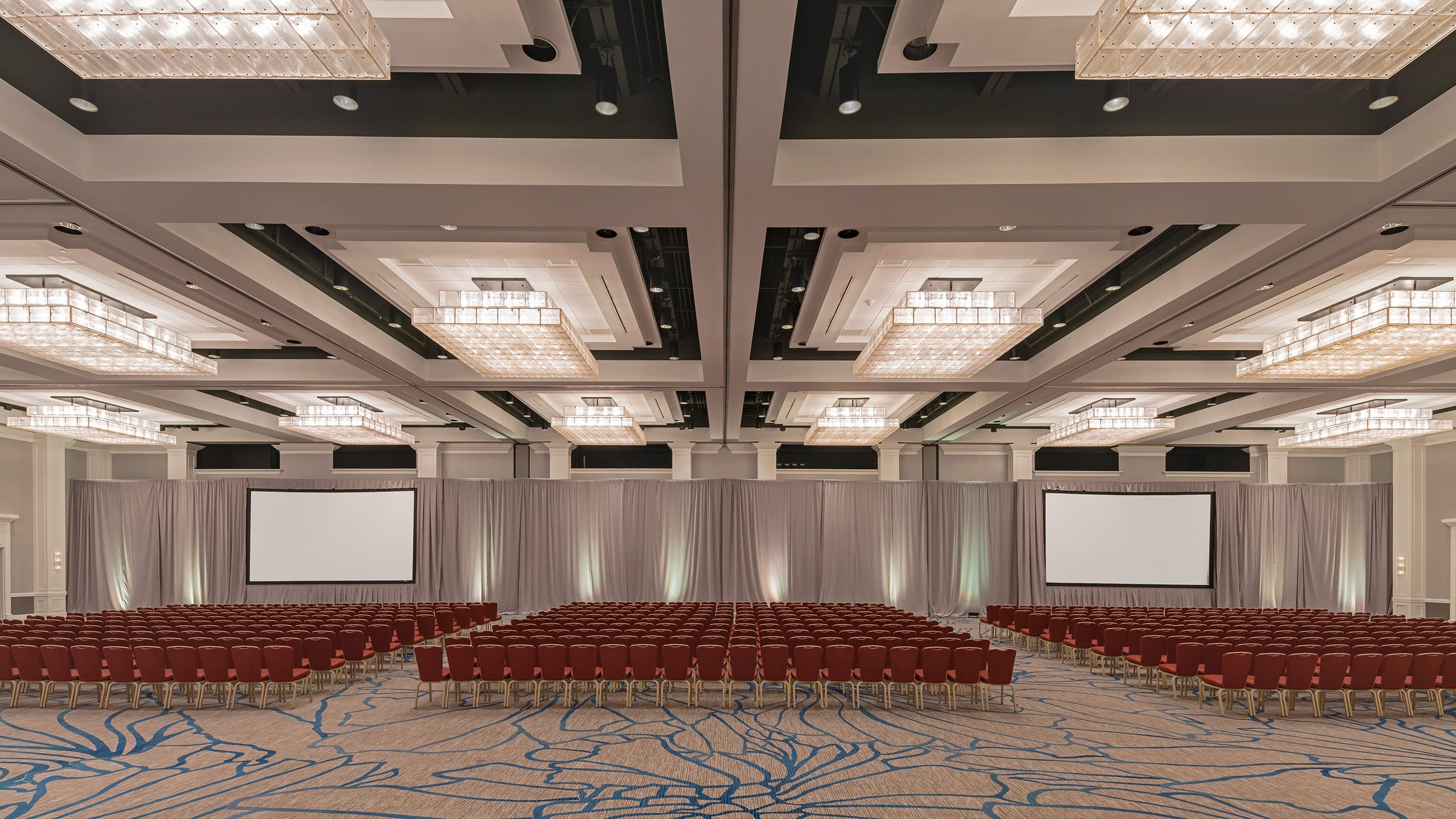 Calusa Ballroom and Terrace
The anchor of our function areas, Calusa, named after the native people of Southwest Florida's Coast, is our grand ballroom. Accented by contemporary chandeliers, neutral colors and soaring ceilings more than 22 feet high, Calusa offers more than 14,000 square feet of elegant meeting space.. Open an industry convention with a multi-media display to more than 1,400 guests in a theater setting. Commemorate a corporate milestone with a formal banquet and entertainment for more than 1,000 guests. The ballroom can also be divided into as many as eight sections, making it flexible for groups of varying sizes and needs. Adjoining the ballroom are the Calusa pre-function area and outdoor Calusa Terrace. Welcome attendees with a continental breakfast buffet, or set up coffee break stations with different themes at each table. The Terrace provides a tropical backdrop for cocktail parties, social events and awards galas. The expansive outdoor terrace is equally memorable. Formal dining seating on the terrace accommodates 660 guests or reception capacity of 1000.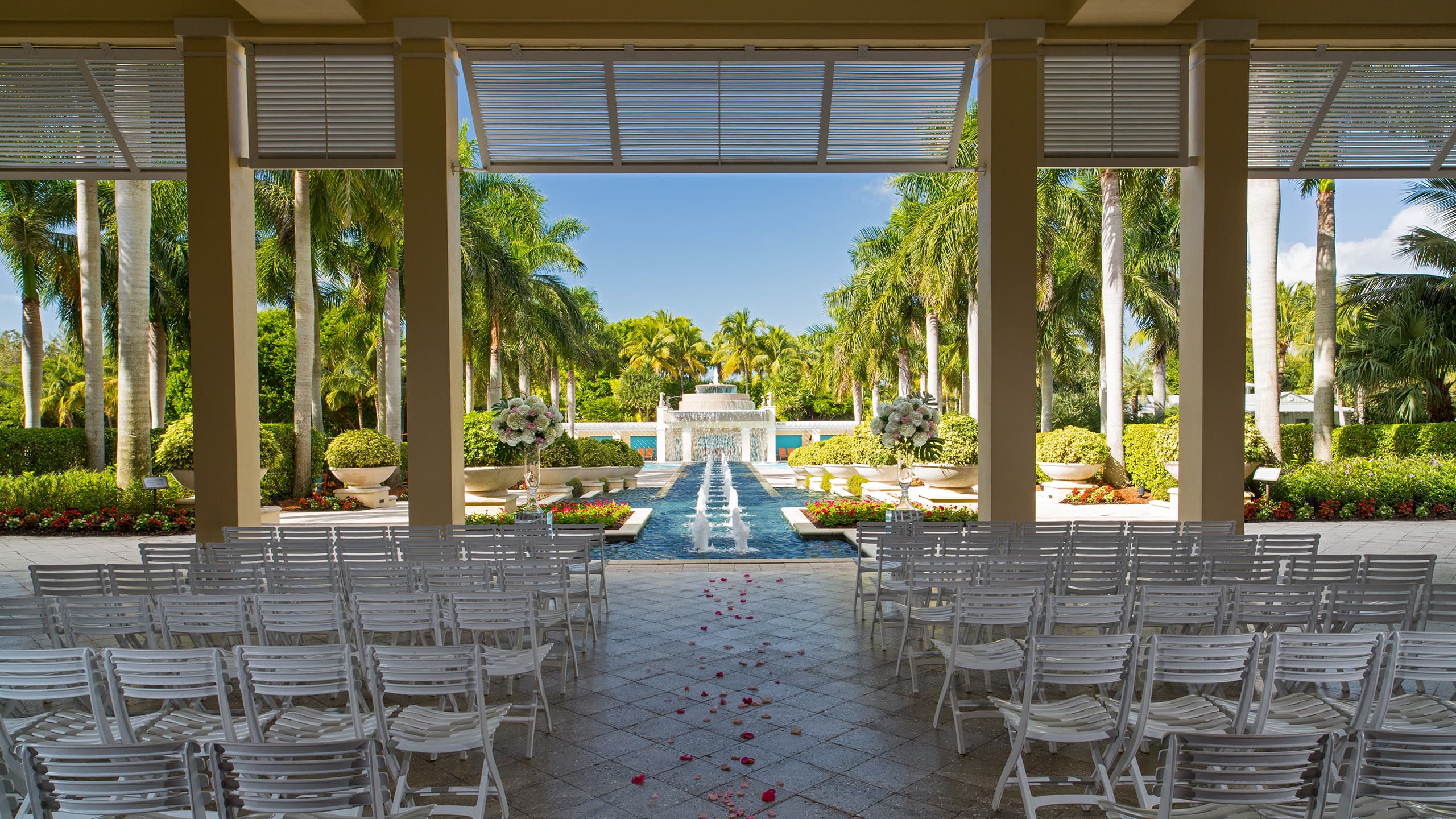 Belvedere Terrace
Our beautiful Belvedere Terrace is situated close to the lobby and at the head of the resort's centerpiece, our terraced linear fountains and waterfall. The most picturesque location at the resort, it is the perfect semi-outdoor venue, where guests can enjoy gorgeous views while remaining in shade under the terrace roof.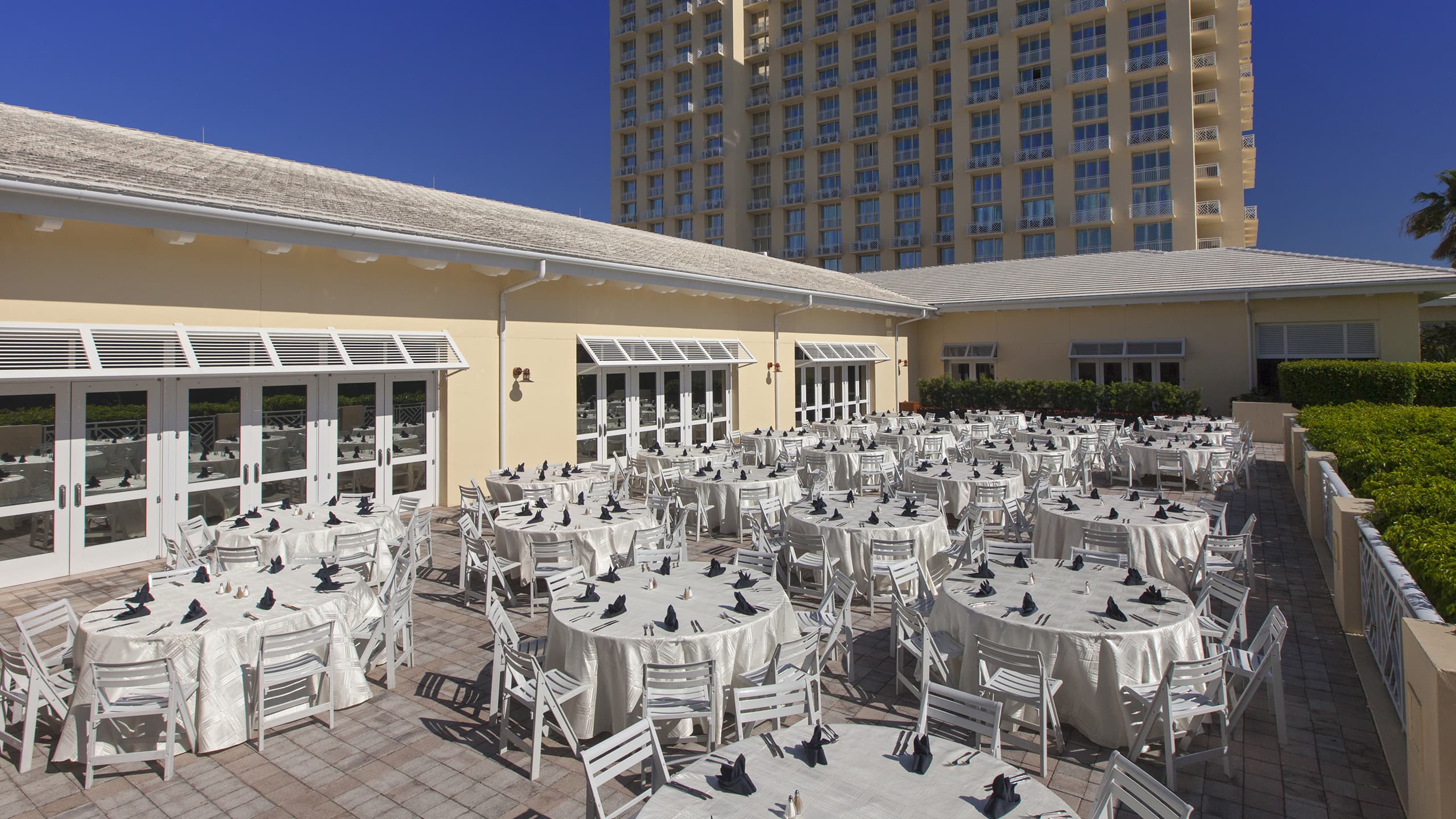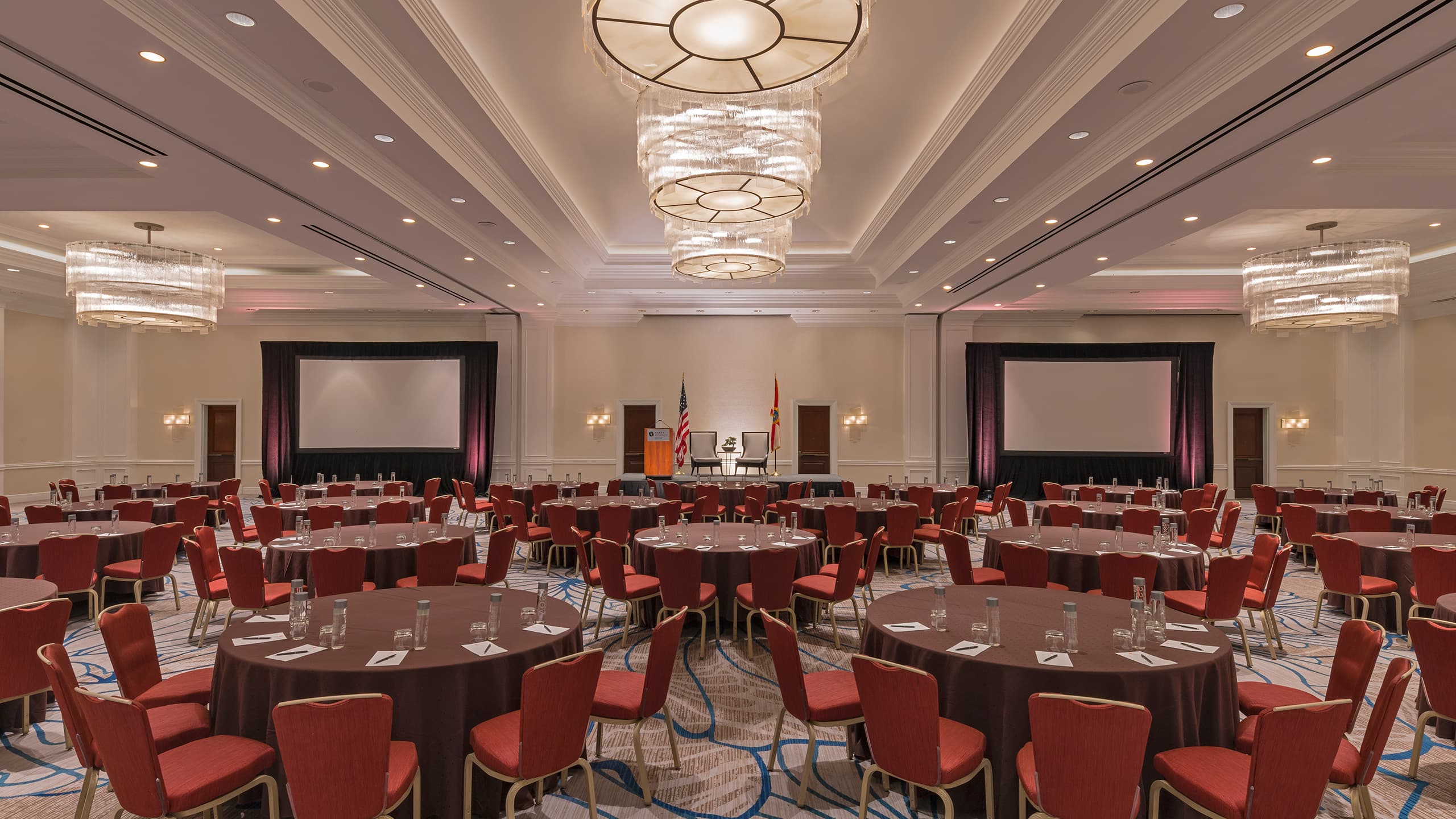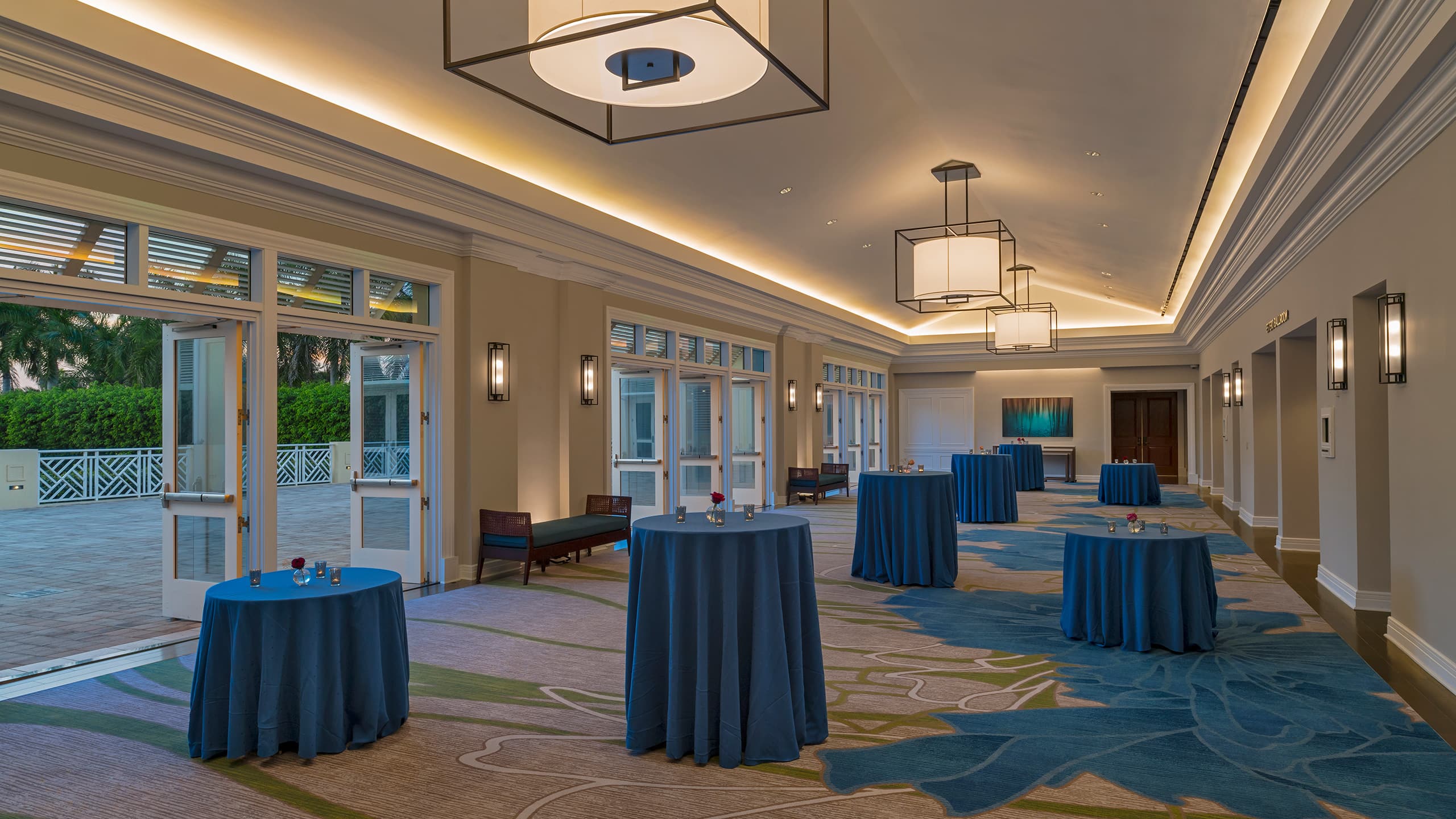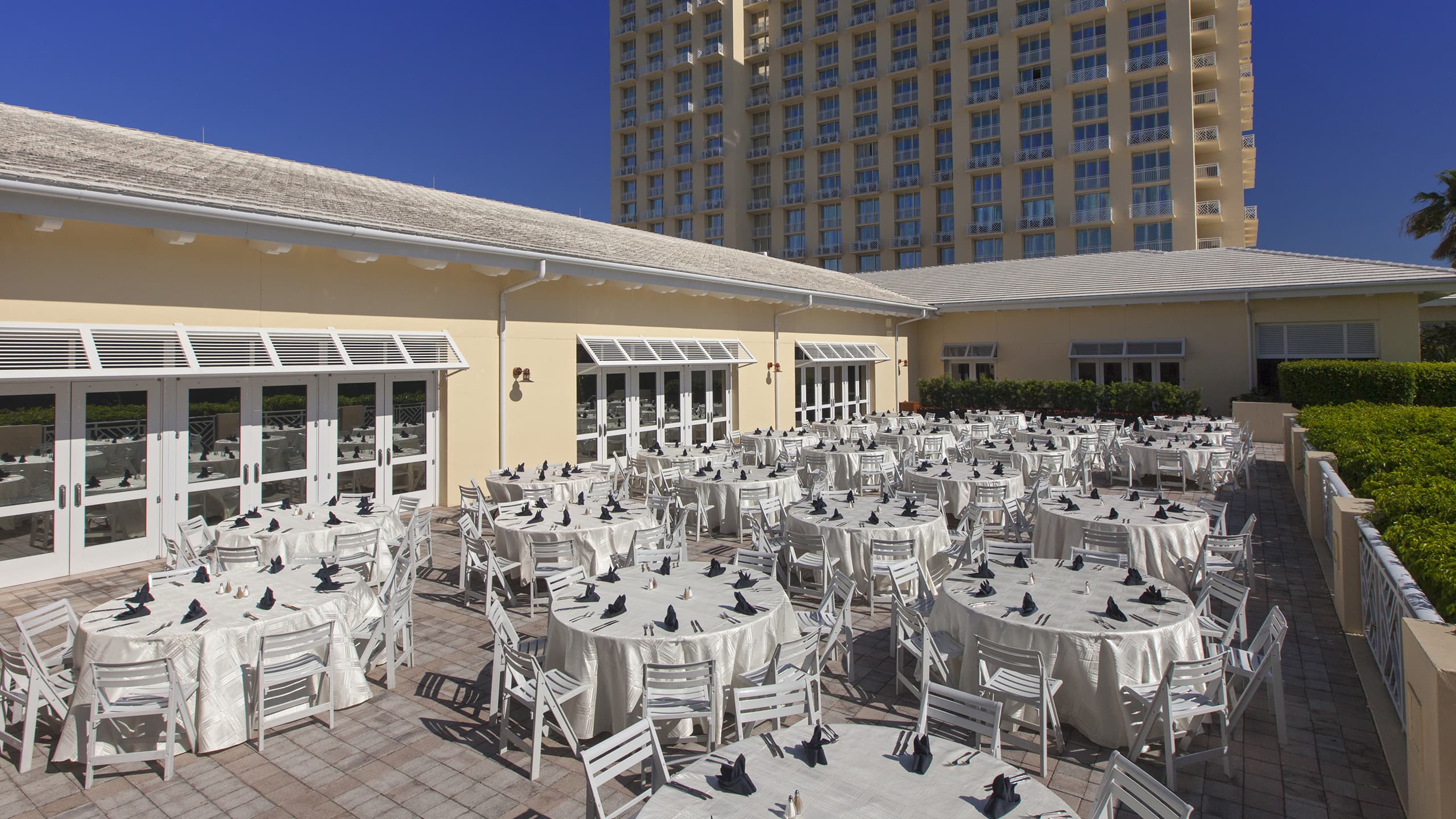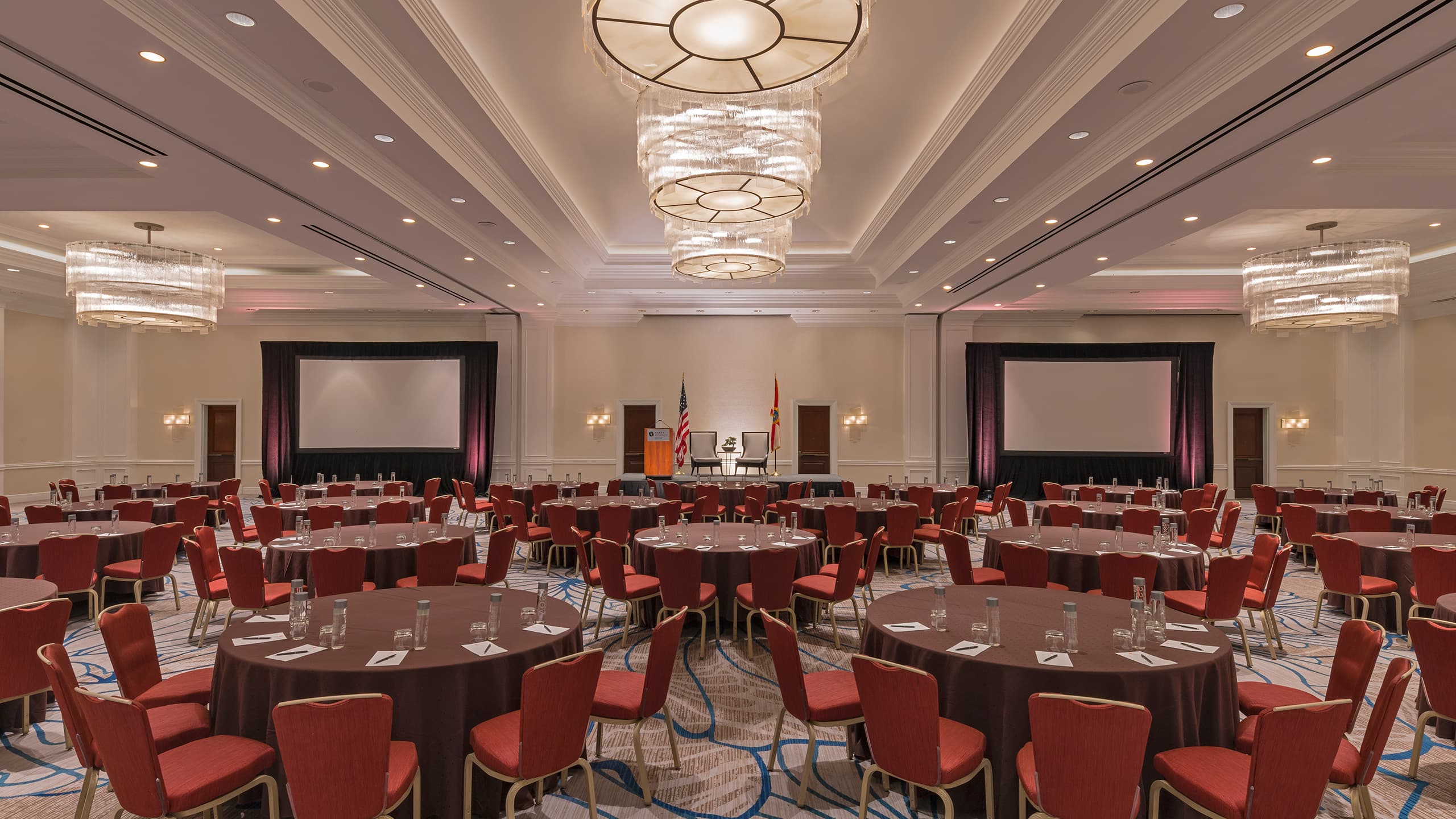 Estero Ballroom and Terrace
Named after the bay adjacent to the resort, Estero is our junior ballroom offering a refined setting with an elegant, neutral color palette, perfect for weddings and mid-sized events with more than 7,000 square feet of space. As a single space, Estero can accommodate up to 400 in a classroom format, 540 for a seated dinner, or over 800 in a theater set up. Divide the ballroom into three sections, using two for breakout meetings in a U-shape format for 60 in each section, and the other for a delicious luncheon with plenty of room for comfortable seating arrangements. The adjacent outdoor Terrace and pre-function spaces are ideal for event registration areas, information tables or break areas. Adacent to Estero Terrace is the impressive Royal Palm Courtyard, perfect for elegant social events, weddings, and galas under the stars. Easily flow your event guests from outside to inside across the courtyard, terrace, prefunction and ballroom spaces. Choose this gracious junior ballroom and adjoining foyer for your grand banquet and reception, with capacity to seat 540 for a formal dinner and more than 750 for a reception. The Estero Terrace easily accommodates bar stations and hors d'oeuvres for pre-dinner cocktails.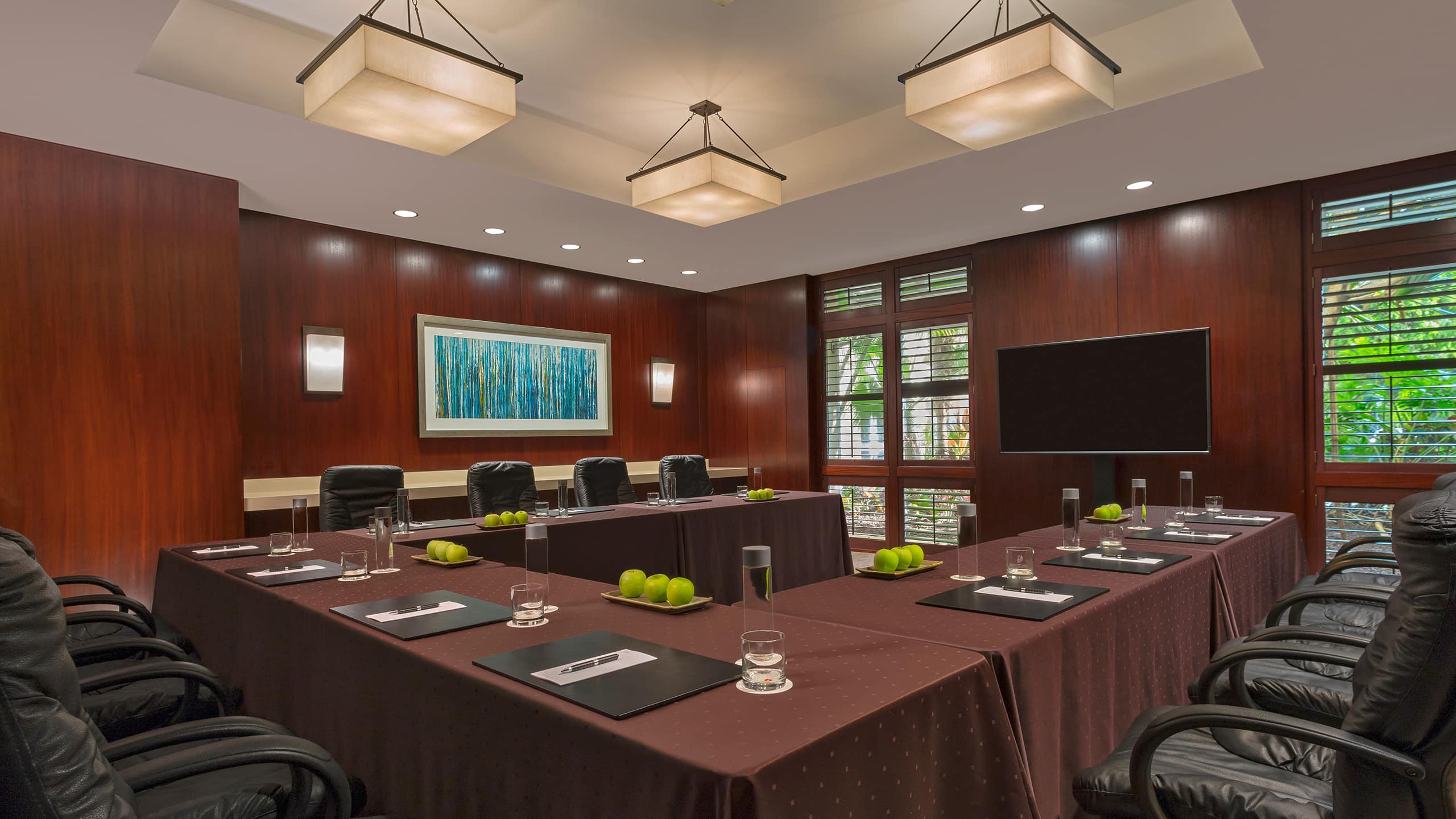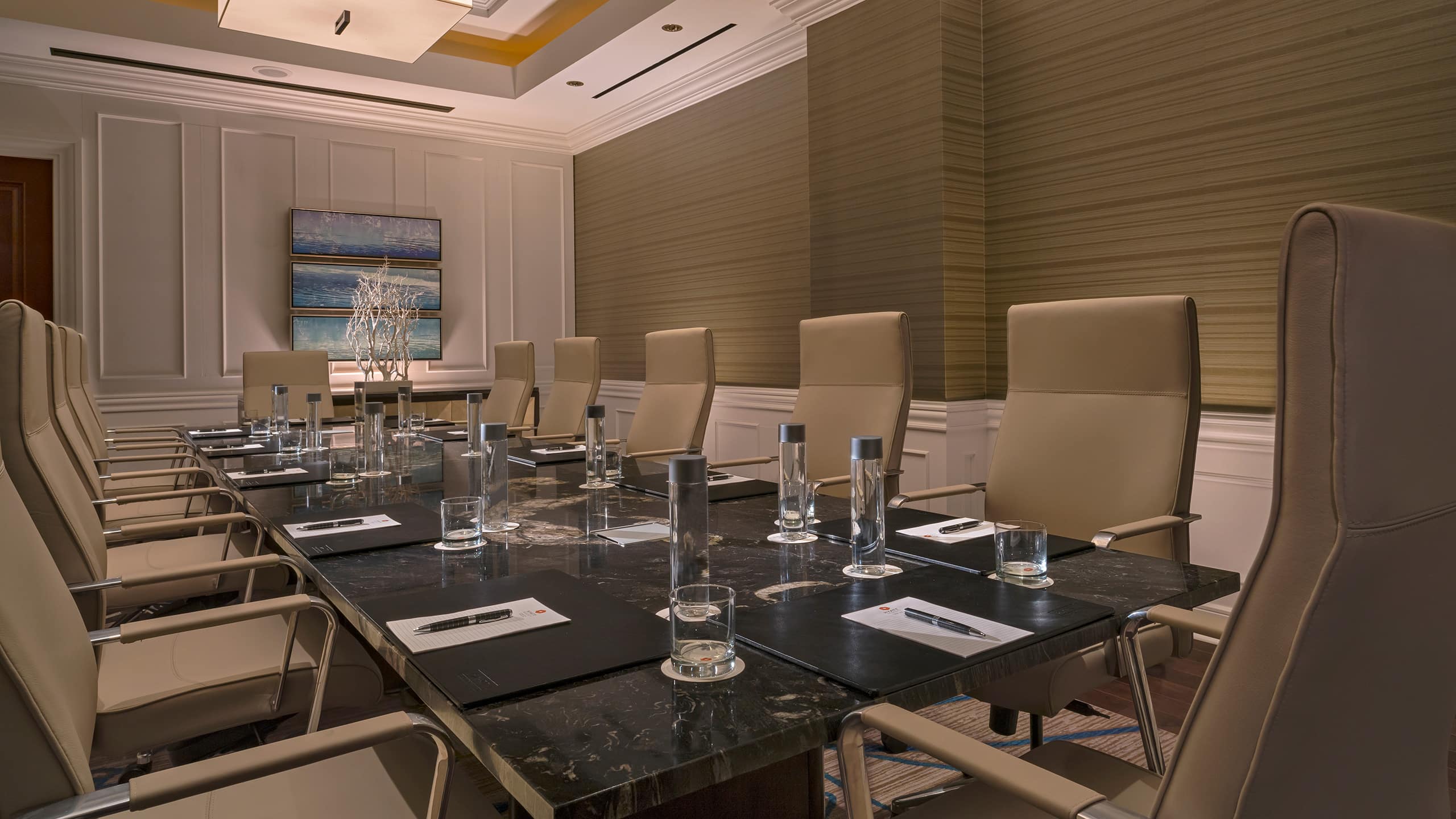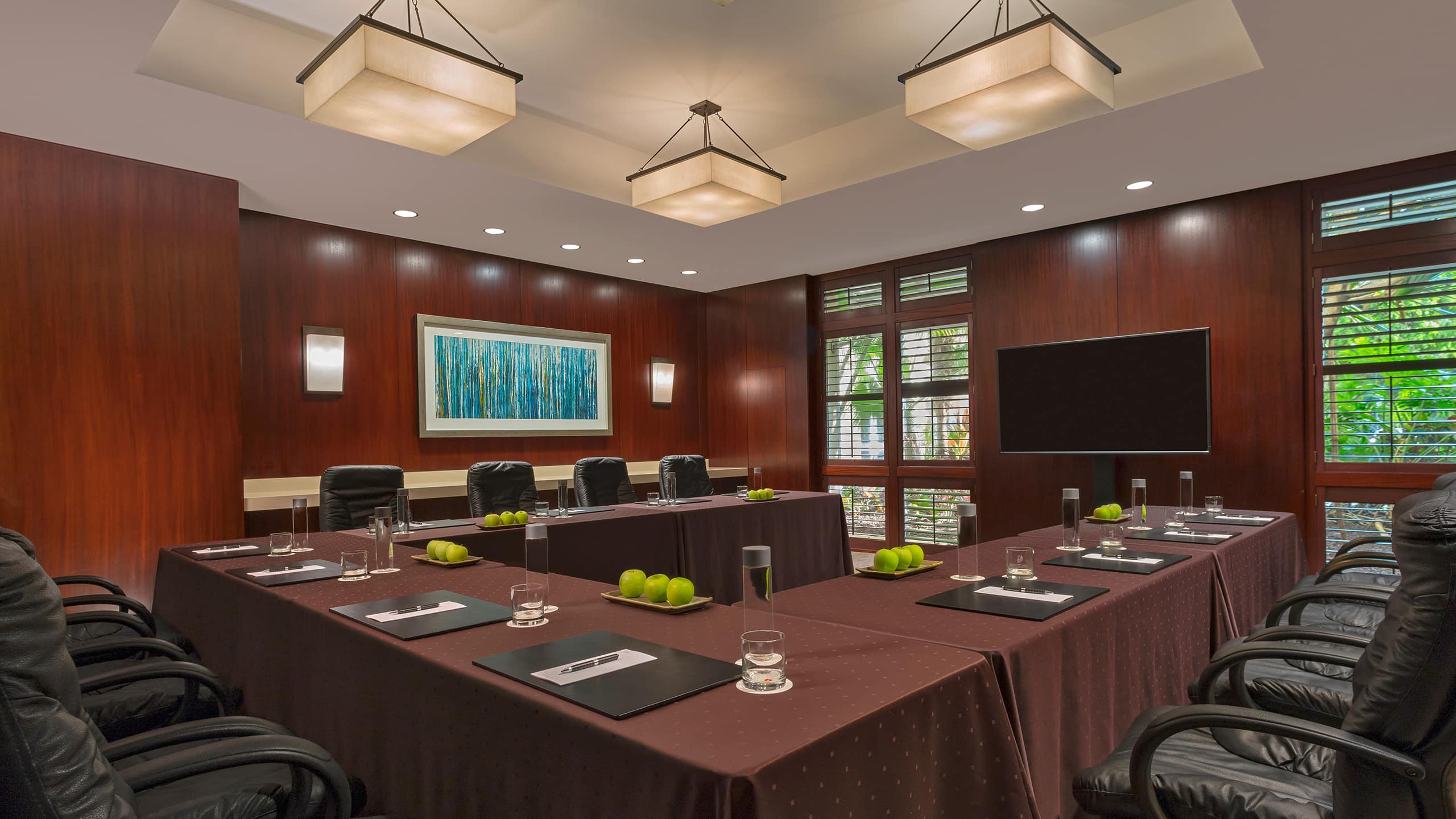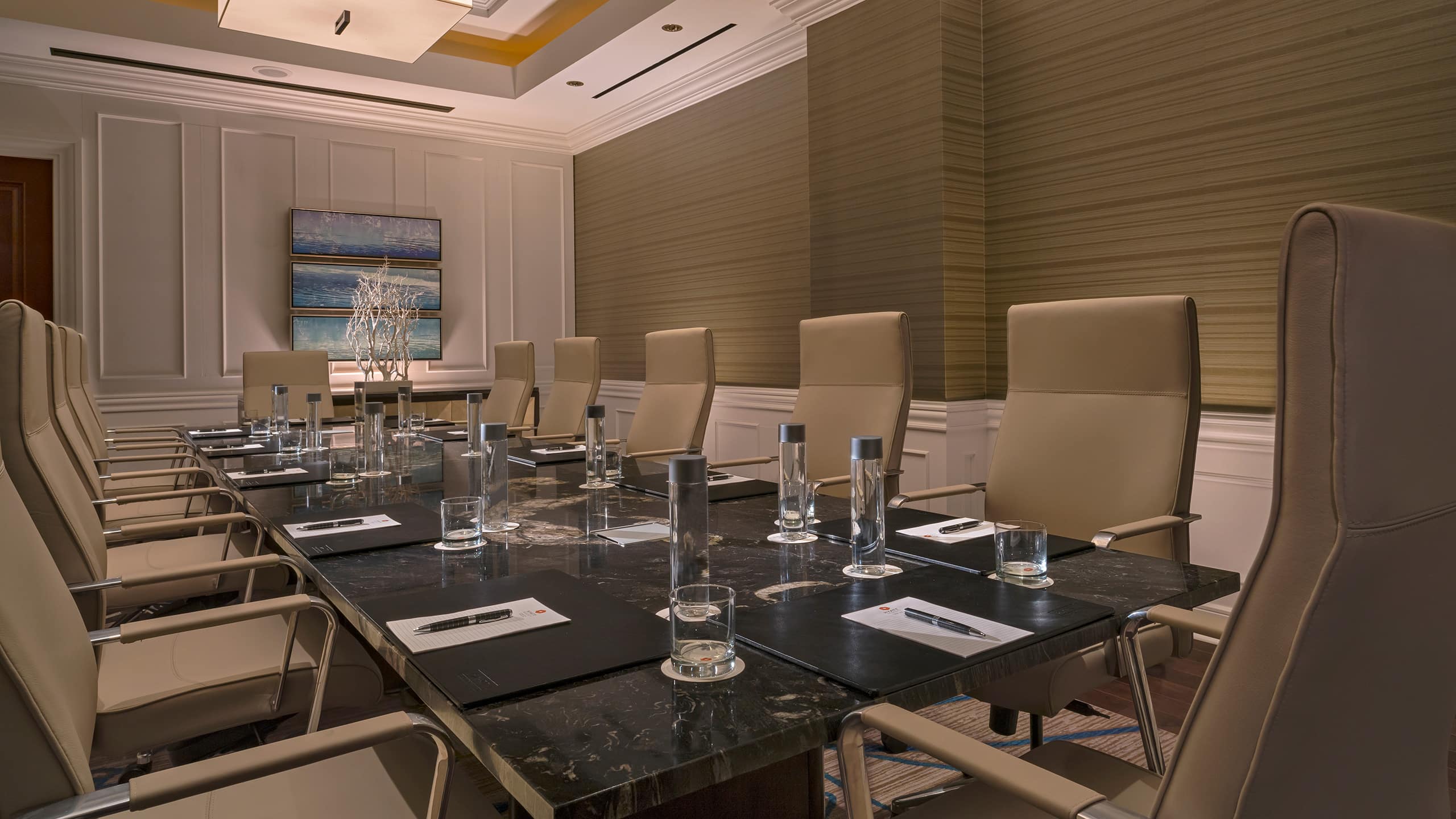 Ibis and Executive Boardrooms
These classically styled boardrooms offer stately wood and granite meeting tables, executive leather chairs and luxurious amenities for VIP gatherings. The Executive Boardroom also features a built-in screen, and both offer buffet areas for working luncheon set ups. The Executive Boardroom seats up to 12 guests. The Ibis room seats 48 for a dinner, and up to 80 for a reception.
Catering
Enhance your event with the help of our experienced catering team. Treat your guests to locally sourced cuisine that adds flavor to your meetings, corporate functions or social celebrations. From full-course meals to light snacks, allow our talented chefs to design a menu that takes your meeting to the next level.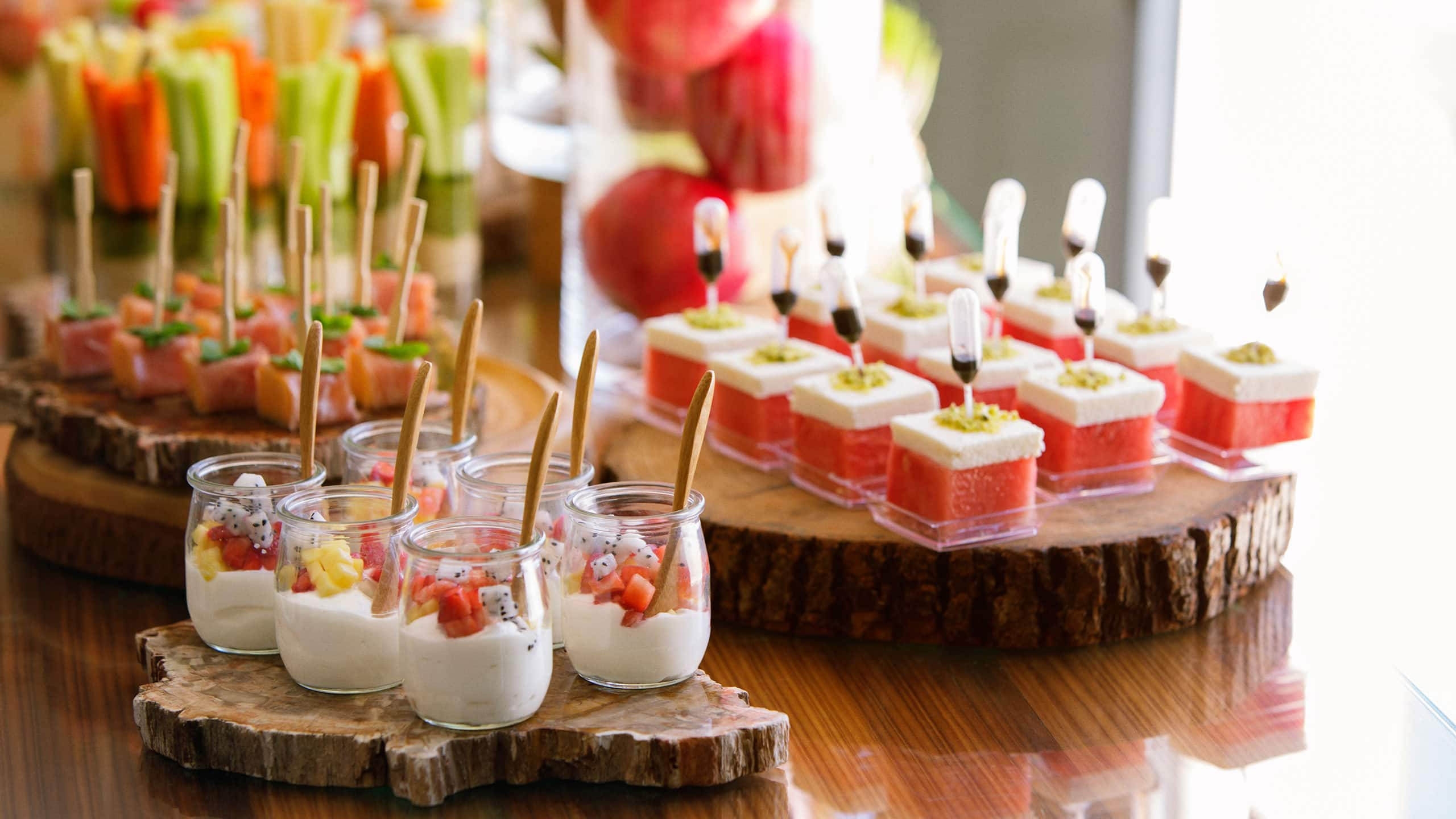 Features and Services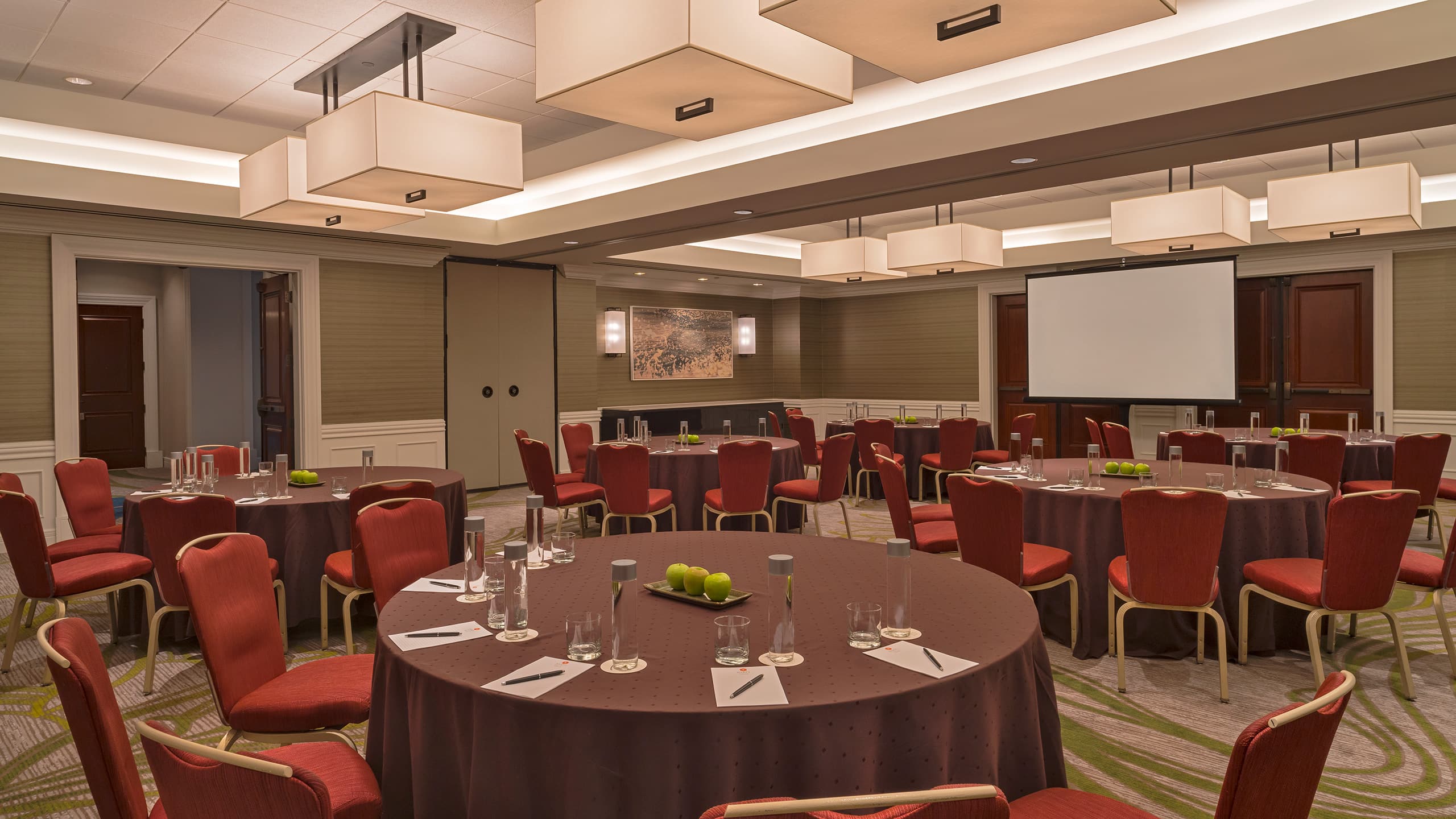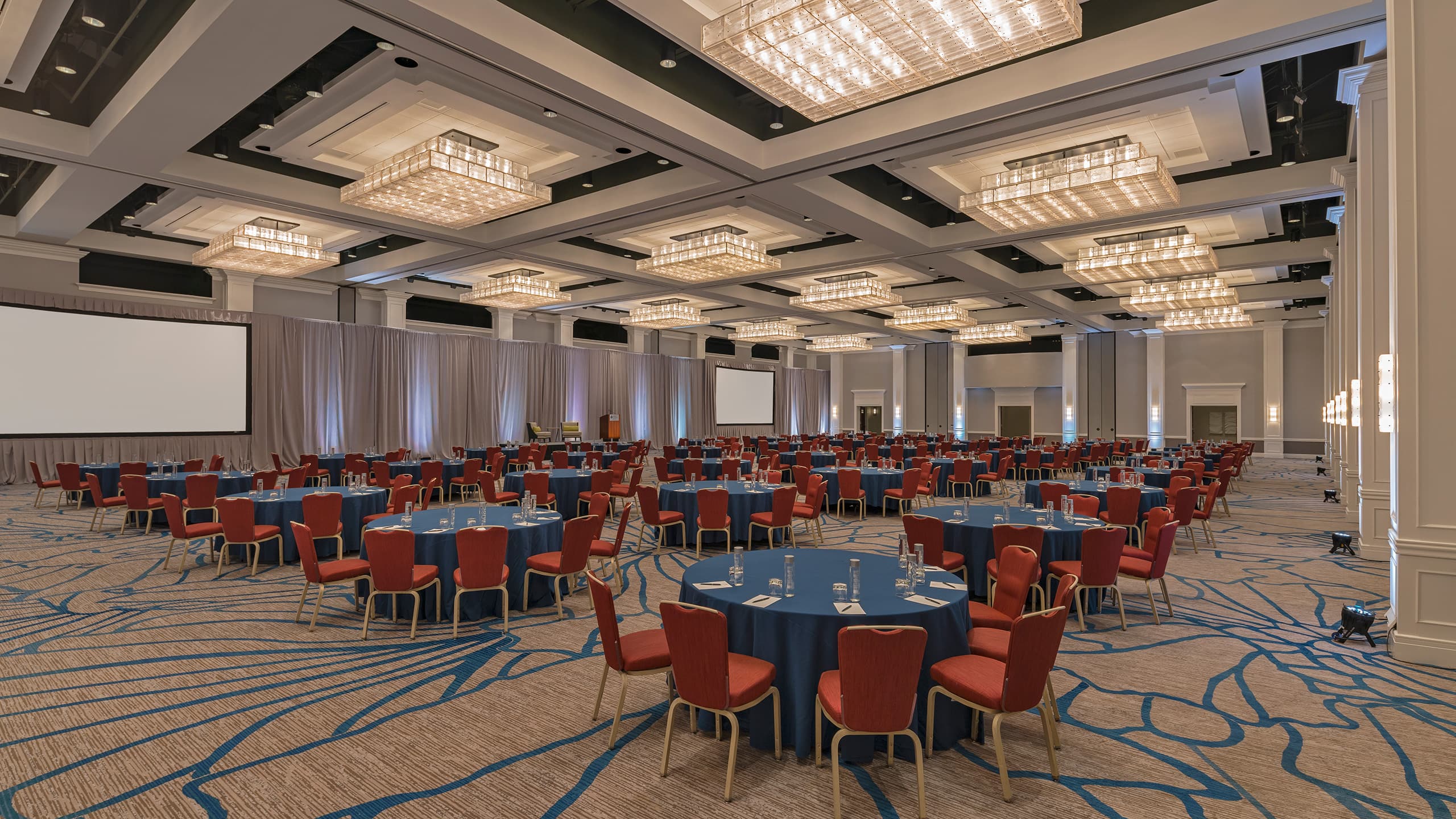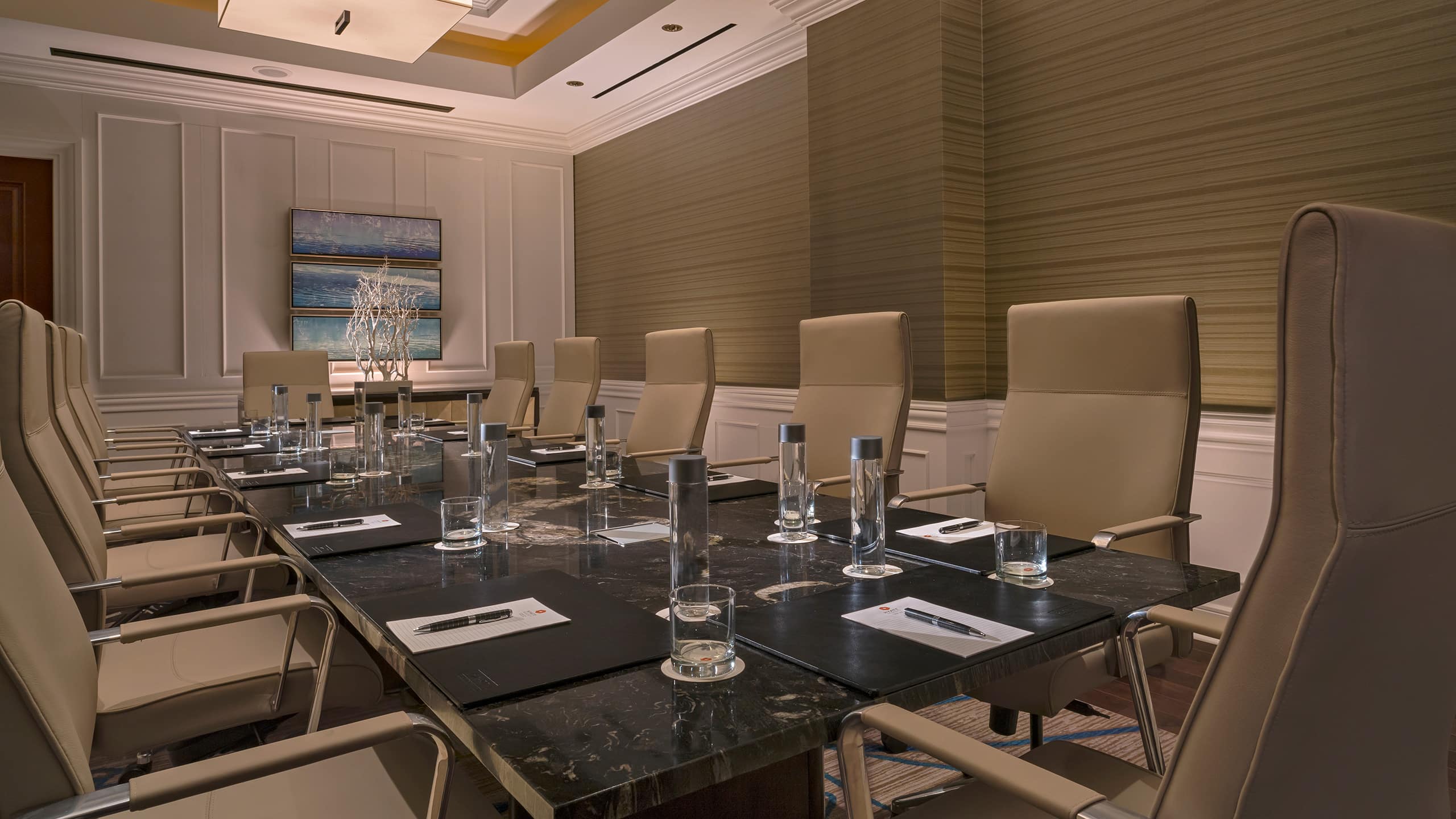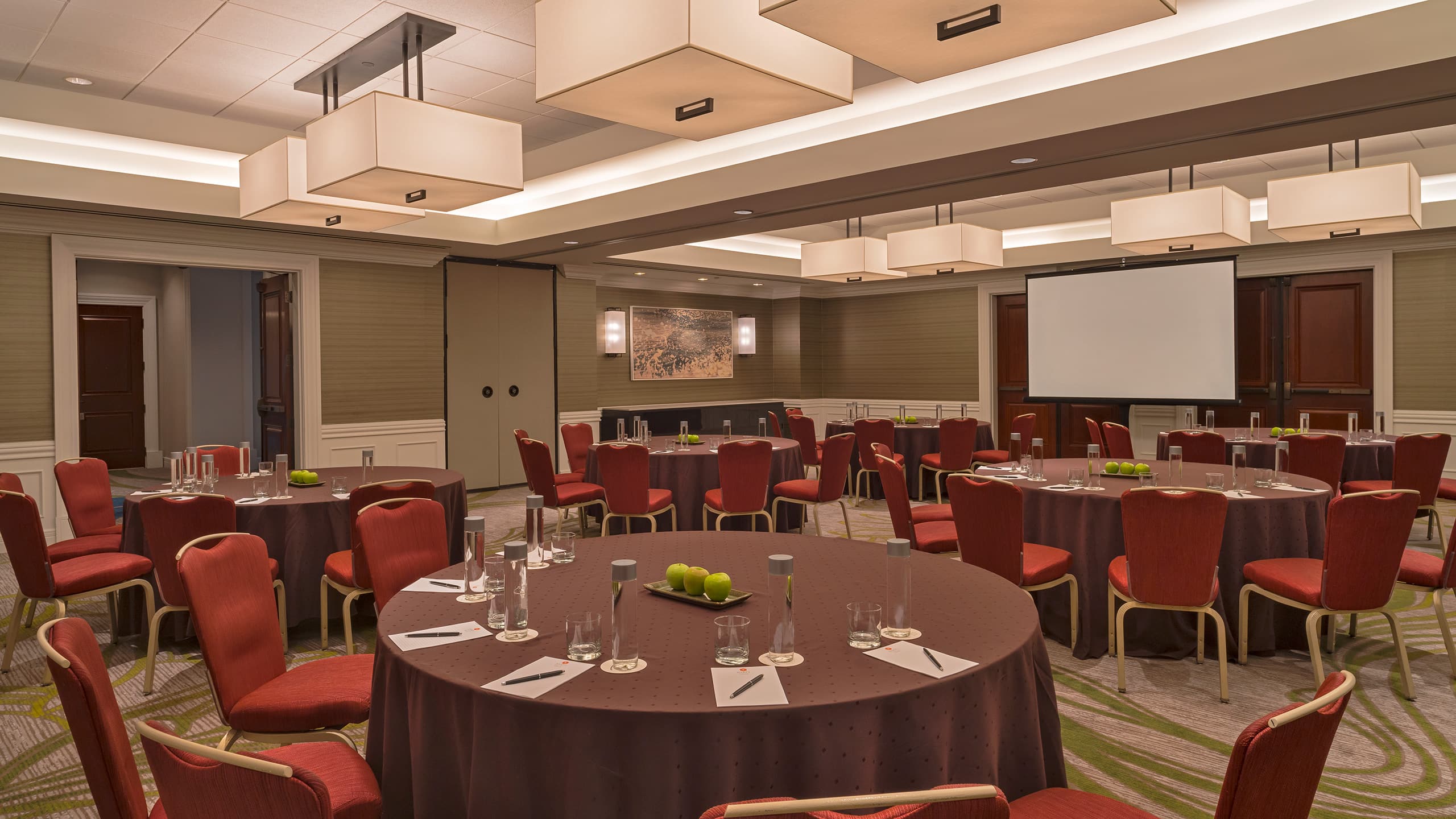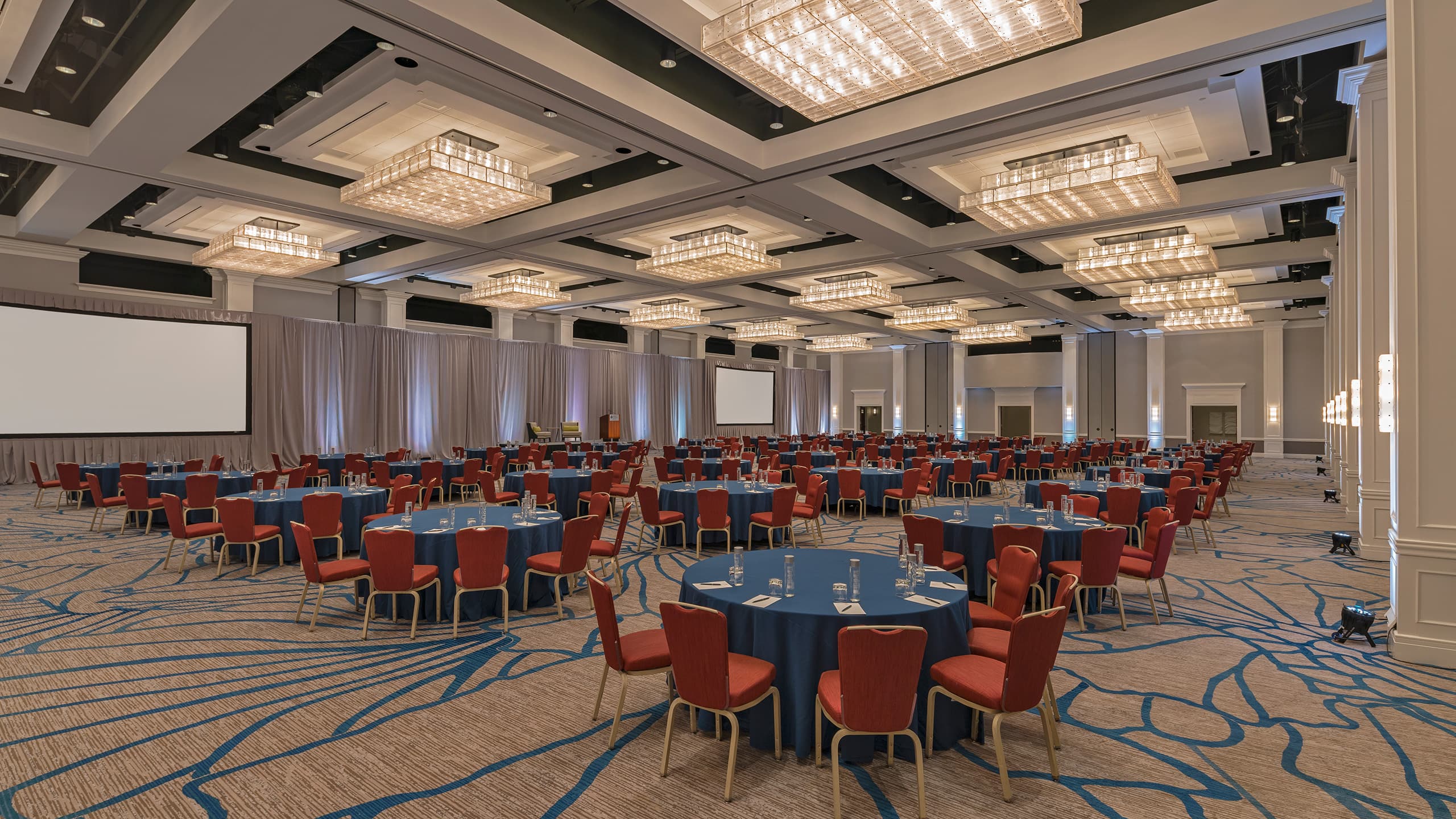 Meeting Space

Discover indoor and outdoor event spaces, including ballrooms, breakout rooms, courtyards and patios.

Technology

Our meeting venues come complete with the latest audiovisual technology through Encore onsite.

Event Planning

Plan your meeting with the help of our event planning team, past recipient of Hyatt's Events Team of the Year.

Catering

Enjoy seasonal menus with customizable options through Personal Preference Dining to satisfy every taste.

Business Center

Print documents and check email. Open 24 hours and includes desks and supplies.

Onsite Parking

Your meeting attendees can choose from valet and self-parking. Hourly and overnight rates apply.
Contact Us
Let's start the planning process. Contact us for more information or to schedule an appointment.
qualitynaprn@hyatt.com