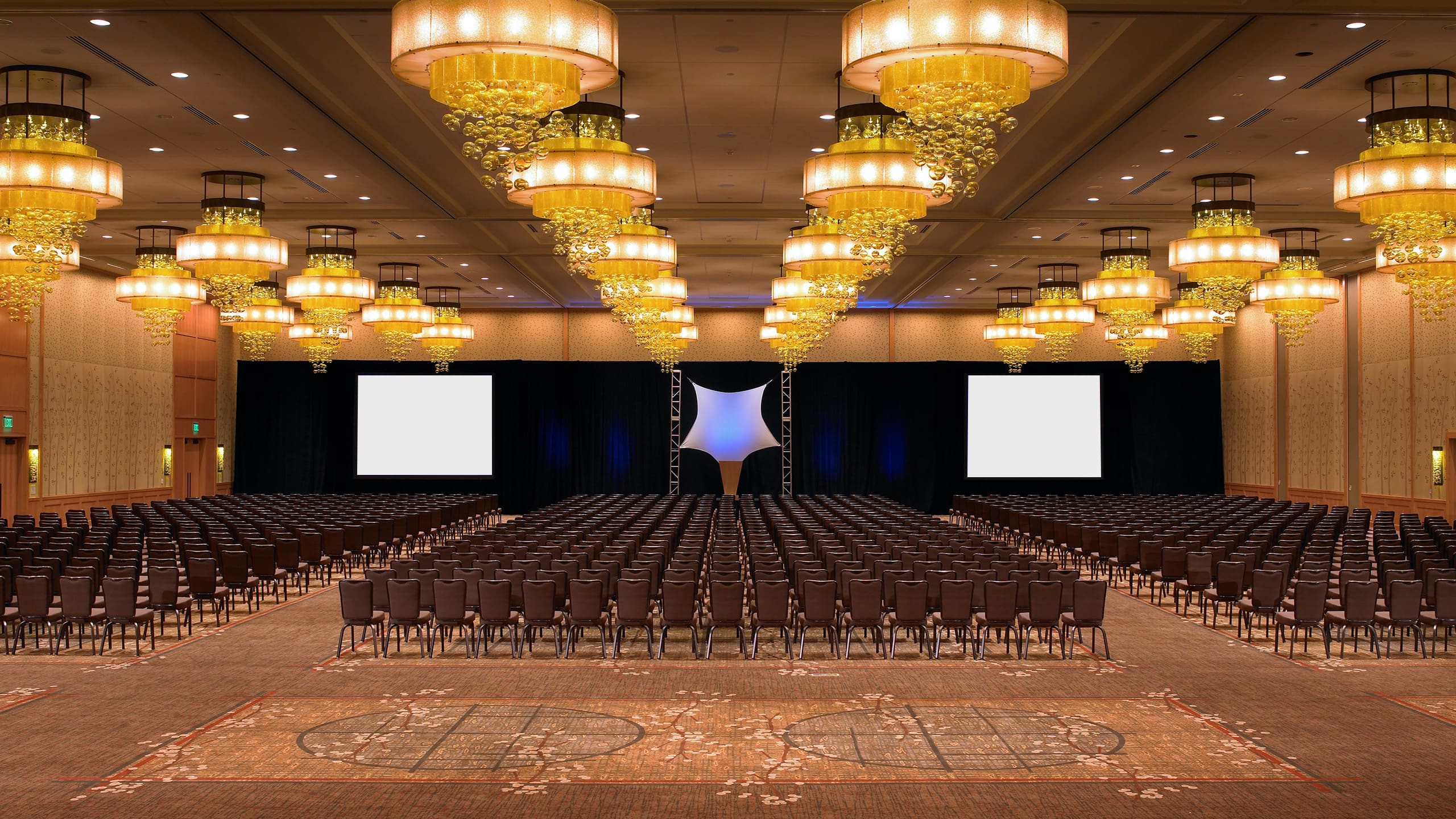 Meetings & Events
Hyatt Regency Bellevue, set in downtown Seattle's Eastside, features a high-tech conference center with over 70,000 square feet of flexible meeting space, including a sloped auditorium and executive boardroom. Host a convention, trade show or reception in our stunning, divisible 17,745-square-foot Grand Ballroom and 13,755-square-foot Evergreen Ballroom.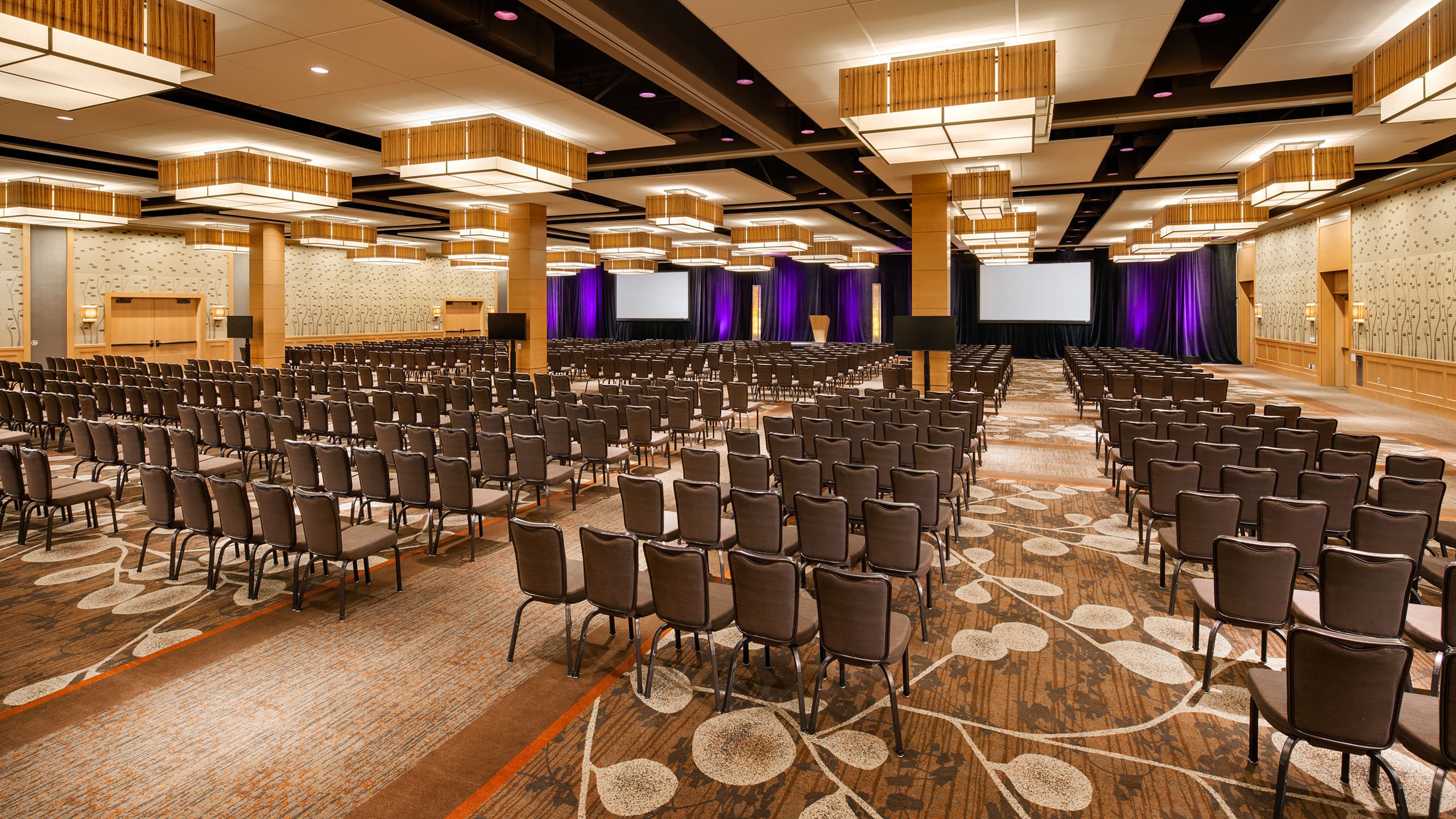 Evergreen Ballroom
Host an impressive event in our spacious Evergreen Ballroom. Warm maple woods, welcoming colors and Japanese-inspired details create an inviting atmosphere for both banquets and meetings. A promenade of columns flanks the pathway from the Wintergarden to one of two pre-function areas, creating a formal yet flowing floor plan. With 13,755 square feet of space that can be divided into eight configurations, this ballroom can host 1,420 for a standing cocktail reception, 1,500 theater-style, 900 in a classroom setting or up to 1,100 for a formal dinner.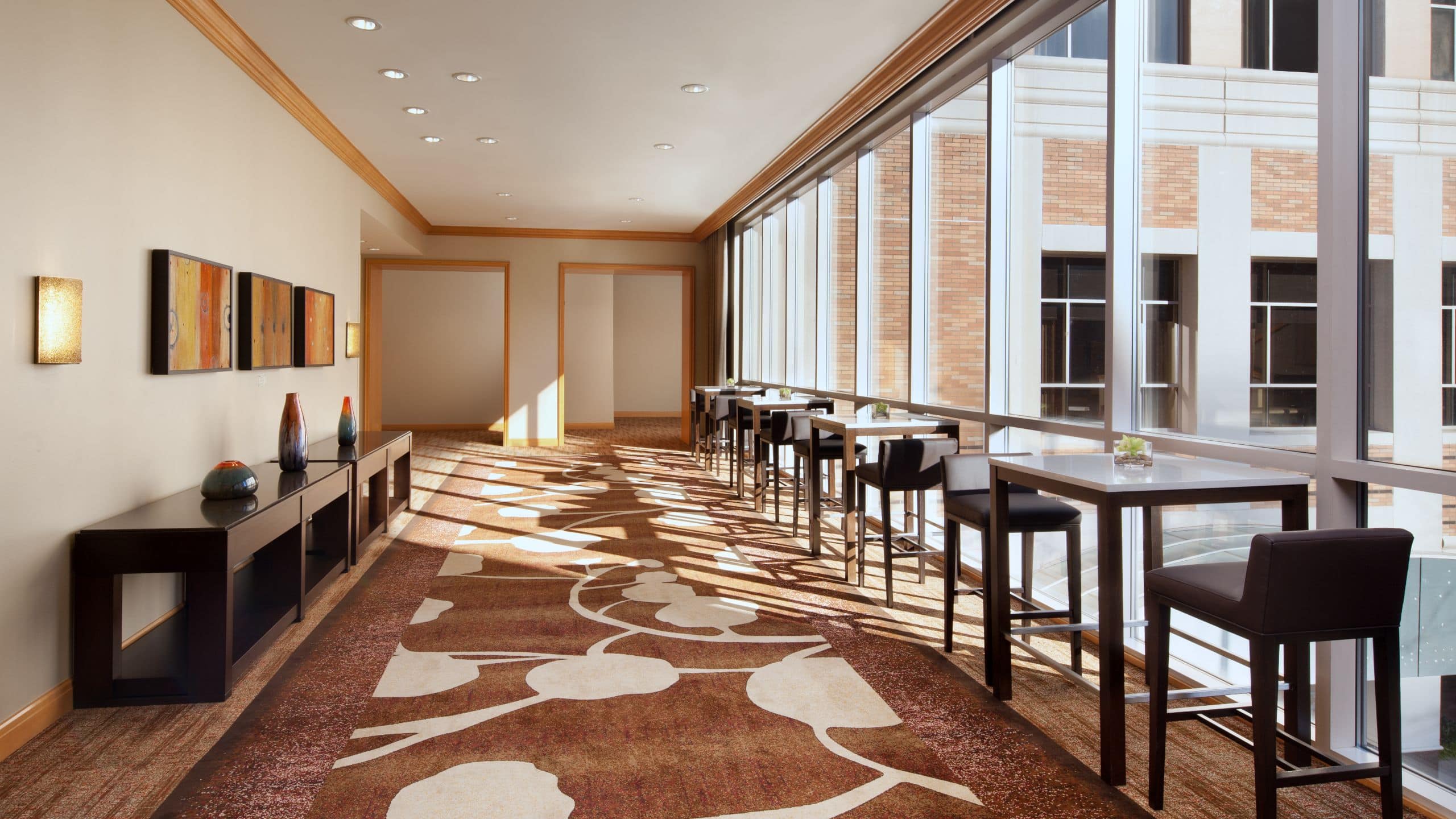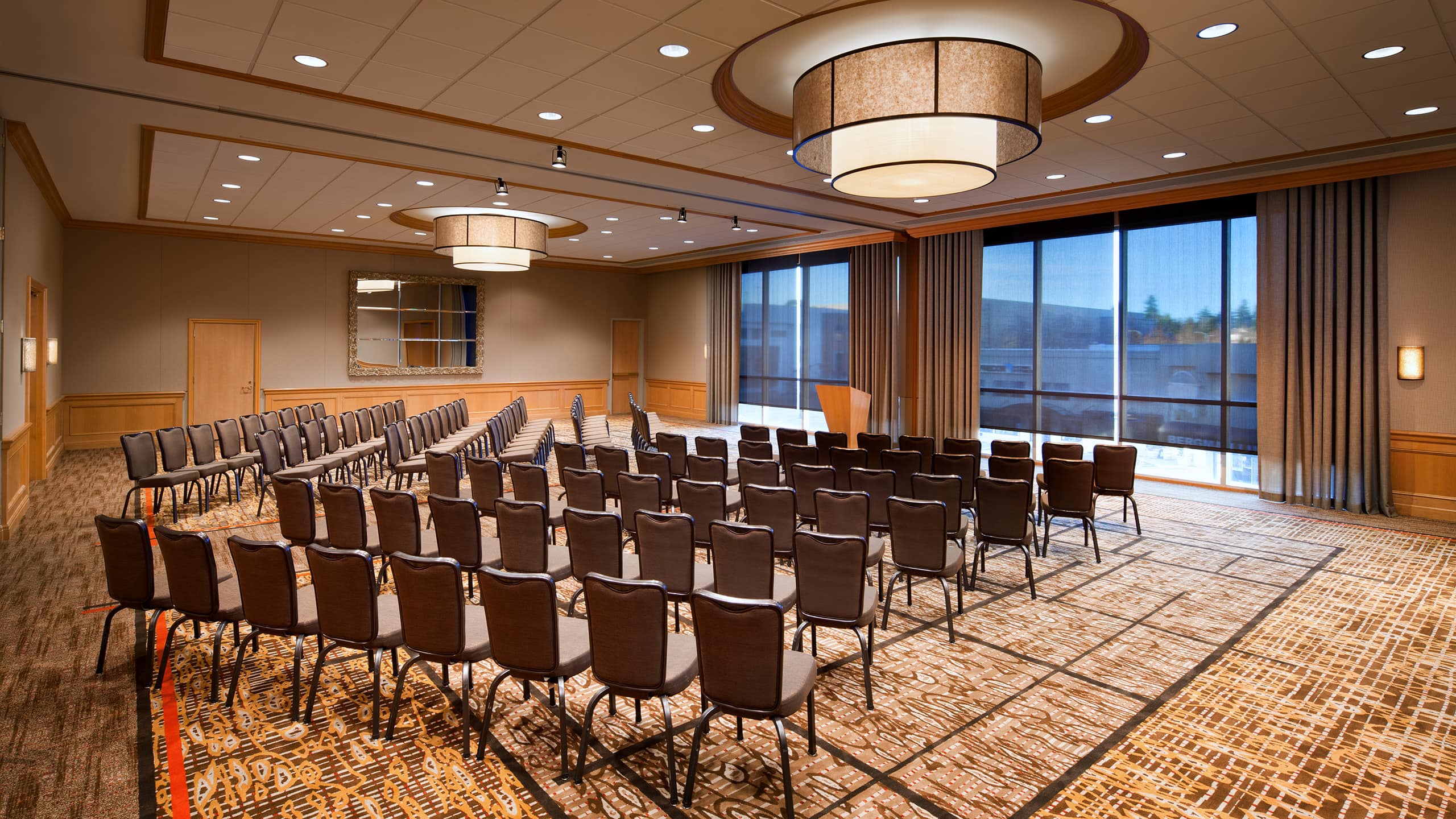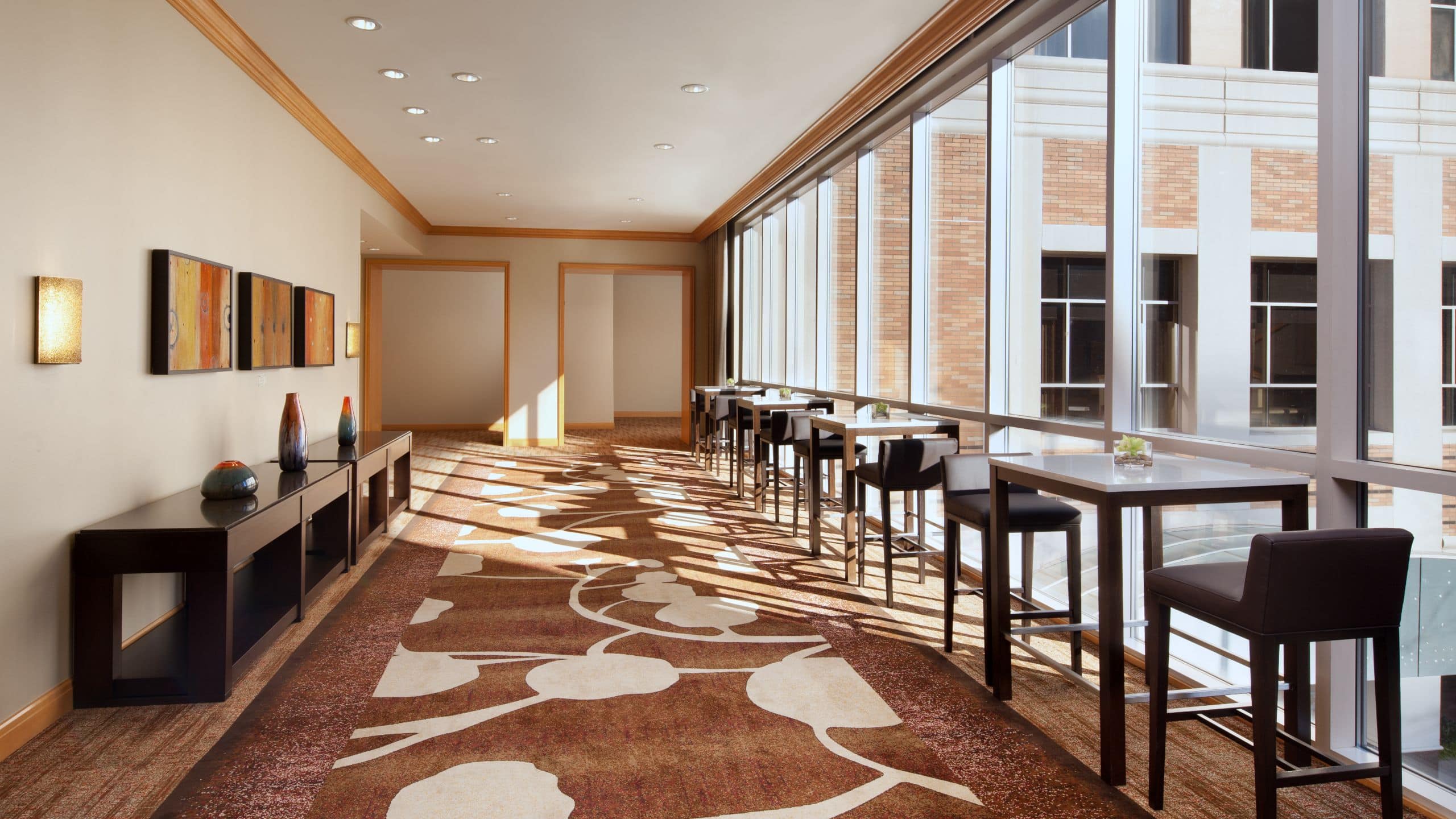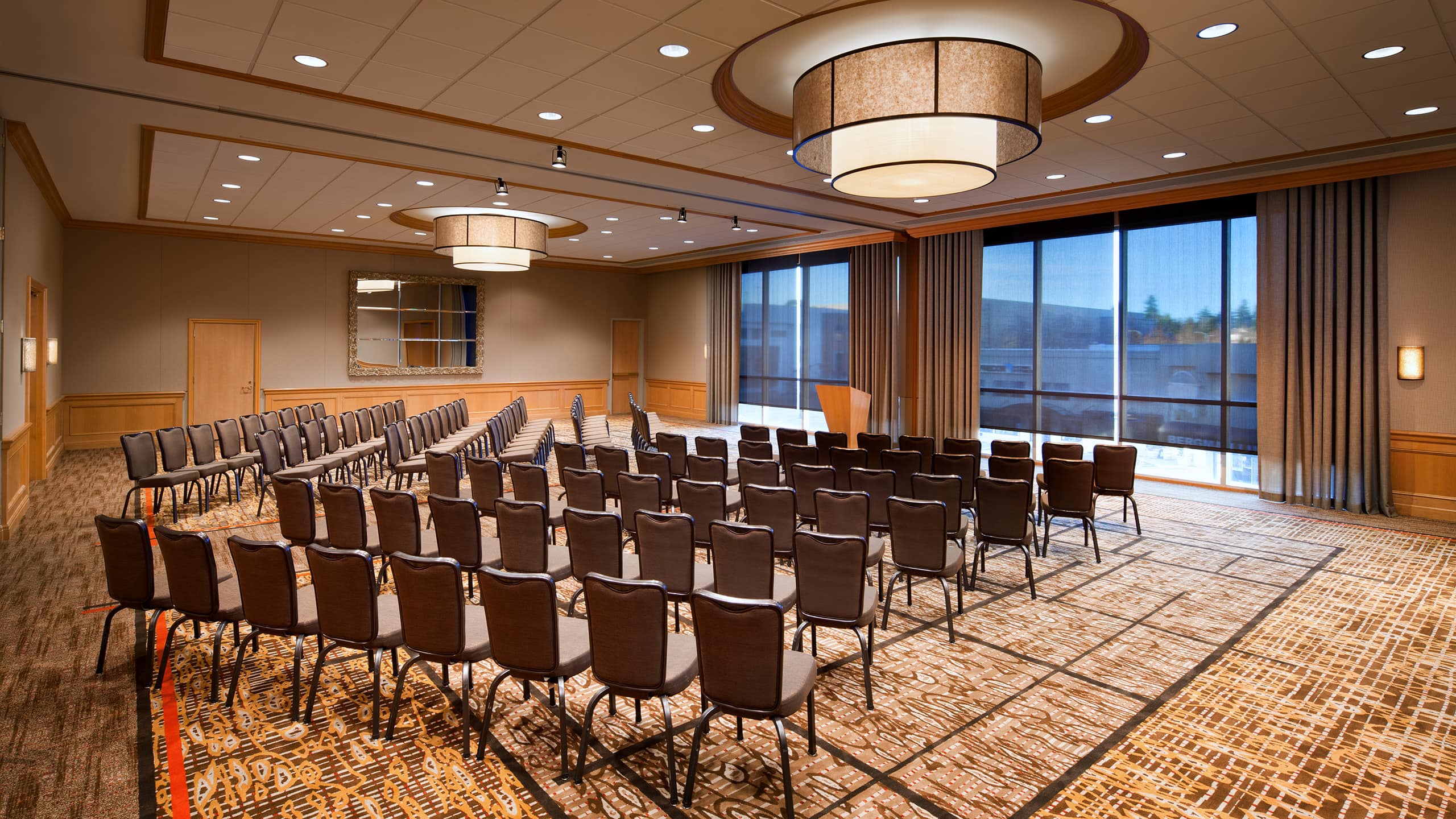 Cedar Ballroom - Meetings
A beautiful wall of windows sheds natural light into this smaller reception, dinner or meeting space of 2,090 square feet. Seated classroom-style, this ballroom can fit up to 119 like-minded guests who are ready to hear about your next business venture or start-up idea.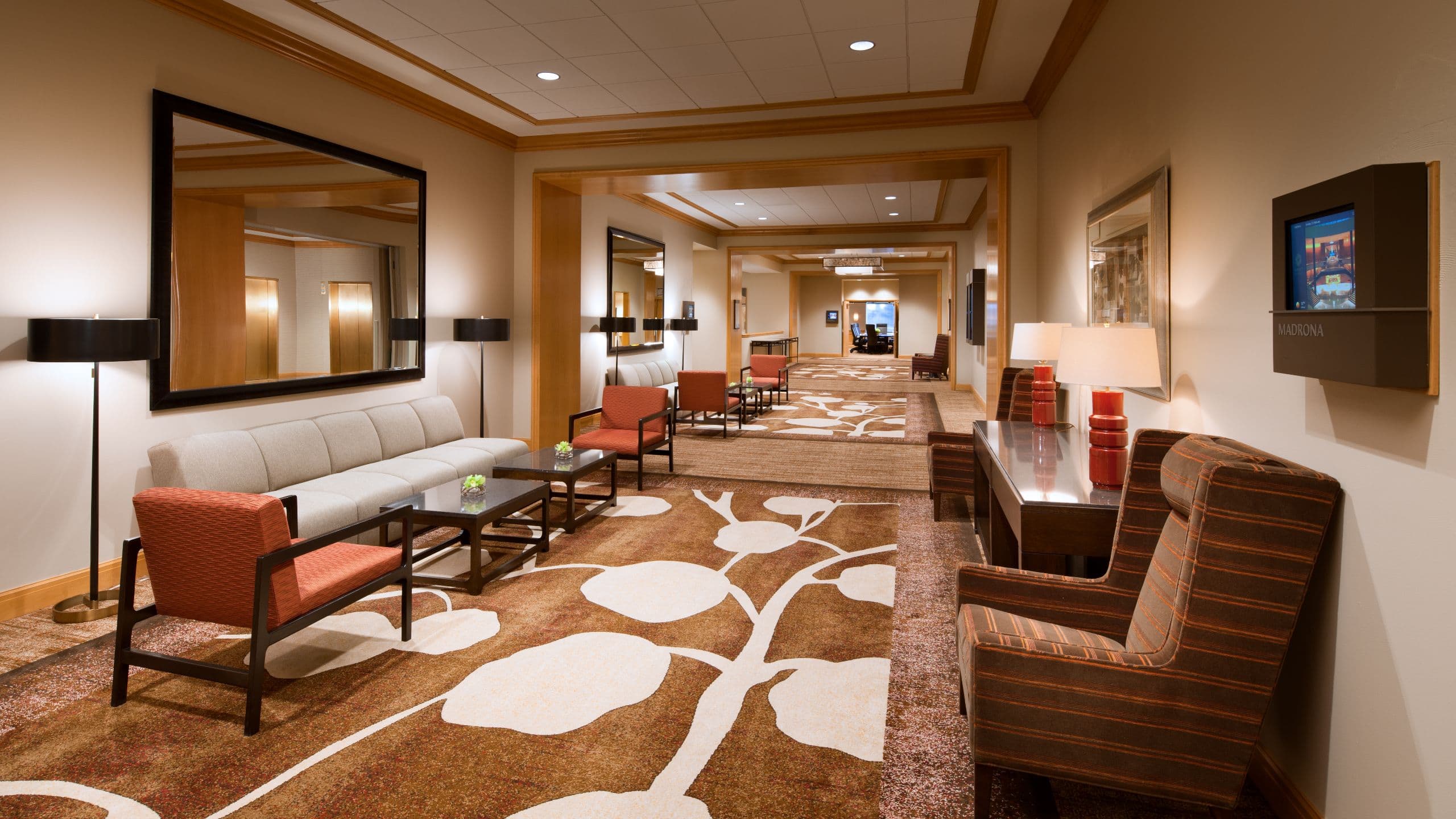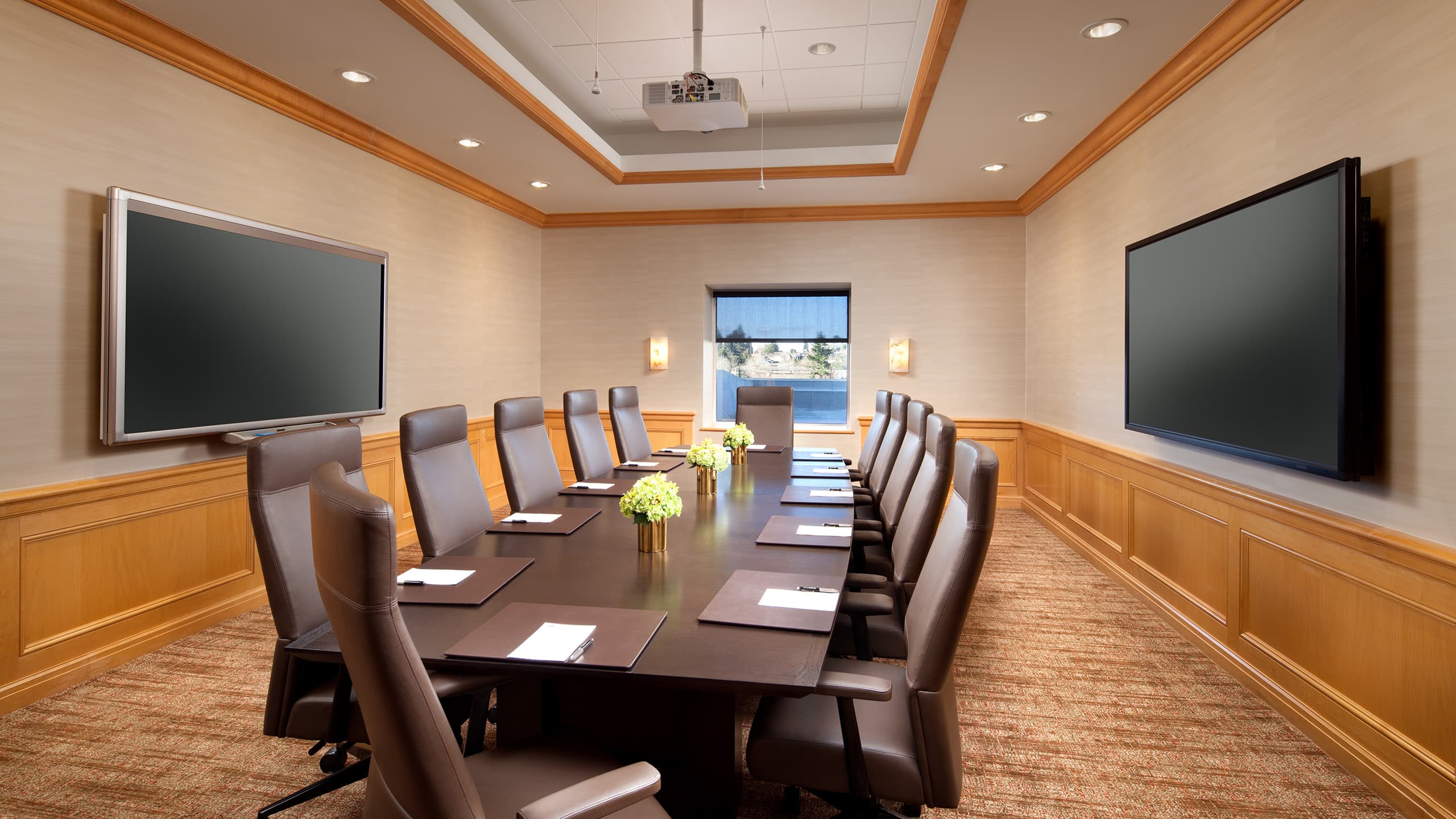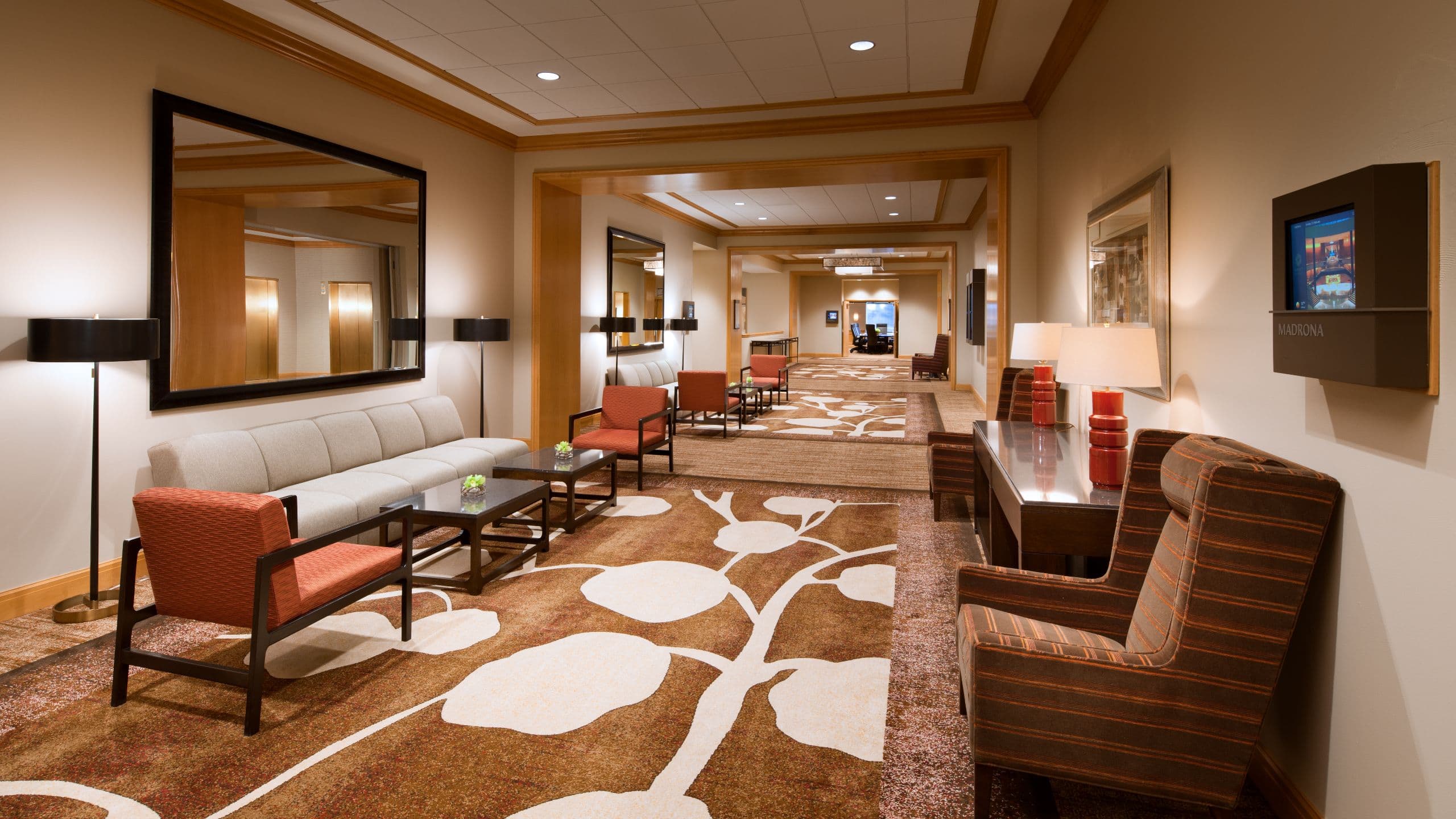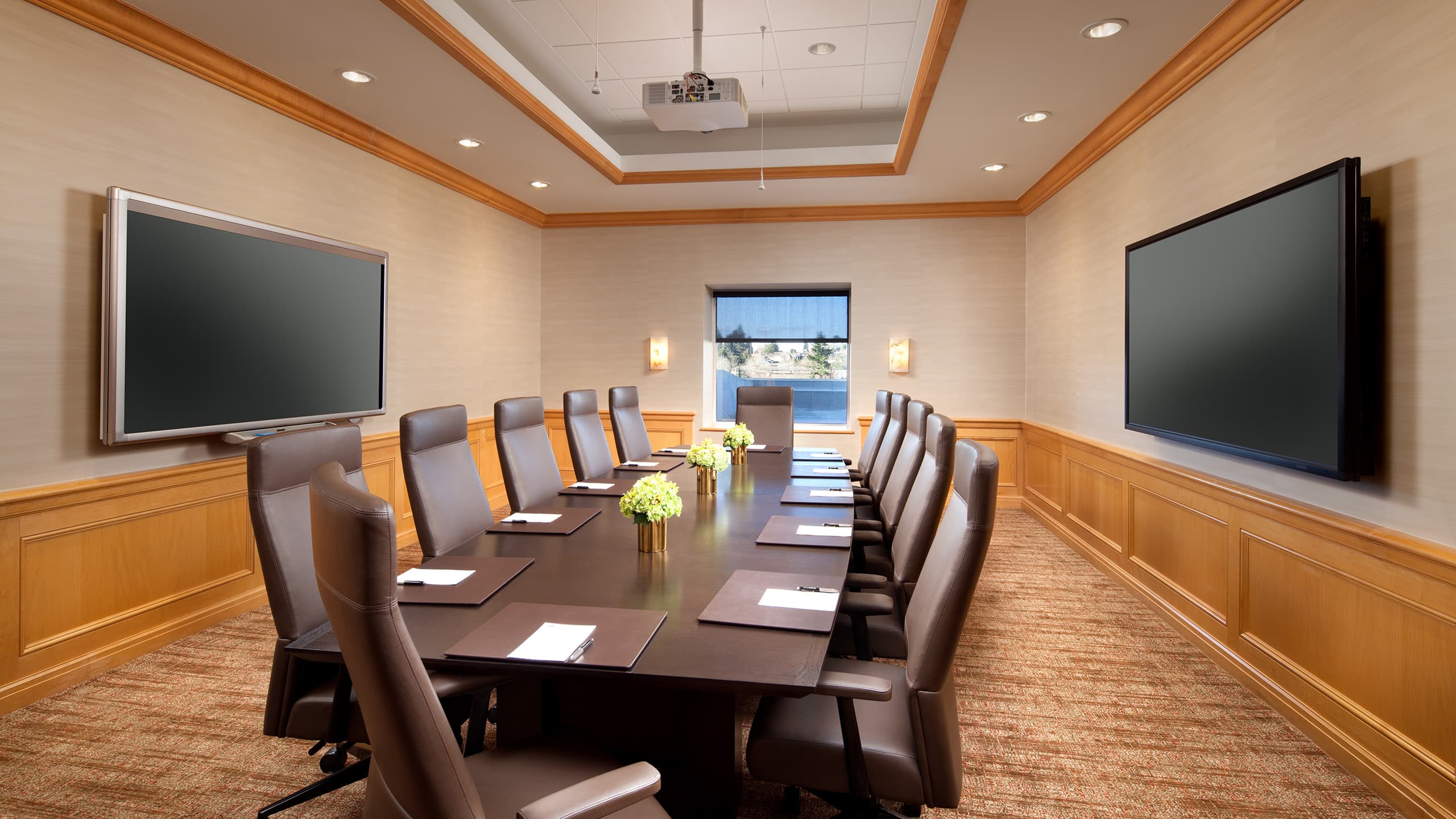 Executive Boardroom
For true VIP events, consider our Executive Boardroom. Designed to accommodate 12, this room offers the comfort of elegant leather chairs along with a permanent conference table in the middle of the room. On two opposite walls are 80" flat-screen display monitors with a 109" screen projector on the far wall. Connect your laptop to one of the many built-in outlets to stay charged for your next conference call.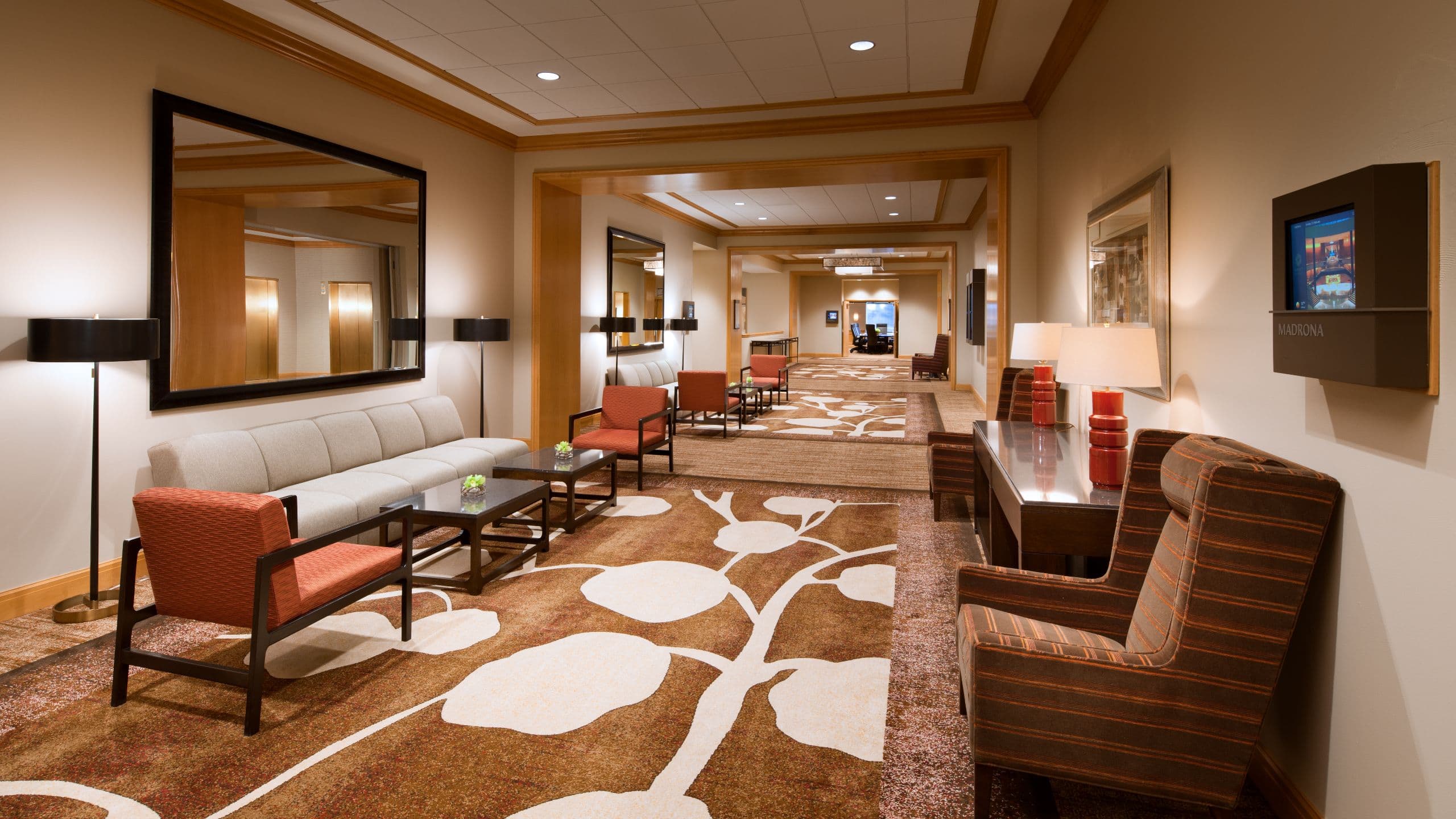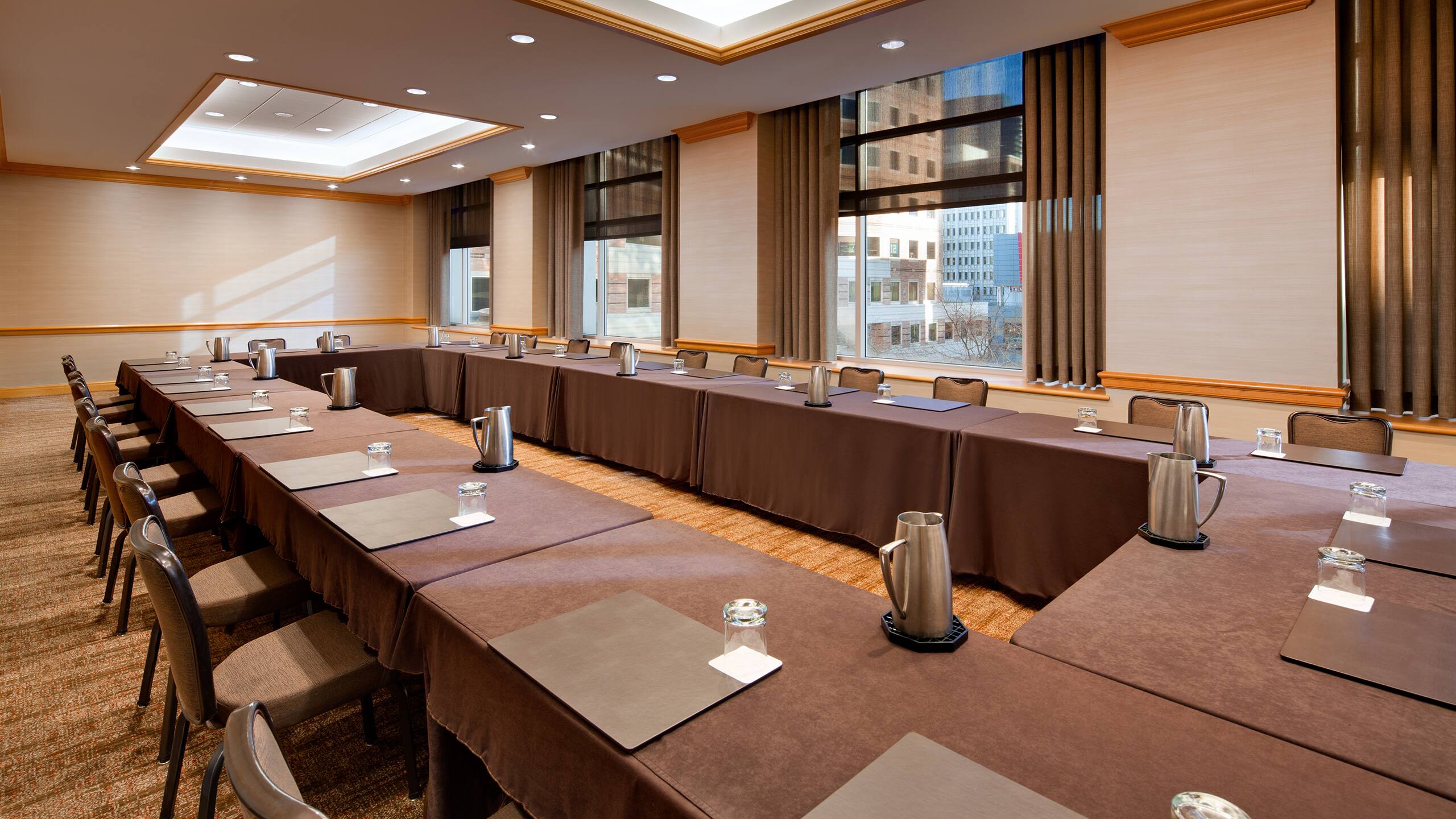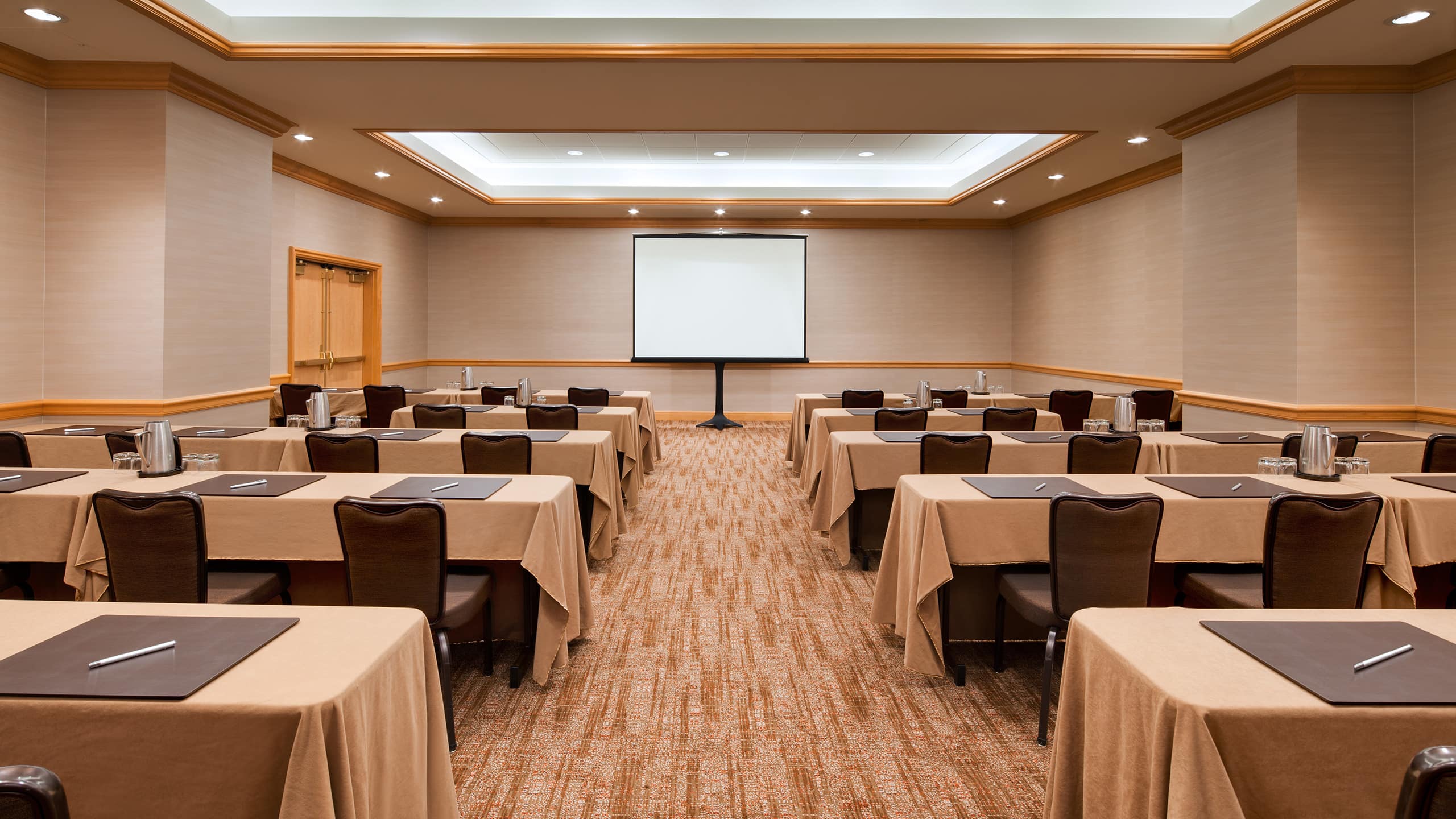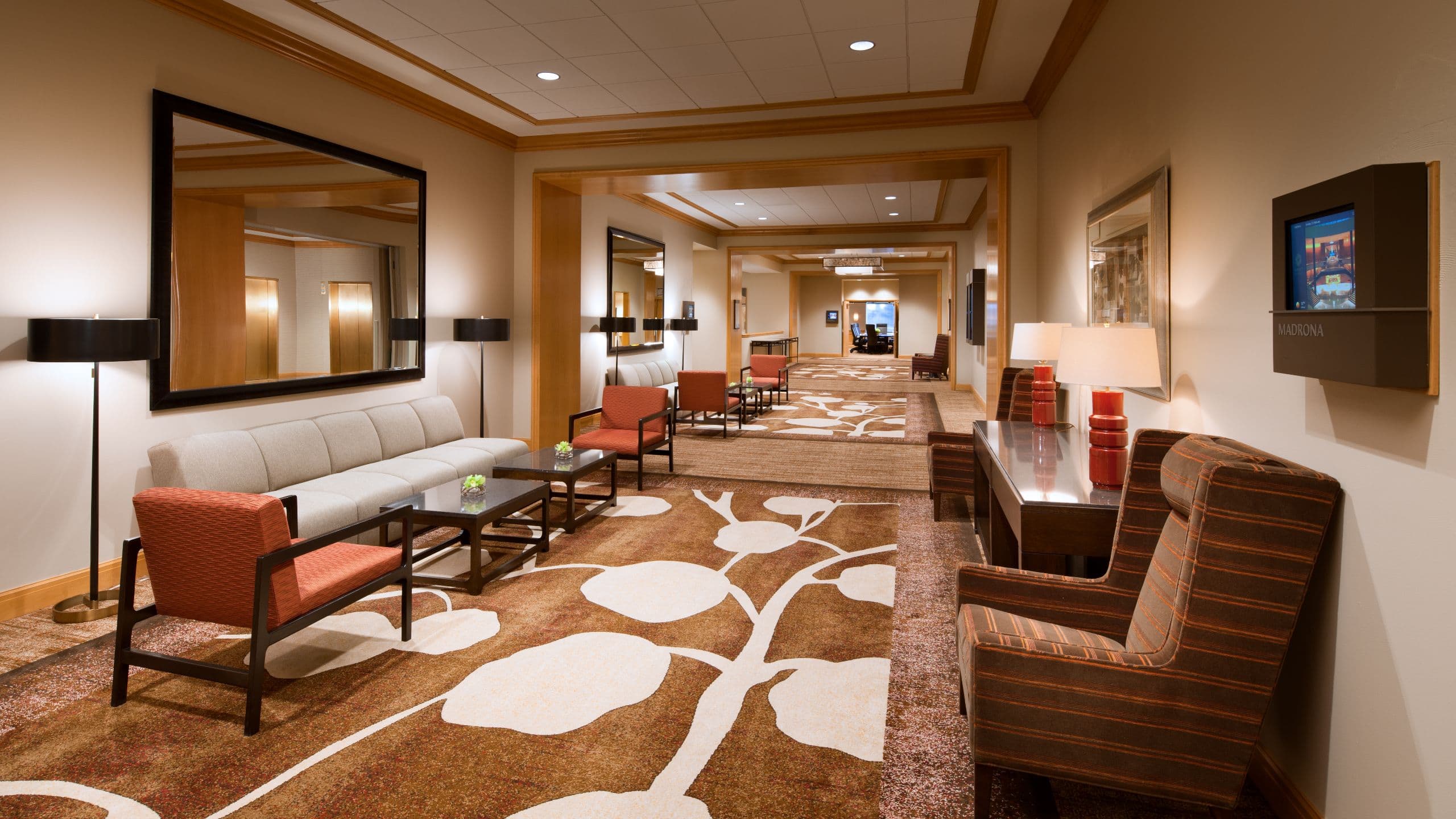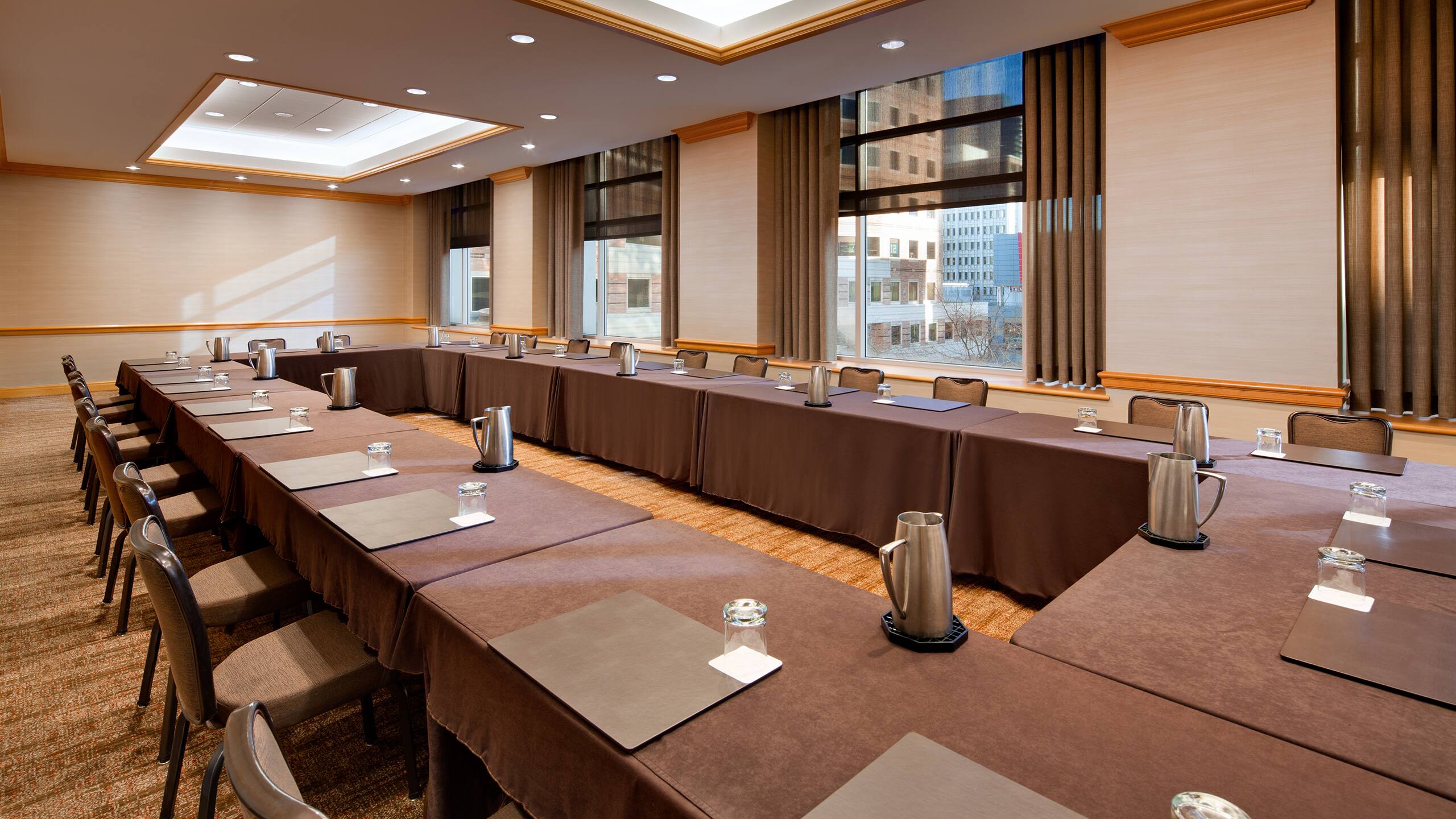 Cottonwood / Juniper / Laurel / Larch / Madrona
These smaller event spaces range in size from 476 to 1,076 square feet and can accommodate between 22 and 104, depending on setup. Use these conference rooms to host lunches, press events, breakout sessions, registration areas or break rooms. Our dedicated meeting staff can help you best utilize the spaces available.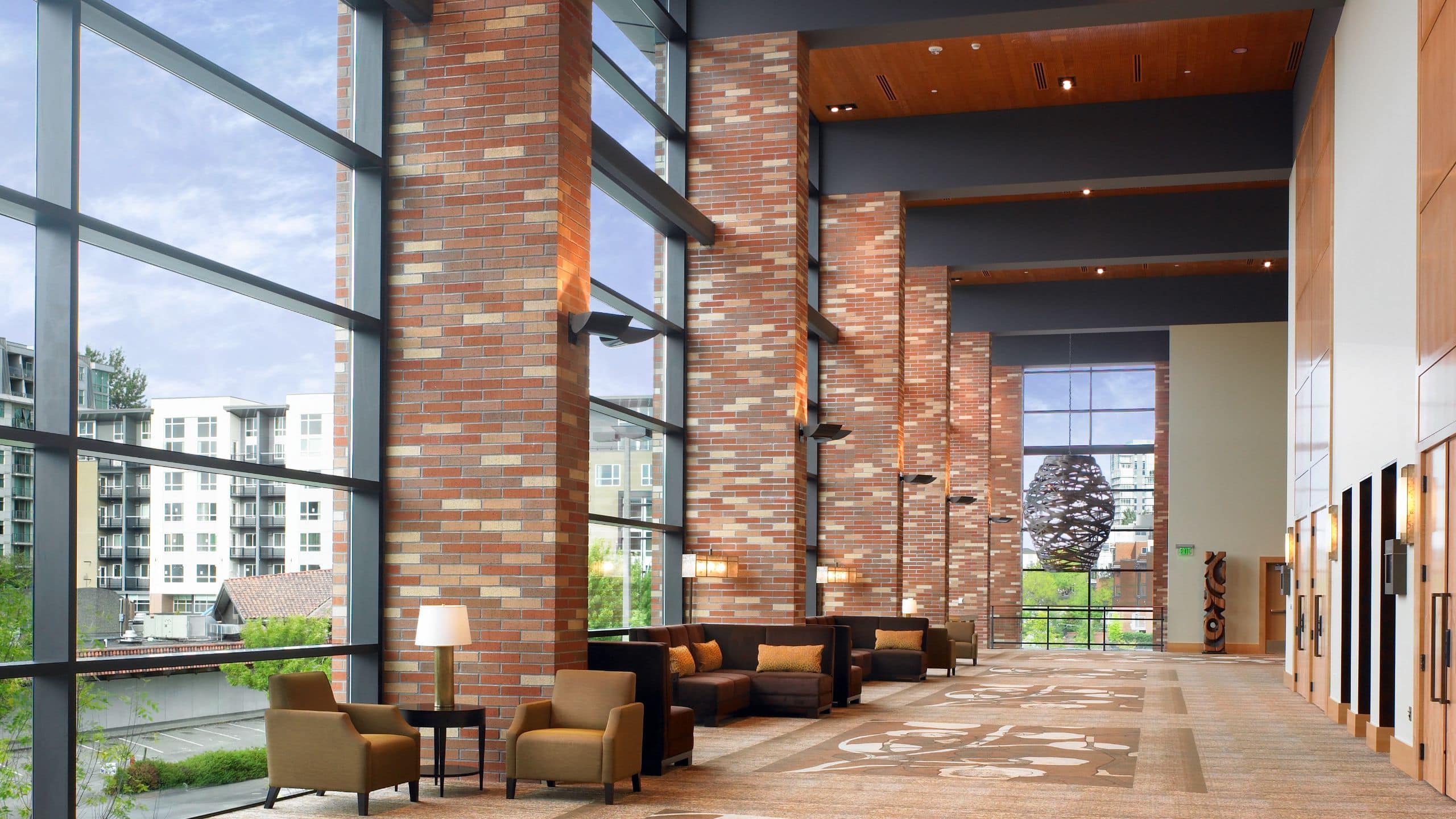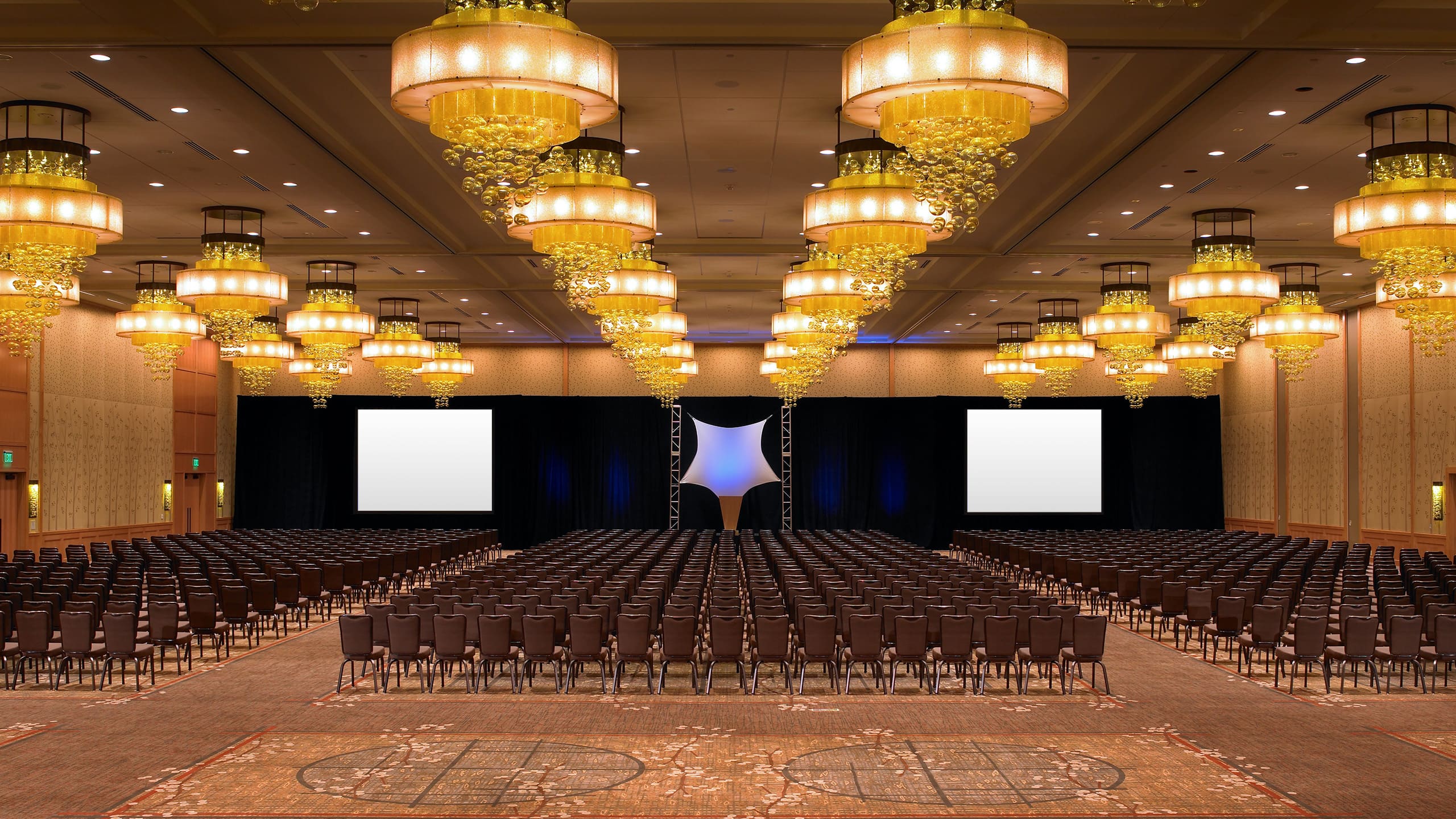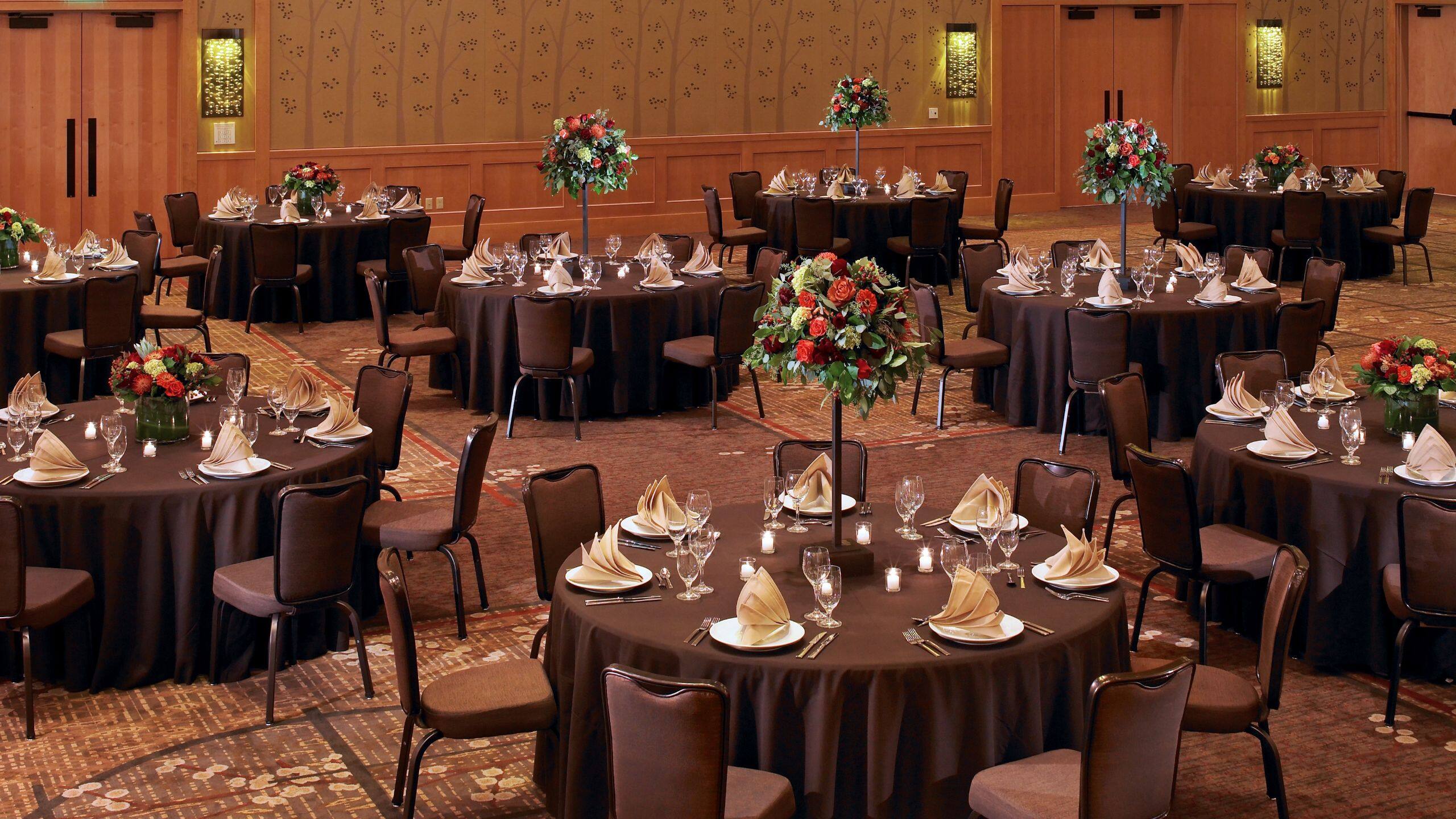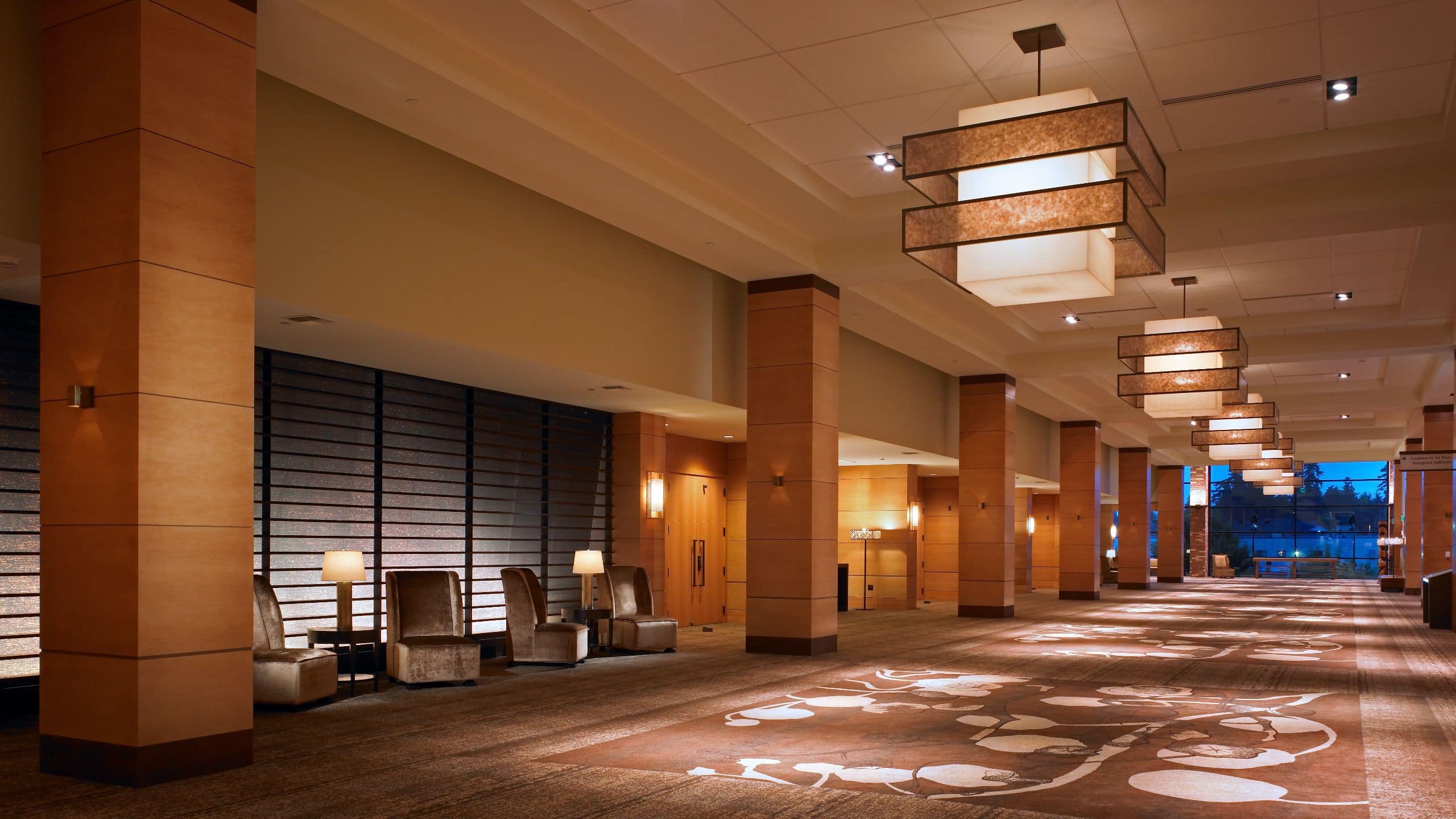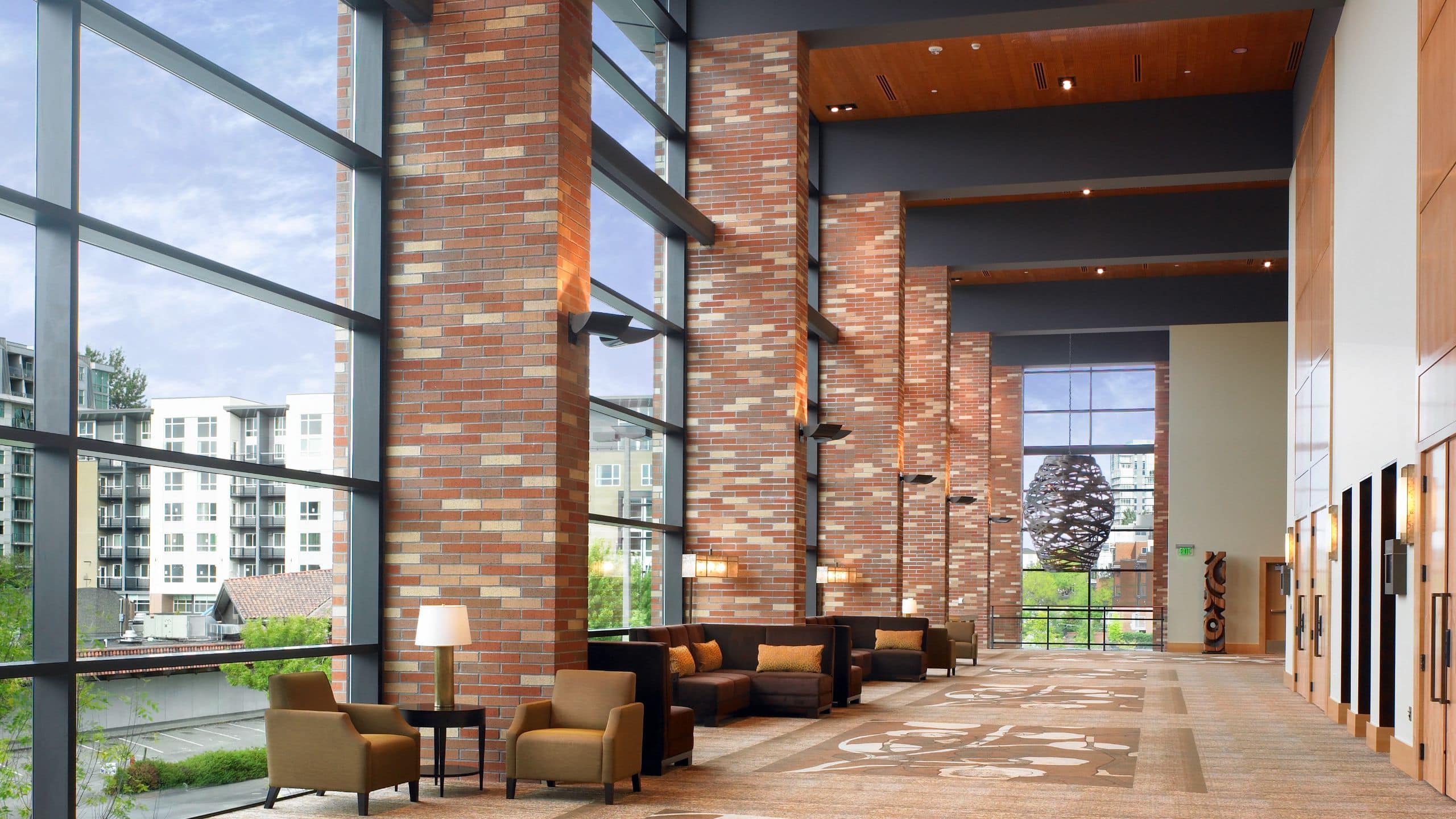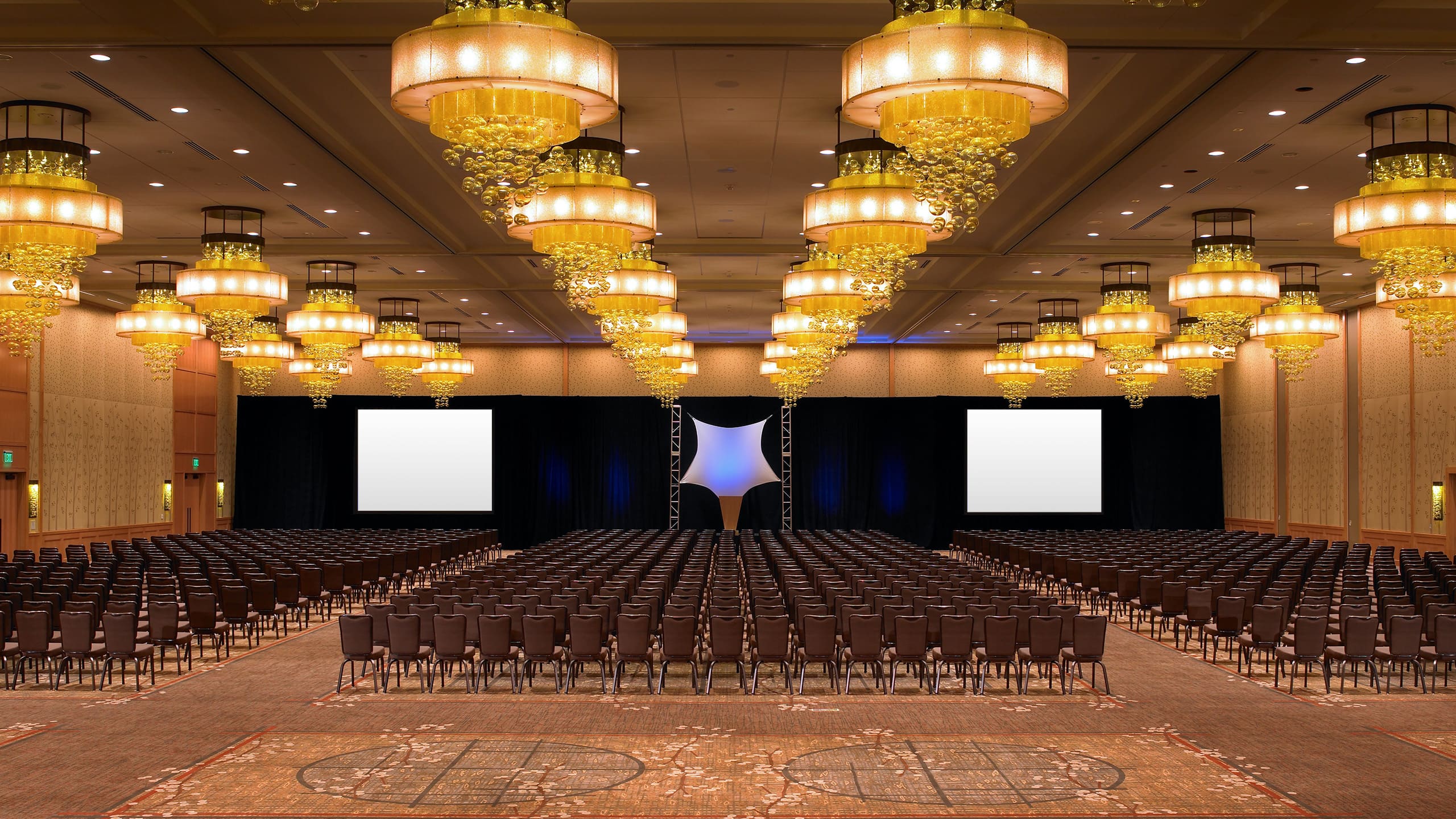 Grand Ballroom
For the most elaborate corporate, step into the Asian-inspired elegance of our 17,745-square-foot Grand Ballroom. As one of the largest hotel ballrooms on Seattle's Eastside, the Grand Ballroom is as stunning as it is spacious. Forty-eight custom-fitted chandeliers shimmer above a rich color palette of golds, chocolate browns and deep Chinese reds. Host up to 1,900 for a meeting or as many as 1,450 for a seated banquet in this exquisite space or allow us to break the room into nine sections. A pre-function space featuring dramatic floor-to-ceiling windows and 23-foot-high ceilings adjoins the Grand Ballroom.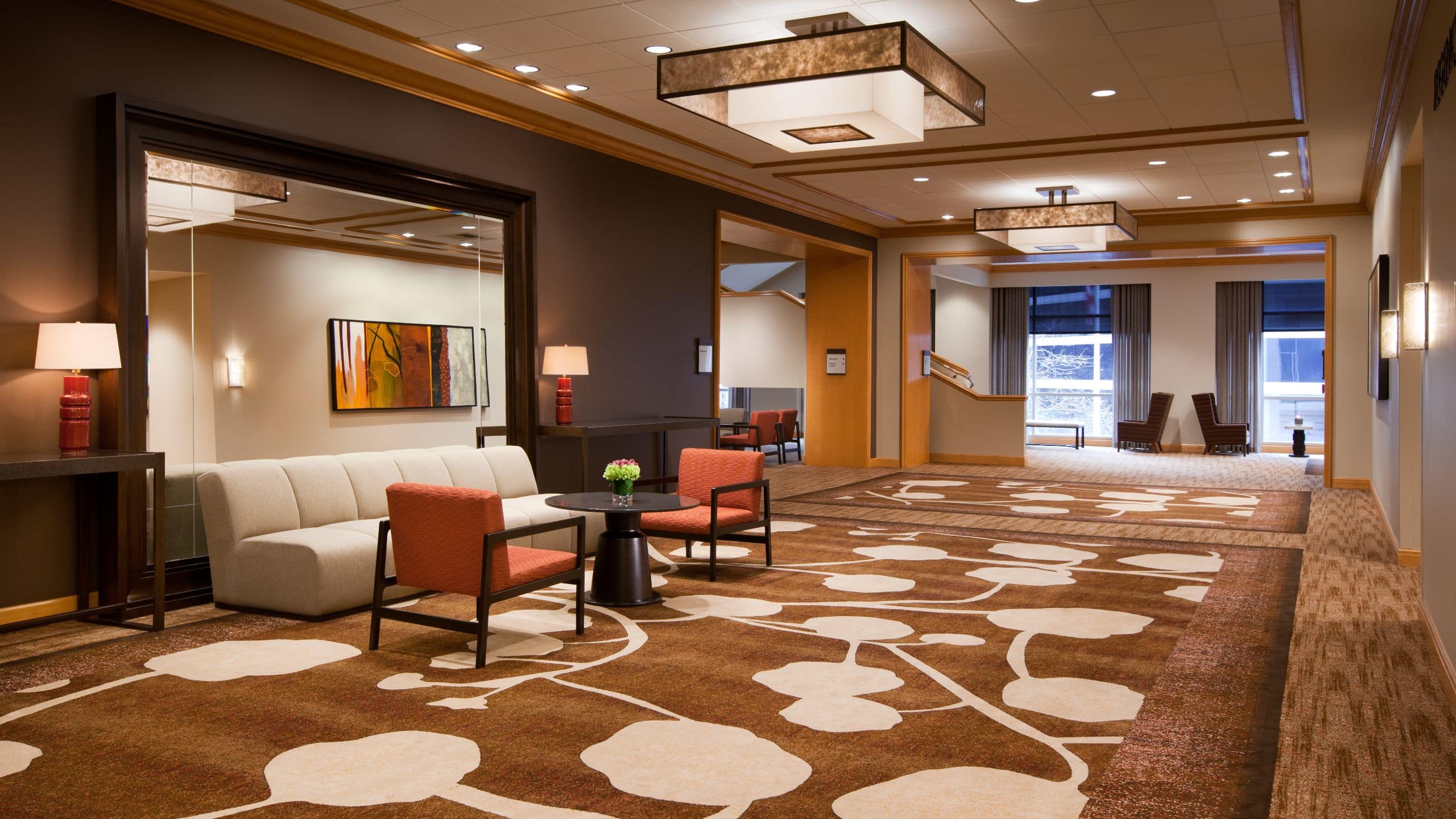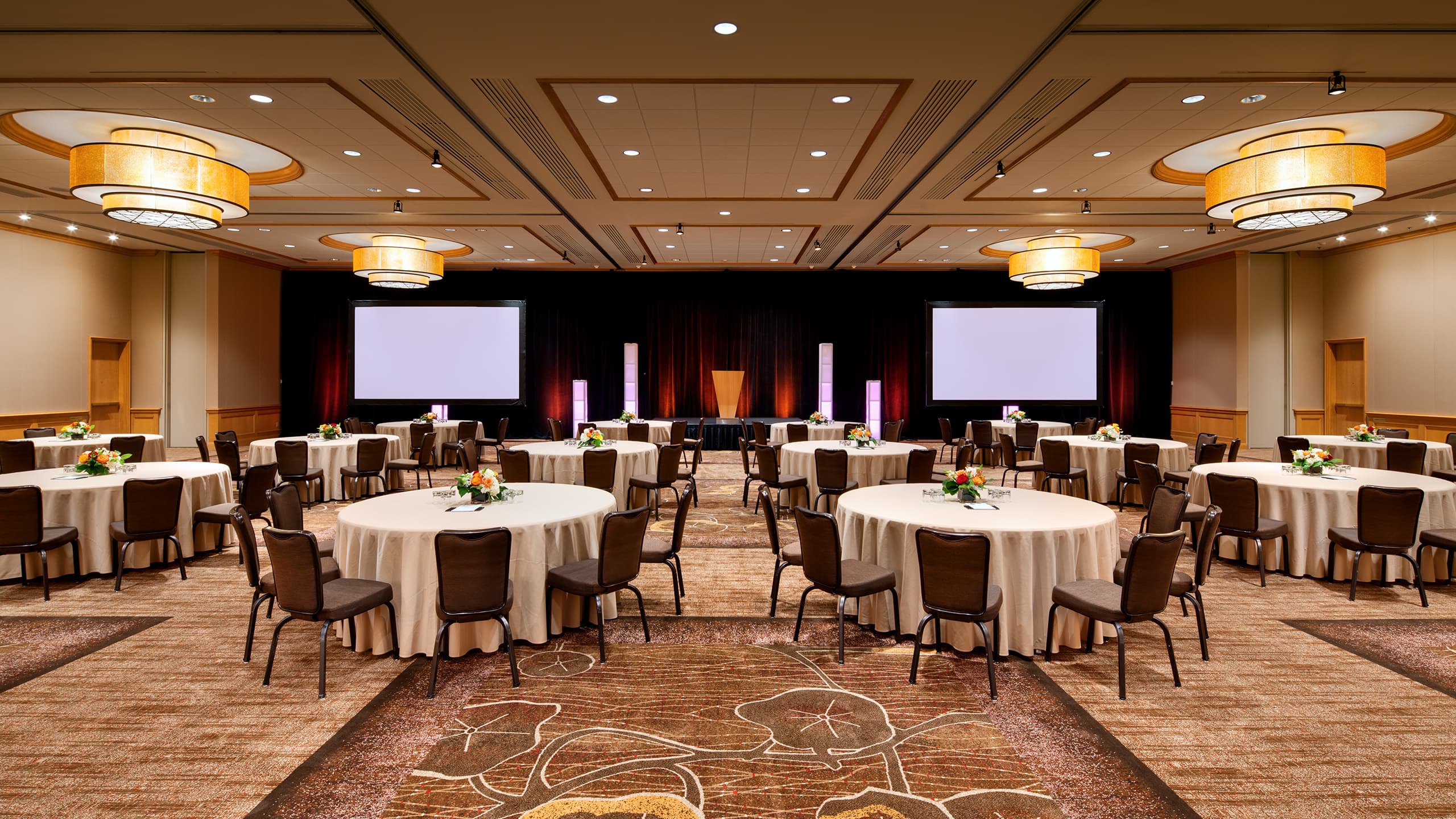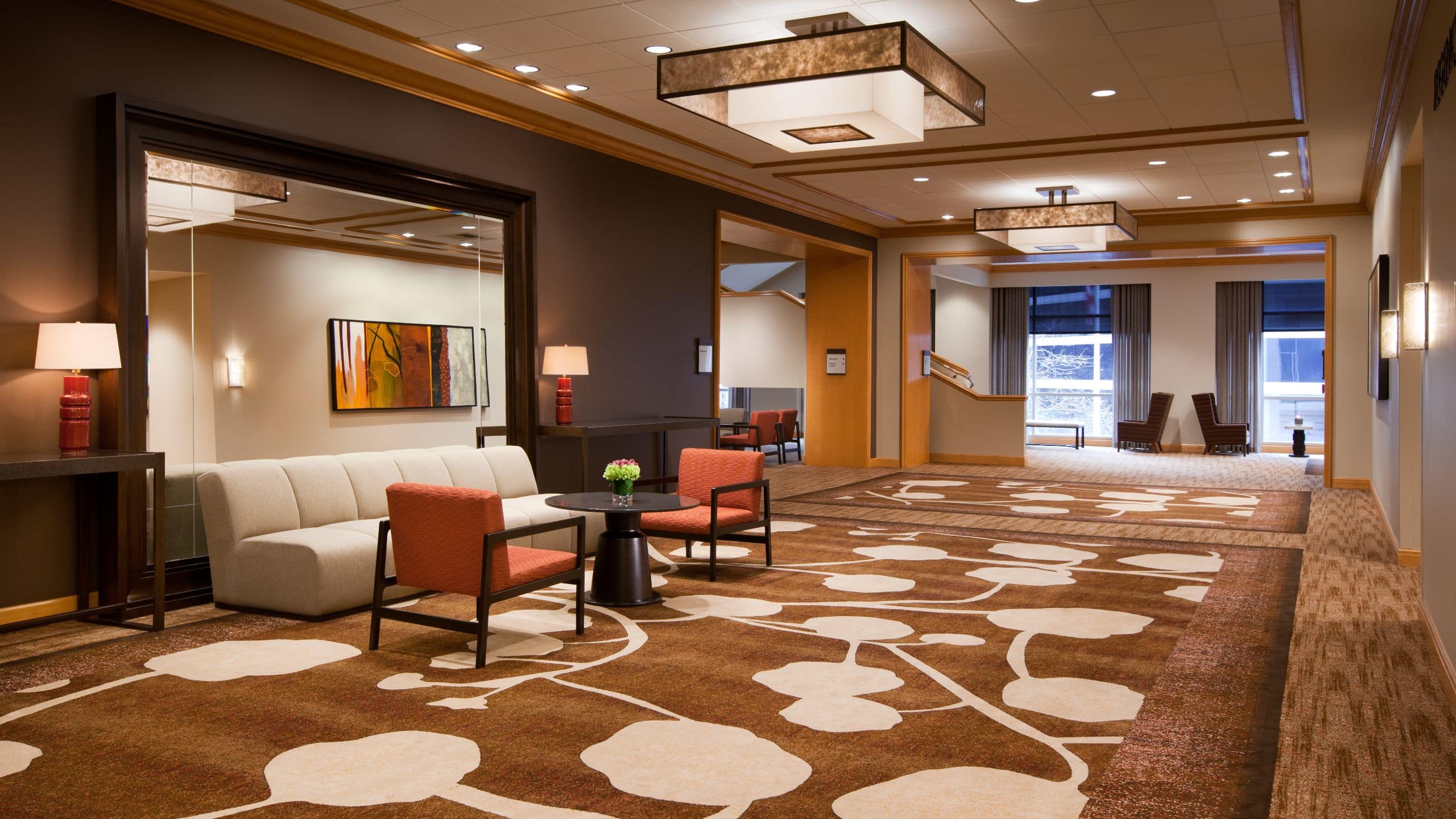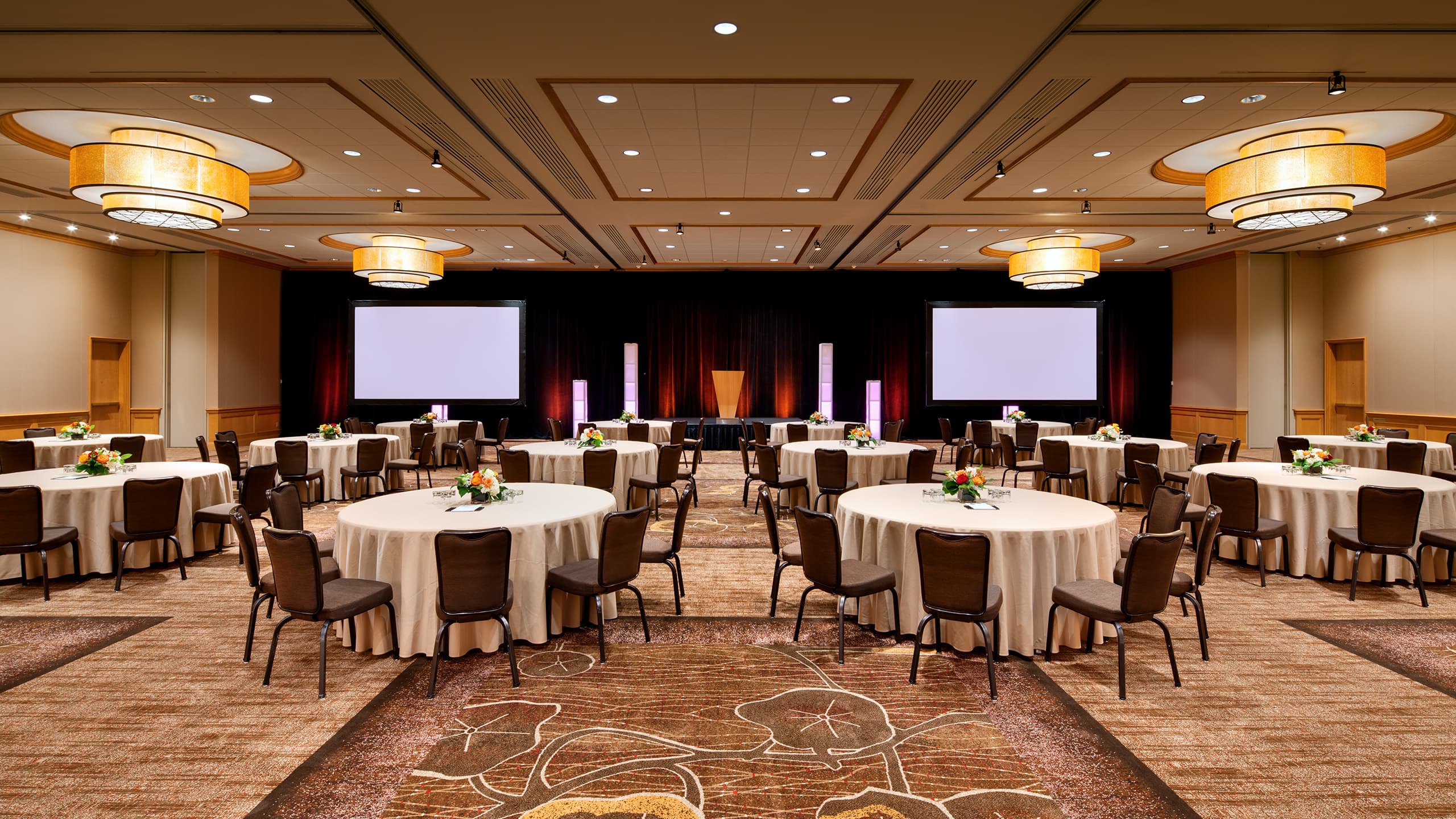 Regency Ballroom
Sweeping elegance defines our 5,850-square-foot Regency Ballroom, which accommodates up to 700 individual guests seated theater-style, 360 classroom or 440 for a seated banquet. This ballroom can be divided into as many as six separate breakouts that work well for meeting space too.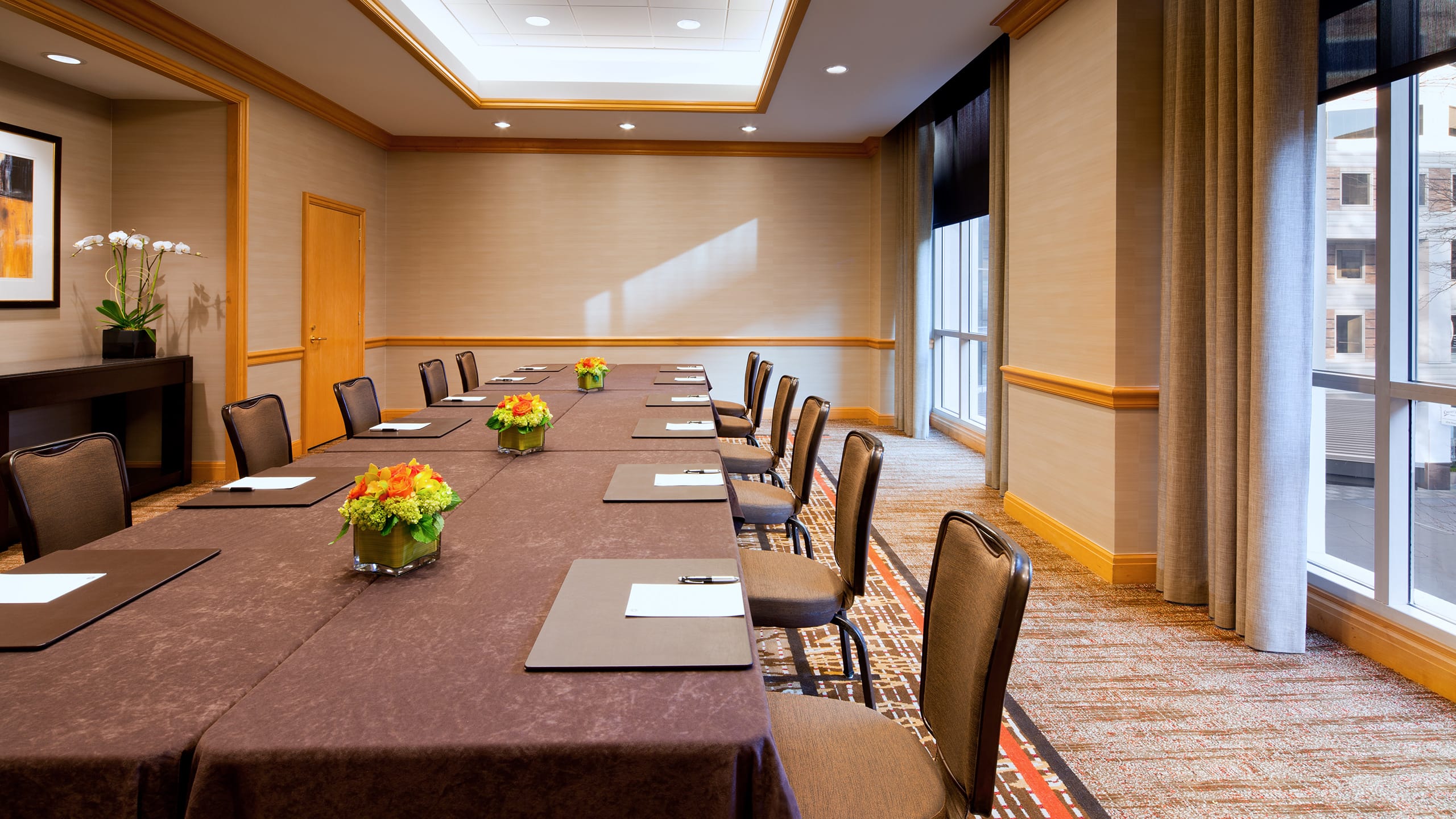 Balsam/Birch
Host up to 50 guests at a time in the Balsam or Birch rooms. Located on the same floor as the Regency and Cedar ballrooms, these two rooms feature natural light and are ideal for office space, small gatherings or breakout sessions during large events.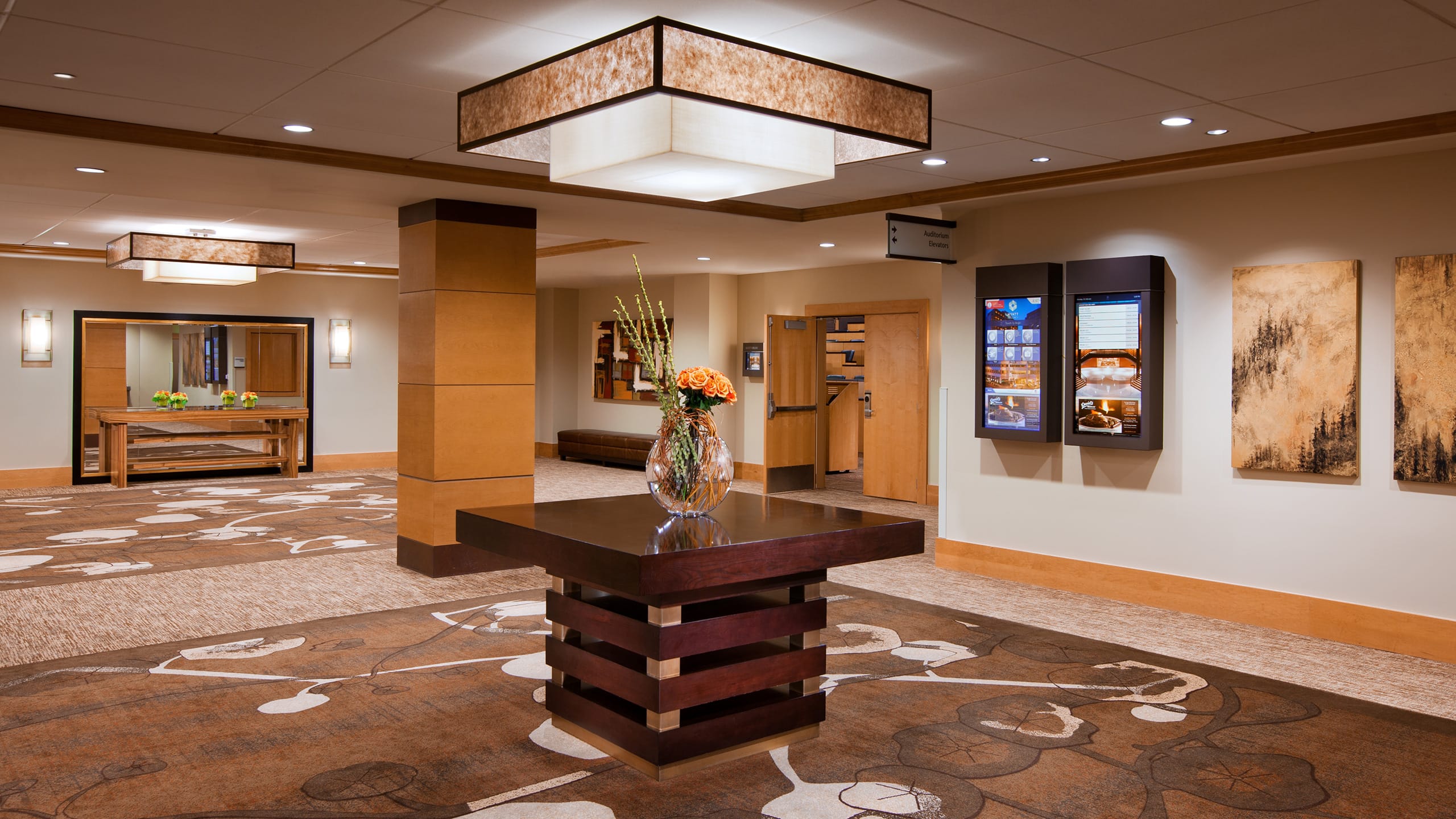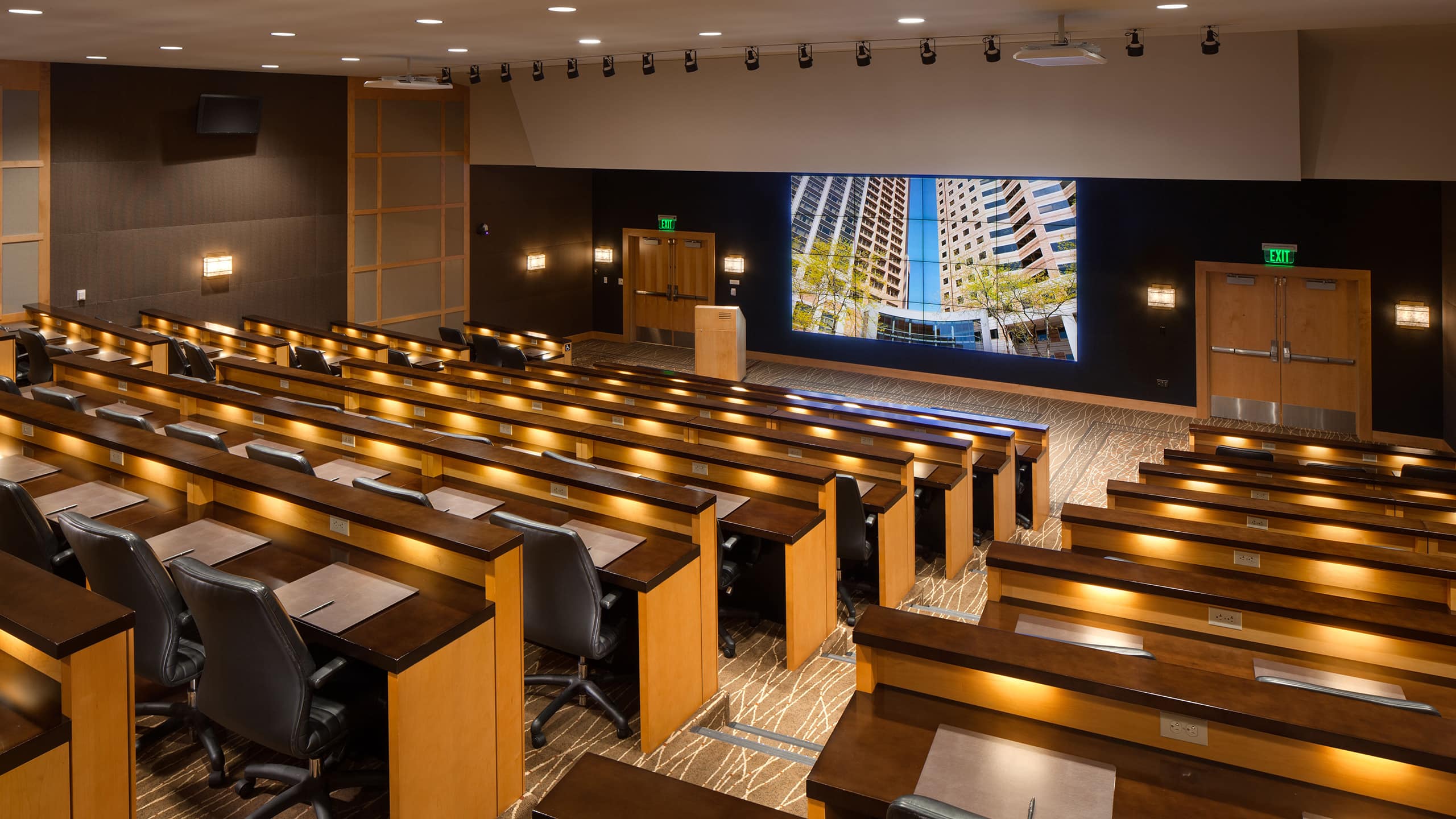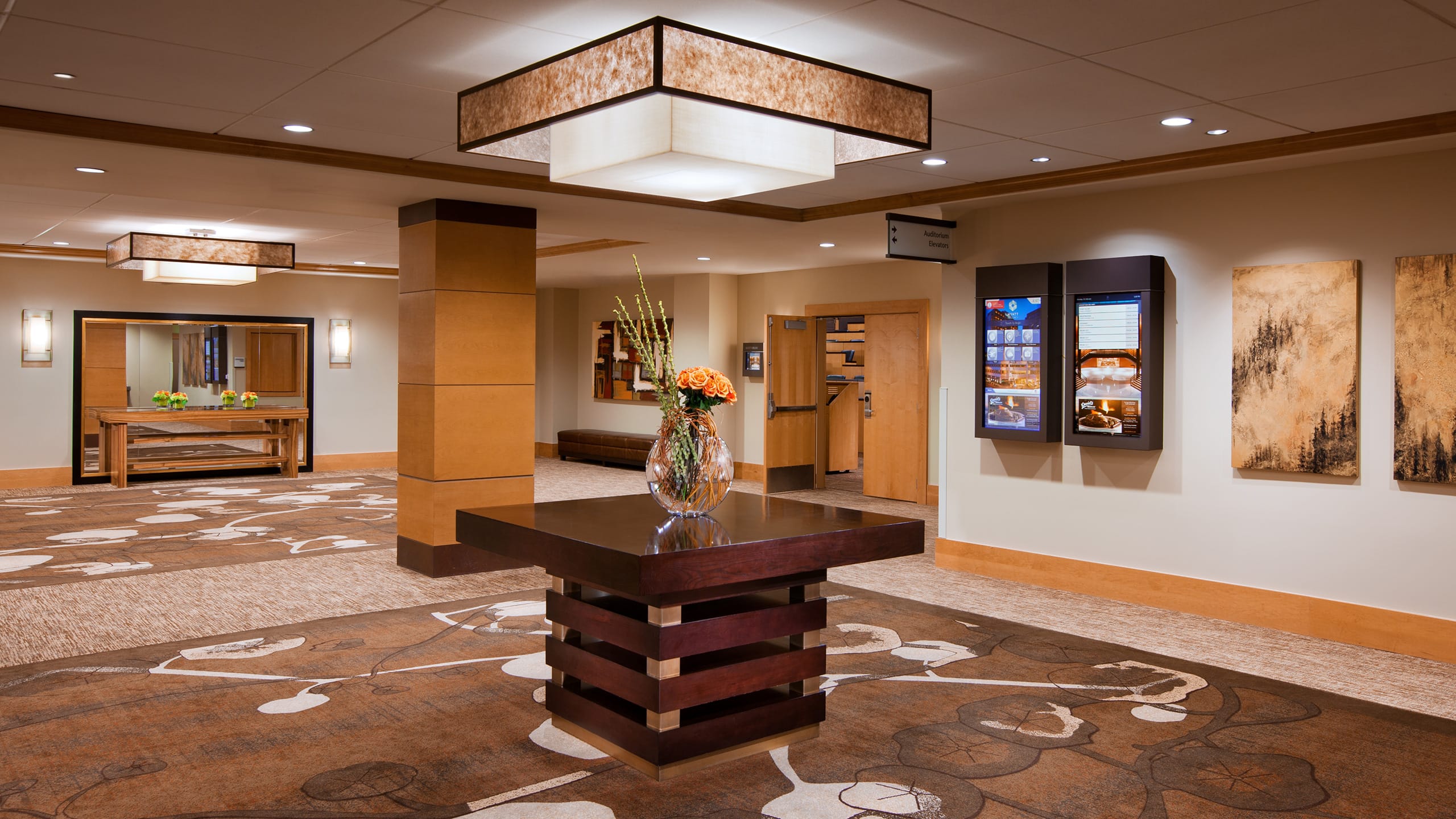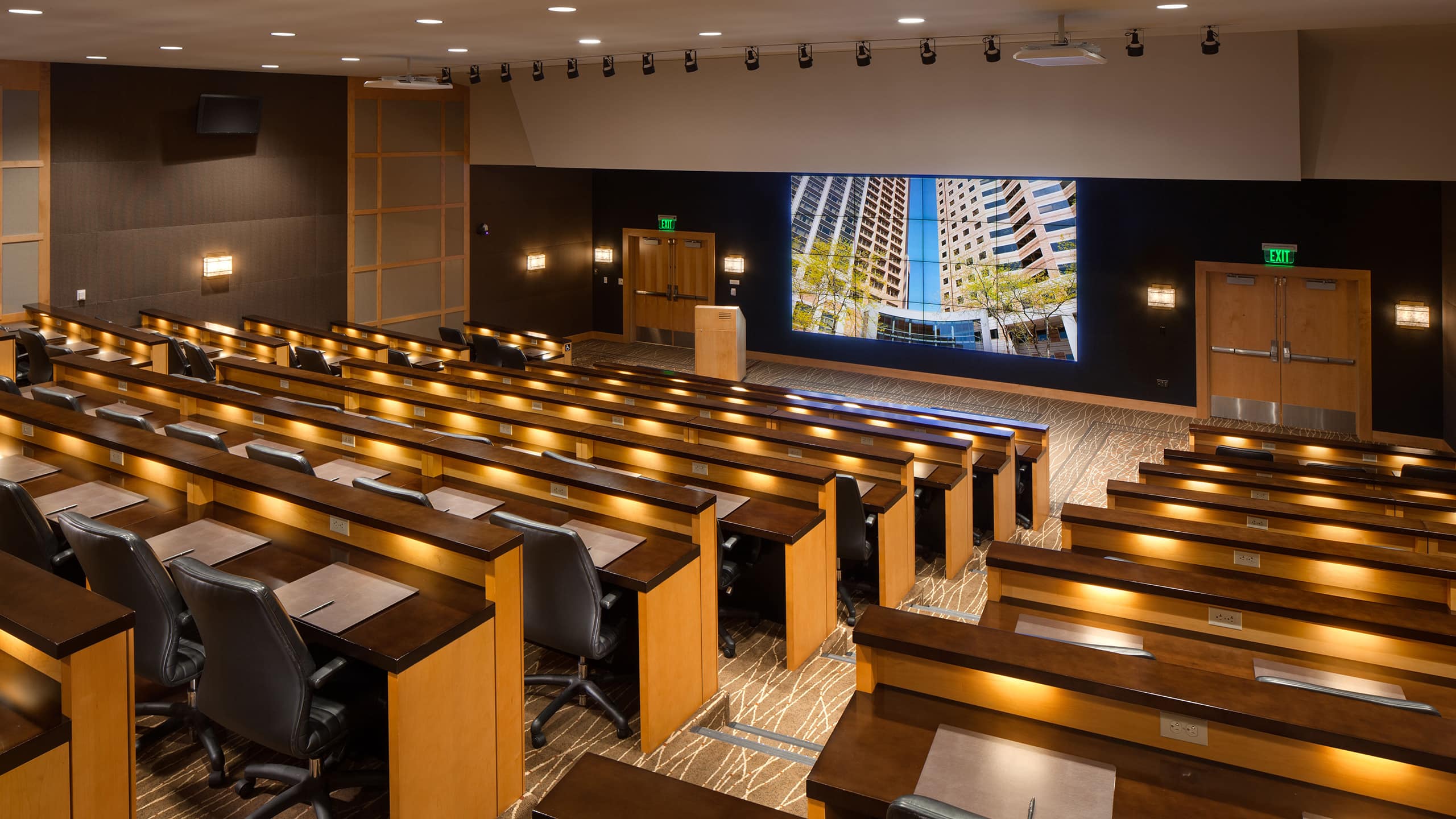 Auditorium
With tiered seating for 135 people, this cinema-quality room is perfect for meetings, presentations and videos. Our HD video wall and recessed film screen produce impressive clarity while our crystal-clear sound system with 61 amplifiers and the latest speaker systems will keep your audience immersed and captivated.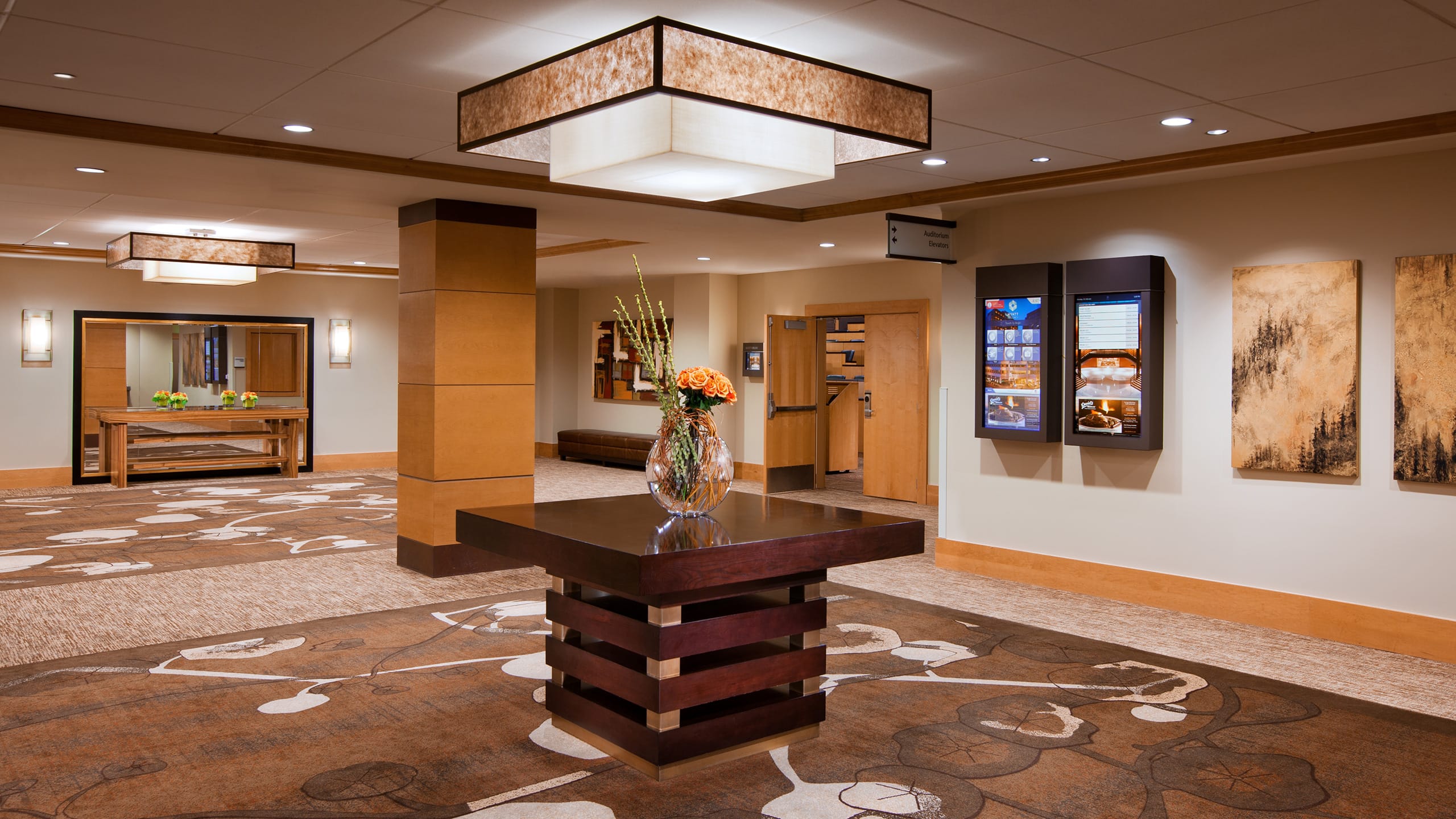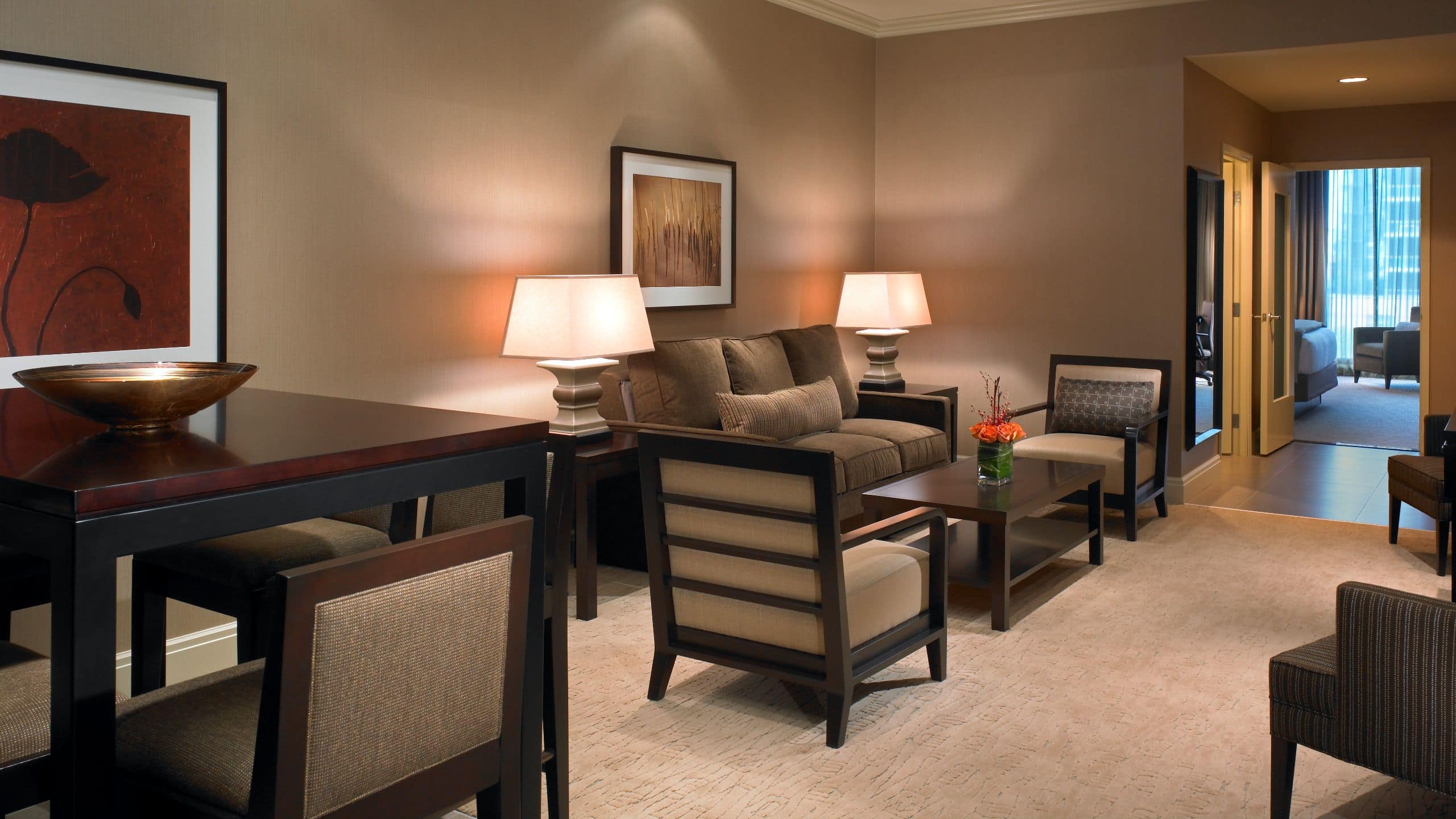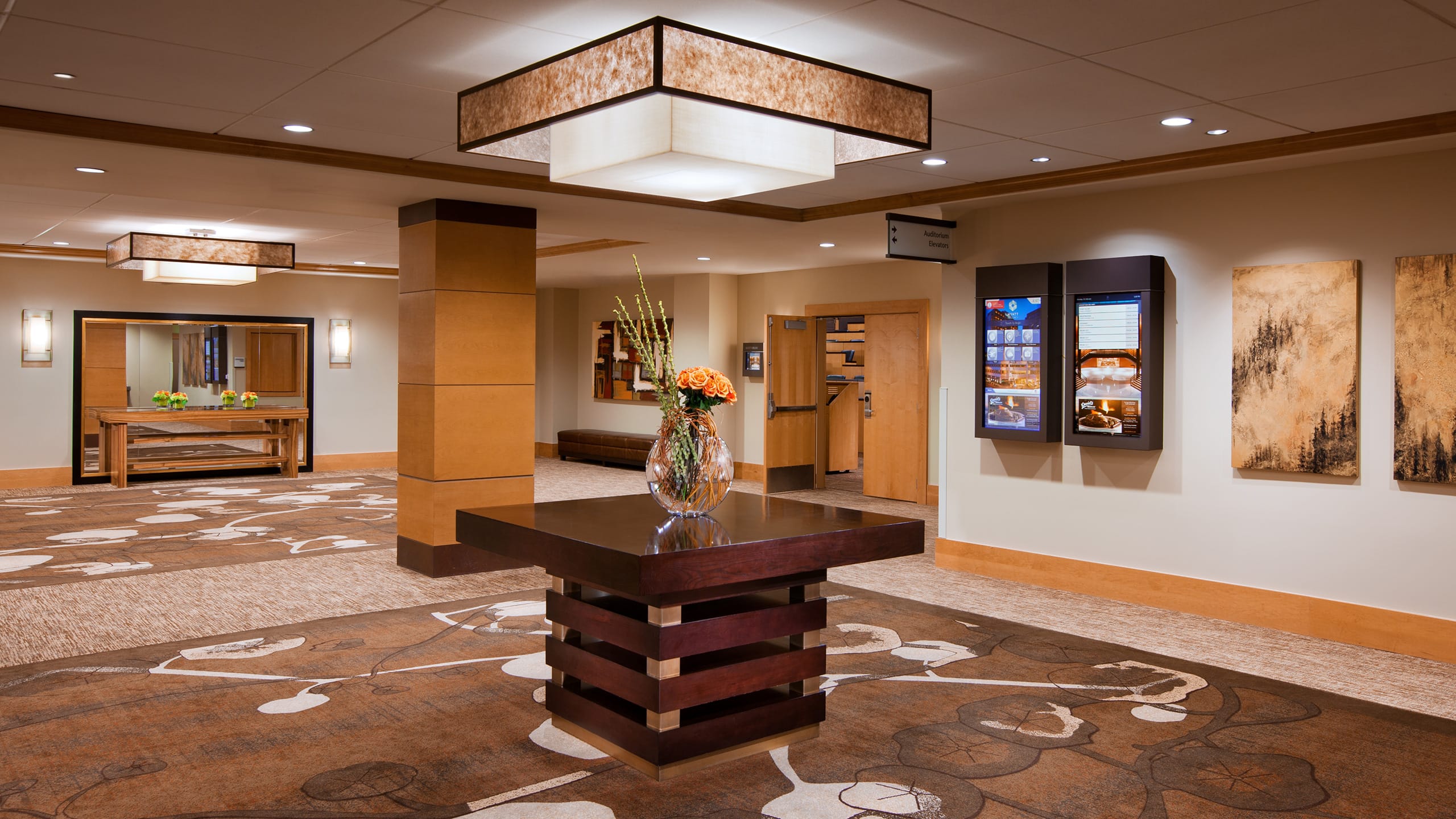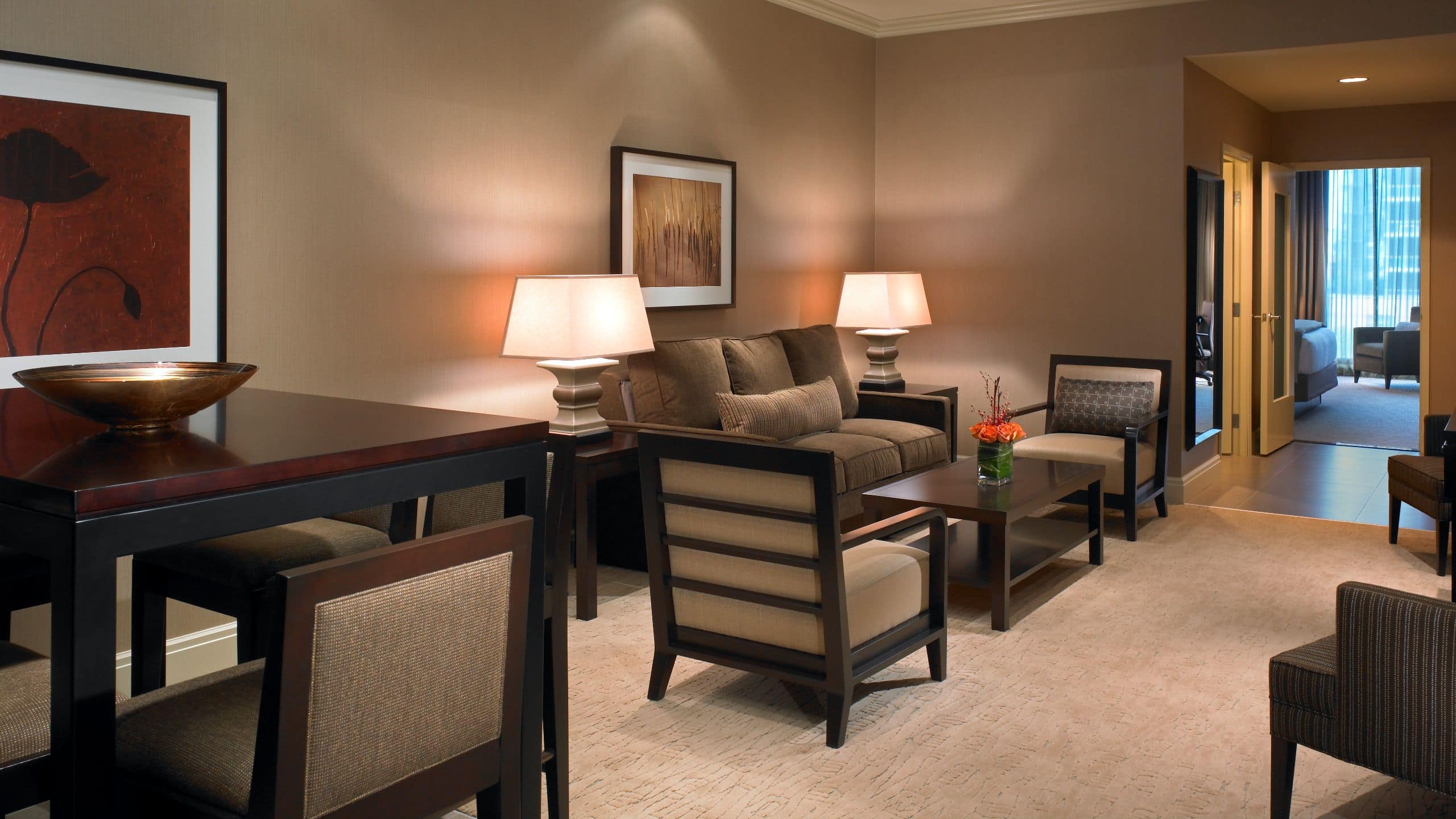 Executive Suites
Get down to business in true Hyatt style in one of our seven executive suites. Each 700-square-foot room features a conference-style table for six, plus a comfortable seating area where you can entertain business associates or relax during a break. Naturally, these rooms are equipped with the same technological capabilities as our larger meeting rooms and ballrooms.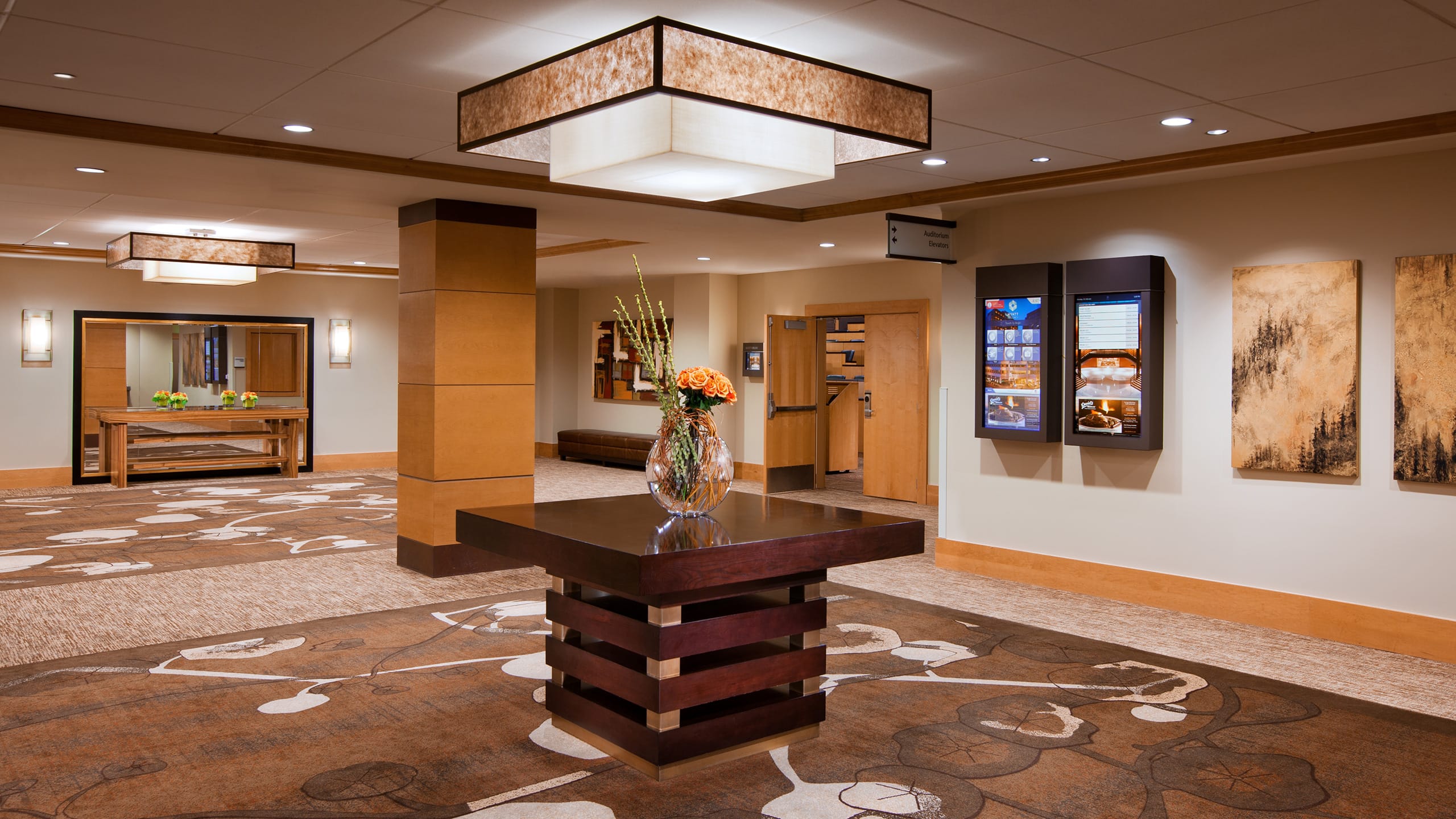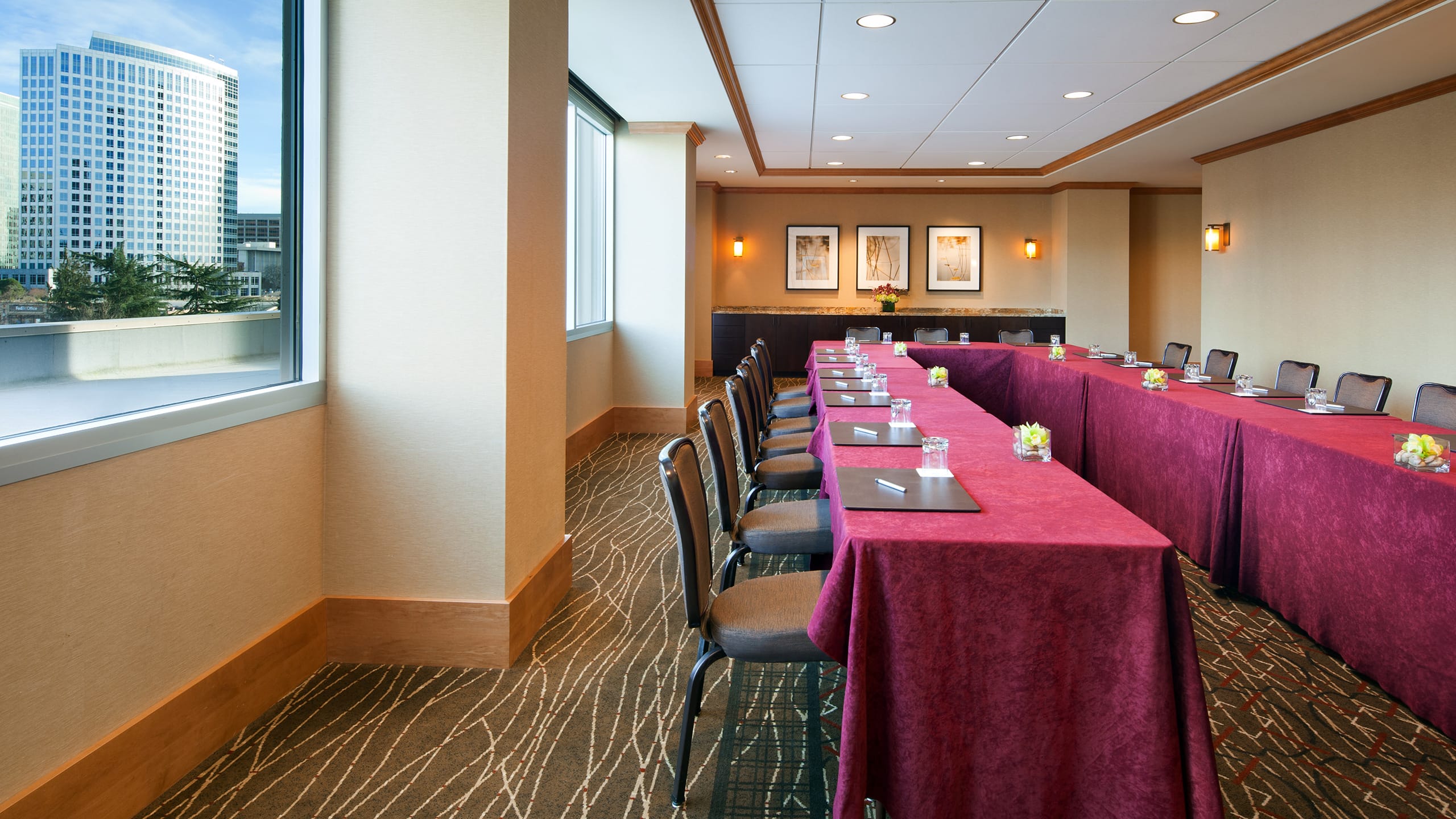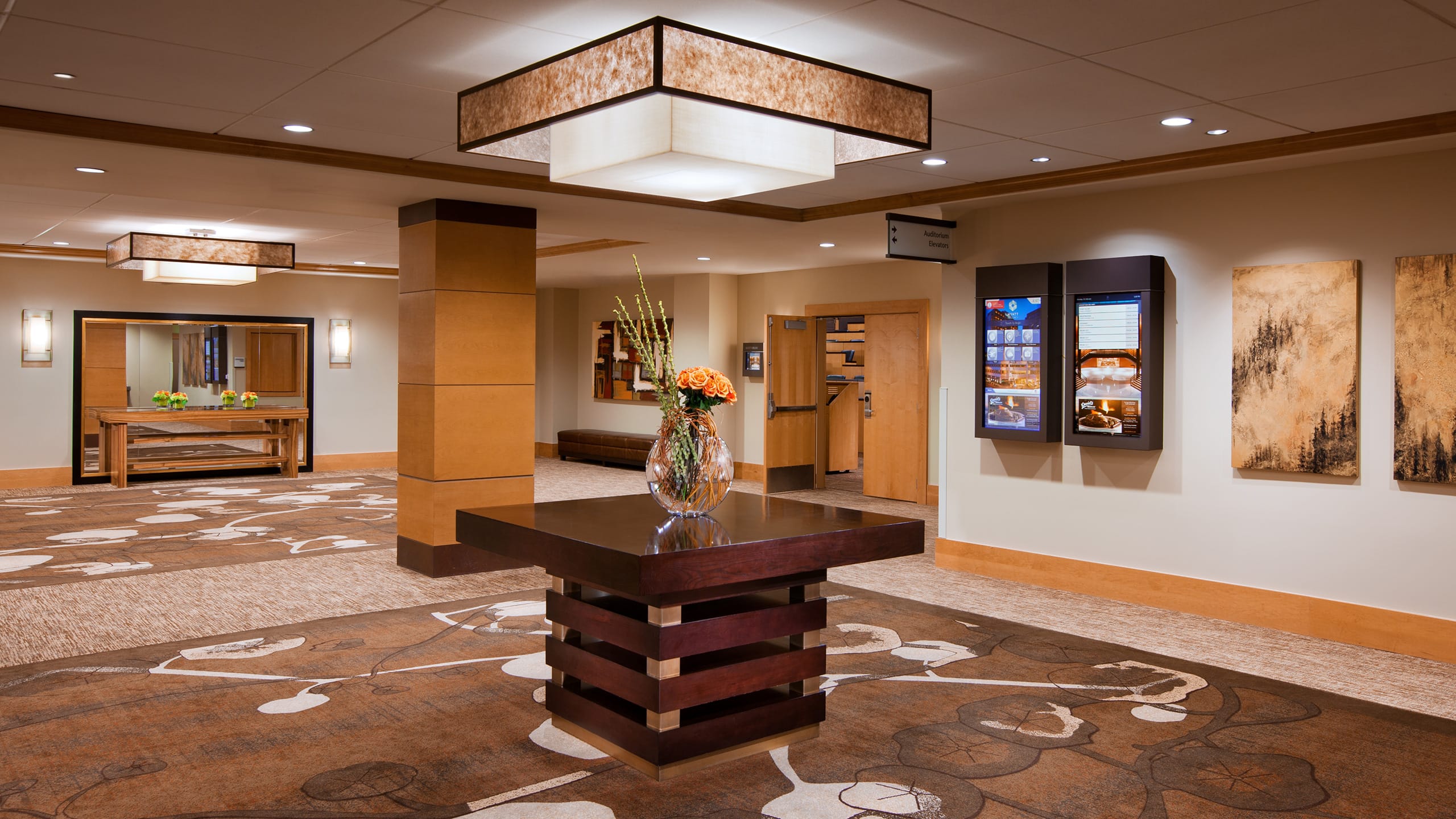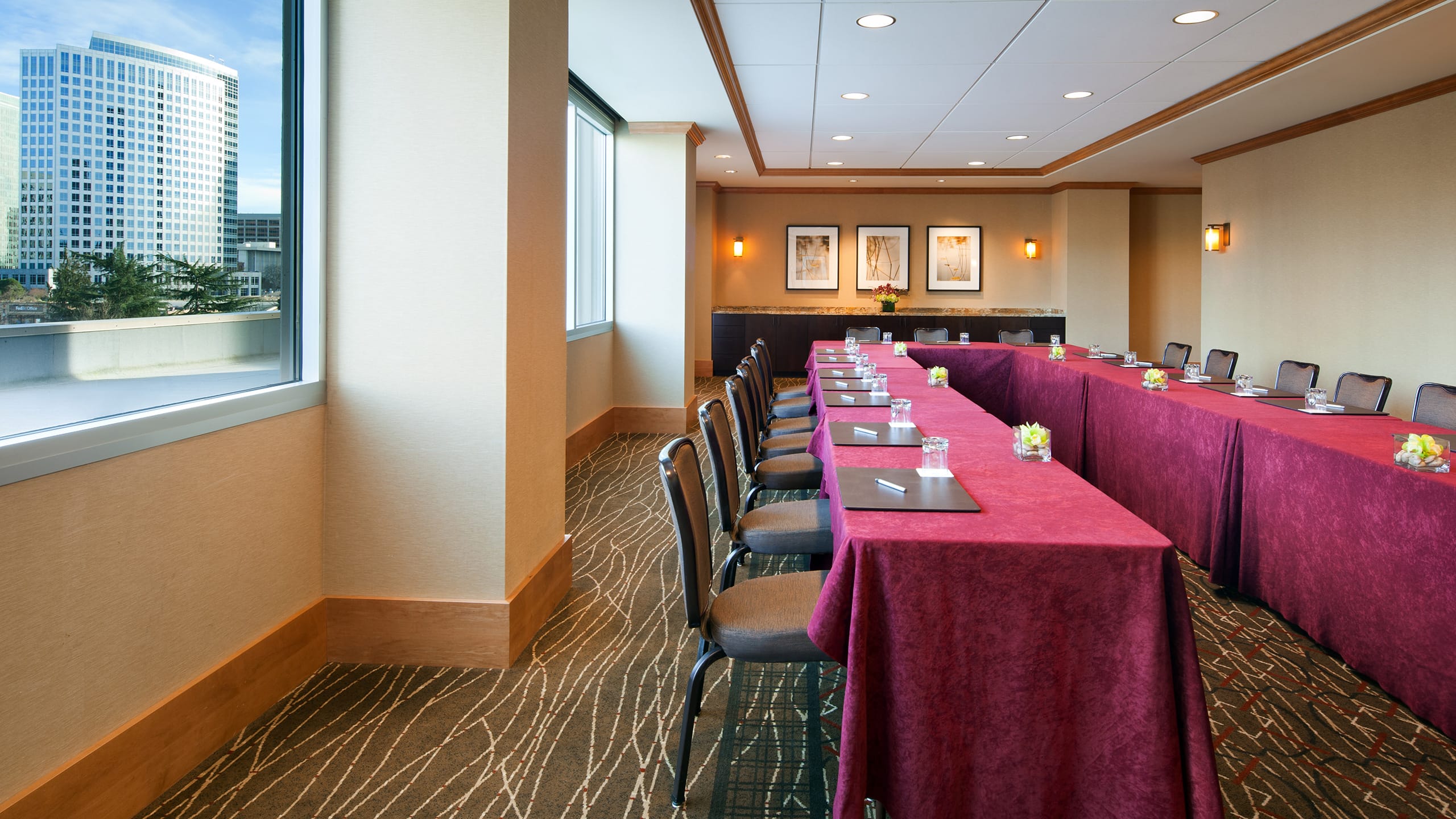 Maple
Located adjacent to both our auditorium and executive suites, the Maple Room is ideal for breakout sessions. Host as many as 80 guests at one time in this well-lit meeting space.
Catering
Enhance your corporate events and fuel your business meetings with fresh, flavorful Pacific Northwest dishes crafted by our dedicated culinary team. Whether you're hosting an executive retreat or a powerhouse conference, we offer creative catering menus and innovative foods to ensure your meeting is a success.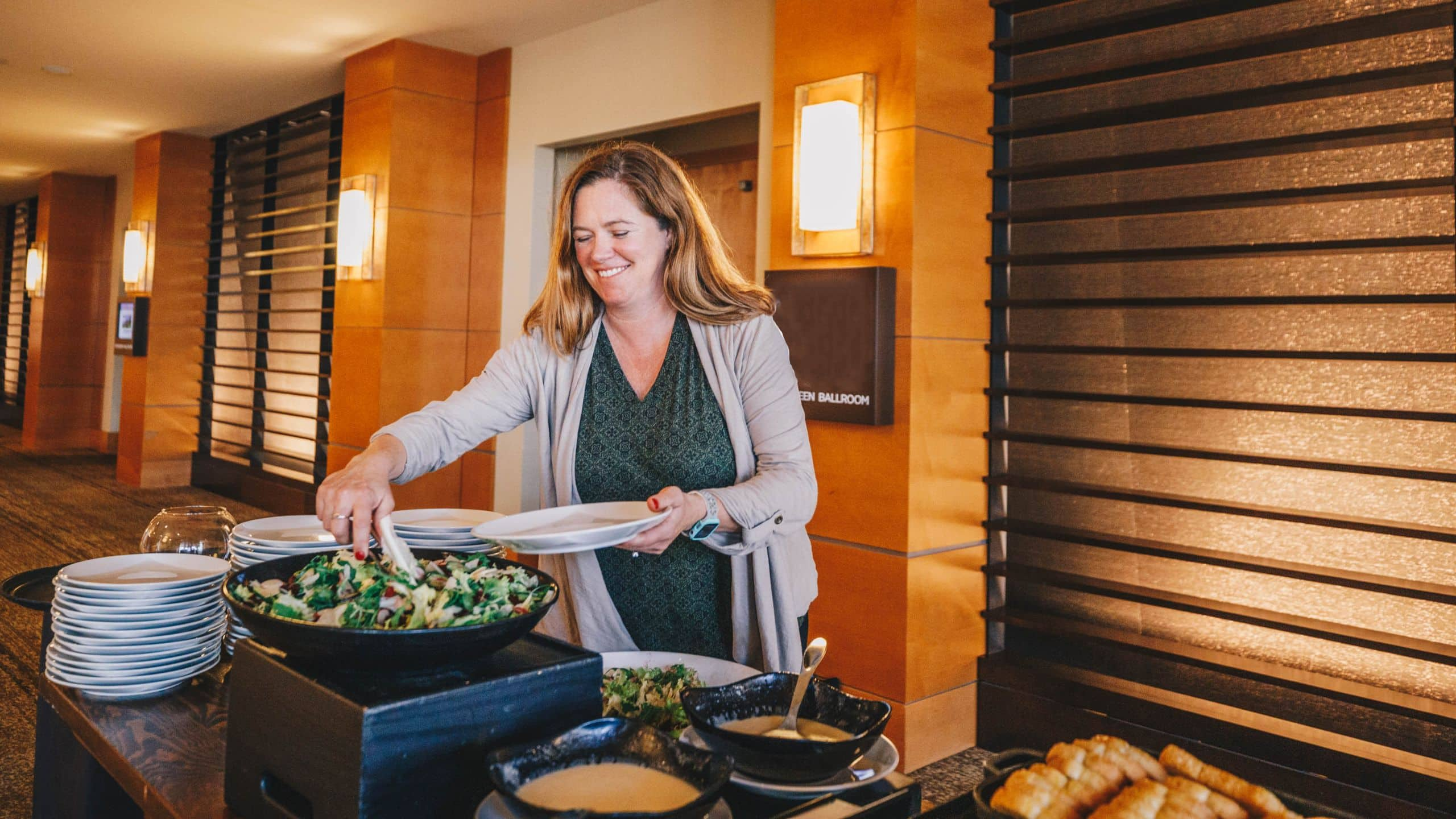 Services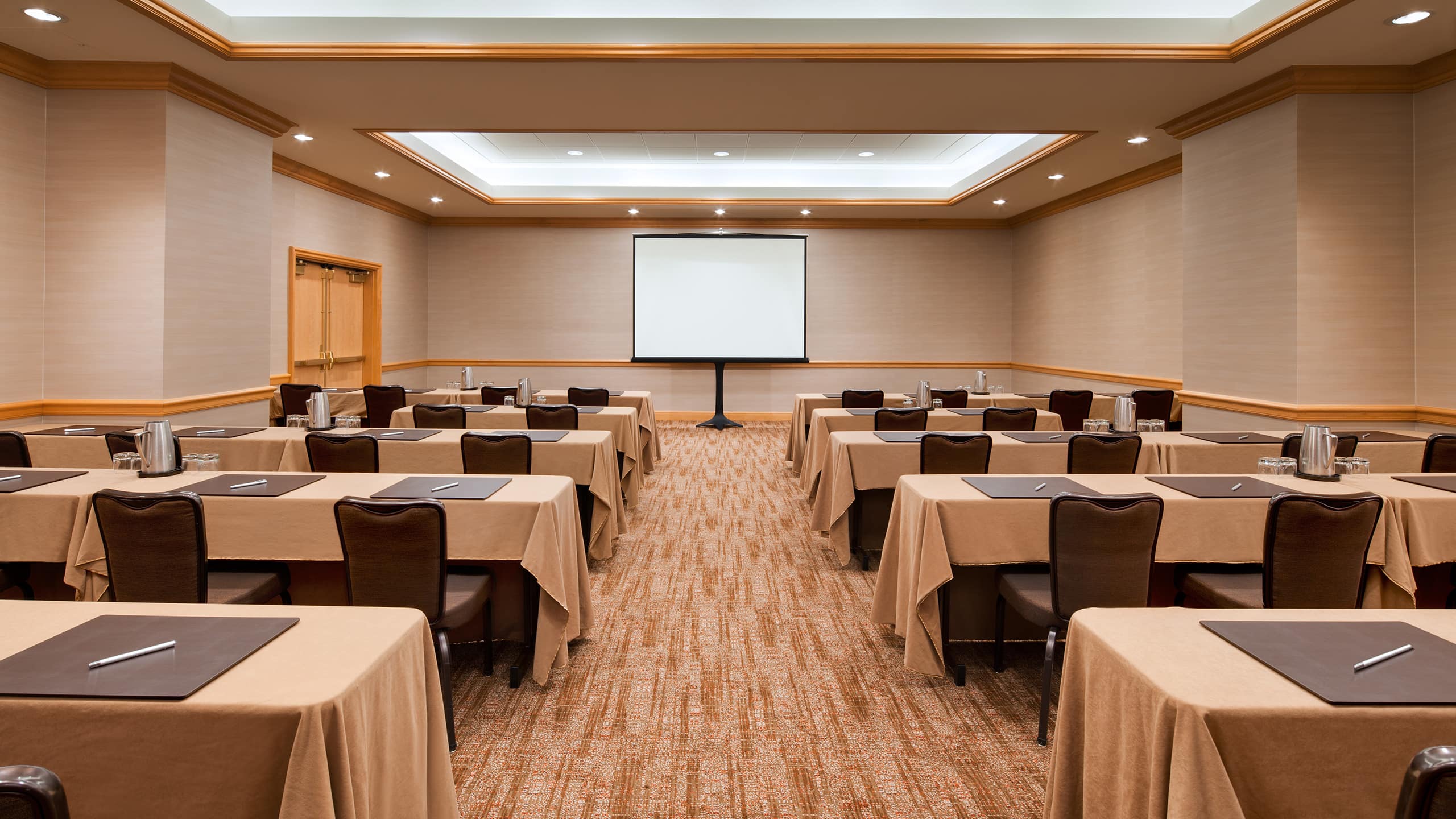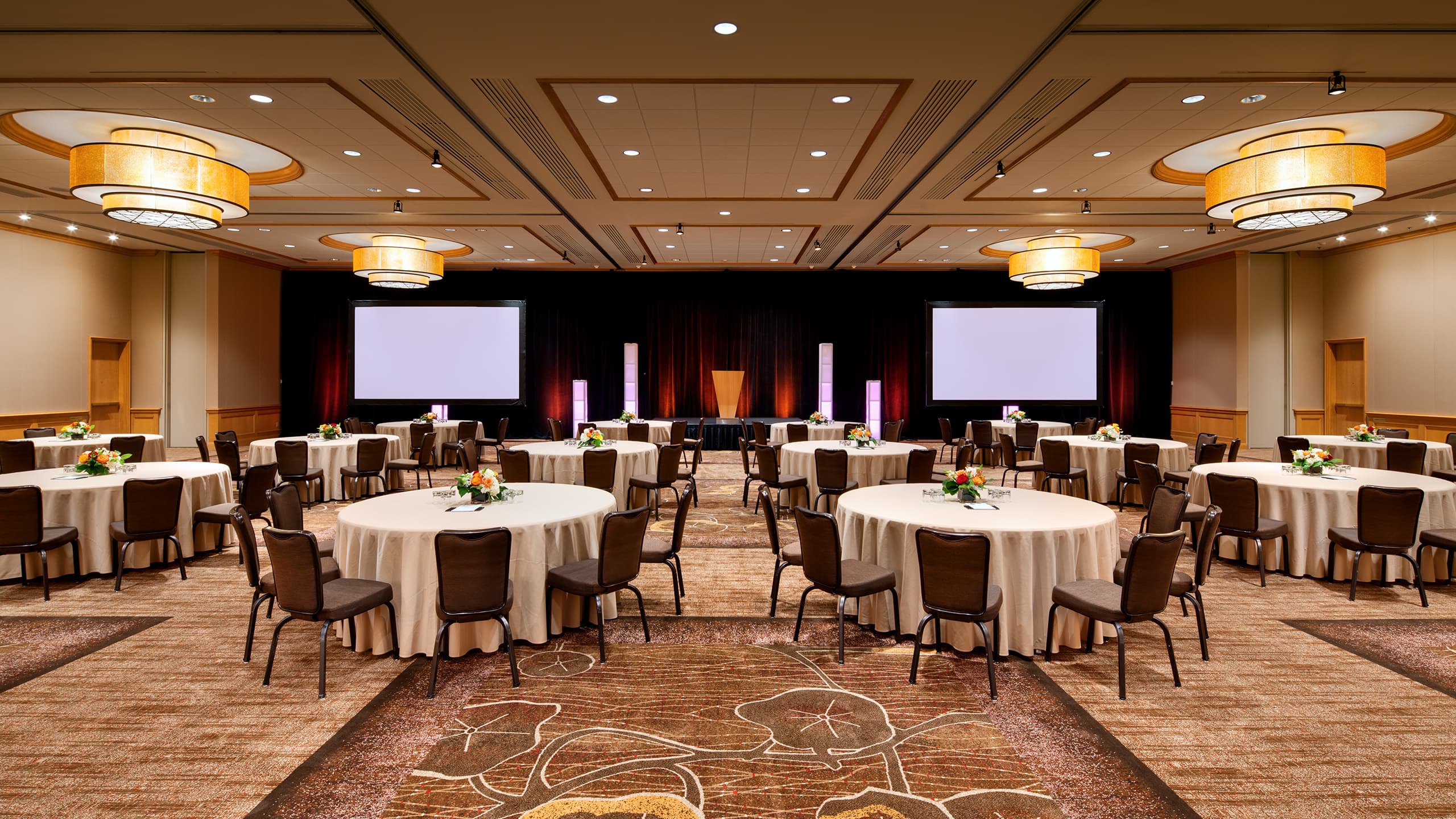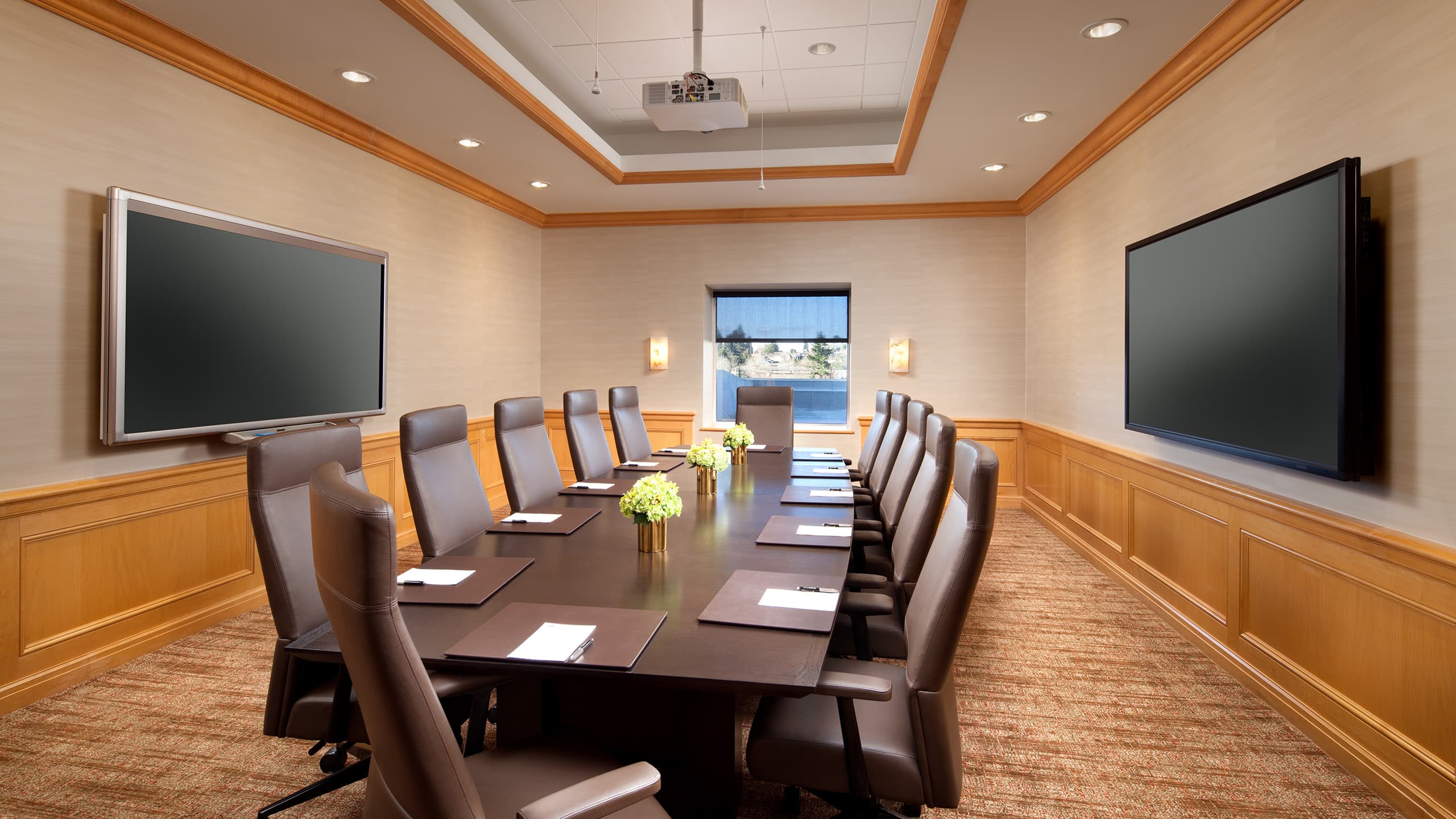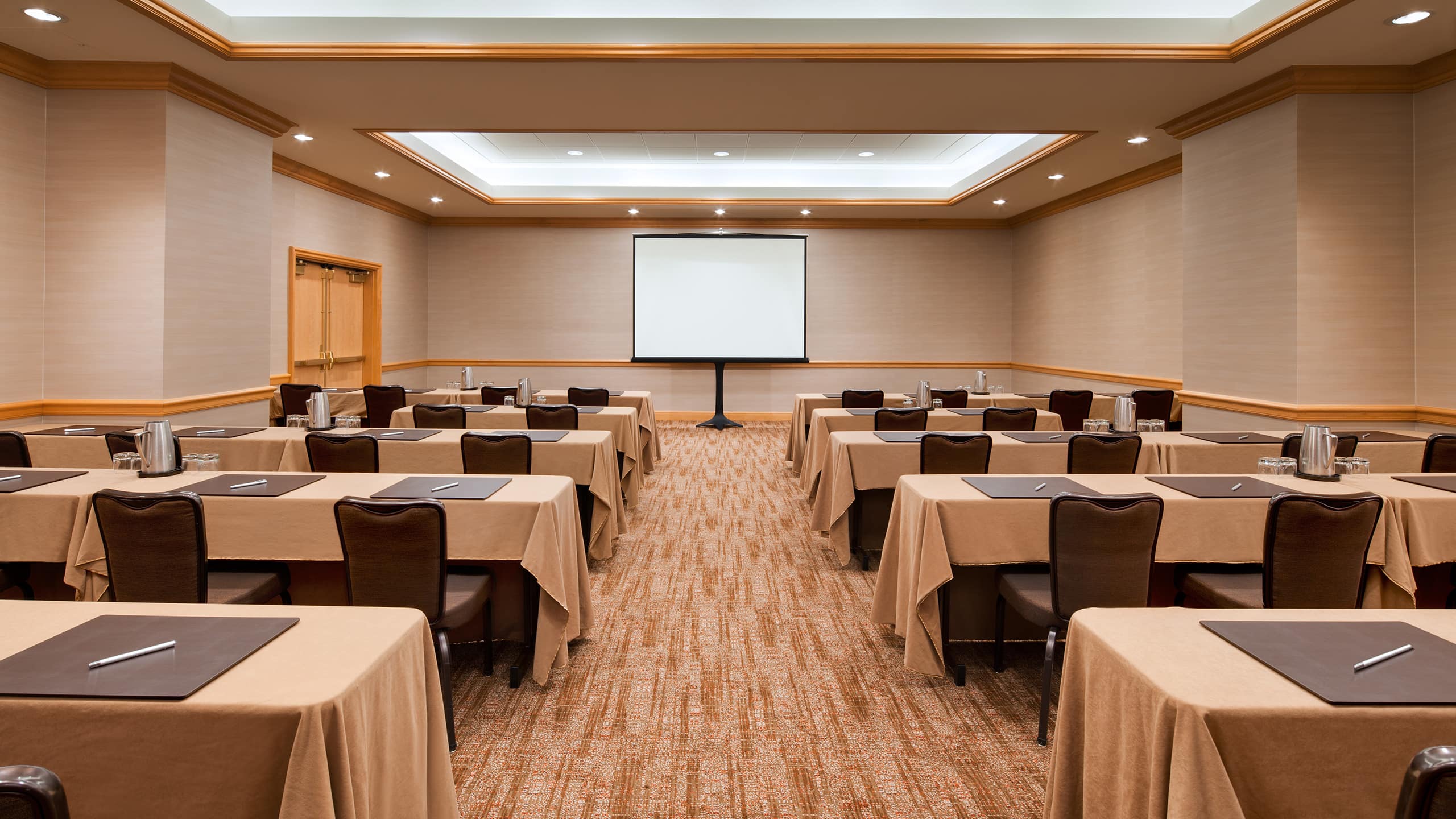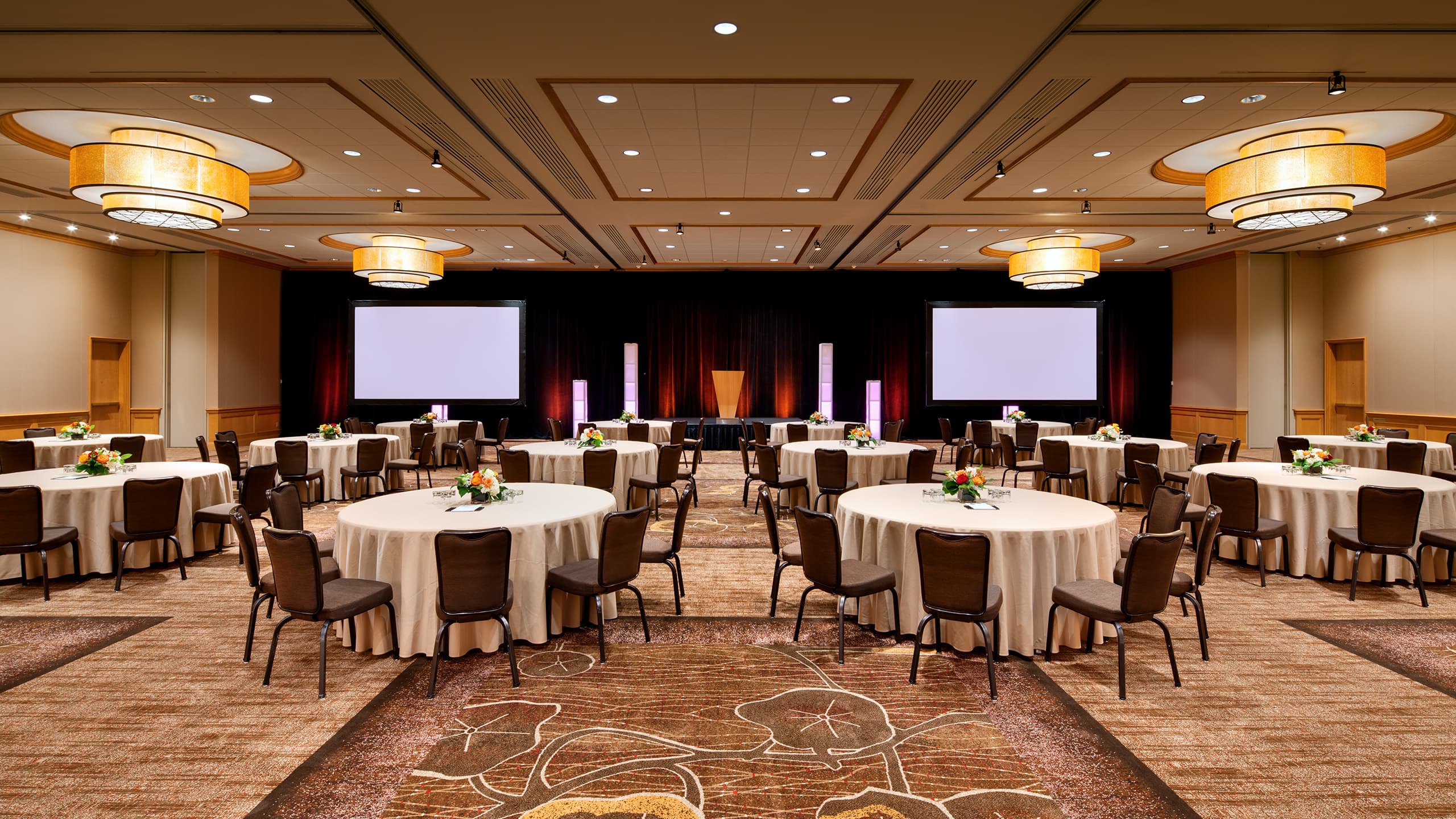 Event Meeting Space

70,000 square feet of event meeting space

State-Of-The-Art Technology

Our 135-person auditorium features video conferencing capabilities, surround sound and video matrix wall

Catering

Customized menu development and exquisite catering
Contact Us
Let's start the planning process. Contact us for more information or to schedule an appointment.