NYC Legend
Tuesday, October 17 - Sunday, March 31
Urban myth comes to life in Union Square Park October 17th through March 2024 with the unveiling of public art installation, "NYC Legend." The bronze sculpture by Swedish artist, Alexander Klingspor, in collaboration with Mollbrinks Gallery, features a life-sized alligator on the back of a manhole cover lid, drawing on the century-old myth of sewer alligators inhabiting the underbelly of New York City. In celebration, Thompson Central Park will introduce an intimate look behind Klingspor's create process to bring his sculpture to life. The display, open through November, will debut within the ground floor atrium, inviting guests and visitors to learn more about New York City's most intriguing urban legend, as well as Klingspor's tactical artistic process. Also in support of the collaboration, Thompson Central Park is offering friends and supports of the exhibit preferred rates when booking by using the special offer code GATOR.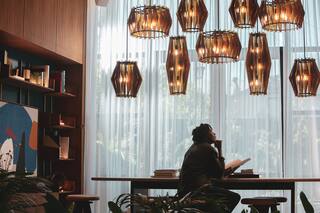 Nobu Fifty Seven
40 W 57th St, New York, New York 10019 United States
0.11 mi / 0.18 km away
Famed for dishes like black cod miso and rock shrimp tempura, Chef Nobu Matsuhisa's storied Japanese restaurant is a NYC classic. Never miss a chance to try the ribeye with yuzu honey truffle or squid pasta with light garlic sauce.
Carnegie Hall
198-142 W 57th St, New York, New York 10019 United States
0.13 mi / 0.20 km away
Located near the hotel, this celebrated hall, crafted entirely from masonry in 1891, is revered as one of the world's most prestigious music venues, having played host to many of the greats.
Museum of Modern Art
Midtown Manhattan, New York, New York 10019 United States
0.18 mi / 0.29 km away
View works from Van Gogh, Warhol, Dalí, and Picasso alongside other Western art masterpieces at MoMA, one of America's most influential modern museums. While there, plan time to view one of the film series or performance programs.
Ruth's Chris Steakhouse
148 W 51st St Manhattan, New York, New York 10019 United States
0.27 mi / 0.43 km away
The Midtown outpost of this upscale steakhouse chain serves up sizzling USDA Prime beef in a vibrant speakeasy atmosphere. Velvet upholstered walls, rich black mahogany and a red banquette create a welcoming space, while award-winning wines, a selection of seafoods, and hand-crafted cocktails never disappoint.
Marea
240 Central Park S, New York, New York 10019 United States
0.28 mi / 0.45 km away
This Michelin-starred, James Beard Award-winning restaurant serves refined coastal Italian dishes with New York City gusto. With menus that highlight the best of the sea and beyond, try the red wine-braised octopus or their Meyer lemoncured fluke, a selection of hand-made pastas.
Wollman Skating Rink in Central Park
One of Central Park's biggest draws, this iconic rink is not only open fall and winter but is also known for its year-round activities for families and community events. The public space serves as a gathering spot for both locals and tourists—considered a symbol for the city's steadfast spirit.
Per Se
10 Columbus Cir, New York, New York 10019 United States
0.39 mi / 0.63 km away
Awarded three Michelin stars, this iconic fine-dining destination serves unforgettable, nine-course menus all devised by Chef Thomas Keller. Located on Columbus Circle, this acclaimed New York interpretation of The French Laundry prepares two tasting menus daily.
The Smith
1 Lincoln Plaza, New York, New York 10023 United States
0.57 mi / 0.91 km away
Stop by this hip hangout for eggs benedict and other brunch favorites, or return later for cocktails and foodie-friendly entrees like the short rib rigatoni and brickpressed chicken.
Lincoln Center
10 Lincoln Center Plaza, New York, New York 10023 United States
0.69 mi / 1.11 km away
Spend an unforgettable night at the quintessential performing arts center and concert venue in Lincoln Square for music aficionados and more. Home to internationally famous organizations, including the New York Philharmonic, Metropolitan Opera, and the New York City Ballet, make it a date night or go it alone.
American Museum of Natural History
200 Central Park West, New York, New York 10024 United States
1.26 mi / 2.03 km away
See eye-opening dioramas, dinosaur fossils, meteorites, and unusual gemstones at this famed institution, which carries collections of 34 million specimens. The giant 94-foot blue whale is a must-see as is the 15.5-ton Willamette Meteorite.
The Metropolitan Museum of Art
1000 5th Ave, New York, New York 10028 United States
1.39 mi / 2.23 km away
One of the world's largest and most popular art museums, "The Met" has 5,000 years of art on display with more than two million works in its permanent collection. Built in 1870, this Central Park landmark hosts an ever-changing roster of talent in its rotating exhibitions.
CAMP
110 5th Ave, New York, New York 10011 United States
1.97 mi / 3.17 km away
This unique family-friendly store is based on a shop-and-play experience where you are encouraged to play and take in an array of engaging activities, specialty products, curated collections, and toys that replicate going to camp and discovering the fun of nature, arts, sports, crafts, and theatre.
Central Park Zoo
New York, NY 10019, New York, New York 10019 United States
See red pandas, snow leopards, sea lions, and more than 130 animal species at this family-favorite zoo in Central Park, located only minutes from the hotel.