celebrate in style
For couples seeking a truly unforgettable wedding day, backdrop is everything. Imagine exchanging vows on an open-air rooftop or a pristine beach, where peerless ocean vistas, the sound of lapping waves, and the famed El Arco set the scene. Weddings and honeymoons in Cabo offer guests more than just the celebration — nightlife, local adventures, and resort amenities in a chic, Baja-style setting.
Total Sleeping Rooms157
Largest Space2,155 sq. ft.
event spaces
Glimpse
200 sq m/ 250 Person Max Capacity
Host your gathering, business event or wedding alfresco in our largest meeting space adjoining The Rooftop lounge. Banquet-style seating comfortably seats up to 250 guests and enjoys breathtaking ocean views in this natural Baja beachfront setting. With flexible seating for sparking conversation, along with a private bar, all set under sparkling string lights and an open sky, invite your most important associates or cherished guests to an unforgettable occasion.
A-Frame
154 sq m/ 130 Person Max Capacity
With clean lines, wood tones, and the flexibility of splitting into two smaller spaces, the A-Frame room can comfortably seat up to 130 guests. A projector, plasma screen TV, conference phone, and Wi-Fi make this a convenient and functional space for any meeting or event.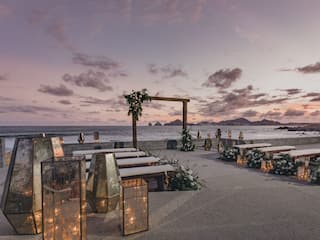 Catering
The Cape's passionate and talented culinary team will create a gourmet celebration like no other. The creative menu of spirits and cocktail creations, ranging from traditional Mexican liquors to some of the world's finest and established beverages will excite your palate.
Email: thecapeweddings@thompsonhotels.com
Phone Number +52 624 163 0000