Hotel Happenings
From an array of diverse dining options to a selection of wellness classes focused on restoring and energizing your body and mind. Explore the many on-property activities Thompson Nashville is proud to offer guests.
$1.75 Oyster Happy Hour at Marsh House
Enjoy Happy Hour at Marsh House every Monday – Friday from 5:00 – 6:00 PM featuring $1.75 oysters in addition to select drinks and small bites under $10.
DJ Sets at L.A. Jackson
Join us at L.A. Jackson every Friday and Saturday night where we'll set the vibe featuring Nashville's greatest DJ's.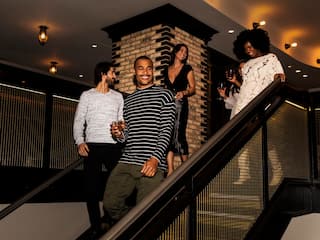 Broadway
Running through the heart of downtown Nashville, Broadway is a major thoroughfare connecting neighborhoods like the Gulch and Music Row. This historic district is home to some of Nashville's best music, restaurants and bars. Don't miss the bright neon lights of the famous Honky Tonk Highway on Lower Broadway.
QClothier
405 11th Avenue South, Nashville 37203
Step into a custom menswear experience next to Thompson Nashville and get outfitted with iconic staples that will have you outfitted in style.
Rustler Hat Co.
407 11th Ave S, Nashville 37203
Located next door to Thompson Nashville, saddle up to a customized hat experience for the ultimate Nashville memento.
Discover Nashville in Style
Reserve a Moke vehicle at Thompson Nashville and cruise through the heart of Nashville for an unforgettable way to experience Music City. The Moke vehicle rolls slow and low with a max speed of 25 mph, perfect for sightseeing. The Moke vehicle can be rented for $125/hour or $475/day.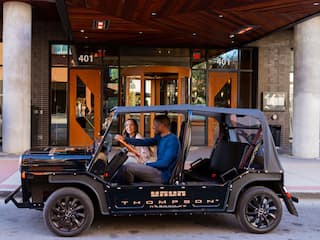 The Gulch
404 12th Ave S, Nashville, Tennessee 37203 United States
The Gulch is a dynamic, mixed-use community in the Heart of Nashville. Enjoy a short walk to some to the best retails shops and restaurants and only two blocks from the Music City's center.
The Pub Nashville
400 11th Ave S, Nashville, Tennessee 37203 United States
This British-inspired spot serves up a vibrant bar scene and fusion fare including tacos, wings, burgers, sandwiches and a category they call "beer battered."
E. Allen Boutique
312 11th Ave S, Nashville, Tennessee 37203 United States (0.05 mi)
For some new finds, head to E. Allen to sort through designer collections for women, luxury denim, fine boots and shoes, and handcrafted jewelry and gifts.
Biscuit Love
316 11th Ave S, Nashville, Tennessee 37203 United States (0.05 mi)
Wildly popular with locals, Biscuit Love serves breakfast and lunch highlighting locally sourced ingredients and, of course, their buttermilk biscuits. Grab a beer or a cocktail and share a plate of bonuts — fried biscuit dough tossed in sugar and topped with lemon mascarpone.
Hops & Crafts
319 12th Ave S, Nashville, Tennessee 37203 United States (0.07 mi)
Come and try a variety of craft beers from local breweries and regional micro-breweries, including IPAs, pale ales, lagers, pilsners, wheat beers, ambers, and blondes. Enjoy a pint in the taproom or purchase a growler to take home.
Blush Boutique
606 12th Ave S, Nashville, Tennessee 37203 United States (0.08 mi)
One of the top three boutiques in the city, Blush offers an expansive variety of styles and sizes of clothing, shoes and accessories at prices not found in the average boutique.
FACE FOUNDRIÉ
329 11th Ave S, Nashville, Tennessee 37203 United States (0.12 mi)
FACE FOUNDRIÉ facial bar utilizes cutting edge services and skilled professionals to give the best in spa treatments. They are proud to offer guests of Thompson Nashville exclusive pricing with 15% savings with offer code Thompson15.
MStreet Nashville
1207 McGavock St, Nashville, Tennessee 37203 United States (0.24 mi)
Explore six restaurants in one destination located on McGavock Street between 11th and 12th Avenues in The Gulch. From American steakhouse favorites to elevated sushi dishes, casual gastro-pub burgers, Mexican cuisine, and more — everything you crave is right here.
Adele's
1210 McGavock St, Nashville, Tennessee 37203 United States (0.28 mi)
Adele's menu focuses on seasonal comfort food sourced from local farms and purveyors. The restaurant features an open kitchen, oak bar, chef's counter and a heated outdoor patio, perfect for savoring the weekend brunch buffet, dinner menu, or curated whiskey collection.
Jackalope Brewing Company
701 8th Ave S, Nashville, Tennessee 37203 United States (0.30 mi)
For a local pint and lively scene, this taproom and brewery brings together some of the finer things in life: good beer, trivia, live music, tours, and food trucks.
Frist Center for the Visual Arts
919 Broadway, Nashville, Tennessee 37203 United States (0.34 mi)
Housed in Nashville's historic U.S. Post Office building, this arts museum hosts touring exhibitions from some of the most prestigious collections in the world, as well as award-winning shows. For a more immersive art experience, its Martin ArtQuest Gallery offers hands-on, interactive stations.
Music City Center
201 5th Ave S, Franklin, Tennessee 37064 United States (0.41 mi)
Resting on a 16-acre site with head-turning architecture in downtown Nashville, the Music City Center convention space offers stunning views of the Nashville skyline and a four-acre green roof.
Country Music Hall of Fame & Museum
222 5th Ave S, Franklin, Tennessee 37064 United States (0.43 mi)
Rooted in the heritage and traditions of country music, the museum offers tours of artifacts and exhibits. Make a stop at the famous Hatch Showprint shop, known for its woodblock prints of country music stars, also located at the museum.
Bridgestone Arena
Bridgestone stadium is five miles from the hotel. The arena also hosts a variety of events, including concerts, festivals and sporting tournaments.
Tootsies
422 Broadway, Nashville, Tennessee 37203 United States (0.66 mi)
This legendary country music institution is a part of the fabric of Music City. With its new rooftop deck, it welcomes visitors and locals alike to peer out over Broadway while reveling in a true honky-tonk experience.
Music Row
Music Row is the heart of Nashville's county music industry and home to the historic RCA Studio B, where legends recorded hits. This historic district has numerous boutiques, upscale restaurants and bars featuring live music.
Ryman Auditorium
116 5th Ave N, Nashville, Tennessee 37219 United States (0.68 mi)
Known as the "mother church" of Music City, the Ryman is a historic building and part of the fabric of Nashville's music heritage. Be sure to tour the facility or get tickets for a show. Come for the entertainment, but take pause: you're in one of the best performance halls in the world.
Shermerhorn Symphony Center
1 Symphony Pl, Nashville, Tennessee 37201 United States (0.69 mi)
As Nashville's premiere concert hall and home to the Nashville Symphony, Schermerhorn's ensemble performs more than 150 concerts every year.
Nisolo
1803 9th Ave N, Nashville, Tennessee 37208 United States (2.20 mi)
Nisolo is a sustainable leather shoe and accessory company with a showroom located right outside of Germantown in what's known as the Buchanan Arts District.
Cheekwood Botanical Garden
1200 Forrest Park Dr, Nashville, Tennessee 37205 United States (6.51 mi)
For an experience that gets you out of the city and entrenched in the great outdoors, this five-acre botanical garden and art museum welcomes you to a historic Cheek-family estate. Stroll the gardens and art museum, attend a seasonal festival, or join one of their educational programs.
Yazoo Brewing Company
1 Terminal Dr, Nashville, Tennessee 37214 United States (6.59 mi)
Just outside of Nashville in Madison, this taproom and brewery — the city's first production brewery since Prohibition — features a gamut of beers. Try their line of sours and wild ales or the robust, smoky SUE (a smoked porter).