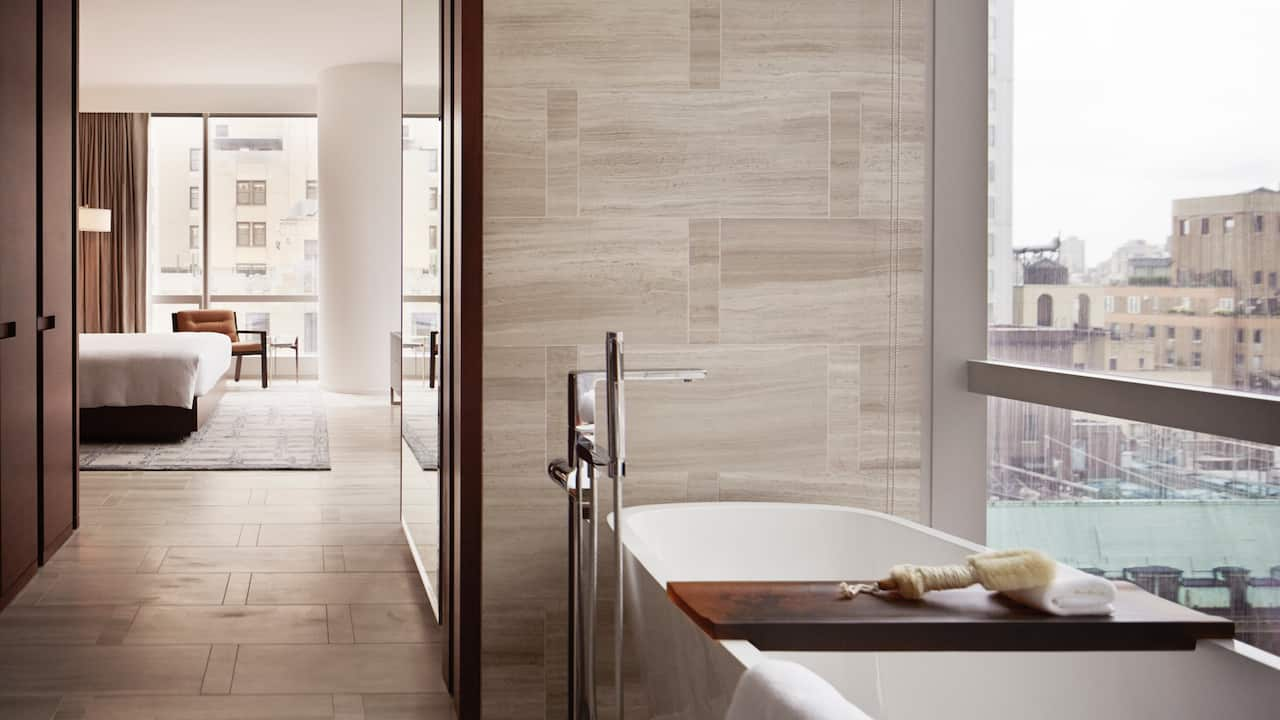 A Night on The Park
Rediscover the luster of Midtown Manhattan once again. Receive a complimentary 3rd night in New York City and experience all Park Hyatt New York has to offer this spring. Relax and unwind in our stunning saltwater pool, revamp your fitness routine in our state-of-the-art fitness center, enjoy breakfast in bed or delight in the open spaces of Central Park, just a short stroll away.
Terms and Conditions
Certificate valid for reservations made in advance between 09/03/2020 and 09/02/2021 at Park Hyatt New York using offer code . Valid for one free night, including associated room taxes, in one standard guestroom (double occupancy) from 09/03/2020 through 09/02/2021. Reservations subject to availability. Original certificate must be presented at time of check-in. Guests arriving without Free Night certificate will be charged one night's room and tax at the Standard Rate reimbursable within seven (7) days of checkout upon receipt of certificate. Free night will be adjusted at time of checkout. Normal arrival/departure restrictions apply. Limit one free night per stay. Certificate may only be used once and any unused portions of the certificate will be forfeited. Not applicable for any food, beverage, service, casino, resort fees or incidental charges. World of Hyatt® points will not be awarded for the value of this certificate. Guest is responsible for all charges exclusive of this certificate. Additional charges may apply for additional guests or room type upgrades. The availability of certificates at and travel to and from certain destinations may be subject to government approvals, regulations, restrictions or applicable taxes. Not valid with group travel, conventions, other promotional offers or certificates, tour packages or special rate programs. Not redeemable for cash or other substitutions, not replaceable if lost, destroyed, stolen or expired, and void if altered, photocopied, reproduced, copied, purchased, sold or otherwise transferred. Any unauthorized transfer, sale, distribution or reproduction constitutes fraud. Hyatt reserves the right to request a form of security deposit in advance for expenses not covered by this certificate. Certificate will not be extended beyond 09/02/2021 and cannot be exchanged or reissued. User is responsible for and must make any required disclosures regarding any benefits received in connection with this certificate.
Promotional blackout periods may apply due to seasonal periods or special events, and normal arrival/departure restrictions apply (unless otherwise noted). This offer may be altered or withdrawn at any time without notice. Where required, an alternate offer of similar value will be offered. Void where prohibited by law. The trademarks Hyatt ®, World of Hyatt ®, and all related marks are trademarks of Hyatt Corporation or its affiliates. ©2021 Hyatt Corporation. All rights reserved.