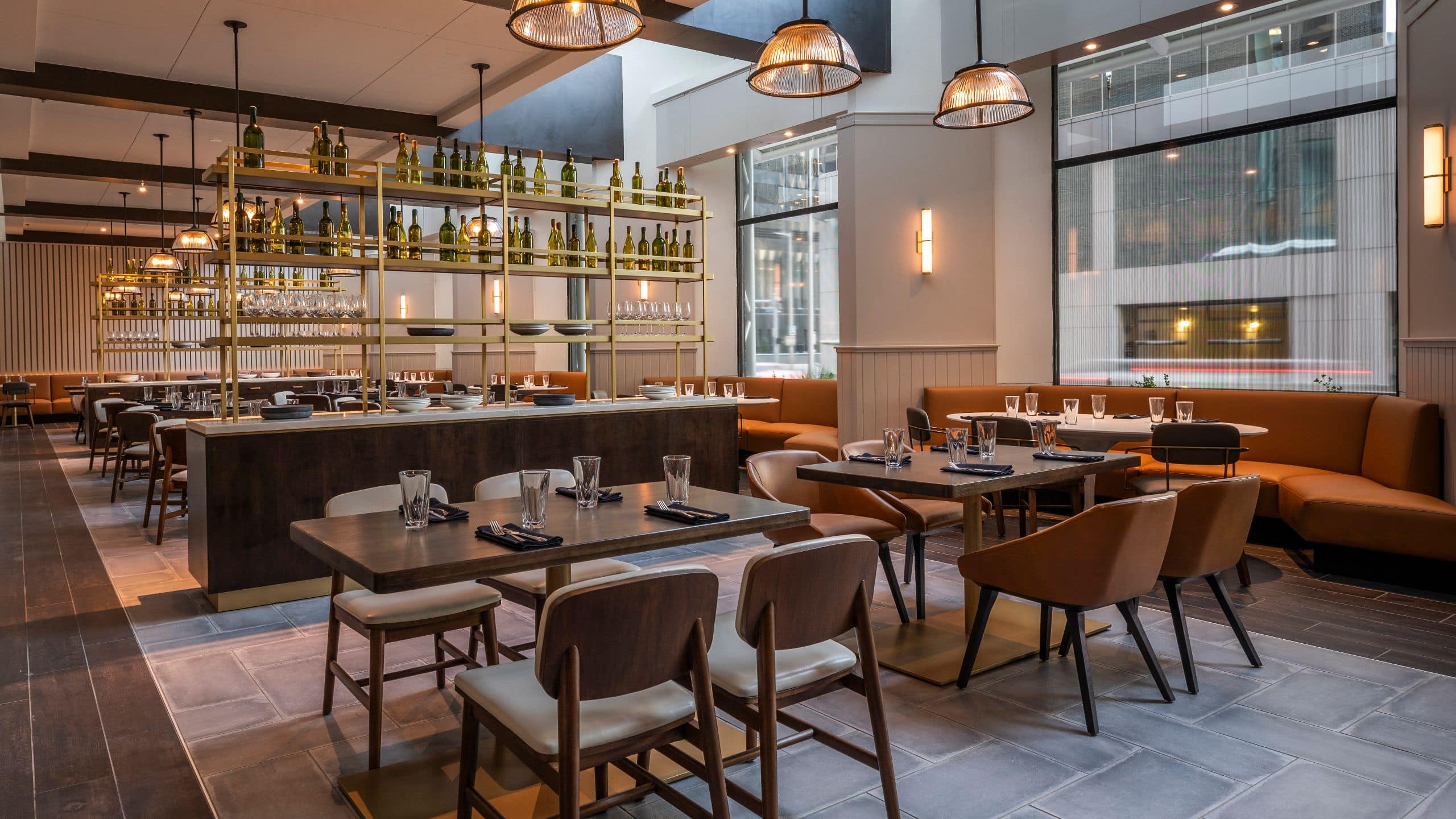 Dining
Treat yourself to a taste of the city at one of Hyatt Regency Houston's on-site restaurants. Indulge in a mouthwatering steak at the only Shula's Steak House in Texas. Grab a quick, delicious breakfast at Einstein Bros. Bagels or relax with a cocktail in our chic LobbiBar. Order your favorite fare with delivery straight to your room with Fixin' To Go.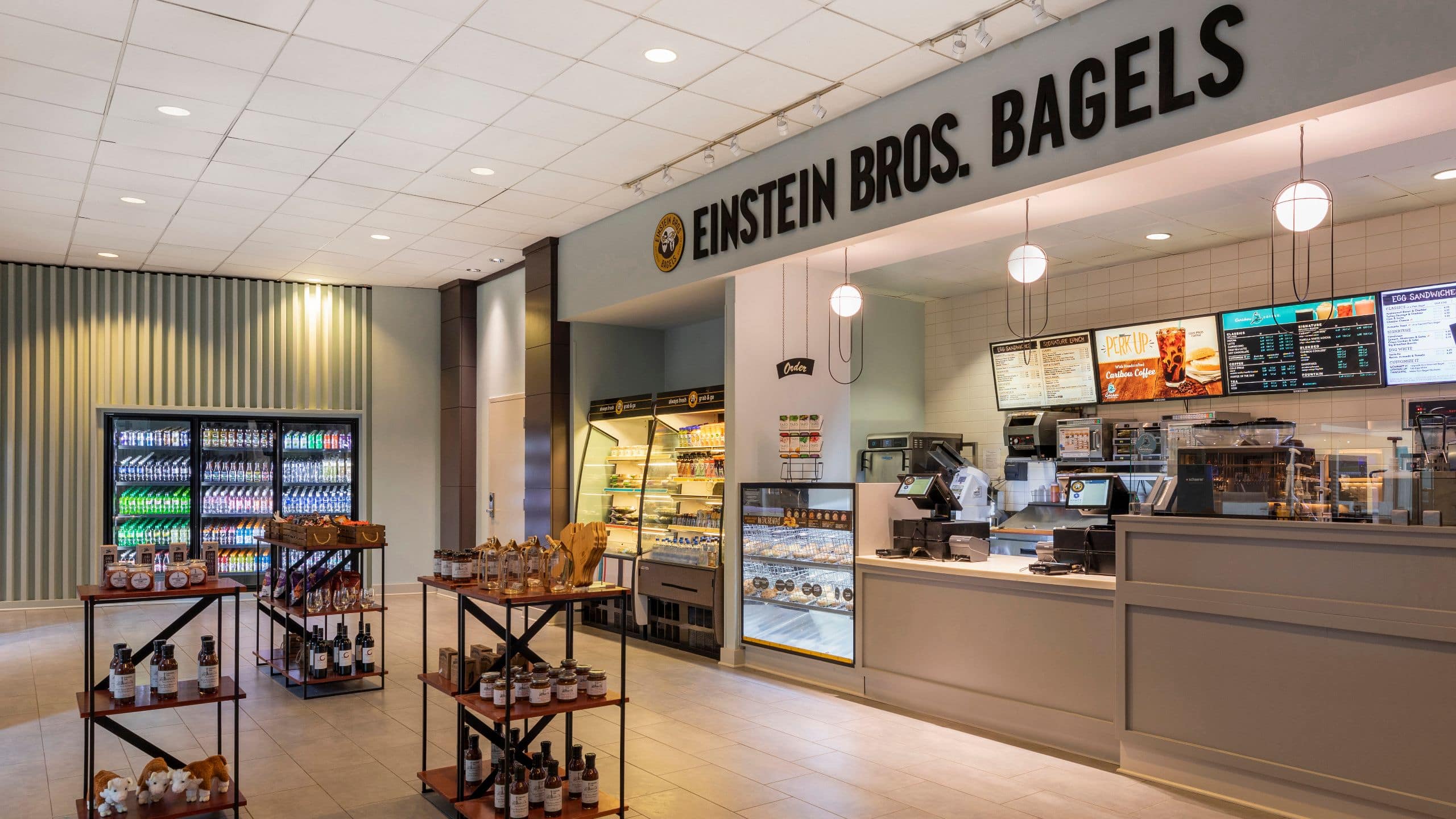 Einstein Bros. Bagels® and More
Einstein's offers an array of delicious menu items to get you on your way in no time. Pop in for a fresh bagel and a cup of coffee, or grab soup and a sandwich for lunch. Hyatt Regency Houston is proud to be home to the only Einstein's in downtown Houston.
Fri & Sat
6:00 AM - 12:00 AM
Contact Information
1200 Louisiana Street, Houston, Texas 77002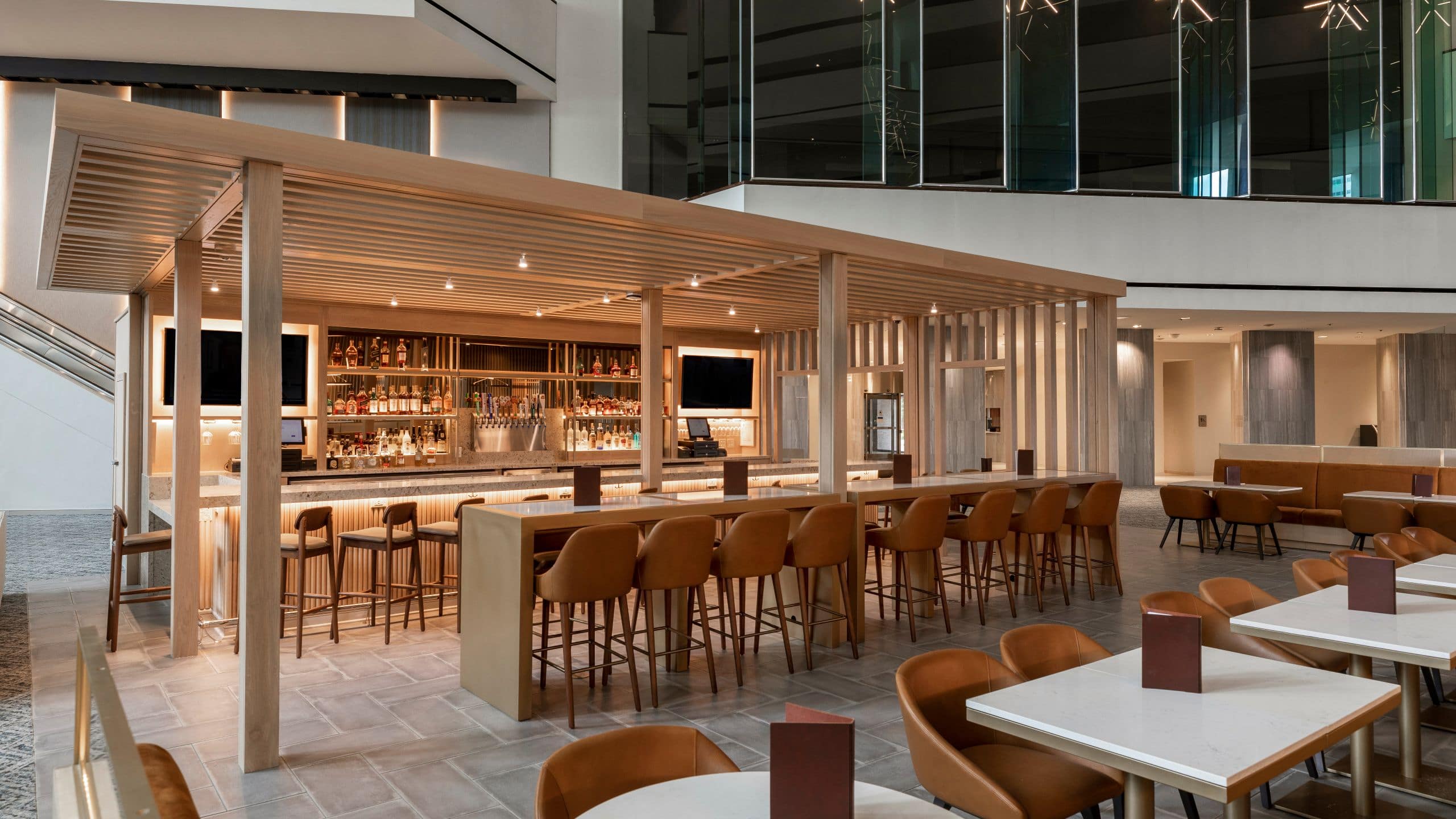 LobbiBar
This chic lounge is located in the center of our impressive 30-story atrium. Enjoy refreshing cocktails or choose from a variety of craft beers from local breweries such as 8th Wonder, Saint Arnold, and Karbach. Grab your friends and join us for happy hour, which includes a vast selection of handcrafted menu items.
Mon - Thu
3:00 PM - 10:00 PM
Happy Hour
Mon - Fri
4:00 PM - 7:00 PM
Contact Information
1200 Louisiana Street, Houston, Texas 77002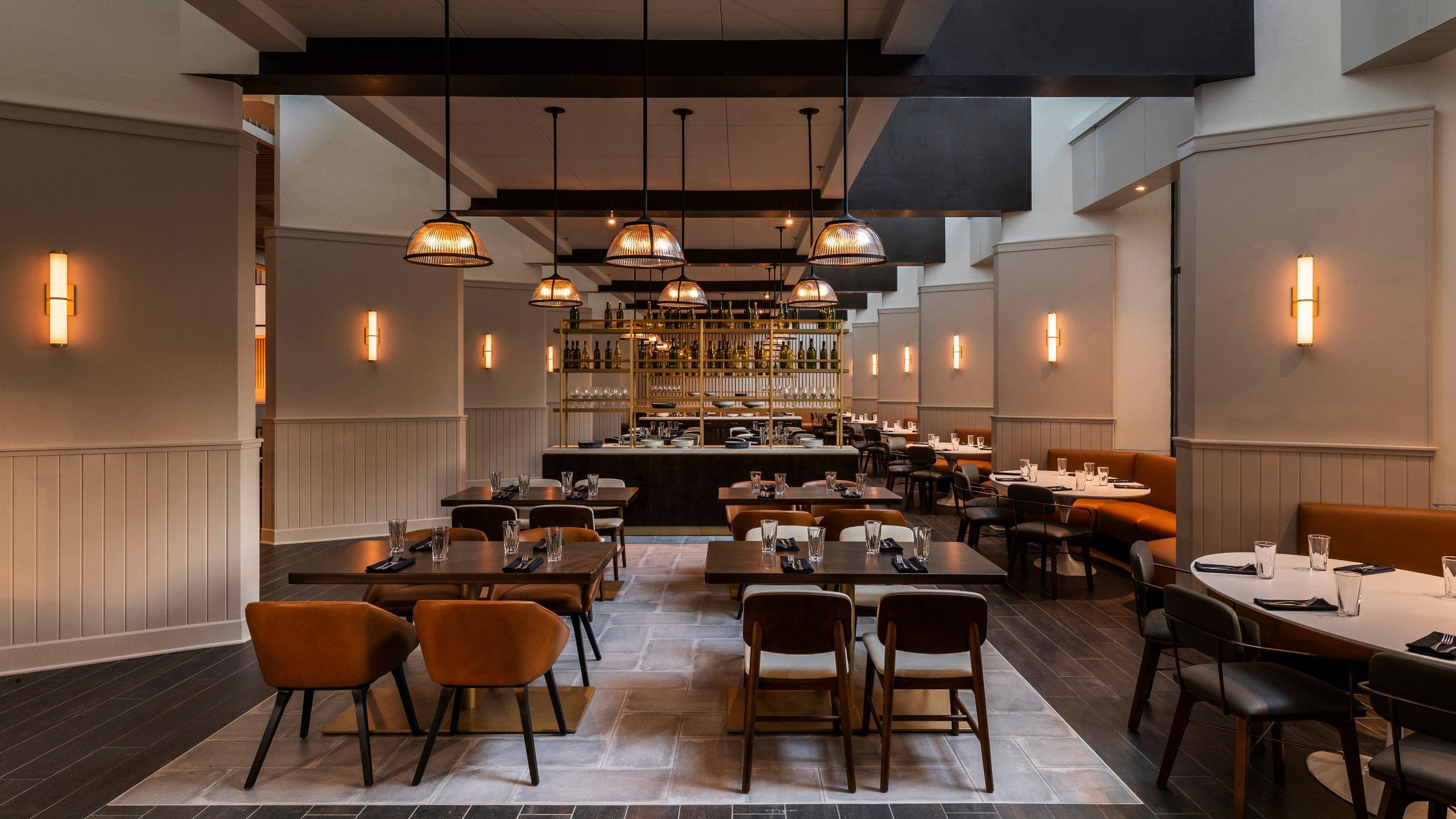 Shula's Steak House
Founded by football coaching legend Don Shula, this steak house features a variety of savory steaks and seafood options. Shula's also features an incredible breakfast and lunch menu so you can enjoy this family-friendly restaurant any time of day. Three private dining rooms are available.
Breakfast
Mon - Fri
6:00 AM - 10:00 AM
Sat & Sun
7:00 AM - 11:00 AM
Lunch
Mon - Thu
11:00 AM - 2:00 PM
Dinner
Tue - Sat
5:30 PM - 9:30 PM
Contact Information
1200 Louisiana Street, Houston, Texas 77002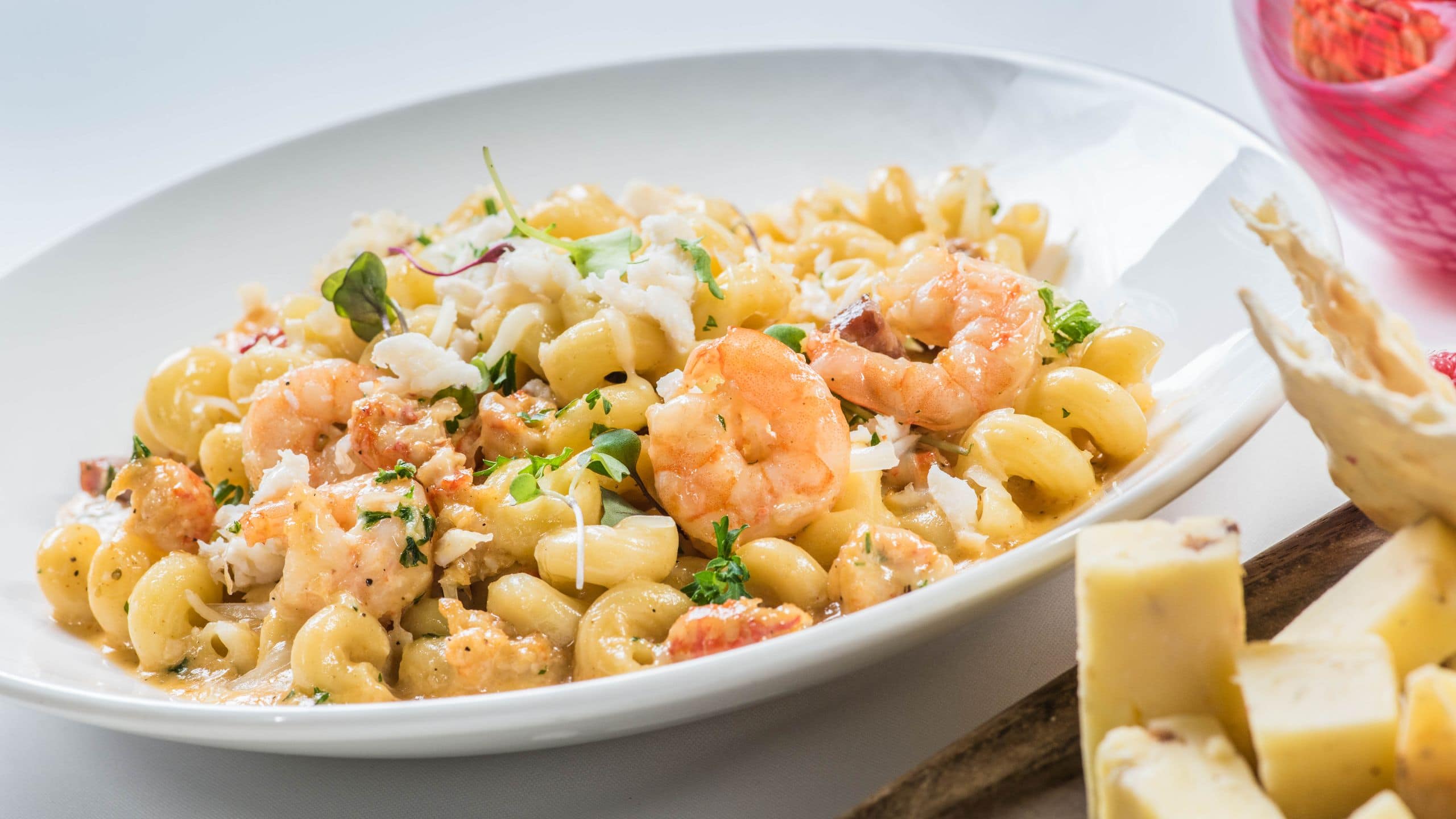 Fixin' To Go
Fixin' to Go provides freshly prepared breakfast, lunch and dinner to you in a fast, seamless process. Delicious food from Shula's Steak House and Lobbibar are at your fingertips and can be delivered to your room. All orders are properly packages ensuring a restaurant quality experience. It's as simple as order from your phone, charge to your room and either get it delivered to your room or pick it up yourself.
Contact Information
1200 Louisiana Street, Houston, Texas 77002