Broughton Street
200 E Saint Julian Street, Savannah, Georgia 31401 United States (0.57 mi)
One of Savannah's most cherished destinations, this district highlights both the city's past and present with entertainment, food, and shopping. Step into the Gutstein Gallery to peek at the latest exhibit, grab a cone at the century-old Leopold's Ice Cream, or find your latest treasure at Paris Market.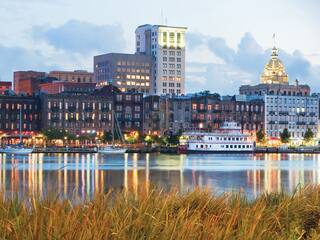 Olde Pink House
120 E Saint Julian Street, Savannah, Georgia 31401 United States (0.67 mi)
Once home to Georgia's first bank, dating back to the late 1700s, this historic pink mansion is the quintessential setting for city-inspired cocktails, like the green chile Bloody Mary.
Bull Street
15 Bull St, Savannah, Georgia 31401 United States (0.79 mi)
In the heart of the Historic District, Bull Street offers a look into Savannah's colorful history, as home to City Hall, the U.S. Customs House, and Johnson Square, the city's original green space. This main thoroughfare is a great way to explore 22 of the Savannah's iconic squares.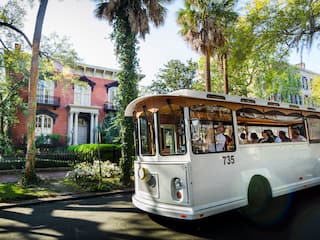 Squares of Savannah
2 W Broughton St, Savannah, Georgia 31401 United States (0.79 mi)
Stop to relax in one of Savannah's many public squares, where you can marvel at the majestic oak trees, find the iconic bus stop from Forrest Gump, and learn about the city's history through the squares' statues, fountains, and monuments.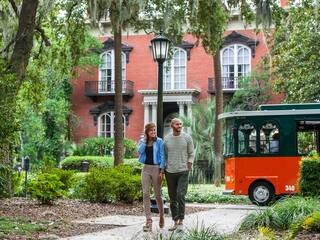 Husk
12 W Oglethorpe Ave, Savannah, Georgia 31401 United States (0.83 mi)
Executive Chef Chris Hathcock's inspired cuisine explores ingredients that rediscover heirloom products and transform the very essence of Southern food. Husk's menu changes frequently based on the bounty of the region's producers, so diners are always enjoying the freshest flavors of the season.
Telfair Museums
207 W York St, Savannah, Georgia 31401 United States (0.94 mi)
The first female-owned public gallery and the oldest of its kind in the South, this museum is comprised of the Jepson Center, Telfair Academy, and Owens-Thomas House, taking you on a journey through Savannah's celebrated art, history, and architecture.
The Grey
63 Martin Luther King Jr Blvd, Savannah, Georgia 31401 United States (1.14 mi)
Chefs Mashama Bailey and John O. Morisano serve up regionally inspired and familiar-yet-elevated dishes in a lovingly restored 1938 art deco former bus depot. The ribeye and eggs for two during Sunday brunch is a fan favorite.
SCAD Museum of Art
601 Turner Blvd, Savannah, Georgia 31401 United States (1.15 mi)
Featuring both emerging and established artists, this museum hosts rotating contemporary exhibitions, which are open to the public and serve as a resource for Savannah College of Art and Design students.
Forsyth Park
Historic District - South, Savannah, Georgia 31401 United States (1.19 mi)
Covering 30 acres in the heart of the Historic District, this green space is not only home to Savannah's most iconic fountain and alley of live oak trees, but it also features a weekend farmers market and several seasonal festivals.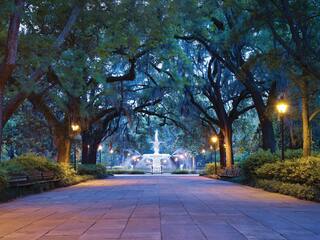 Common Thread
122 E 37th St, Savannah, Georgia 31401 United States (1.72 mi)
The sister restaurant to FARM in nearby Bluffton, South Carolina, Common Thread's locally sourced menu brings together unique ingredient combinations — like beef tartare with anchovies and pickled mushrooms — while fostering strong relationships with the Savannah-area community.
Skidaway Island State Park
52 Diamond Causeway, Savannah, Georgia 31411 United States (8.30 mi)
A part of Georgia's Intracoastal Waterway, this scenic park and campground features maritime forests, salt marshes, an observation tower, picnic tables, and more. Keep an eye out for fiddler crabs and other indigenous wildlife.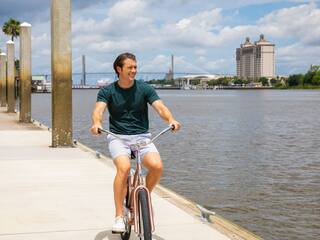 Tybee Island
1015 Lovell Ave, Tybee Island, Georgia 31328 United States (14.4 mi)
Visit the local favorite of Tybee Island, 25 minutes east of the city. Known for its miles of sandy beaches, the beloved seaside beach town entices visitors with fresh seafood, waterfront bars, and sights like the Cockspur Island Lighthouse. Tuck into a heaping portion of Lowcountry boil at the family-friendly Crab Shack.
Hilton Head Island
277 Wild Horse Rd, Hilton Head Island, South Carolina 29926 United States (23.1 mi)
Less than an hour away, this beach getaway is the perfect place to reset with a bike ride through trails or a waterfront bite at The Salty Dog Cafe. Choose from a low-key afternoon sitting on a veranda or a tennis-and-golf adventure.
Charleston, SC
Head two hours north to this historic city featuring cobblestone streets, coastal dining along King Street, and landmark sites, like Fort Sumter National Monument and nearby Angel Oak Tree.