Nights at Hijos de Tomás
Plaza del Carmen, Madrid 28013 Spain
Classic cocktails, live music, and the coolest and funniest space of La Familia La Ancha to make Madrid nights unforgettable, at Thompson Madrid Hotel. Thursdays from 7:00 pm to 2:00 am and Fridays and Saturdays from 8:00 pm to 3:00 am.
Hielo y Carbón
Gran Vía 31, Madrid 28013 Spain
Experience art, fashion, and culture while sharing eclectic plates in this collection of curated dining spaces. The upscale restaurant features a hot charcoal kitchen serving up a range of local meats as well as ceviche at the Crudo Bar. Discover your perfect Gin-Tonic or try a Gentleman Botin, Lady Madrid, or another of our signature cocktails inspired by Madrid's popular culture at the Gintoneria where you can enjoy a huge selection of gins and a modern vibe that's perfect for after lunch or dinner or a catch up with friends.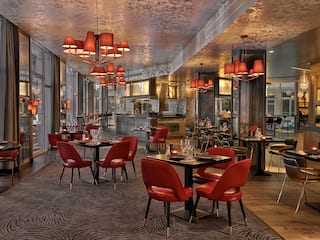 El Jardín De Diana
Gran Vía 31, Madrid 28013 Spain
A secret rooftop bar on the 10th floor of the Hyatt Centric Gran Vía Madrid hotel with a unique setting to contemplate the city center energy, with a privileged space to enjoy Madrid city views from an unrepeatable angle, tasting an authentic food experience buzzing with an energetic cocktail selection.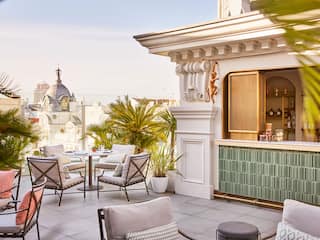 Espacio Telefónica Foundation
The Espacio Telefónica hosts a range of exhibitions on science, art, and digital-culture topics—from colour psychology to molecular gastronomy. It also doubles as a concert and workshop venue and boasts an eclectic shop.
Chocolatería San Ginés
Stop by Chocolatería San Ginés for transcendent churros and chocolate a la taza: rich, thick Spanish hot chocolate perfected over 125-plus years since the legendary café opened its doors.
Barrio de las Letras
The Literary Quarter is best known for the many writers who used to live in this neighbourhood, such as Cervantes and Lope de Vega. However, it is also a fantastic art, theatre, and cinema destination, with venues such as the CaixaForum cultural centre.
Cardamomo Tablao Flamenco
A flamenco tablao in Madrid where you can enjoy the best live flamenco in the capital. Each day, 10 artists take to the tablao to offer the best of themselves in an unforgettable flamenco show.
Thyssen-Bornemisza National Museum
Visit one of Madrid's most iconic neoclassical palaces, Villahermosa, located at the corner of the Paseo del Prado and the Carrera de San Jerónimo. One of the inscribed properties of the UNESCO World Heritage List, this well-preserved museum is home to nearly 1,000 paintings dating back to the 13th century, from artists such as Caravaggio, Rembrandt and Degas, among others.
Triangle of Art
The thoughtfully laid out "Golden Triangle"—as it is also sometimes known—makes it easy to see all three of the leading Spanish-art museums together: the Prado, the Reina Sofía, and the Thyssen-Bornemisza.
Conde Duque Cultural Center
This centre of contemporary culture provides an innovative program and space dedicated to theatre, dance, cinema, music, language and critical thinking, creativity, and artistic innovation—offering something for all tastes and talents.
Fismuler
Co-founded by Nino Redruello—the acclaimed chef and El Bulli alum who also manages our dining programme—Fismuler has attained a dedicated following for its Madrilenian dishes and cheesecake.
Royal Botanic Gardens
With more than 5,000 species of plants distributed over four levels of terraces, the Royal Botanic Gardens of Madrid is a beautiful green space located next to the Prado Museum.
Museo Reina Sofía
Located near the Parque del Retiro in Madrid's city center, the Museo Reina Sofía showcases a range of collections and exhibits that offer narratives and experiences speaking to the present through a critical study of the past. From experimental avant-garde pieces to the eclecticism, institutionalism and disobedience of the 1980s, the museum has something for every visitor.
El Retiro Park
Wander among the wide paths, landscaped gardens, and historic pavilions of 350-acre El Retiro Park—formerly a retreat for the Spanish royal family. It's even home to one of the few "crystal palaces" that remain in Europe.
Sorolla Museum
The workshop house of illustrious impressionist painter, Joaquín Sorolla y Bastida is a compelling journey through his extraordinary work, including portraits and his ability to capture light. The museum contains permanent exhibitions and various collections that art-lovers won't want to miss.
Museo Centro de Artes de Vanguardia
Housed in a former railway workshop, reflecting the industrial architectural style of the early 19th century, the Museo Centro de Artes de Vanguardia serves as a cultural space for artistic experimentation as well as new trends and creative forms of expression.
Matadero
During the 20th century, the Matadero Municipal of Legazpi was a set of dedicated buildings serving as an industrial slaughterhouse and livestock market in Madrid. Nowadays, it is a recognized art center and cultural space for various events.
Casa de Campo Park
With more than 1,700 hectares, it is the largest park in the city of Madrid and within its boundaries houses an amusement park, a zoo, fairgrounds, restaurants, a cable car and the Venta del Batán livestock complex. One of the most popular areas are the surroundings of the lake, which are especially pleasant to enjoy nature walking, having a drink in one of the bars, or renting a boat.
Aranjuez
The UNESCO World Heritage-protected Aranjuez Cultural Landscape began as Spain's answer to Versailles. It possesses an opulent royal palace, showcasing Renaissance, Rococo, Moorish, and Chinese design, landscaped gardens, and a Baroque Old Quarter.
Segovia
Home to a towering ancient aqueduct and UNESCO World Heritage-protected Old Town and lined by recently restored city walls, Segovia is also beloved for its hillside miradores—charming, picnic-friendly lookouts.
Toledo
Toledo lives up to its popularity among day-tripping Madrilenians with the Alcázar, the rebuilt former palace of Holy Roman Emperor Charles V, a museum of El Greco's artwork, and stunning Roman Catholic, Islamic, and Jewish religious architecture.
Cuenca
"The City of Hanging Houses" is home to not just the namesake cliffside, 14th-century residences (casas colgadas), which dangle precariously over river gorges—but a thriving modern-art scene and palaeontology museum.
Nights at Hijos de Tomás
Plaza del Carmen, Madrid 28013 Spain
Entertainment
Bars
Nightlife
Restaurants
Classic cocktails, live music, and the coolest and funniest space of La Familia La Ancha to make Madrid nights unforgettable, at Thompson Madrid Hotel. Thursdays from 7:00 pm to 2:00 am and Fridays and Saturdays from 8:00 pm to 3:00 am.