UMI Rooftop Weekend Happenings
12th street with 5th Av. At Thompson Main House Rooftop, Playa del Carmen 77710 Mexico (0.17 mi)
After dark, DJs and Live Music transform our Rooftop into Playa's premier nightlife destination. Enjoy our weekend happenings from 7 pm at UMI Rooftop + Tokyo Kitchen.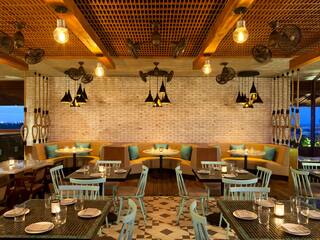 Tequila Tastings
8th Street with beach, Playa del Carmen 77710 Mexico
Discover the taste of some of Mexico's best premium tequilas. Try 3 premium tequilas with our Traditional Tasting, or 4 premium tequilas, 1 tequila cream with a 5-course Mexican food pairing, with our Superior Tasting. Every day from 6:00 pm.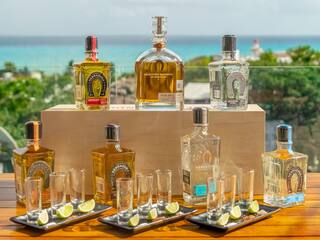 Calle Corazón
Calle Corazón, 5ta Avenida s/n entre calles 12 y 14 Centro, Playa del Carmen 77710 Mexico (0.20 mi)
To take home a piece of your travels, visit Calle Corazón for fashion-brand shopping, a variety of cuisines, and an array of events and entertainment.
Ultramar Ferry to Cozúmel
Ultramar Ferry Playa del Carmen Muelle, Playacar, Playa del Carmen 77400 Mexico (0.36 mi)
This personalized and efficient ferry service transports travelers to and from Cozúmel, a mostly underdeveloped island best known for incredible scuba diving.
Xcaret
Carretera Chetúmal Puerto Juárez Kilómetro 282 Solidaridad, Playa del Carmen 77710 Mexico (4.29 mi)
A nature park in Playa del Carmen that offers a charming journey through the traditions and ecology of Mexico, Xcaret welcomes visitors to explore more than 50 natural and cultural attractions.
Xplor
Xenses, Carretera Chetumal - Puerto Juárez km 282 MZA 021 Lote 062 Colonia Xcaret, Playa del Carmen 77710 Mexico (4.34 mi)
Go flying across the sky on zip lines, venture through the jungle on amphibious vehicles, and float on rafts in underground rivers created millions of years ago when you spend a day at Xplor adventure park.
El Camaleón Mayakoba Golf Course
Carretera Fed. Chetumal Pto. Juárez Km. 298, Solidaridad 77710 Mexico (5.25 mi)
Designed by a renowned golf legend, this spectacular 18-hole PGA golf course captures the diverse ecosystem of Mayakoba, with its sand dune-lined fairways, mangroves, freshwater canals, and the spectacular Riviera Maya oceanfront as a backdrop.
Joyà Cirque de Soleil
Carretera Federal Cancún-Playa del Carmen Km. 48, 77710 Riviera Maya Mexico (12.6 mi)
As the first Cirque du Soleil resident show in Mexico, JOYÀ draws on local history and heritage to create a sensory journey that blends a whimsical show with inventive cuisine.
Akumal
Akumal, Akumal Mexico (22.1 mi)
Stroll along white sands, go snorkeling in the bay, and discover coral reefs and turtles at the Akumal beach community. About an hour from Playa del Carmen, this peaceful and quaint visitor-friendly town feels a world away.
Xel-Há Park
Carretera Chetumal Puerto Juárez Km 240 locales 1 & 2, módulo B, Tulum 77780 Mexico (27.4 mi)
Take a day trip to Tulum to discover one of the best theme parks in Riviera Maya and Cancún. Descend the scenic lighthouse waterslide, go snorkeling to admire angelfish and stingrays, or take an inner tube river tour, and more.
Cobá
Cobá Archaeological Zone Carretera Federal Tulum 307, Cobá 77793 Mexico (43.0 mi)
Explore Cobá, an ancient city of the Pre-Columbian Maya civilization, located an hour and a half from the resort. Only a few of the estimated 6,500 Mayan ruins have been uncovered, but the ones that have been are graceful and impressive.
Chichen Itza, Outstanding Maya Capital City
Chichén-Itzá Mexico (95.7 mi)
Meaning "at the mouth of the Itza well," Chichen Itza is a Mayan City on the Yucatan Peninsula established before the time of Christopher Columbus. Architectural marvels reflecting a great civilization fill each of the many ruins.