Hotel Happenings
We are far more than a place to stay and invite you to elevate your play in our luxurious downtown Denver chalet. Whatever your reason for travel, check out Thompson Denver's curated happenings. With something for every mood, choose from a variety of experiences and secure your spot at one of our upcoming events.
Oskar Blues
Central, Denver, Colorado 80202 United States
0.02 mi / 0.04 km away
Just steps from our hotel, the new Market Center — a beautifully revitalized 19th century building — houses one of Denver's favorite places to grab a pint. Come for the 48 rotating taps of American craft beers and stay for a bite.
Jovanina's Broken Italian
1530 Blake St, Denver, Colorado 80202 United States
0.11 mi / 0.17 km away
For a fresh wood-fired Colorado take on Italian pizza and pasta classics — think mushroom gnochetti and elk Bolognese — you can't go wrong with Jovanina's warm, candlelit ambiance. Sidle up to the zinc bar for a craft cocktail, all just a three-minute walk from the hotel.
Larimer Square
Central, Denver, Colorado 80202 United States
0.14 mi / 0.23 km away
The street where Denver was first settled became the city's inaugural national historic district and is now home to award-winning chefs, beloved bars, and shops. From brewhouses and fashion boutiques to pizza parlors and Parisian bistros, this pedestrian-friendly block is worth a stroll.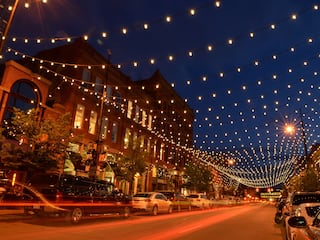 Rioja
Larimer St, Denver, Colorado 80202 United States
0.17 mi / 0.28 km away
James Beard Award-winning chef Jennifer Jasinksi utilizes seasonal, local ingredients to craft celebrated Mediterranean-inspired cuisine, including pan-seared Spanish octopus and house-made pastas. The memorable exhibition kitchen adds to the restaurant's unique ambiance.
Denver Milk Market
1800 Wazee St Suite 300, Denver, Colorado 80202 United States
0.21 mi / 0.33 km away
Denver's historic Dairy Block has been converted into a lively food hall, featuring 16 diverse eateries and bars. Spend an afternoon here shopping and sampling local foods in the heart of the Ballpark District.
Denver Union Station
Central, Denver, Colorado 80202 United States
0.28 mi / 0.45 km away
Your Denver must-see list should include a whistle stop at the city's magnificent century-old landmark — the historic Denver Union Station. With stunning Beaux-Arts style architecture, the train station features several food vendors and coffee shops, as well as a central seating and lounge area. It's also a main hub for the city's public transportation.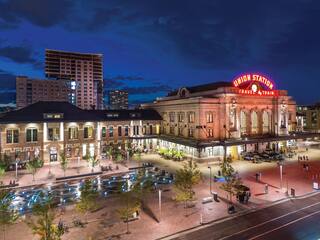 Denver Performing Arts Complex
1400 Curtis Street, Denver, Colorado 80204 United States
0.37 mi / 0.60 km away
This vibrant 12-acre campus of theaters and public spaces in the heart of downtown offers a huge array of music and entertainment — home to the Colorado ballet company and city symphony, as well as Opera Colorado.
Museum of Contemporary Art Denver (MCA)
1485 Delgany St, Denver, Colorado 80202 United States
0.38 mi / 0.61 km away
A perfect complement to your Denver Art Museum visit, the MCA Denver became the city's nexus for contemporary art lovers in the 1990s and offers an exciting and ever-changing array of world-class works, unexpected installations, and epic events.
Coors Field
2001 Blake St, Denver, Colorado 80205 United States
0.44 mi / 0.72 km away
The home field of Colorado's only professional baseball team needs no introduction. On your way to one of America's best ballparks — an easy 10-minute walk from Thompson Denver — you might plan a stop at the historic Dairy Block.
Ball Arena
1000 Chopper Cir, Denver, Colorado 80204 United States
0.52 mi / 0.84 km away
Mere minutes from your stay at Thompson Denver, our boutique lower downtown hotel, Ball Arena is a world-class venue hosting music, entertainment and sports events upwards of 250 days a year and is home court for many Colorado sports teams.
U.S. Mint
1437 Bannock St #230, Denver, Colorado 80202 United States
0.77 mi / 1.24 km away
Near the Denver Art Museum and the Colorado State Capitol, discover the rich history of one of the United States' four main mints with a free guided tour of how they produce billions of coins each year for the American public.
Downtown Aquarium Denver
700 Water St, Denver, Colorado 80211 United States
0.90 mi / 1.45 km away
Even at the foot of the Rockies, you can get your ocean fix with more than 500 fascinating species from ecosystems around the world, including an interactive Stingray Reef touch tank.
Denver Art Museum
100 W 14th Ave Pkwy, Denver, Colorado 80204 United States
0.93 mi / 1.50 km away
Among the largest art museums west of Chicago, the DAM features 12 focused collections from around the world alongside works by artists from Denver and the Rocky Mountain region. For a more immersive experience, sign up for one of their drop-in programs to attend a talk, lecture, and more.
Meow Wolf
1338 1st St, Denver, Colorado 80204 United States
1.12 mi / 1.80 km away
The Santa Fe-based arts and entertainment collective has opened their biggest Meow Wolf experience yet here in Denver. Featuring the works of 110 local artists, this psychedelic interactive experience is fun for all ages.
Empower Field at Mile High
1701 Bryant St, Denver, Colorado 80204 United States
1.24 mi / 2 km away
One of the football's most beloved stadiums — and arguably the most challenging for opposing teams thanks to its Mile High elevation — Empower Field is just a few minutes away from Thompson Denver. But beyond football, this venue hosts a variety of musical acts and sporting events throughout the year.
Art District on Santa Fe
525 Santa Fe Dr, Denver, Colorado 80204 United States
1.67 mi / 2.70 km away
Inspire your creative mind and spend an afternoon exploring nationally renowned Santa Fe Drive and its richly diverse cultural fabric of hundreds of artists, galleries, studios, theaters, and creative businesses.
RiNo (River North) Art District
3535 Walnut St, Denver, Colorado 80205 United States
1.82 mi / 2.93 km away
Once home to foundries, pattern shops, and warehouses, RiNo lies just a few minutes from Thompson Denver and is worth a visit for its diverse community of artists, designers, makers, and creators fueled by an exciting array of craft coffee roasters, winemakers, brewmasters, and distillers.
Denver Botanic Gardens
1007 York St, Denver, Colorado 80206 United States
2.30 mi / 3.71 km away
A great place to relax just 10 minutes from Thompson Denver, this 24-acre garden oasis features a diversity of plants from all corners of the world and a tropical conservatory to warm your spirits during the winter months.
Mission Ballroom
4242 Wynkoop St, Denver, Colorado 80216 United States
2.42 mi / 3.90 km away
Just 10 minutes from Thompson Denver and anchoring the dynamic RiNo Arts District, Denver's new state-of-the-art concert venue is part of the burgeoning 14-acre North Wynkoop cultural, residential, and business hub.
Dick's Sporting Goods Park
United States
2.54 mi / 4.09 km away
The largest soccer stadium in the U.S. is home to Colorado's soccer team, as well as touring bands popular enough to sell out all 18,000 seats at this well-regarded venue.
Denver Zoo
E 23rd Ave, Denver, Colorado 80205 United States
2.71 mi / 4.37 km away
Starting with a black bear cub that came to live at City Park in 1896, this enchanting 84-acre "urban field station" is now home to over 3,000 "ambassadors for their wild counterparts" from all over the world — and recognized for its award-winning education and outreach.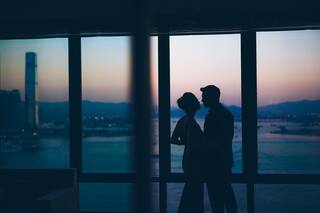 Denver Museum of Nature & Science
2001 Colorado Blvd, Denver, Colorado 80205 United States
2.91 mi / 4.68 km away
Since its founding at the turn of the twentieth century with three collections of the Rockies flora and fauna, this beloved City Park landmark is treasured for inspiring generations with its depictions of wildlife, archaeological finds, and the human communities of our region.
Cherry Creek Shopping Center
Cherry Creek, Denver, Colorado 80209 United States
3.12 mi / 5.02 km away
Just 15 minutes from LoDo, you'll find Denver's premier shopping and dining destination with more than 160 stores, 15 eateries, and a movie theater.