Glutes & Abs
Every Monday at 8:00 am | A mix of high intensity and low intensity targeting the entire core muscle and glutes in an efficient way. $23 USD | $506 MXN
Body Sculpt
Every Tuesday at 8:00 am | A complete exercise through a series of fluid movements to increase flexibility and elasticity by aligning body posture. $23 USD | $506 MXN
Mat Pilates
Every Wednesday at 8:00 am | Pilates is a method of physical movement and exercise designed to stretch, strengthen and balance the body. $23 USD | $506 MXN
Circuit Training
Every Thursday at 8:00 am | A high-intensity interval training, eight sets of fast-paced exercises performed 20 seconds each with rest of 10 seconds in between. $23 USD | $506 MXN
Yoga Sweat
Every Friday at 8:00 am | Increasing at a moderate pace to generate a great sweat by incorporating a cardiovascular workout along with strength, flexibility and balance. $23 USD | $506 MXN
Bootcamp
Every Saturday at 8:00 am | Combine high to medium intervals, strength training, cardio, core / balance works. $23 USD | $506 MXN
Vinyasa Flow
Every Sunday at 8:00 am | A moderate yoga class that keeps moving in a rhythmic fluid motion that works with the flow of breath. $23 USD | $506 MXN
MBS Sess: FULL MOON YOGA by ModuVated
Every Full Moon at 6:45 pm | Get your inner glow and recharge yourself with a gentle yoga flow class led by a ModuVated yoga instructor, under the brightness of the full moon. $29 USD | $584 MXN
MBS Sess: SUNSET POWER RIDE by ModuVated
Every first Friday of the month at 6:45 pm | A spinning session like no other! Will give you a lot of energy, it will make you stronger, but above all, you will enjoy and break your limits finding your rhythm. $41 USD | $826 MXN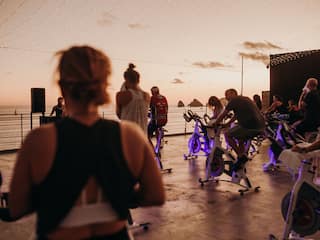 Asi y Asado
Carretera Transpeninsular KM 3.8 El Tezal Cabo San Lucas, B.C.S. 23450 Mexico
1.21 mi / 1.95 km away
Indulge in handmade tortillas, wood-fired meats and fresh salsas at this Guy Fieri favorite, featured on Diners, Drive-ins and Dives.
Cabo Adventures
Boulevard Paseo de la Marina Lt 7-A Marina, 23410 Cabo San Lucas, B.C.S. 23410 Mexico
2.85 mi / 4.59 km away
Explore exciting activities near The Cape, with adventure-based tours to El Arco, whale watching, snorkeling and more. Plus exciting excursions including zip lining, camel riding, fly board adventures, private yacht experiences and luxury sailing tours.
Edith's
Playa El Medano Cabo San Lucas, B.C.S. 23473 Mexico
4.70 mi / 7.56 km away
Enjoy Baja cuisine with a flair, including premium beef dishes and locally sourced seafood creations by candlelight.
Thursday Art Walk
Alvaro Obregon 19-130, Gallery District Centro, San José del Cabo, B.C.S. 23400 Mexico
16.03 mi / 25.80 km away
Behind San José del Cabo's historic main square, high-end fine art galleries open their doors to art lovers every Thursday.
Flora's Field Kitchen
Carretera Transpeninsular San José del Cabo Km. 30 Las Ánimas Bajas San José del Cabo, B.C.S. 23407 Mexico
18 mi / 28.96 km away
A picturesque desert oasis, this dining venue is situated on a 25-acre organic working farm, and features culinary delights made with farm fresh ingredients, sourced on-site.
Cactus Tours
México 19 km 100 Cabo San Lucas, B.C.S. 23597 Mexico
18.44 mi / 29.68 km away
Get lost in the magical dunes of Migriño with one of the largest off-road adventure companies. Experience beach and desert excursions on ATVs, Razors, UTVs, and more.
Todos Santos
Cabo San Lucas Baja California Sur Mexico
24.28 mi / 39.08 km away
About an hour's drive north of Cabo San Lucas, Todos Santos sits on the Pacific coast side of Baja and offers a number of galleries and authentic Mexican shops to explore.
Cabo Pulmo Snorkel and Diving Expedition
La Ribera Baja California Sur Mexico
52.81 mi / 84.99 km away
For an up-close look at an underwater ecosystem with over 800 species of marine life, you have to dive right in. Spend the afternoon scuba diving or snorkeling in Cabo Pulmo, a protected national marine park recognized as a UNESCO World Heritage Site.
Every Tuesday at 8:00 am | A complete exercise through a series of fluid movements to increase flexibility and elasticity by aligning body posture. $23 USD | $506 MXN