Travel Anywhere with Hyatt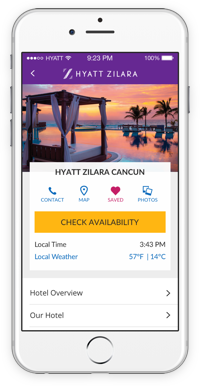 The Hyatt app makes your smartphone even smarter with all the tools you need to plan, book, and enjoy your stay.
Plan your trip
Find your dream destination among 700+ hotels in 56 countries
Read guest reviews and view guest photos to find the perfect hotel
Save your favorite Hyatt hotels for recurring visits or new adventures
View recent searches to quickly resume trip planning
Book with ease
Log into your World of Hyatt account for discount rates and to redeem free nights
View, modify, or cancel your upcoming reservations
Easily rebook your past hotel stays
Set your currency preference to view and book hotel rates in a desired currency
Enjoy your stay
Check in before you arrive, check out on the go
View real-time room charges and messages from the front desk
Add your reservation and account details to Apple Wallet
Request an Uber ride to your Hyatt hotel
Enhance your experience
Stream entertainment to your in-room TV using Google Chromecast
Request items to your room, such as towels or toothpaste
Connect with Hyatt using Facebook Messenger, Twitter, or SMS from the app
Please note availability of app features may vary by hotel. Hotel stay features are available for reservations made with a valid World of Hyatt account or booked directly with Hyatt.
World of Hyatt On The Go
Staying on top of your World of Hyatt benefits and perks is seamless. Check your Award Balance—including free night awards and suite upgrades—right from the app. Manage your account from anywhere, view past stays, and download hotel bills.
Get started with the Hyatt app now