meetings & events
Austin wouldn't be Austin without a little drama, but the capital city's never seen stagecraft quite like this. Located on our 2nd floor, accessible by elevator or dramatic lobby staircase, our downtown Austin event spaces offer 6,300 square feet of modern ballroom elegance and carefully-designed meeting venues. A little secret behind the five names of our distinguished special events spaces: Kelley, Red River, Singer, Newton, and Bass — all were famous outlaws around Texas in the early 1800s until the 1900s. Notorious for stealing gold, silver, and precious jewel stones, these outlaws buried more than $340 million worth of hidden treasure all over the state of Texas — more buried treasure than any other state. This story has become Texas folklore, and the treasure has yet to be found. The city of Austin is often considered the outlaw of Texas, and these spaces capture the city's rebellious nature.
Total Sleeping Rooms229
Largest Space3,890 sq. ft.
event spaces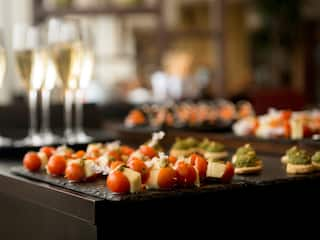 Catering
Let our culinary team prepare a menu that brings your vision to life. From reception stations to passed hors d'oeuvres and late-night bites, each dish is thoughtfully prepared with locally-sourced ingredients.
Email: austinsales@thompsonhotels.com
Phone Number +1 737 787 1234