Culture Lives Here: Thompson Hollywood x Wade Crescent
We teamed up with London-born DJ Wade Crescent to specially curate the music at our chic rooftop lounge, Bar Lis. On the forefront of nightlife for over a decade, Crescent curates top local talent for Bar Lis' DJ and live music sets, creating a space that draws people in to make moments of magic together. This is taking place on Tuesdays from 8 p.m. - 12 a.m., and Thursdays through Saturdays from 10 p.m. - close since the hotel's opening in August. For those guests looking to keep the party going, a guide of Crescent's favorite music hot spots around town is available via complimentary QR code in guest rooms.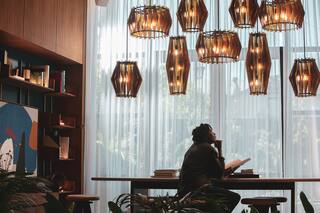 Venice Beach Ocean Front Walk
3115 Ocean Front Walk, Marina Del Rey, California 90292 United States
One of the city's most popular destinations, Venice Beach's Ocean Front Walk (or Boardwalk) spans two miles packed with street performers and small shops, plus a skate plaza, a famous gym, and much more.
Runyon Canyon Park
2979-2975 Runyon Canyon Rd Hiking Path, Los Angeles, California 90046 United States
Plan an exhilarating hike through this nearby 160-acre park, which offers scenic vistas overlooking the city as well as off-leash areas for dogs.
Santa Monica Pier
1600 Ocean Front Walk, Santa Monica, California 90401 United States
Visit this amusement park to see energetic performers, ride a Ferris wheel or 1920s carousel, tour an aquarium, or take a photo by a sign marking the end of Route 66.
The Sunset Strip
8433 Sunset Blvd, West Hollywood, California 90069 United States
Head west from our hotel to reach this eclectic neighborhood—home to famous comedy clubs and music venues, buzzed-about brunch spots, and vibrant nightlife.
The Hollywood Sign
Hollywood Sign, Los Angeles, California 90068 United States
The Hollywood Sign is viewable from all over L.A., but you can get the best views from attractions like the Griffith Observatory and the Hollywood Reservoir.
Van Gogh Exhibit
6400 Sunset Blvd, Los Angeles, California 90028 United States
The world's largest Van Gogh exhibit recently opened up inside the Lighthouse ArtSpace. Visitors can experience the Dutch master's works like never before, with large-scale artworks—including "The Starry Night" and "Sunflowers"—taking over the cavernous space.
TCL Chinese Theatre
6925 Hollywood Blvd, Hollywood, California 90028 United States
Also known as Grauman's Chinese Theatre, this iconic movie palace has celebrity hand- and foot-prints out front and hosts red carpet premieres year-round. It's located less than a mile from our hotel, close to other Hollywood Boulevard attractions.
Griffith Observatory
2800 E Observatory Rd, Los Angeles, California 90027 United States
Head to this free observatory to peer through its public telescopes, attend planetarium programs accompanied by a live lecture, and study exhibits at the Ahmanson Hall of the Sky. One of the most recognizable locations in L.A., it has appeared in dozens of Hollywood films.
Madame Tussauds Hollywood
6927 Hollywood Blvd, Los Angeles, California 90028 United States
Pose with wax lookalikes of Hollywood celebrities, musicians, and influencers at this well-known attraction, which also hosts experiences like "4D" films and team-based VR games.
The Hollywood Museum
6780 Hollywood Blvd, Los Angeles, California 90028 United States
Home to the world's largest collection of Tinseltown memorabilia, this museum exhibits more than 10,000 show business artifacts inside the landmark Max Factor building.
Hollywood Wax Museum
6767 Hollywood Blvd, Los Angeles, California 90028 United States
Just over half a mile from our hotel, you'll find this popular attraction, home to a host of wax celebrity lookalikes. Stop by to take selfies and pose with props next to your favorite stars.
The Spare Room
7000 Hollywood Blvd, Los Angeles, California 90028 United States
Travel back to Hollywood's Golden Age when you step into this cocktail lounge and gaming parlor, where vintage décor complements old-school board games and two full bowling lanes
Gwen Butcher Shop & Restaurant
6600 Sunset Blvd, Los Angeles, California 90028 United States
Known for its high-quality meats and in-house butcher shop, this elegant restaurant serves up house-made charcuterie boards, Wagyu boneless ribeye and other steakhouse staples. Perfect for a pre-theater menu, date night or any occasion.
Cleo Mediterráneo
1717 Vine St, Los Angeles, California 90028 United States
Head to this hip and modern Mediterranean eatery for shareable small plates such as lamb shawarma pockets or spicy entrees like a refined chicken shish kebab, served from the large open kitchen.
Beauty & Essex
1623 N Cahuenga Blvd, Los Angeles, California 90028 United States
To enter this expansive eatery, which specializes in culture-spanning cuisine, you'll first step through a pawn-shop-style retail shop, where you'll find an eclectic collection of vintage jewelry, custom musical instruments, and one-of-a-kind art.
TAO Los Angeles
6421 Selma Ave, Los Angeles, California 90028 United States
Drawing strong inspiration from TAO Downtown in New York, TAO Los Angeles is a dynamic two-level space, complete with four private dining rooms and a menu that celebrates the culinary heritage of China, Japan, and Thailand.
Desert 5 Spot
6516 Selma Ave, Los Angeles, California 90028 United States
Desert 5 Spot brings the vintage vibes of Palm Springs and the soul of Pioneertown to the hottest rooftop in Hollywood. A hat-tipping tribute to Joshua Tree hideouts, roadside motels, and cosmic Americana, we serve frozen margaritas, cold beers, and food in a basket—and, of course, honkey tonk music courtesy of our in-house band, The Desert 5 (plus jukebox tunes and weekend DJ sets).
Mother Wolf
1545 Wilcox Ave, Los Angeles, California 90028 United States
Chef Evan Funke is a steward of Italian culinary traditions. His latest venture, Mother Wolf, is a tribute to Rome's mythological origin story of Remus, Romulus and the Lupa Capitolina. Drawing on that history, Funke's rich and soulful cooking is a mosaic of the ancient, pastoral and urban gastronomic heritage of la cucina Romana. The menu echoes themes of shepherds, popes, farmers and artisans with wafer-thin wood fired pizzas, hyper-seasonal antipasti and the exceptional pastas for which Funke is renowned.
Ka'teen
6516 Selma Ave, Los Angeles, California 90028 United States
Revered Angeleno native chef Wes Avila of Guerrilla Tacos helms KA'TEEN, the property's signature restaurant, spanning over 5,000 square feet of outdoor dining space. Inspired by the Mayan city of Tulum, KA'TEEN pays homage to Yucatan Peninsula's rich culinary history.